true
Click here to view the slideshow.
With its pressed tin roof, scuffed wood floor, and the sort of chairs that make you glad the lights are dim, Cincinnati's Northside Tavern looks an unlikely spot to see the world's 65th-greatest living songwriter. It's two hours past the posted showtime, and Mallonee sits on a chair near the door and tunes a duct-taped guitar as the sun falls behind the scruffy mix of vegan restaurants, Somali groceries, and Buddhist centers outside.
"Are you here to see Bill?" I ask the only woman who appears to be waiting for the music.
She looks toward the bay window that serves as a stage, a mirror ball dangling improbably overhead.
"Who's Bill?" she replies.
In June 2006, Paste magazine ranked the hundred finest living songwriters and put Mallonee at 65th place—ahead of Pink Floyd, Fleetwood Mac, and Michael Jackson. Mallonee gained some prominence in the 1990s as the lead writer and singer for Vigilantes of Love, but these days the brutal economics of the road have stripped him of a backing band; the entire tour operation now consists of Mallonee, his wife, and their black Scion.
At the Cincinnati bar, only a handful of patrons pay attention to the music. But Mallonee sings in signature style anyway, eyes closed and throat shaking out the words as though each syllable must first be wrested from the bone. Veins bulge on his neck, tendons pop on his arms.
He performs an abbreviated set interspersed with stage patter, playing the room as though an invisible audience fills the bar and benches. In reality, the clientele bellies up to the bar, talks, and drinks. A few applaud after songs, then go back to their beers.
Mallonee's songs about mental illness, marriage, Vietnam vets, loneliness, and the whole "cloth of life" are woven through with a skeptical but stubborn faith. At the Northside Tavern, with almost no one listening, a deeply personal verse about grace suddenly mingles with the clink of glassware:
But the Cross is big enough
When your sins reach to the sky
Hope the arms are wide enough
To embrace one such as I.
The goal isn't to win converts, but to make art worthy of the name by witnessing to the whole crazy quilt of human experience. And preferably to do it for more than five people.
While Mallonee's manner never shows anything less than gratitude to his tiny audience, these gigs take a toll on a musician who has struggled to make it for two decades and now sometimes struggles to pay the bills.
"It breaks your heart by slow degrees," he admits later with a rueful half smile.
In an industry notorious for bowing at the altar of youth, Mallonee stands out for not having picked up a guitar until he was 31. "A late bloomer by every stretch of the imagination," he calls himself. Mallonee found his self-described "instrument of healing" after years as a teacher and then a stay-at-home dad, and it unleashed a flood of words. In that first year, more than a hundred songs poured out.
Athens, Georgia, a college community with a music scene that has birthed bands like R.E.M., was fertile soil for Mallonee's vision to take root, and he tilled its clubs and bars fronting the Vigilantes of Love (VoL).
The band embarked on a decade of gritty touring during the 1990s—180 shows a year in "dirty little dingy clubs," $150 paychecks, 7-11 hot dogs, and days spent in a van. VoL churned out records with alarming frequency, toured obsessively, and stayed on the road until everyone was beat up and broken down—then returned home and did it all again.
"Spiritually, emotionally, physically, we were kind of wearing out," Mallonee says now, "and there was no strategy behind it."
The band found itself too serious about faith for the secular market and too elusive for the CCM scene. Routinely asked whether VoL was a Christian band, Mallonee would respond, "Well, no. I'm a believer, and I can witness to something that I would call historic Christian faith. But it's not an agenda and I don't have a Christian record deal and I won't have a Christian record. That makes it propaganda."
1999's Audible Sigh was supposed to be the breakout record, with Emmylou Harris on guest vocals, a label behind it, and a band at the height of its powers. The album made waves on the British charts, but struggled to gain publicity in the U.S. Mallonee depended on publicity from No Depression, an influential alt-country publication, to at last propel VoL into the big leagues, but the magazine didn't even review the project. The album's very first word, "failure," began to seem eerily prophetic.
Mallonee never got over the episode. Late last year, when a No Depression editor explained that long-ago decision on a blog, Mallonee responded with such sarcasm and anger that one of his own fans wrote in a follow-up post, "It pains me to see you so bitter."
But the missed opportunity came at a crucial time. When the band's next album, Summershine, appeared only two weeks before September 11, 2001, discouragement set in. A subsequent U.K. tour was disastrous—it had no radio support, and the band was robbed of thousands of dollars of gear in Scotland.
Back in Athens early the next year, the band gathered at Mallonee's house to see if anyone wanted to continue. No one did. Instead of breaking through, VoL broke up.
Grinding it Out
Mallonee, now 53, still grinds out a living by playing 140 solo shows a year in bars, coffee shops, churches, private homes—anywhere that people will listen. It has meant an existence at or below the poverty line for the last few years, trouble paying the bills, and rocky personal relationships. Yet Mallonee still calls his work "an absolute joy."
For Mallonee, music isn't so much a means of employment as it is a necessity. He grew up in an alcoholic family and had a faith experience as a young man, but soon found that it "wasn't doing any good. When it came right down to finding anything like an identity or power or strength," he says, "I was absolutely on every level being undercut by these tapes that were playing in my head."
Music became a way to process those voices, but his songwriting goes beyond personal therapy. "It's my experience, but it's everybody's experience, or it wouldn't be resonating with people," he says.
Always a "words guy," Mallonee is flattered when his lyrics connect with listeners, but has no desire to be anyone's lifeline. After four or five letters from suicidal fans who said his words saved their lives, Mallonee now says that music is "too flimsy a thread to hold onto the world with."
He gravitates to books about fractured saints, so it's no surprise that Frederick Buechner tops his personal reading list. A Presbyterian minister who has written powerful novels about the patriarch Jacob and religious con man Leo Bebb, Buechner himself could have penned the lyric, "No saints to be found in here / Only debtors, bankrupt, screw-ups, broken, bested dearly."
Failure haunts Mallonee's songwriting, especially on the solo disc Locket Full of Moonlight ("What is the illusion and what can you lean on? / There's a sword called 'coming up empty' that I have fallen upon"). As he wryly remarks, you "can't sell that to youth-group kids."
Mallonee can be a bracingly confessional songwriter, which means that much of the failure he probes is his own. A certain set of hip, young Christians held up Mallonee's life, marriage, and work as models for doing serious, faith-filled art. While spinning out literate albums with VoL, Mallonee also found time to be a family man with two kids and serve as an elder in a house church. But those who put him on a pedestal were tested by Mallonee's gradual return to the Catholicism of his childhood, the dissolution of the band, and Mallonee's divorce from his wife of 24 years. (He has since remarried; his second wife travels with him now.)
Deeply conscious of his own mistakes, Mallonee talks about "grace" without any whiff of the academy about the word. But the friends and fans who have walked away in the last few years still sadden him. "Those songs [they loved] are about inconsistent human beings—fragile, fractured, frail from top to bottom," he says. That anyone should be surprised when they see that frailty lived out in real life baffles him.
"The Good News doesn't make any sense until you know what the bad news is," he says. "And the bad news isn't that we have a few harmless peccadilloes and we screwed up on the way between high school and college or whatever—it's deeper than that. It's unrelenting."
On 2004's Dear Life, Mallonee sings of his own weaknesses on "Songwriter (Numb)." His narrator longs for deliverance but admits that, if it came, he would "talk-show it right into the ground / like some salvation experience." But after the song's litany of personal failures comes the slender lifeline of hope that runs through so much of his work:
I keep hearing whispers,
Saying everything's going to be all right
You put some goodness back in and you take your stand
And you hold onto him for dear life.
A Visit from the Holy Ghost
A breeze carries the smell of affluence up the street from the local Bentley dealership in Zionsville, a self-consciously quaint town north of Indianapolis where stores can call themselves "Persnickety Stitchers" without irony, and antique shops have overtaken the downtown like kudzu. Mallonee has spent the day driving from Cincinnati, hauling his gear from the Scion to the corner of the local coffee shop, and running through warmups. He has eaten nothing but a bag of chips and a cinnamon roll.
For a second straight night, he will play in the corner before a window looking out onto the street. People dribble in by twos and threes as the sun sets, half here to support the charity that benefits from the show, the other half to see Mallonee. A pair of newer fans has driven an hour and a half from Indiana University. Another man standing in the back of the room says he has seen Mallonee play more than 30 times.
Forty-five people pile into chairs and couches and stand along counters to hear songs about failed priest Vincent van Gogh, God-haunted hipster Jack Kerouac, and a psychologically ravaged Vietnam vet Mallonee once befriended in a mental hospital.
Raindrops spatter onto the brick streets outside as Mallonee takes up his guitar and fingerpicks his way into the opening figure from "Solar System." Then he sings:
Come in here and have a taste
Yeah, what's one more hopeless case?
When your shortwave dies and there's no one to listen,
The stars going cold in your solar system.
As he plays, the quiet plashing of the rain outside gives way to something sinister—torrents of water lash the buildings, wind bends the groaning trees nearly double, lightning strikes close, then almost overhead. Half the crowd checks weather reports on cell phones while the other half eyes the windows, watching an ankle-deep surge of storm water flood the street.
Mallonee, eyes still closed, sits on a chair with his old acoustic guitar. He never turns to glance at the apocalypse just over his shoulder, not until the speakers emit a tremendous pop and the power goes out. When the lights flash to life seconds later, he blinks, then picks up where he left off:
Put all your love where it hurts the most
Expect a little visit from the Holy Ghost.
The storm finally shrieks past, the trees creak themselves upright once more, and after the show, people wander out in search of drowned cars or a nightcap at the local pub. Mallonee leaves last after loading his gear back into the Scion. Tomorrow night he has a private house show just over the border in Illinois, and then it's on to St. Louis for the final stand of this two-week tour. After a couple weeks at home, it's back on the road again.
Buechner once wrote of a beloved seminary professor, "His faith was not a seamless garment but a ragged garment with the seams showing, the tears showing, a garment that he clutched about him like a man in a storm."
The words might describe Mallonee himself as he strides into the damp street in a leather jacket and a jazzman's fedora, lights off and door locking behind him in the dark.
Nate Anderson is a writer and editor living in Wheaton, Illinois.
Related Elsewhere:
This article was published with an audio slideshow of Bill Mallonee.
Mallonee's website has more about the artist, including his schedule and music.
Christianity Today also has other articles on music.
Have something to add about this? See something we missed? Share your feedback here.
Our digital archives are a work in progress. Let us know if corrections need to be made.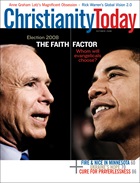 This article is from the October 2008 issue.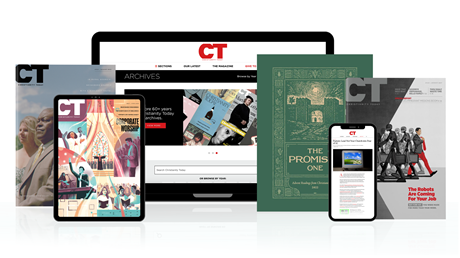 Annual & Monthly subscriptions available.
Print & Digital Issues of CT magazine
Complete access to every article on ChristianityToday.com
Unlimited access to 65+ years of CT's online archives
Member-only special issues
Subscribe
Loving Where it Hurts the Most
Loving Where it Hurts the Most