If you like action-adventure, check out the Genesis 32 account of Jacob's Jabbok River wrestling match. Jacob is camped out and stressed out, awaiting a potentially dangerous confrontation with his estranged brother. His worries are interrupted when a stranger jumps him in the darkness. By morning, Jacob realizes he's spent the night wrestling God; somehow he manages to limp away blessed. In the process, he learns that God is more than willing to be grappled with, and that holding on for dear life is the way to go.
It's amazing—and sobering—to realize that Jacob has the strength to resist God. It isn't until the angel of the Lord dislocates Jacob's hip that Jacob surrenders and requests what he's really been fighting for—a blessing. My husband, a wrestling coach, tells me the hip is the wrestler's pivot point, the core of his strength. God can't give Jacob the blessing he desperately needs until he incapacitates him at the center of his human power. Frederick Buechner calls Jacob's resounding loss The Magnificent Defeat.
There's something familiar about Jacob's story.
I'm a singer and songwriter. I recognize that such a vocation is more fun and fulfilling than anyone deserves, and I've spent most of my professional life grinning at my good fortune. But last year, I found myself in the midst of a tour feeling miserable. My own company was handling many of the details, and every night I took the stage consumed with logistics. I've always loved the fact that performing forces me to be in the moment, but this tour I was definitely somewhere else. I'd find myself disoriented in the middle of a song, unsure whether I'd already sung the second verse. Something was wrong.
I prayed. I asked God to restore to me the joy of singing about my salvation. I begged for the ability to be focused and present. And I worried. I suspected that the blessing of my vocation had run its course, and that it was time for me to investigate Tupperware sales.
Three weeks into the tour, I lost my voice. As you might imagine, a singer's voice is an obvious and vulnerable pivot point of strength. I reminded God that it would be helpful to my singing ministry if I could sing. But my voice did not return.
I called a vocal coach and got instructions. "Hourly, sit at a kettle and breathe in the steam. Then add salt to the water and snort it. Put drops of oil of oregano on your tongue. Apply peppermint oil to your upper lip." (Caution: Over-application of peppermint oil leads to a condition I remember now as the moustache of fire.)
I spent 24 hours sequestered in my hotel room in an involuntary silent retreat. No interviews, no fretful logistical phone meetings. I steamed without end. By concert time, my skin had never been smoother or softer. But I still had no voice.
A funny thing happened when I took the stage. I felt calm, and present. The whole quiet day I'd had nothing to do but steam, read, and pray. A paraphrase of Psalm 23 ran through my head: You make me lie down by still waters—or steamy, salty ones. I walked up to the microphone and had a sudden conviction that my voice would be not only restored, but also brilliantly transformed.
It wasn't. I still couldn't sing. Not a bit. I croaked, I cracked, I sort of whisper-rapped. It was awful. But the audience leaned in. They smiled. They prayed for me and breathed with me. Never certain what my swollen vocal cords would do next, I was in the moment, adapting, adjusting, and—eventually—enjoying a new and improbably wonderful way of doing ministry. It was, to both my chagrin and my delight, one of my best concerts ever.
As wrestling matches go, my laryngitis bout was barely a skirmish. I've had much tougher (and longer) fights, and I've got friends facing challenges I don't even want to imagine. In some cases (cancer, AIDS, and worse) I'm pretty sure the opponent is no angel of the Lord. But there is testimony among believers past and present that at the end (and only at the end) of the human rope is strength and peace beyond compare. Maybe that's what Jesus was getting at when he said the poor in spirit get the kingdom of heaven. With death on a cross looming on his horizon, he was intimately familiar with the victory that comes only through magnificent defeat.
I don't know that it ever feels good to have our own strength overcome. But if we want to be blessed, if we want to relocate from living in our own resources to resting in the middle of God's goodness, power, and provision, sometimes a little dislocation is necessary.
Just ask Jacob.
Related Elsewhere:
Arend's previous columns include:
The Grace of Wrath | Is there any story about God that isn't a love story? (May 12, 2008)
Carbonated Holiness | Laughter is serious business. (April 1, 2008)
Have something to add about this? See something we missed? Share your feedback here.
Wrestling with Angels
Singer/songwriter and author Carolyn Arends has written and released 9 albums and penned 2 books, including
Wrestling With Angels
(Harvest House/
Conversantlife.com
). A list of her blogs can be found at
CarolynArends.com
. Her bimonthly "Wrestling With Angels" column has appeared in
Christianity Today
since 2008.
Previous Wrestling with Angels Columns:
Our digital archives are a work in progress. Let us know if corrections need to be made.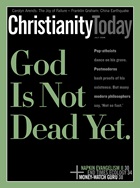 This article is from the July 2008 issue.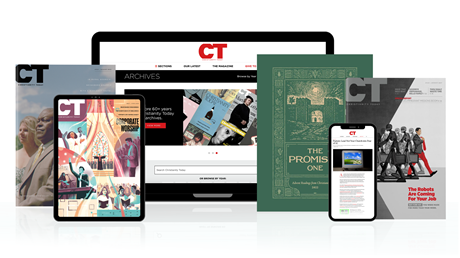 Annual & Monthly subscriptions available.
Print & Digital Issues of CT magazine
Complete access to every article on ChristianityToday.com
Unlimited access to 65+ years of CT's online archives
Member-only special issues
Subscribe
Here's to All the Losers
Here's to All the Losers