My recent move to Mercer University's McAfee School of Theology in Atlanta has given me new opportunities to understand racial reconciliation in American Christianity—at least how it plays out in my part of the world. The theme that keeps surfacing for me, a white person, is release. True racial reconciliation makes significant demands on both blacks and whites, but let me outline what it is requiring of me at this stage in my life. First let's take the issue of control.
My move to Mercer has given me the opportunity to participate in planning a gathering called the New Baptist Covenant. Scheduled for January 2008 in Atlanta, this event will bring together most of the major Baptist bodies in North America for a conference expected to draw as many as 20,000 people. I have been serving on the program planning committee, under David Goatley, a black Christian scholar-pastor who heads the Lott Carey Foreign Mission Convention in Washington, D.C.
Our task has been to plan the conference workshops, under the principle of shared leadership in the Baptist family. Leaders of the four participating black Baptist fellowships will join with leaders of the several participating predominantly white Baptist fellowships in every session. We hope this will be the most profoundly integrated event in Baptist history in North America—at least at the black-white level, with power and leadership entirely shared.
It has been humbling and refreshing to sit under the leadership of a black Christian for one of the few times in my life. And David has modeled true Christian leadership by graciously sharing his power with all committee members.
We will witness true racial reconciliation when white evangelicals release power and become more regularly willing to share leadership with Christians of other ethnicities. It happens in several other sectors of our society, such as the military and education, far more often than it happens in our churches. Warm feelings of fellowship are one thing; sharing power is something altogether different—and much harder. When we share power, we lose control, and in our human insecurity, a craving for control is one of our most basic instincts. And yet Christ calls us to imitate him in laying down our control, our self-interest, and our power, for the good of others (Phil. 2:5-11).
It is difficult to discuss the next issue, emotional release, without being misunderstood. I certainly do not want to suggest that black worship styles are defined by emotion, or that all black worship fits a single mold. All I can do is relate my own (admittedly limited) experiences. At Mercer the student population is at least 30 percent black; my one course this term has a 50-50 white-black mix. I have little experience with that kind of classroom demographic. I love it.
In my spiritual formation class, the vocal prayers of many black students set me free to pray as I did when I was new in the faith so many years ago. When African American students lead worship, they often shatter the careful restraint that for some reason has so badly straitjacketed many white Christians—including me. I am astonished at the way many black Christians open themselves up to God and to one another so totally, and so freely admit their great need for both divine and human help, while white Christians rarely do so with such freedom. I applaud the way the African American Christians I've met so naturally integrate spiritual and physical concerns into their discipleship. I wonder if centuries of white privilege have dulled our capacity to do the same; not having desperate need for God's provision of physical care, we have often shifted our attention entirely to the "spiritual." Black Christians have rarely had that luxury.
In Atlanta, few predominantly white churches within the I-285 beltway are growing. Most, in fact, are rapidly declining, despite a variety of reform and renewal efforts. But most black churches and those of other ethnic groups are growing. While I don't fully understand what is going wrong in the white churches, I am beginning to sense what is going right in so many African American congregations. They are by no means perfect, but life is there. The whole self is engaged there. The Spirit moves there.
What if it turns out that the greatest source of renewal for Christianity in America is to be found in churches led by those once called "racial and ethnic minorities"? What if the day is coming, or is already here, when white Christians will have to undertake yet one more release—the release of our sense that we are the ones who know best how to do church? What if we find ourselves crossing those invisible but real racial boundary lines on a pilgrimage to discover where true Christian vitality is to be found?
Related Elsewhere:
Gushee's columns are available online.
Other articles on racial reconciliation include:
Exit Interviews | Why blacks are leaving evangelical ministries. (January 15, 2007)
Article continues below
Behold, the Global Church | It's time we figured out how to talk--and listen--to one another. (November 11, 2006)
Catching Up with a Dream | Evangelicals and Race 30 Years After the Death of Martin Luther King, Jr. (Jan. 17, 2000)
Playing the Grace Card | Christians hold the missing key to racial reconciliation—but it won't be popular. (July 13, 1998)
Breaking the Black/White Stalemate | Jesse Miranda and William Pannell discuss the next step in racial reconciliation. (March 2, 1998)
The 'Jackie Robinson' of Evangelism | When Howard Jones broke the race barrier on Billy Graham's platform, he faced rejection from both sides. (Feb. 9, 1998)
Racial Reconciliation: After the Hugs, What? | The next step for racial reconciliation will be harder. (February 3, 1997)
Christianity Today's series on evangelicals and racial reconciliation includes:
Color-Blinded | Why 11 o'clock Sunday morning is still a mostly segregated hour. An excerpt from Divided by Faith. (Sept. 22, 2000)
Divided by Faith? | A recent study argues that American evangelicals cannot foster genuine racial reconciliation. Is our theology to blame? (Sept. 22, 2000)
The Lord in Black Skin | As a white pastor of a black church, I found the main reason prejudice and racism hurt so much: because we are so much alike. (Sept. 25, 2000)
Shoulder to Shoulder in the Sanctuary | A profile in racial unity. (Sept. 28, 2000)
Common Ground in the Supermarket | A profile in racial unity. (Sept. 27, 2000)
We Can Overcome | A CT forum examines the subtle nature of the church's racial division—and offers hope. (October 2, 2000)
Have something to add about this? See something we missed? Share your feedback here.
Do Likewise
David P. Gushee serves as Distinguished University Professor of Christian Ethics and Director of the Center for Theology and Public Life at Mercer University, where he also chairs the Mercer Lyceum initiative on rebuilding democracy. His column ran from 2005 to 2007.
Previous Do Likewise Columns:
Our digital archives are a work in progress. Let us know if corrections need to be made.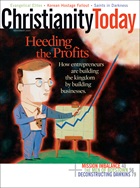 This article is from the November 2007 issue.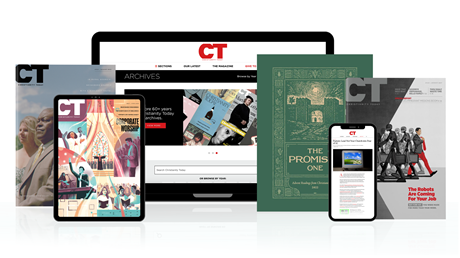 Annual & Monthly subscriptions available.
Print & Digital Issues of CT magazine
Complete access to every article on ChristianityToday.com
Unlimited access to 65+ years of CT's online archives
Member-only special issues
Subscribe
More Free, At Least
More Free, At Least