The Lord's Resistance Army, a violent rebel group, attacked the dormitories of St. Mary's College in Aboke, northern Uganda, on October 10, 1996. They were in search of child soldiers and "wives" for terrorist Joseph Kony's army commanders. Fifteen-year-old Grace Akallo and 139 of her classmates were kidnapped.
A school nun negotiated the release of many girls. But soldiers kept Akallo and 29 others. After seven horror-filled months, Akallo escaped. Today, she is an undergraduate student at Gordon College near Boston.
Last October, she met with CT senior writer Sheryl Henderson Blunt on the tenth anniversary of her abduction. Akallo spoke softly as she told of her captivity and new mission. Thirty minutes later, she addressed the Peace Within Reach gathering in Washington, D.C., calling for open U.S. support of Uganda's fragile peace agreement—after which 700 people gave her a thunderous standing ovation.
You witnessed many horrors carried out by the LRA.
The killings, the abductions, the lootings—I saw it. I spent one month in Uganda, then walked to Sudan. We had to march in a line. If you diverted from the line, you were dead. They killed so many children who tried to escape. The youngest was seven. He cried for his mother, then they killed him. Either they would kill them by beating them with big sticks, or by bayonet. Other times—it's very hard to say—they would cut the head with an axe.
There was one commander who, if he was not killing someone, was not happy. When he was killing someone, he was happy. People would start crying that they wanted to kill someone. One 18-year-old boy came out of the line crying that he wanted to kill someone. This boy—they would give him 10 children. He'd say he was taking them for a bath. He'd kill five, and only five would come back.
How would you describe Kony's ritualistic religious practices?
He pretends that he has power. After we were abducted, all of the children were smeared with Shea nut butter. It was to clean the "evil"—to make us members. Later, they had us sit in a circle for a ceremony. They used ash mixed with water and dipped an egg in it and drew the sign of a heart on our chests and backs and crosses on our hands and foreheads for "protection." People in the camp would also wear small bottles of water around their necks with a small stone in it. Kony had a shrine in his camp where he would go to "pray"—he called it prayer. When he was praying, he'd change voices or lose consciousness. One person would go with him to record the messages he would receive. They would be random messages. Once it was, "Thirty people should be killed." Then they would do it.
Describe your relationship with the other girls from your boarding school who were kidnapped.
Before the kidnapping, we would pray together every day. We felt like sisters from one mother. After the abduction took place, we were even more bonded. Then we were split up and told not to talk. Some of us were beaten and killed.
How did you escape?
I escaped after seven months in captivity, when Ugandan soldiers went to Sudan. The SPLA [a southern Sudanese rebel group] and the Ugandan Army joined together to fight the LRA. I ran away from the fight with eight other girls. I was taken to the Ugandan army soldier barracks.
Later, Sister Rachele [from St. Mary's] came for me with my dad. They were crying, but I was not. My survival is all from God. From the very day I was abducted to the very day I escaped, it was only God who helped me. My family tried, but God succeeded.
Is it difficult to talk about your experiences?
Talking has never killed anybody. My friends who remain in captivity cannot talk. If they could, they would scream. They would cry. But they cannot. I have a chance. I have a life. God gave me this. I'm not better than my friends to be here. If God had not taken me to see what was happening, I would not be speaking about it. Maybe I would just be saying, "I can't do anything." But that is not what I say.
What message do you have for the U.S. government?
I want them to support the peace talks, but they've left it to the Ugandan government and to Sudan's government. I don't hear the international community trying to oversee it and become involved in the peace talks. How can we trust there will be progress without the international community holding them responsible?
Have you been able to forgive your captors?
I have forgiven them if they have come back [and surrendered]. But if they are still hurting my friends, that would be very hard. I've forgiven one man who had one of my friends as a wife. He surrendered. I need the others to come back, too, so I can forgive them.
How do you feel about the amnesty that has been extended to rebel leaders as an incentive to end the conflict?
[Under the amnesty agreement] those who have left the rebel army are being treated like small gods. Some of the LRA commanders who were close with Kony, including his chief mastermind, are living free in a nice hotel. Meanwhile, the children are dying. We want peace to come, but at some point we also want justice, because there are so many broken-hearted people.
What challenges will the freed Ugandan children face after peace is established?
People are saying if the peace talks are signed, the children can go home. But it will be far from over. The people in the camps, their whole life is gone. What about these people? How will they get back to their normal lives? How do they know how they are supposed to live? In a house? With a family? Some have been born in the camps. Many do not have a family. How will we be sure it really is over? It is far from over. But I do have hope. I have hope that peace will come to my country once again.
Related Elsewhere:
Christianity Today's special section on the Lord's Resistance Army and Uganda are available online.
The Los Angeles Times has a narrated slideshow about the 'Horror in Uganda' (warning: disturbing content.)
Grace Akallo testified before Congress as a spokesperson for World Vision.
The Washington Post reported on Grace Akallo and the situation of children—both those who have been abducted by the LRA and those who are trying to avoid abduction.
March's Inside CT talks about what ordinary people can do to end slavery.
Other articles on slavery in the March issue of Christianity Today include 'Free at Last,' 'Amazing Abolitionist,' 'CVP: On a Justice Mission,' and 'What Would Wilberforce Do?.'
The Amazing Change campaign includes a petition to end slavery.
Christianity Today's other articles on slavery and human trafficking include:
Red-Light Rescue | The 'business' of helping prostituted women help themselves. (December 29, 2006)
Child Sex Tours | The average victim is 14, and Americans make up 25 percent of the customers. (December 29, 2006)
Sex Isn't a Spectator Sport | Germany's World Cup pimping will fuel sex trafficking. (July 1, 2006)
Asia: Christian Women Combat Sex Trafficking | Christian women lead girls out of sexual bondage. (October 4, 1999)
Back From the Brothel | Thanks to brave ministries, prostitutes are still entering the kingdom. (January 2005)
Churches Rescue Thailand's Sex Tourism Workers | Protestants and Catholics work against $2.2 billion industry (November 1, 1999)
Fighting the other slave trade | Women against sexual trafficking. (Christian History & Biography, April 1, 2006)
We're Still Supporting Slavery | New efforts to stop U.S. troops from visiting prostitutes abroad are a good step, but let's not whitewash what's happening. (September 1, 2004)
The Dick Staub Interview: Francis Bok Is Proof that Slavery Still Exists | "After spending 10 years in slavery, the young Sudanese man is telling his story to the world" (October 1, 2003)
Finding the 'Real God' | An interview with a sex trafficking survivor (November 11, 2003)
Redeeming Sudan's Slaves | Americans are becoming instant abolitionists. But is the movement backfiring? (August 9, 1999)
Have something to add about this? See something we missed? Share your feedback here.
Our digital archives are a work in progress. Let us know if corrections need to be made.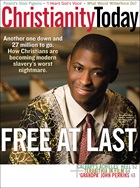 This article is from the March 2007 issue.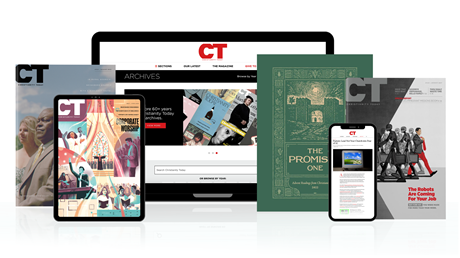 Annual & Monthly subscriptions available.
Print & Digital Issues of CT magazine
Complete access to every article on ChristianityToday.com
Unlimited access to 65+ years of CT's online archives
Member-only special issues
Subscribe
The Devil's Yoke
The Devil's Yoke