A spoonful of sugar—not taken—helped bring down the global slave trade. Starting around 1791, abolitionists in Britain, with Quakers at the forefront, boycotted the sugar that slaves produced on Caribbean plantations. At the time, refined sugar was Britain's largest import and a crucial link in the global economic exploitation of human beings in sugarcane fields.
The genius of the sugar boycott was that everyone could understand it and anyone could participate. Some 300,000 Brits made common cause through the boycott. In response, retailers soon offered sugar "ready for sale, produced by the labor of freemen." Sales soared. The boycott's success became one of many factors that 200 years ago led the British to abolish the trading of slaves.
Starting on page 30 of this issue, we present a package of articles on modern-day slavery and slave trading, also known as human trafficking. Senior writers Deann Alford and Sheryl Henderson Blunt examine different aspects of a terrible practice that many are shocked continues today. Parachurch leader Gary Haugen makes a persuasive case that Christians should recommit themselves to the antislavery cause. Our editorial page notes the enduring lessons from British abolitionism, and Mark Moring, CT Movies editor, assesses Amazing Grace, the new feature film on Wilberforce.
Why devote so much attention to this topic? Slavery is larger than ever. Tea with sugar may not be a "blood-sweetened beverage" in 2007, but hidden links to modern slavery may be in the clothes we wear or the food we eat.
Here's our Beginner's Guide to Abolitionist Activism:
Make a call. Phone 1-888-428-7581 if you see someone being forced to work or held against their will. The U.S. Department of Justice operates this hotline.
Give a dollar. Faith-based groups that fight slavery include the Salvation Army, World Vision, International Justice Mission, and Make Way Partners.
Read a book. Many new titles on the market focus on either abolitionist history or modern-day slavery. Two of my favorites are Amazing Grace (Eric Metaxas) and Woman, Child for Sale (Gilbert King).
See a movie. The feature film Amazing Grace, based on the life of Wilberforce, opens nationwide on Friday, February 23.
Sing a hymn. On Sunday, February 18, Christians worldwide will sing "Amazing Grace" to commemorate the British parliament's vote. (For the song's original lyrics, visit christianitytoday.com/go/amazinggrace.)
Quote an antislavery sermon. Absalom Jones, a freed slave and founder of the African Methodist Episcopal Church, preached a famous sermon in Philadelphia in January 1808, shortly after the U.S. enacted its ban on participation in the international slave trade. See this online archive of his work from the Antislavery Literature Project: antislavery.eserver.org/religious/absalomjones.
Say a prayer. The words of many African American spirituals provide a potent message in spoken public prayer. See negrospirituals.com.
In the words of one modern-day abolitionist, "Slavery isn't history."
Related Elsewhere:
Other articles on slavery in the March issue of Christianity Today include 'Free at Last' and 'What Would Wilberforce Do?.'
The Amazing Change campaign includes a petition to end slavery.
The US Department of Justice defines trafficking in persons and how to report trafficking crimes.
The Salvation Army, World Vision, International Justice Mission, and Make Way Partners are among the organizations working to end modern slavery.
Amazing Grace by Eric Metaxas and Woman, Child for Sale by Gilbert King are available from ChristianBook.com, Amazon.com, and other retailers.
CT Movies' review of Amazing Grace will appear in its special section (which links to the hymn "Amazing Grace") on Friday.
A January 1, 1808 sermon by Absalom Jones commemorates the end of legal importation of slaves into the United States.
NegroSpirituals.com has the history and meaning of many African-American spirituals.
Christian History & Biography has a special section on William Wilberforce and Modern-Day Slavery.
Articles about the British abolition movement, led by William Wilberforce include:
'The Wilberforce Strategy' | Britain's great abolitionist worked to change society's values, not just its laws. (February 19, 2007)
Model in the Public Square | Hero for Humanity shows how faith can change government. By Cindy Crosby (Christianity Today, January 1, 2003)
Christian History Corner: A Politician Explains the Faith | One hundred fifty years before C. S. Lewis, William Wilberforce wrote the 'Mere Christianity' of his time. (Christianity Today, January 20, 2006)
The How, What, and Why of Christian Politics | Wilberforce's A Practical View of Christianity, and other books on Christians and politics. (Books & Culture, Nov/Dec 1996)
Virtuous Like Us? | Bury the Chains is indeed a riveting history of the British anti-slavery movement. (Books & Culture, May/June 2006)
Every Arrow Needs a Bow | William Wilberforce and the power of community. by John Hart (Re:Generation, July 1, 1998)
Article continues below
Other Christianity Today articles about human trafficking include:
Red-Light Rescue | The 'business' of helping prostituted women help themselves. (December 29, 2006)
Child Sex Tours | The average victim is 14, and Americans make up 25 percent of the customers. (December 29, 2006)
Sex Isn't a Spectator Sport | Germany's World Cup pimping will fuel sex trafficking. (July 1, 2006)
Asia: Christian Women Combat Sex Trafficking | Christian women lead girls out of sexual bondage. (October 4, 1999)
Back From the Brothel | Thanks to brave ministries, prostitutes are still entering the kingdom. (January 2005)
Churches Rescue Thailand's Sex Tourism Workers | Protestants and Catholics work against $2.2 billion industry (November 1, 1999)
Fighting the other slave trade | Women against sexual trafficking.(Christian History & Biography, April 1, 2006)
We're Still Supporting Slavery | New efforts to stop U.S. troops from visiting prostitutes abroad are a good step, but let's not whitewash what's happening. (September 1, 2004)
The Dick Staub Interview: Francis Bok Is Proof that Slavery Still Exists | "After spending 10 years in slavery, the young Sudanese man is telling his story to the world" (October 1, 2003)
Finding the 'Real God' | An interview with a sex trafficking survivor (November 11, 2003)
Redeeming Sudan's Slaves | Americans are becoming instant abolitionists. But is the movement backfiring? (August 9, 1999)
Have something to add about this? See something we missed? Share your feedback here.
Our digital archives are a work in progress. Let us know if corrections need to be made.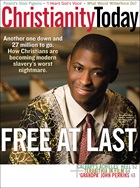 This article is from the March 2007 issue.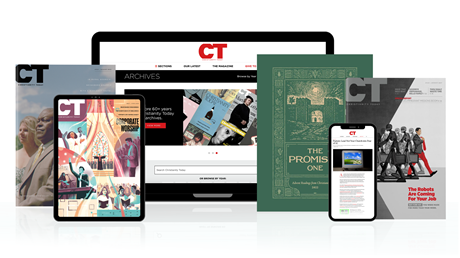 Annual & Monthly subscriptions available.
Print & Digital Issues of CT magazine
Complete access to every article on ChristianityToday.com
Unlimited access to 65+ years of CT's online archives
Member-only special issues
Subscribe
No Spoonful of Sugar
No Spoonful of Sugar