The penultimate item in U.S. News & World Report's list of "10 Things You Didn't Know About Jerry Falwell" explained that "Falwell had been controversial throughout the years." The article then quoted his "I point the finger in their face" remarks, made on The 700 Club two days after the September 11 attacks.
Some rightly bemoaned that this was the only thing people did know about Falwell—except perhaps for his supposed "outing" of Tinky Winky the Teletubby. Conservatives rued how the "liberal media" treated Falwell. Focus on the Family headlines included "Media Warped Young Conservatives' Views of Falwell" and "Assassinating the Dead." Then again, liberals said his frequent television appearances evinced a conservative bias in the media. Religion journalist-turned-academic Gustav Niebuhr said Falwell gained media prominence largely because he "returned reporters' phone calls ahead of deadline, sat through countless interviews, and was always blunt, succinct, and consistent— thus, eminently quotable."
Blunt and succinct, yes, but without nuance, and consistency was a problem. The Falwell who spoke of Christians' political duty also said, "Preachers are not called to be politicians, but to be soul winners." The Falwell who said he was tired of being a "lightning rod" for criticism told CT that the reason "the general public thinks of me as a 'John the Baptist, confront-the-culture, nuke-the-earth' kind of person" is because he deliberately played one on TV. At the same time, he often befriended his sparring partners off camera. And gay-rights groups' favorite villain also called for churches to do more to combat anti-gay violence and "to bring down the rhetoric and the stridency" in fights over sexual ethics.
Usually, Falwell's seeming contradictions stemmed from truths Christians hold in tension. Falwell just preferred to state these truths separately and starkly, sometimes months or years apart. So with more than three decades of archived blunt quotes to choose from, Falwell gave activists of every stripe ample evidence to prove whatever point they wanted to make. He wasn't a caricature; he was a Rorschach test on which we could project our fears, wishes, and ironies.
You can see it in the tributes: Rick Warren praised Falwell as the founder of "dozens of other compassion projects," a ministry innovator, an encourager of thousands of young pastors, and a devoted pastor who stuck with the church he founded for 50 years. In short, Falwell was Warren without the acronyms. Ralph Reed saw him as a "groundbreaking progressive" who "awakened the slumbering giant of the evangelical vote" and oversaw "the marriage of that vote to an ascendant, confident Republican party." In short, Falwell was Reed with a church.
Cynical demagogues saw him as a cynical demagogue. Wide-eyed zealots saw him as a zealot. And, as The Wall Street Journal's James Taranto noted, "His foes portrayed him as a hater, in large part because of the hatred he inspired in them."
An unexpected tribute came from pornographer Larry Flynt, the subject of Falwell's most prominent legal battle, which ended in a landmark Supreme Court decision. "I hated everything he stood for, but after meeting him in person, years after the trial, Jerry Falwell and I became good friends," Flynt said. He told Larry King, "He cared about people. And I don't think that Falwell was mean-spirited at all."
Flynt, along with James Dobson, suggested that Falwell's weight might have hastened his death. "He was close to 400 pounds. And at 70-odd years, anyone knows you don't carry around that kind of weight," Flynt said. "I talked to him [about it]. I gave him a couple of diets. I even faxed them to his wife. He just loved to eat, you know. [He was] one of these guys that don't like to … stop eating, so they just let it kill them."
In other words, giving into temptation can kill. And as Falwell knew better than most of his critics, speaking such a message can be done out of grieving love, not hate. Flynt wasn't the only person who heard Falwell speak this message, but I can't help but think the preacher would have enjoyed seeing the pornographer proclaim it to the world on a cable news program.
Related Elsewhere:
Christianity Today published the Religion News Service obituary for Falwell, and an original obituary.
Recent Tidings columns include:
Partial Reversal | The Supreme Court's abortion decision shows that the arguments have changed. (May 14, 2007)
Jingo Jangle | Christian tribalism is a renunciation of God's kingdom. (April 18, 2007)
Church Divorce Done Right | Denominational splits just aren't what they used to be. (Mar. 7, 2007)
Why Isn't 'Yes' Enough? | The fuss over swearing-in ceremonies reveals a deeper problem. (Feb. 23, 2007)
Bottom-Up Discipline | What do you do when your pastor--or your entire denomination--strays? (January 16, 2007)
Have something to add about this? See something we missed? Share your feedback here.
Tidings
Ted Olsen is Christianity Today's executive editor. He wrote the magazine's Weblog—a collection of news and opinion articles from mainstream news sources around the world—from 1999 to 2006. In 2004, the magazine launched Weblog in Print, which looks for unexpected connections and trends in articles appearing in the mainstream press. The column was later renamed "Tidings" and ran until 2007.
Previous Tidings Columns:
Our digital archives are a work in progress. Let us know if corrections need to be made.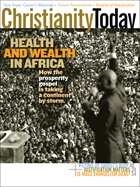 This article is from the July 2007 issue.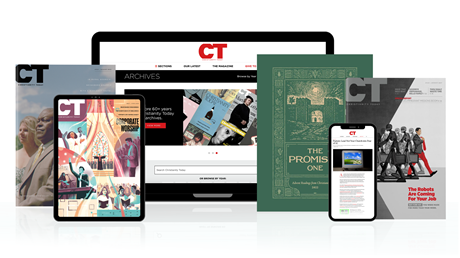 Annual & Monthly subscriptions available.
Print & Digital Issues of CT magazine
Complete access to every article on ChristianityToday.com
Unlimited access to 65+ years of CT's online archives
Member-only special issues
Subscribe
The Quest for the Historical Jerry
The Quest for the Historical Jerry