The visitor to Africa comes away with a mosaic rather than a single narrative. Hence the jottings after three weeks in southern Africa.
• AIDS. Bono and the big charities keep talking about it, but Africans live with it—and die from it—daily. Africa accounts for 70 percent of the total number of people infected with HIV/AIDS and 80 percent of the resulting deaths. AIDS tends to target the young, lowering overall life expectancy and wreaking havoc with economic and social programs.
I saw the impact of the disease up close at several AIDS orphanages. African churches, governments, and NGOs are scrambling to house and care for some 12 million orphans, many of whom are infected. After we visited one AIDS orphanage in Durban, South Africa, my hosts took me to a nearby cemetery. Several funerals were going on simultaneously, and we could hear the mournful chants and wails rising from each. Outside the gate, a long line of passenger buses stood waiting. With the AIDS pandemic, Saturday has become funeral day, a ritual almost as regular as church on Sunday. Half the children in the orphanage have AIDS, but the government has allotted anti-retroviral drugs for only some of these. The others will no doubt join their friends and classmates in a plot set aside for the orphanage.
• Poverty. How do you plan an economy when a third of the work force may die in the next ten years? More, how do you conduct an economy when a government is riddled with corruption and seems destined to self-destruct? Zimbabwe is the poster child for governmental calamity. In a notorious Drive Out the Trash campaign, its dictator, Robert Mugabe, bulldozed squatter homes, adding 700,000 people to the homeless rolls. Visitors are required to pay all bills in foreign currency, a sure sign of economic trouble. When a hotel had no U.S. dollars to pay the $2 in change owed me, they gave me four crisp new Zimbabwean $50,000 bills. At the current rate of 1,000 percent inflation, they will be virtually worthless in a few months.
• Faith. In sub-Saharan Africa, Christianity asserts itself boldly. Town meetings begin and close with a prayer; taxicabs and buses display Christian slogans on their fenders; and white-robed Christian sects congregate under trees in public parks. One church I visited, with a membership of 39,000, has an opera-style platform on automated tracks so that during an altar call it can retract to accommodate the hundreds responding to the invitation.
Ironically, few predicted such a response a century ago, when foreign mission agencies were setting their sights on Asia. At the great Edinburgh missionary conference of 1910, Africa deserved barely a mention, with not a single representative from that continent. According to Lamin Sanneh, a native of Gambia and professor at Yale Divinity School, Christianity began to spread only as colonialism fell and Africans gained the Bible in their own languages. Unburdened by a history of Christendom that includes such stains as the Crusades and the Inquisition, Africans respond to the gospel message with all the vigor and enthusiasm of Pentecost.
• Resiliency. The West tends to view Africa as the news portrays it: a relentless succession of disasters. Africans themselves, however, go about their lives with survival skills honed over time. After several centuries of evisceration by slave traders and several more centuries of exploitation through colonialism, most of Africa has experienced only a few short decades of independence. Hardship is nothing new.
That Africans embrace Christianity so widely is astonishing in light of the treatment they endured from those who brought the faith to their continent. South Africa starkly demonstrates both the history of oppression and the modern resiliency. I toured the Apartheid Museum, which visitors must enter through separate entrances labeled "Europeans Only," "Blacks," or "Coloured" and walk through a maze of steel bars on which are mounted actual photo identity cards enlarged, with racial categories designated on each one. That classification determined where you could live and where you could work, not to mention where you could eat or even sit in a park. Kate, our white tour guide, seemed shaken. "They had a right to take us whites out and shoot us in the head for how we treated them," she said. "It's a miracle that they didn't." After that sobering visit, I emerged to see blacks, whites, and coloureds sitting together in tables at the café, drinking coffee, laughing, socializing.
Rwanda, a site of genocide, is now a laboratory case for restorative justice. Uganda is showing how the AIDS plague can be reversed. The challenges of modern times—encounters between Christians and Muslims, rich and poor, sick and well—will continue to play out in Africa, which has a chance to become a light to the world even as the lights of faith grow dim in much of the West.
Article continues below
Related Elsewhere:
See Christianity Today's reporting on Africa in our World Report section.
Previous Yancey columns for Christianity Today include:
The Lure of Theocracy | As we flee decadence, we must watch where we step. (July 10, 2006)
A Long, Warm Glow | A respected evangelical elder on the life of faith. (May 16, 2006)
For God's Sake | What 147 elk taught me about prayer. (March 1, 2006)
The Word on the Street | What the homeless taught me about prayer. (Dec. 29, 2005)
Exploring a Parallel Universe | Why does the word evangelical threaten so many people in our culture? (Nov. 3, 2005)
God Behind Barbed Wire | How a Nazi-soldier-turned-theologian found hope. (Aug. 29, 2005)
The Japanese Joseph | What the North Korean regime meant for evil, God used for good. (June 21, 2005)
A Bow and a Kiss | Authentic worship reveals both the friendship and fear of God. (April 28, 2005)
Global Suspense | The trick of faith is to believe in advance what will only make sense in reverse. (March 01, 2005)
Back from the Brothel | Thanks to brave ministries, prostitutes are still entering the kingdom. (Jan. 05, 2005)
Hope for Abraham's Sons | What will it take for us to overcome this violent world? (Oct. 27, 2004)
Forgetting God | Why decadence drives out discipline. (Aug. 30, 2004)
Discreet and Dynamic | Why, with no apparent resources, Chinese churches thrive. (June 28, 2004)
Doubting the Doomsayers | Thank God not everything they say is true. (April 30, 2004)
Cry, The Beloved Continent | Don't let AIDS steal African children's future. (March 04, 2004)
The Colonizers | The best preachers have challenged earth to become more like heaven. (Jan. 16, 2004)
The Leprosy Doctor | Paul Brand showed how to serve others sacrificially and emerge with joy. (Oct. 23, 2003)
Yancey's Where is God When it Hurts, Special Edition, Soul Survivor: How My Faith Survived the Church, and his latest book, Rumors of Another World, are available on Christianbook.com.
Have something to add about this? See something we missed? Share your feedback here.
Philip Yancey
Philip Yancey is editor at large of Christianity Today and cochair of the editorial board for Books and Culture. Yancey's most recent book is What Good Is God?: In Search of a Faith That Matters. His other books include Prayer (2006), Rumors of Another World (2003), Reaching for the Invisible God (2000), The Bible Jesus Read (1999), What's So Amazing About Grace? (1998), The Jesus I Never Knew (1995), Where is God When It Hurts (1990), and many others. His Christianity Today column ran from 1985 to 2009.
Previous Philip Yancey Columns:
Our digital archives are a work in progress. Let us know if corrections need to be made.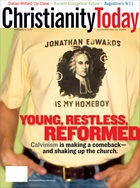 This article is from the September 2006 issue.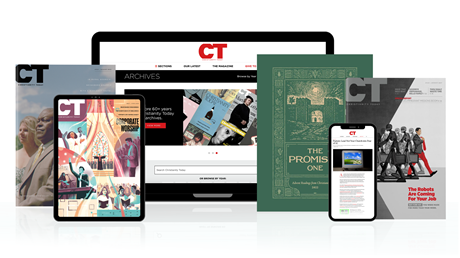 Annual & Monthly subscriptions available.
Print & Digital Issues of CT magazine
Complete access to every article on ChristianityToday.com
Unlimited access to 65+ years of CT's online archives
Member-only special issues
Subscribe
Postcard from Africa
Postcard from Africa