As the CT staff puts the finishing touches on this issue, I have just returned from several rewarding hours of dialogue between Wheaton, Illinois, evangelicals and a group of Chicago-area rabbis. The topic of our conversation was God's grace, and we came to a deeper understanding of our differences. (More on those some other time.)
In order to explain evangelical understandings of grace to these Jewish friends, I distributed copies of several classic hymns: "Rock of Ages," "Amazing Grace," and "Just as I Am." These hymn texts illustrate our belief that:
we are unable to contribute anything to our salvation ("Not the labor of my hands / Can fulfill thy law's demands");
God initiates the saving encounter of grace ("Thy love unknown / has broken every barrier down"); and
Jesus' dying in our place is the price of grace ("Nothing in my hand I bring, / Simply to thy Cross I cling" and "Let the water and the blood, / From thy wounded side which flowed, / Be of sin the double cure; / Save from wrath and make me pure").
How could I have forgotten to include Charles Wesley's 1738 hymn "And Can It Be"? ("Emptied himself of all but love, / And bled for Adam's helpless race.")
These hymns were written in an era of evangelical giants, and they still speak powerfully today. They capture the core Protestant message. But in our time, there are signs that belief in grace may be coming untethered from our classic understanding of the Cross. See Mark Dever's "Nothing But the Blood" (p. 28) for more.
Dever is pastor of Capitol Hill Baptist Church in Washington, D.C., and is an expert on English Puritanism. Indeed, he is "a Puritan in 21st-century clothing," as J. I. Packer notes on the back of Dever's 2005 volume, The Message of the New Testament. The English Puritans believed in an educated clergy that intentionally nurtured healthy churches made up of maturing believers. And that has been the focus of Dever's ministry. His Nine Marks of a Healthy Church and its companion website (www.ninemarks.com) assiduously avoid trendiness and innovation, and focus instead on "the timeless biblical priorities, principles, and methods that God has ordained for the maturity of the local church."
One mark of a healthy church is church discipline. When Capitol Hill Baptist was aiming for renewal in 1994, it took seriously the need to remove from membership a large number of people who were no longer active. (The congregation may hold some sort of record for most names purged in a single day.) That seriousness is one reason Mark Galli interviewed Dever for CT's August 2005 theme section on church discipline (see www.christianitytoday.com/go/discipline).
CT associate editor Collin Hansen attended Dever's church regularly in 2002, when he was an intern in the press office of the House Republican Conference. On a more recent visit to Dever's church, Collin heard a compelling presentation in the adult Sunday school class defending the ongoing importance of teaching substitutionary Atonement. So when the topic resurfaced in discussions at CT, Collin suggested Mark Dever as the potential author.
Related Elsewhere:
Mark Dever was interviewed in our church discipline cover package.
Dever's website identifies the nine marks of a healthy church.
Also posted today is our cover story:
Nothing But the Blood | More and more evangelicals believe Christ's atoning death is merely a grotesque creation of the medieval imagination. Really?
Other CT articles on the atonement include:
The Good News of God's Wrath | At the heart of the universe, there is a just and gracious God. (Feb. 23, 2004)
Stephen King's Redemption | The master of horror's latest novels show a rich appreciation of the atonement. (March 6, 2000)
Our sister publication, Books & Culture, ran a series on the atonement:
Violence and the Atonement | Perhaps no doctrine has been more central to evangelical theology, yet today among evangelicals, as among orthodox Christians more generally, one often hears that the classical understanding of this doctrine is deeply flawed, that we must "rethink the atonement." Is that really so? By Richard J. Mouw (January 1, 2001)
The Disappearance of Punishment | Metaphors, models, and the meaning of the atonement. By Hans Boersma (March 1, 2003)
The Meaning of Christ's Suffering | Graphic meditation on Christ's suffering doesn't appear before the late medieval era, approximately the 14th century. Before that, the presentation is more in accord with the way Christ appears in the Gospel of John. In iconography, he reigns serene from the Cross, a victorious conqueror who has rescued us from Death. By Frederica Mathewes-Green (March 1, 2004)
Antonement: The Penal View? | Toward a trinitarian theology of atonement. By Stephen N. Williams (January 1, 2005)
More is available on our theology page.
Have something to add about this? See something we missed? Share your feedback here.
Our digital archives are a work in progress. Let us know if corrections need to be made.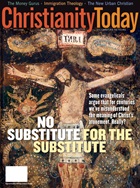 This article is from the May 2006 issue.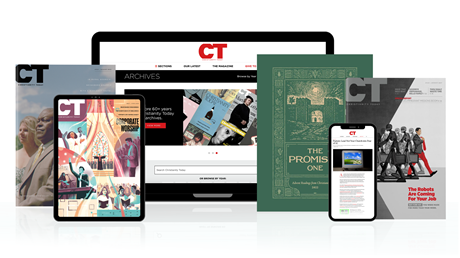 Subscribe to Christianity Today and get access to this article plus 65+ years of archives.
Home delivery of CT magazine
Complete access to articles on ChristianityToday.com
Over 120 years of magazine archives plus full access to all of CT's online archives
Subscribe Now
Tying Grace to the Cross
Tying Grace to the Cross