An initial reading of John 14:12 leaves one startled: "I tell you the truth, anyone who has faith in me will do what I have been doing. He will do even greater things than these." How is it possible to do greater works than Jesus did? Consider just a few of his miracles. He healed the blind. He made the lame walk. He raised the dead. He exorcized demons. He made the deaf hear. He made the mute talk. He cleansed leprosy and cured fever. He walked on water. He calmed the storm and multiplied food for crowds of 4,000 and 5,000, not including women and children. In other words, Jesus exercised power over nature, demons, disease, and death. (Mark 4:35-5:43 recounts these four categories of miracles one after another.)
So how could Jesus say that his followers would do greater things?
A New Era
Some suggest that he was promising his disciples the greater missionary success that Acts recounts, with the spread of the gospel to thousands of individuals across many lands and peoples. In this interpretation, the words "greater works" point to the extent of the impact—in terms of numbers and geographic breadth—that Jesus' followers had. Though historically true, this is probably not the best way to understand the verse.
A look at the context of Jesus' statement is helpful. During the Upper Room discourse, Jesus explains that he must go so that the Holy Spirit may come. He is looking to a time beyond the Cross, when he will distribute the Spirit to enable his entire community to live and witness for him in a new way.
All the signs and miracles that Jesus performed were preliminary to his central act of redemption. The gift of God's Spirit and the forgiveness of sins both come about because of Jesus' work on the Cross. After the Cross, Jesus' followers are indwelt by the Spirit and get to participate in the fulfillment of God's saving purposes. In fact, the works these believers "perform," which are the fruit of the salvation that Jesus bestows (John 15:5, 13, 16), guide others into the new life that Jesus died to provide (John 5:21-25).
Thus, the works of Jesus' followers are of a greater quality, since they belong to the era of God's promises fulfilled. These works also reflect God's power in a special way, since every good work is made possible by what Jesus did both for the Twelve and for everyone who chooses to follow him.
Other Gospel texts support this understanding. In Luke 7:28, Jesus says of John the Baptist, "There is none born of women greater than John, but the one who is least in the kingdom is greater than he." John is the greatest person of the old era (a prophet was pretty high on the ministerial vocational ladder!). But all believers in the new era are greater than he was, because their works are empowered by the Spirit.
The eras of God's working are that different. Imagine, for instance, if the Associated Press's number-one ranked college basketball team played against even the worst NBA team. The college team couldn't begin to compete. In the same way, the least gifted person of our era has access to far greater benefits and experience than the most gifted person of the past era.
I often wonder what it would have been like to be with Moses and witness the miracles of his lifetime. Yet Jesus says that our deeds, done after his work on the Cross, are greater than any that came before—even greater than his own deeds. That's because our deeds are what the entire setup was all about.
In Luke 10:24, Jesus said, "I tell you that many prophets and kings desired to see what you see, and did not see it, and to hear what you hear, and did not hear it." God's work has moved into a new stage and a new level of reconciliation. The greater things of which Jesus spoke are greater because of the era our works belong to, not because of what they are in and of themselves. They point to the fact that God, in his grace, has forgiven us and given us his Spirit.
Jesus' words are not meant to swell our heads or increase our pride. Instead, they remind us how much we should appreciate the benefits of God's grace and the receiving of his promises, even as we share in the realization of this new era of salvation history.
Darrell Bock is research professor of New Testament studies at Dallas Theological Seminary.
Related Elsewhere:
Earlier Good Question columns include:
Is religious art, like Michelangelo's 'Creation of Adam,' a violation of the second commandment when God is portrayed?
The Gospel of Jesus Christ: An Evangelical Celebration" states that sincere worshipers of other religions will not be saved—does that also refer to Moses and other Old Testament faithful?
Christ commanded us not to judge others, but aren't there times when common sense or prudence requires it?
Why should church buildings get so much of the financial, physical, and social attention that is rightly due to the needs of Christians and others?
Article continues below
Where is heaven, and how will we experience it before the final resurrection?
Can I forgive those who have betrayed me if they are not repentant?
Are all sins weighed equally, or is one more important than another?
Why is the church against euthanasia in instances where people are in terrible pain?
What harm is there in achieving a higher state of consciousness through meditation?
Will we be vegetarians in the new heaven and earth as Adam and Eve were before the Fall?
Why doesn't God cure everyone who prays fervently for healing?
Does God need our help, love, and praise?
Are some people lost "just a little bit" in the same way that others are saved "only as through fire"?
Is Jesus Incarnate Forever?
What does Genesis mean by man being made in the image of God?
What's the difference between Christ's kingdom and paradise?
Is every believer guaranteed at least one spiritual gift?
What role does baptism play in faith and salvation?
How is it that not all prayers for the salvation of others are answered?
If God is in us, shouldn't it be easier to love one another?
What do we gain from a bodily resurrection?
What is the difference between the brain and the soul?
How can I reconcile my belief in the inerrancy of Scripture with comments in Bible translations that state that a particular verse is not 'in better manuscripts'?
Is there a biblical principle behind the punishment of those who break the law?
Is it unscriptural for a Christian to be cremated?
Won't heaven's joy be spoiled by our awareness of unsaved loved ones in hell?
Where exactly do "Oneness" Pentecostals stand in relation to orthodoxy?
Do a man and a woman become married after having sex or after exchanging vows?
How Do You Know That You Have Truly Forgiven Someone?
Who Are We to Judge?
Should We File Lawsuits?
Can We Expect God to Forgive Unbelievers Who 'Don't Know What They're Doing'?
Is the Stock Market Good Stewardship?
Is Satan Omnipresent?
Is Suicide Unforgivable?
Was Slavery God's Will?
A Little Wine for the Soul?
Should We All Speak in Tongues?
Did Jesus Really Descend to Hell?
Take, Eat—But How Often?
Is Christmas Pagan?
Are Christians Required to Tithe?
Have something to add about this? See something we missed? Share your feedback here.
Our digital archives are a work in progress. Let us know if corrections need to be made.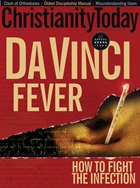 This article is from the June 2006 issue.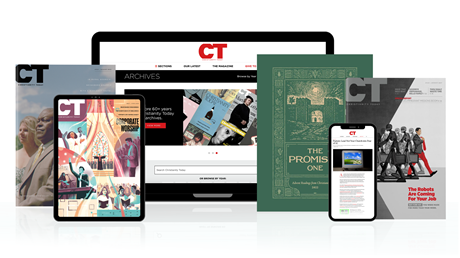 Annual & Monthly subscriptions available.
Print & Digital Issues of CT magazine
Complete access to every article on ChristianityToday.com
Unlimited access to 65+ years of CT's online archives
Member-only special issues
Subscribe
Dribbling Circles Around Jesus
Dribbling Circles Around Jesus