Her name is Sangduen Chailert. But everyone calls her "Lek." She is small of stature, and Lek means "small" in her native Thai language. But Lek Chailert is a determined person, hoping to make a big impact. Ironically, for a person named "small," Lek works with very large animals. Elephants, to be exact. My wife and I had the pleasure of meeting her last fall on a vacation trip with our grandchildren in Thailand.
At Lek's Elephant Nature Park, the animals don't do tricks or give rides. Because most of them have been abused by previous owners, they are given an opportunity to recover and to live as God made them to.
Lek cares for 24 elephants on her mountain property about 60 kilometers outside the ancient Thai capital of Chiang Mai. Her first project was a baby elephant, orphaned when local farmers killed its mother because she was eating their crops. Lek adopted baby Geng Mai, and fed her with a very large baby bottle.
Each of Lek's elephants has a story. Almost all needed some kind of rescue—from physical abuse, from starvation, from neglect, from overwork. The abuse of domesticated Thai elephants begins with the centuries-old training method called phajaan or "the crush." Young elephants are chained into a strong framework where they are poked and cut with sharp implements until their spirits are crushed. The treatment is so brutal that only about 50 percent of the elephants survive. The rest die from infections or other hazards. A few actually commit suicide by standing on their own trunks in order to cut off their air supplies.
Lek Chailert wants to convince Thais that they can train elephants with kindness. She is beginning to get some press exposure. In the United States, National Geographic did a feature package and a documentary film on her. But Lek's message is not welcome in the corridors of power, which have financial interests in the way elephants are currently treated. She has even had her life threatened. One night, her political enemies snuck into her compound and poisoned baby Geng Mai. The young elephant died in her arms. Now Lek varies her movements and stays in a different place every night, just for her own safety.
The Advantages of Being Small
I tell my friends about Lek Chailert for several reasons. First, because she is inspiring in her determination and commitment. She has named another of her baby elephants Hope, and that says a lot about her. But I also talk about Lek because—even though she's a Buddhist—her life is a parable of what Christian ministry is often about. She is named "small," but her cause and her spirit are great.
A few months ago, I sat down with the leaders of Emmaus Ministries in Chicago to try to understand their work with male prostitutes on the streets of the Windy City. As I was eating lunch with founder John Green and Amy Tracy, the ministry's development director, we realized that our conversation was centering around the theme "small is great." Grassroots ministries like Emmaus are great, in part, because they are small and can do the things that only small ministries with highly committed staff can do.
I admire big ministries. At Christianity Today, we often report on large ministries like World Vision, the Salvation Army, and the Southern Baptist North American Mission Board. All of them have amazing capacity to take on large projects and to deliver the goods. After Hurricane Katrina, the Salvation Army and the North American Mission Board fielded enormous teams in a coordinated fashion to deliver huge amounts of help. Because of their experience, they brought organizational expertise to other groups that were trying to minister to those displaced by the hurricane. By the end of September, the North American Mission Board had served 5.1 million hot meals to Katrina victims. That's amazing capacity.
Ministries with great capacity also foster small, high-contact ministries at the street level. Those and other small independent ministries like Emmaus tackle everyday disasters that aren't easily reached by the giants of compassion. People battered by hurricanes of schizophrenia and stds, alcoholism and family dysfunction, poverty and prejudice call for no less expertise. Indeed, they demand the kind of vision, commitment, and sheer grit that come from being part of a small, mutually supportive ministry—one small enough to be untouched by corporate-think or by the reduced expectations we sometimes call "realism." Such ministries attract and hold people who are willing to believe that the impossible can be accomplished.
Small churches, also, can serve, nurture, and rescue people in ways that only small-church intimacy can provide. Big churches have large capacity for innovation and setting trends, and they can create specialized ministries for special audiences. But there is an advantage to smallness.
In his recent book, The Great Giveaway, David Fitch addresses the knee-jerk way in which evangelicals admire and copy churches and ministries that garner large followings. He speaks of evangelicalism's "culture of numbers" and shows how it often owes more to free-market capitalism's concern for efficient production than it does to the gospel.
Is there really a virtue in smallness? Fitch thinks so. "The question is," he writes, "what kind of organization facilitates the inner workings of a local body of Christ that are necessary to properly mature new believers into followers of Christ and participants in his salvation through the body of Christ? … Once we see it is the quality of these inner workings of the body of Christ (not the quantity) that [is] necessary for the nurturance of each new convert, we no longer manage the body of Christ as if its size were irrelevant."
What are some of the things that require the high-contact context of a small church? Fitch offers this list: "As the body of Christ, we speak the truth one to another in love (Eph. 4:15), we bring things out into the light (Eph. 5:8-13), we gather together to resolve conflict and forgive one another (Matt. 18:15-17), we discern and make decisions (Matt. 18:18-20), we share the gifts of the Holy Spirit with one another for mutual upbuilding (1 Cor. 12, 14; Rom. 12:3-8; Eph. 4:11-13; 1 Peter 4:10-11), we confess our sins one to another and pray for and anoint the sick (James 5:14-16), and we gather to take part in the Lord's Supper in his special presence and worship (1 Cor. 11)."
"Activities such as these define the church as Christ's body," he writes. However, "these inner workings … rely on interpersonal community that resists larger, more efficient forms of organization."
The Value of One
My conversation with the leaders of Emmaus Ministries prompted me to start thinking about the ways in which Jesus said, in effect, "Small is great." Jesus talked about the kingdom of God largely in terms of small things. Consider the following, familiar comparisons.
First, the kingdom of God is like a mustard seed, which, "though it is the smallest of all your seeds, yet when it grows, it is the largest of garden plants and becomes a tree, so that the birds of the air come and perch in its branches" (Matt. 13:32; cf. Mark 4:32; Luke 13:19).
Second, the kingdom of God is like yeast "that a woman took and mixed into a large amount of flour until it worked all through the dough" (Luke 13:21; cf. Matt. 13:33).
Third, God is like a shepherd who goes after one lost sheep when 99 percent of his flock is safe. Jesus says that "there will be more rejoicing in heaven over one sinner who repents than over ninety-nine righteous persons who do not need to repent" (Luke 15:7).
Fourth, God is like a woman who finds a lost dowry coin. Once again, Jesus says, "There is rejoicing in the presence of the angels of God over one sinner who repents" (Luke 15:10).
Fifth, the kingdom of God belongs to children. When the disciples tried to turn away the people who were bringing children to him, Jesus "was indignant." The kingdom of God "belongs to such as these," he said. "Anyone who will not receive the kingdom of God like a little child will never enter it" (Mark 10:13-16; cf. Matt. 19:13-14; Lk. 18:15-17; Matt. 10:42).
What do Jesus' words about small things and the kingdom of God say to us?
The comparison to the mustard seed that grows into a great bush teaches us about small beginnings that turn into great blessings. A few days after we met Lek Chailert in Thailand, we tuned in to CNN Asia and learned that civil-rights icon Rosa Parks had passed away. Think how her one small act of resistance blossomed into one of the greatest social revolutions America has known.
Churches and grassroots ministries start small, but their blessings can be and have been great in the lives of those they minister to. We must understand that success can often be small steps that are nevertheless very difficult for many people. When I asked John Green of Emmaus Ministries how he measured success, he talked about the special moment when certain clients—for the first time in their lives—make a connection between their behavioral choices and the bad consequences they experience. It's a small thing, but it can lead to big blessings. That is the way of God's kingdom.
Jesus' comparison to the yeast in the dough teaches us that God's work often has hidden beginnings. The clients served by small ministries are often hidden from the view of most people. In the case of Emmaus, many of them are male prostitutes—people not even in the peripheral vision of most Christians. Yet the turnabouts achieved in their lives are just as important as, and perhaps more profound than, the changes accomplished in the lives of more "visible" citizens. The kingdom of God is at work in hidden ways.
The story of the man who searched for one lost sheep when he had 99 safe in the sheepfold teaches us about the value of one. And it also teaches us that true joy is found in the rescue of the lost rather than in the security of the saved. Clearly, small-scale ministries and small churches believe in the value of one. The modern value of efficiency—reaching the most for the least investment—is a much different principle from Jesus' teaching about the value of one. That principle gives encouragement and joy to those who take to the wild streets and who work with patience, hoping, praying, and waiting for moments of insight and change.
The story of Jesus and the children teaches us two things: It tells us about God's desire to build the kingdom with humble building blocks, and it teaches us about the need to receive the kingdom with what I call a "small attitude." Those in small-scale ministries and churches have to believe this. Some of the classic campus and discipleship ministries were founded to target the cool kids or the Big Men on Campus because of the multiplier effect that follows when you convert leaders. But small-scale ministries go after what the apostle Paul called "the offscourings of the world." Indeed, that is who Paul said the church is made of.
No Flashbulbs for God
My mind keeps turning back to Lek Chailert, the tiny Thai elephant lady, and how she symbolizes the fact that small is great. But you don't have to go to rural Thailand to learn this lesson. In small churches and small-scale ministries in your city or town, God is turning small beginnings into great blessings. God values the risk of rescuing one lost person over the security of organizational maintenance. And every single person who is rescued is cause for heavenly celebration.
God wants his kingdom to be received by those with a "small attitude," not by people who want to give God a global marketing plan. God wants to begin in a hidden way, because he is full of surprises. God does not hold media events—except perhaps for humble shepherds. He does not invite celebrities to show up for star-studded evenings. There are not zillions of flashbulbs going off when God begins his work.
A wise bishop ordered his ministry in terms of the maxim, "What don't start small, don't start at all." God calls his people to a frank willingness to receive the challenges of the small-scale opportunities he provides, and then to celebrate the blessings of those encounters.
David Neff is editor of Christianity Today. This article is adapted from a talk he gave at a benefit dinner for Emmaus Ministries of Chicago (www.streets.org). Articles about Emmaus from Christianity Today (1999), Today's Christian (2000), and re:generation quarterly (1998) are available at www.christianitytoday.com.
Related Elsewhere:
National Geographic's feature package on Sangduen Chailert is available from their website.
David Fitch's The Great Giveaway is available from Christianbook.com and other book retailers.
Members of the New Monasticism also preach a "small is beautiful" message.
More about Emmaus Ministries is available from their website and ours, including
Angels of the Night | A Chicago street ministry reaches out to male prostitutes working the street. (Christianity Today, January 11, 1999)
John Green | A light for Chicago's "night community" (Today's Christian, March/April 2000)
Hustlers on the Road to Emmaus | One-thirty a.m., mid-February, ten degrees below zero. I found myself wondering what I was doing standing at the corner of Waveland and Halstead, waiting for a male prostitute to walk around the corner so I could talk to him. (re:generation quarterly, October 1, 1998)
Have something to add about this? See something we missed? Share your feedback here.
Our digital archives are a work in progress. Let us know if corrections need to be made.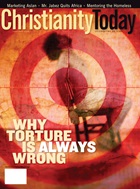 This article is from the February 2006 issue.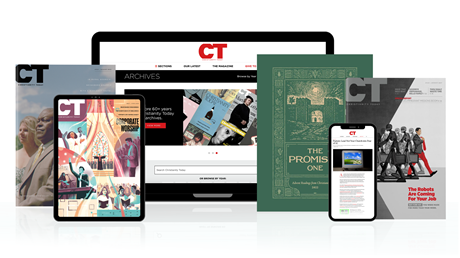 Subscribe to Christianity Today and get access to this article plus 65+ years of archives.
Home delivery of CT magazine
Complete access to articles on ChristianityToday.com
Over 120 years of magazine archives plus full access to all of CT's online archives
Subscribe Now
Small Is Huge
Small Is Huge