After 100 years of modern renewal history, we Pentecostals and our charismatic cousins have been probed and described from every possible angle—theological, sociological, historical, phenomenological, psychological, and more. We've been called a revitalization movement, a movement of social transformation, a millenarian movement, and a movement of racial integration. No doubt a Google search for "Pentecostal" would yield even more labels, thus providing fodder for endless rounds of doctoral dissertations and blog sites.
Pentecostals have endured the anathemas of adversaries ("the tongues movement" being one of the nicer of many unflattering descriptors) and enjoyed the accolades of academics. With our weakness toward self-congratulation and our breakneck pace toward upward mobility and social respectability, Philip Jenkins's words in The Next Christendom could easily become a favorite among us: "Since there were only a handful of Pentecostals in 1900 and several hundred million today, is it not reasonable to identify this as perhaps the most successful social movement of the past century?"
They now talk about us (and even to us!) on CNN and in the halls of Harvard. So it is predictable, especially during this centennial year of the Azusa Street revival, that everyone from theologians to historians to sociologists to the media are seeking to impose their preferred definitions on global charismatic Christianity.
Yet, ultimately, it is up to us to determine for what we will be most known. From the inception of the Pentecostal movement, our mission has always been missions. Indeed, Pentecostalism cannot be understood apart from its self-identity as a missionary movement raised up by God to evangelize the world in the last days. As we prepare to step into our second century, we must decide whether we will continue to be distinguished by missions in the future.
Global Expansion
With more than 580 million adherents (growing by 19 million per year and 54,000 per day), the Pentecostal/charismatic movement has become, in just 100 years, the fastest growing and most globally diverse expression of worldwide Christianity. At the current rate of growth, some researchers predict there will be 1 billion Pentecostals by 2025, most located in Asia, Africa, and Latin America.
The mind-boggling research by David Barrett and Todd Johnson reveals some surprising statistics about the movement:
Pentecostals comprise 3 major streams and 59 diverse categories of worldwide Christianity.
Pentecostals can be found within all 150 non-charismatic Christian traditions.
Pentecostals come from 9,000 ethnolinguistic cultures and speak 8,000 languages.
Pentecostalism is more urban than rural, more female than male, more majority world (66%) than Western world (34%), more poor (87%) than affluent (13%), more family-related than individualist, and more young than old.
Pentecostals are an active presence in 80% of the world's 3,300 largest metropolises.
Barrett and Johnson conclude that "the sheer magnitude and diversity of the numbers involved beggar the imagination." Given this kind of international diversity, are there any clues about what Pentecostalism's central mission may be in tomorrow's world?
I believe Pentecostal/charismatic believers would do well to remember the words of British historian E. H. Carr, "You cannot look forward intelligently into the future unless you are also prepared to look back attentively into the past."
One-Way Ticket
Although Pentecostalism's roots stretch back into the late 19th century, it was at the prayer meetings on Azusa Street, beginning in April 1906, that the movement blossomed into full-blown revival. Worshipers met daily in a 40- by 60-foot wood-frame structure called a "tumbledown shack" by one Los Angeles newspaper. Led by William Joseph Seymour, the African American son of former slaves from Louisiana, the extended prayer sessions were attended by between 300 and 350 people, with many others forced to stand outside. Observers noted that attendees included immigrants, prostitutes, and the poor.
Despite the sudden success of his ministry, biographical sketches of William J. Seymour assess him as "a meek man" and "a man of prayer." Believing that he and the other Azusa Street worshipers had received the promised gift poured out on the early church, Seymour knew they must share this gift with the world. From behind his pulpit of shoebox shipping crates, a new missiological paradigm for the 20th century emerged.
The motto of the Azusa Street Mission was best summed up by Seymour's constant pastoral admonition, "Now do not go from this meeting and talk about tongues, but try to get people saved." This Christ-centered, missionary message of Pentecostals has been highlighted by missiologist Arthur F. Glasser, who wrote: "Many evangelicals have been challenged by the immediacy and reality of God that Pentecostals reflect, along with their freedom and unabashed willingness to confess openly their allegiance to Christ. The achievements of their churches are equally impressive, reflecting their settled conviction that the full experience of the Holy Spirit will not only move the church closer to Jesus at its center, but at the same time, press the church to move out into the world in mission."
Cecil M. Robeck Jr., a Pentecostal historian at Fuller Theological Seminary, uses the word centrifugal to define the core of the Azusa Street revival. Those who were touched by it shared their experiences and touched the lives of others. Their divine empowerment was not meant for the sanctuary, but for the street. One newspaper reported Pentecostals' pervasive presence in public evangelism "on street corners and trolley cars."
The revival's leadership boldly published their priorities in a new periodical called The Apostolic Faith. Under the headline "PENTECOST HAS COME," the lead article in the premier issue (September 1906) was titled, "Los Angeles Being Visited by a Revival of Bible Salvation and Pentecost as Recorded in the Book of Acts."
In clear terms, an editorial expounded upon the leaders' understanding of the global purpose of the revival: "The power of God now has this city agitated as never before. Pentecost has surely come, and with it the Bible evidences are following, many being converted and sanctified and filled with the Holy Ghost, speaking in tongues as they did on the day of Pentecost. The scenes that are daily enacted in the building on Azusa Street and at missions and churches in other parts of the city are beyond description, and the real revival is only started, as God has been working with his children mostly, getting them through to Pentecost, and laying the foundation for a mighty wave of salvation among the unconverted."
With supernatural phenomena bursting on the scene, early Pentecostals were certain they were living in the end-time restoration of New Testament apostolic power. They reasoned that signs and wonders were a portent of Christ's imminent return. Little wonder, then, that they took off with such explosive dynamism. Many departed immediately, without adequate financing or missionary training, to far-flung destinations. In 1912, the Crouch family left Missouri for Egypt on a one-way trip. They covered most of their own expenses and expected to remain in Egypt until the Rapture, which they believed to be near at hand.
Vinson Synan, dean of the divinity school at Regent University, has characterized these men and women, most of them laity, as "missionaries of the one-way ticket." They had received the gift, and there was a story to tell, with no time to waste. They had, according to Harvard professor Harvey Cox, "a religion made to travel."
Media observers of early Pentecostal revivals also noted the new movement's flattening demographic affect. Its adherents came not from the ranks of the privileged, but from the powerless. Most of its outstanding pastors, evangelists, and missionaries were laymen from the ranks of the working classes, with little or no education. They were often met with scorn and ridicule by both the press and professional clergy.
"If they lacked the education to speak with authority on matters of doctrine," said Pentecostal evangelist David du Plessis, "they certainly did not lack the power to cast out devils and heal the sick. If they could not argue with theologians whose terminology they could not understand, they were able to speak the language of the masses and understand their problems."
The release and participation of laity is thus one of the most oft-noted marks of Pentecostal/charismatic growth cited by researchers. In an introductory study of Pentecostalism for Cambridge Press, Allan Anderson wrote, "Cerebral and clerical Christianity had, in the minds of many people, already failed them. What was needed was a demonstration of power by people to whom ordinary people could easily relate. This was the democratization of Christianity, for henceforth the mystery of the gospel would no longer be reserved for a select privileged and educated few, but would be revealed to whoever was willing to receive [it] and pass it on."
Seven Prayers
As Pentecostals today look ahead and dream great dreams about the future of our movement, I believe we must also hold tightly to our class-free, missionary-minded past.
This might be a good place to offer my projections for Pentecostalism's future. But I'll leave that to "experts" who have developed an evangelical industry around forecasting trends. In light of Pentecostalism's unpredictable first century, I prefer to remain open to surprises of the Holy Spirit.
So instead of predictions, I'll offer prayers. Rather than making projections, I'll make pleas. Here is how I am praying for my Pentecostal and charismatic family, and for my sisters and brothers in the international body of Christ.
1. That we may keep Christ and his commission at the center. May we remember the admonition of William Joseph Seymour to lift up Christ and "try to get people saved," because, as Luke wrote: "God has raised this Jesus to life, and we are all witnesses of the fact. Exalted to the right hand of God, he has received from the Father the promised Holy Spirit and has poured out what you now see and hear" (Acts 2:32-33). May we trust God, as the editors stated in the first issue of The Apostolic Faith, "for a mighty wave of salvation among the unconverted."
2. That we maintain the dual dynamics of Word (exegesis) and Spirit (experience) as necessary equipping for mission. "There is no need to choose between a passion for souls and a desire for spiritual gifts," said Donald Gee, one of early Pentecostalism's most respected leaders. "They are mutually inclusive, not exclusive. … Therefore, we must hold fast to rightly understanding the gifts of the Spirit as a divine equipment for the work of world evangelization."
3. That we lift up holiness of character and turn from the carnal display of human charisma. Pentecostal/charismatic celebrities—some preaching a false gospel of peace, power, and prosperity—need to get back behind Seymour's shoebox pulpit or get off the platform. Missions historian Gary B. McGee has it right: "The Azusa Street revival illustrated the fundamental truth about the acquisition of spiritual power: The desire to love others and win the world for Christ [must] begin with brokenness, repentance, and humility."
4. That we get the life-giving, socially transforming gospel of Jesus Christ out of our sanctuaries and into the streets. As an urban specialist and social historian, Augustus Cerillo Jr. recounts the amazing growth of Pentecostals in the world's cities, yet laments that without a divine miracle, the proportion of Christians in the world's great cities will continue to decrease in the foreseeable future. In an introspective statement both self-critical and self-affirming, Vinson Synan said before the 1987 General Congress on the Holy Spirit and World Evangelization in New Orleans, "We've been in the upper room with our spiritual gifts. But we are supposed to go to the streets with our tongues and healings and prophecies. We believe Pentecostals and charismatics have been raised up by God as shock troops for the greatest final assault on the Enemy."
5. That we humble ourselves and acknowledge all partners in the harvest. Pentecostals and charismatics are not sole possessors of the gift or the Giver. Together with the entire global Christian community, may we prayerfully unite for the power to witness (Acts 1:8).
6. That the Azusa Street centennial will not only be a cause for celebration, but also a time for solemn reflection. We need to think deeply about the awesome task remaining before us and humbly petition our God for another great move of his Spirit in our time.
7. That we will be more excited about the glory of God than about our own accomplishments and growth. After all, where did our "accomplishments" come from? One of the most oft-quoted passages in Pentecostal preaching is Zechariah 4:6: "'Not by might nor by power, but by my Spirit,' says the Lord Almighty."
It has been said that we look to the past not to restore it, but in order to discover landmarks. The Azusa Street revival is a unique and powerful landmark, but the spirit of the Azusa Street experience is always beyond, to the ends of the earth. It is there we shall be his witnesses when the Holy Spirit comes upon us.
Grant McClung, an international missions leader with the Church of God (Cleveland, Tenn.), is editor of Azusa Street and Beyond (Bridge-Logos, see www.azusastreetandbeyond.com).
Related Elsewhere:
Also posted today is:
Inside CT
Pentecostal Connections | Charismatic's forbidden fruit.
More recent Christianity Today articles on Pentecostalism include:
The Pentecostal Gold Standard | After 50 years in ministry, Jack Hayford continues to confound stereotypes—all to the good. (July 1, 2005)
Hand-Clapping in a Gothic Nave | What Pentecostals and mainliners can learn from each other. (March 11, 2005)
Christian History Corner
The Roots of Pentecostal Scandal—Romanticism Gone to Seed | The sexual stumblings of prominent ministers point to a hidden flaw in Pentecostal spirituality. (Sept. 17, 2004)
Christian History Corner
Romanticism Gone to Seed—Part II | Have the holiness and Pentecostal movements really been "hyper-vertical" and "anti-domestic"? (Oct. 01, 2004)
God's Peculiar People | Historian Grant Wacker explains why Pentecostals survived and even flourished. (March 18, 2002)
Are Pentecostals Sex-Crazed? | John Steinbeck and Robert Duvall have portrayed them that way, and such criticism even came from inside the movement. But was it ever warranted? (Sept. 11, 2001)
Christian History Corner
Explaining the Ineffable | In Heaven Below, a former Pentecostal argues that his ancestors were neither as outlandish as they seemed nor as otherworldly as they wish to seem. (Aug. 31, 2001)
Should We All Speak in Tongues? | Some say speaking in tongues is proof of 'baptism in the Holy Spirit.' Are those who haven't spoken in tongues without the Holy Spirit? (March 6, 2000)
Article continues below
A Peacemaker in Provo | How one Pentecostal pastor taught his Congregation to love Mormons. (February 7, 2000)
Christian History & Biography devoted an issue to The Rise of Pentecostalism. More on Pentecostalism from CT sister publications include:
Whither Pentecostal Scholarship? | The overlap between "people with the Spirit" and "people with Ph.D.'s." (Books & Culture, May/June 2004)
El Espiritu Santo | Exploring Latino Pentecostalism. (Books & Culture, May/June 2004)
A Global Pentecost | The fastest-growing religious group? (Books & Culture, March/April 2002)
Have something to add about this? See something we missed? Share your feedback here.
Our digital archives are a work in progress. Let us know if corrections need to be made.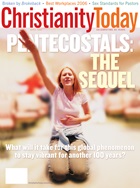 This article is from the April 2006 issue.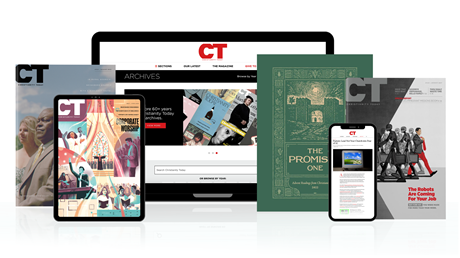 Annual & Monthly subscriptions available.
Print & Digital Issues of CT magazine
Complete access to every article on ChristianityToday.com
Unlimited access to 65+ years of CT's online archives
Member-only special issues
Subscribe
Pentecostals: The Sequel
Pentecostals: The Sequel