It still feels like last night to Newton Mudzingwa. Seven months ago, Mudzingwa, a security guard in an affluent suburb of Harare, Zimbabwe's capital, had a much-appreciated night off-duty.
He spent the evening in one of the city's burgeoning slums, in the one-room shack he had rented—with him, his wife, and his two young children crammed into a single bed. It was to be their last night at home together.
Around midnight, the blare of loudspeakers jolted them out of sleep. Police and military officers cheered by President Robert Mugabe's political activists swooped down on the slum to demolish "illegal" structures. Operation Murambastvina (meaning "Drive Out Trash") had begun. Mudzingwa quickly threw together whatever goods he could save. His wife bundled blankets around their children. As temperatures plummeted to biting levels, they rushed outside. The family then watched as bulldozers reduced to rubble the only home the children had ever known.
"All I could ask was: 'Why, God? Why?'" recalls Mudzingwa.
The government says that only 700,000 people were relocated and that urban renewal was long overdue. Other reliable estimates put the figure at 1.7 million displaced people. Either way, the Mudzingwas were among tens of thousands of locals suddenly without shelter, proper food, and clean water.
Broken Promise
The "Mugabe tsunami," as African news media have labeled the event, pushed Zimbabwe, a country the size of Montana with a population of 12 million, back onto front pages around the world. U.N. Secretary General Kofi Annan rushed top envoy Anna Kajimulo Tibaijuka to begin a fact-finding mission to the former Rhodesia.
On the ground, away from the media, churches located in the slums felt the first brunt of the government's action. Thousands sought help.
"Many were coming to churches saying, 'We are desperate,'" says Jethro Dube, a pastor on staff with the Mennonite Central Committee (MCC) in Bulawayo, the country's second-largest city.
Churches responded by delivering food, water, and blankets, as well as by housing many of the displaced—at least until they, too, were forcibly moved. The government put many families into holding camps in remote areas.
"The government has been very harsh in dealing with poor people," observes Bulawayo-based Useni Sibanda, program manager of the Justice and Peace Commission of the Association of Evangelicals in Africa (AEA). Sibanda witnessed the suffering and death of some in these camps.
Fortunately, through the help of churches and friends, Mudzingwa managed to find safe haven in the country for his wife and children. Mudzingwa remains an "illegal" squatter in an urban building under construction.
The government eventually succumbed to local and international pressure and halted the destruction. But by February, the beginning of the rainy season in Zimbabwe, thousands were still living out in the open or under plastic sheets. The government had promised earlier to build 200,000 new homes by the year's end. But the deadline came and went without much being done. Some media reports say the few houses that were constructed crumbled under the first heavy rains.
Many church leaders told CT that restoring order in townships was not the original issue, regardless of what the Mugabe government claimed. "It is the way it was done," explains Tawona Mtshigo, then a church-based activist and now director of the International Bible Society in Zimbabwe. "Was it cleaning up places or people?" she asks.
House of Stone Crumbles
Everything about Zimbabwe nowadays is bleak. Harare is gloomy. Potholes cripple the already rickety public transportation system. Water shortages occur daily. Power outages are frequent and will get worse. The utility company says it needs u.s.$9 million per month to pay its bills for imported power.
People line up for basic necessities—food, gas, medicine—if they can be found, that is. Even cash is scarce. Banks run out. If you can get cash, you need a wheelbarrow to carry it home. Gideon Gono, the country's reserve bank boss, said inflation would be at 800 percent by March. "We are all millionaires," laughs a trader of foreign currency outside a Harare bus stop. He offers 1 million Zimbabwean dollars for u.s. $10.
Pessimism reigns. In Mbare, a high-density slum township near Harare, the poverty is glaring. Garbage gathers. Burst sewage pipes gape and spill. Street children roam. Residents struggle to make ends meet by peddling anything and everything.
Workers are frustrated. "The government has no clue or strategy to turn around the economy," said Lovemore Matombo, president of the Zimbabwe Congress of Trade Unions.
But how did Zimbabwe (Shona for house of stone), once paraded as Africa's most promising nation, become a "wasteland" and a "colossal disaster," in the words of Trevor Ncube, a local newspaper publisher?
All fingers point to Mugabe, now 82. The apparent political stagnation (many say degeneration), economic quandary (some say squandering), and general social disorder are all deeply rooted in Mugabe's 25-year rule.
Four years ago, Mugabe unexpectedly faced formidable opposition to his reelection. The Movement for Democratic Change was overtly white-supported. Mugabe said it was "the resurgence of white power." The response was severe. "Gangs armed with axes and pangas [machetes] invaded white-owned farms across the country," said one report. "Government and army trucks were used to transport them to the farms and to keep them supplied with rations once there."
The result was that no serious political or economic reform has been possible. Zimbabwe remains among the world's top-20 most-failed states, according to Foreign Policy magazine, for its weak economy, poor security, ongoing violence, and corruption. As a result, millions are at risk of severe malnutrition for the remainder of 2006.
Call to Prayer
It is a few days before Christmas, and a slender, rather tall man in a blue business suit, carrying a black briefcase, walks through the doors of the once-lavishly appointed Harare International Conference Center. He is here to lead a convention—a prayer convention. He is Alexander Chisango, pastor of a Harare church and chair of the Evangelism and Discipleship Commission of the Evangelical Fellowship of Zimbabwe (EFZ)—a member of the World Evangelical Alliance. In 2005, the EFZ called all churches in Zimbabwe to prayer for "the restoration of our nation."
As pastors take their seats, a team is already on stage leading worship. The music is a sweet combination of local choruses in indigenous languages, international contemporary tunes, and traditional hymns. Hands are raised. Knees are bent. Bibles are opened. Floors are paced. Prayer for the nation is on the minds of everyone.
The music fades. Chisango takes the pulpit. He does not mince his words. "We pledged ourselves to pray for our nation." He says the plan for the all-day event is prayer. Period. No long sermons. No networking. No coffee breaks. Just prayer for the nation. The need is urgent.
"We are saying things in our nation are not the way they ought to be," he says.
Before long, everyone turns to prayer.
Chisango prays in a corner. Listening to the passionate prayer for his country stirs hope. "Lord, bring us to that place where there will be complete restoration to the nation of Zimbabwe."
An announcement is made. Evidently, hotel leaders did not know this would be a "noisy" event. They want the convention to move to a soundproof theater. Music equipment is pulled down. Directions are given. Church leaders troop to the theater designed to contain noise. Fortunately, none need control their prayer levels now.
Chisango is not alone in this fervency for prayer.
"Only God can fix this mess," Samuel Manyika says later (to loud applause). A prominent pastor and overseer of 50 churches, Manyika is clad in a casual black outfit, but he commands a strong presence that reveals his standing among his peers.
"Zimbabwe's problems can only be solved by God, not by political parties," he reiterates.
The call to pray for Zimbabwe is picking up momentum. In Bulawayo, a monthly interdenominational vigil already attracts 3,000 to 4,000 people. "It is a wake up call—a kairos moment for the churches," says AEA's Sibanda.
But Chisango and Manyika hunger for more. Manyika calls for a "no-church Sunday." All church buildings will be closed so that Christians can gather in stadiums to pray. "Forgo one Sunday's offering," he says to his fellow pastors. "We need to saturate our nation in prayer."
Christians in top government positions agree. "God says if we pray, he will heal our land," says Rutendo Wutawunashe, an influential pastor and also vice chair of the nation's Anti-Corruption Commission. "Corruption comes from the heart. We are the only people with the power to change hearts."
Meanwhile, Christians continue to help with immediate needs. When drought and farm invasions caused food shortages, church organizations responded. Christian Care became one of the largest distributors of food. Staff numbers shot up from 85 to 500 in order to feed 1.6 million people. World Vision and the Mennonite Central Committee also delivered relief aid.
The United Nations and other international organizations have come to see churches as reliable partners in responding to Zimbabwe's crisis. Senior U.N. executives often prefer to deal with church leaders rather than government officials. "They met with us for an hour," said Sibanda, recalling a high-powered delegation that visited Bulawayo.
Still, pastors and other Christian leaders must walk a tightrope. State security services monitor outspoken religious leaders. Christians say they will not back down from speaking out.
"The church cannot keep quiet when evil is being committed," said Bishop Sebastian Bakare of the Anglican diocese of Manicaland. "The church is not against politicians, but against evil and unjust acts."
Isaac Phiri is a journalist based in South Africa.
Article continues below
Related Elsewhere:
Also posted today is:
Sidebar
Sweeter Dreams | HIV infections decline in Zimbabwe.
Christianity Today covered Mugabe's Operation Murambatsvina when it happened.
Mugabe's Bulldozers | Churches help dispossessed amid government crackdown. (Aug. 11, 2005)
Weblog Bonus: Mugabe Forces Drive Homeless from Churches, Arrest Pastors | Zimbabweans had fled to sanctuaries after president bulldozed towns. (July 22, 2005)
More Christianity Today articles on ministry in Zimbabwe include:
Silencing Rights Talk | Law would shut down many faith-based groups. (Oct. 25, 2004)
Food for Votes | Aid agencies fight starvation, Mugabe's brutal politics in Zimbabwe (Dec. 18, 2002)
Bishop Appeals For End To Violence In Zimbabwe | Political intimidation has mounted in the run-up to the March presidential election. (Jan. 11, 2002)
Church School Used to Train Militias, Zimbabwe Politician Says | Youths reportedly instructed in political violence techniques in run-up to election. (June 5, 2001)
Leading Anglican Priest Protests by Cutting Ties With Church in Zimbabwe | White clergyman upset with appointment of bishop and with President Mugabe. (June 5, 2001)
Zimbabwean Archbishop Warns That Church Must Stand Against Injustice | Article in church newspaper is thinly veiled criticism of Mugabe government. (June 5, 2001)
Zimbabwe Christians 'Outraged' at Police Role in Student's Death | Catholic Commission for Justice and Peace calls for peace as students demonstrate over low grants. (April 23, 2001)
For more stories on Zimbabwe, see AllAfrica.com and Yahoo full coverage.
Have something to add about this? See something we missed? Share your feedback here.
Our digital archives are a work in progress. Let us know if corrections need to be made.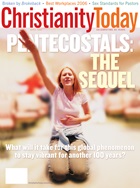 This article is from the April 2006 issue.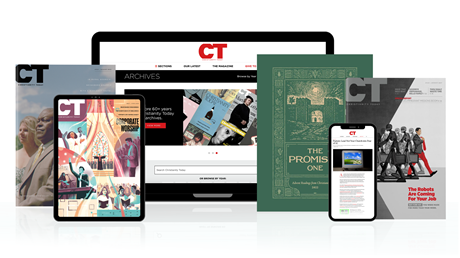 Annual & Monthly subscriptions available.
Print & Digital Issues of CT magazine
Complete access to every article on ChristianityToday.com
Unlimited access to 65+ years of CT's online archives
Member-only special issues
Subscribe
Zimbabwe Nightmare
Zimbabwe Nightmare