There she was, walking toward me up the church aisle. Mary gave me my first job as a teenager—modeling clothes at fashion shows for her plus-size boutique—and I'd heard she had gastric bypass surgery since I'd last seen her. Indeed, half of the Mary I'd known approached.
"Lisa, you've got to talk to your doctor," she said. "Really, you should consider having a gastric bypass. I feel fabulous." Mary was nothing if not to the point.
"I'd rather die!" I told my sister.
Five years later, I almost did die after having weight-loss surgery. I woke up in the recovery room to strains of America's "Sister Golden Hair," an auspicious start if ever there was one. But within hours, I was pale and fainting. Eventually, I was diagnosed with a blood clot in my lungs. And over the following months, I contracted pneumonia, hemorrhaged, and needed three blood transfusions.
One-and-a-half years later and 100 pounds lighter, I still feel ambivalent about going under the knife in a bid to lose weight. The hard questions that led up to surgery still linger.
I've long been aware of the extent to which food has defined my person—for good and for bad. Considering surgery meant considering the death, or at least the maiming, of the vision of myself to which I'd grown accustomed.
But fear of losing my identity quickly gave way to questions about the theological ramifications of surgery: What would it mean to have a doctor section off a portion of my stomach and then reroute my digestive system?
Gnostic heresies be damned; bodies matter. God took one on. The resurrection of one is the locus of my salvation. Would seeking to control my own in this heavy-handed manner signal a loathing of my physical self?
On the other hand, in Matthew 5, doesn't Jesus advocate doing away with physical appendages that cause us to sin? Most scholars quickly add that Jesus isn't advocating amputation; the problem is with the heart. But this vivid picture resonated with me as I considered a gastric bypass. After all, a host of ascetics throughout church history advocated serious deprivation, even torture, of the body in a bid for increased holiness.
I was at a stalemate.
That's when I heard about a procedure called gastric banding, in which a doctor places an adjustable band around the stomach. Food passes through the constriction slowly, so you feel full quicker and for a longer period. The weight loss is slower, but there is no damage done to the natural working of internal organs—no rejection of the self.
After asking myself one key question—"What woman doesn't have a pair of control-top pantyhose tucked away in her underwear drawer?"—I let a doctor slip on this internal girdle.
Despite losing 100 pounds, I still have a lot of weight to lose. And I've recently encountered another snag: Part of the implanted device has flipped. This will mean another surgery.
In the meantime, ads remind me every day that no money or energy should be spared in order to avoid having a body like mine. Yet, I've never hated my arms and legs and everything that's connected to them. I am sometimes embarrassed by my girth; my frailty is writ large in the stretch marks etched across my body's surface. But my body is me. And I am loved by my Creator. Therefore, my body has the same intrinsic value shared by all bodies—skinny, short, missing an arm, featuring webbed toes and a big nose, or otherwise.
It's that belief that made the idea of having weight-loss surgery so difficult to swallow. But it's also that belief that motivates me to strive to live the best possible way in this body today. My ongoing bid to lose weight really isn't about beauty or health, goals those ads often advocate. I'm happy to believe I possess at least some unique measure of beauty, and I've never been more ill than when in pursuit of skinniness.
Instead, I want a body that will allow me to better engage the world God put me in—to be able to take long walks through Manhattan with my best friend, to spend a day gardening with my mom, to play a game of pickup basketball with my brothers.
For all the sensory pleasure God provides through food, there is more of his creation to be experienced. I'm trying to trade some of the known (Christmas cookies) for some of the unknown (a bike ride along Chicago's Lake Shore Drive). I want to move from that which takes me into myself to that which promotes a loving relationship with God's world and the people in it.
I think that's pretty much what the Christian life is about— whether you're fat, skinny, or somewhere in between.
Lisa Ann Cockrel is associate editor of Today's Christian Woman.
Have something to add about this? See something we missed? Share your feedback here.
Our digital archives are a work in progress. Let us know if corrections need to be made.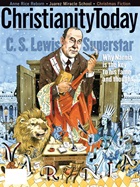 This article is from the December 2005 issue.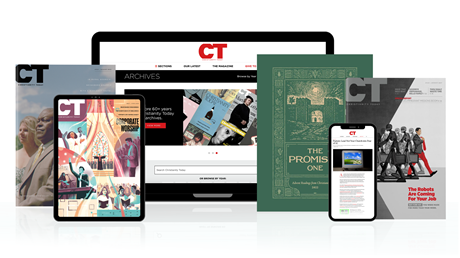 Annual & Monthly subscriptions available.
Print & Digital Issues of CT magazine
Complete access to every article on ChristianityToday.com
Unlimited access to 65+ years of CT's online archives
Member-only special issues
Subscribe
If Thy Stomach Offends Thee
If Thy Stomach Offends Thee