Gene Jackson, a former printing executive and seller of character bears, has a big vision. He hopes to transform a local West Coast monthly newspaper into "the nation's faith newspaper" for Christians and Christian outreach. But first he'll have to overcome the fallout from multiple failed business partnerships.
In February, Kingdom Ventures, Inc., Jackson's publicly traded firm in Minden, Nevada, near Lake Tahoe, launched Christian Times Today. The publishers of this monthly broadsheet hope to circulate it in 70 cities through a network of 10,000 churches and retail outlets. According to the company's website, the circulation of the paper is 500,000. (Kingdom Ventures, Inc., is not associated with a charity of the same name in Massachusetts.)
"We're spending the money and making the effort to have the look and feel of a USA Today, but with a Christian voice," said Susan Caliger, national operations director. The paper includes news articles, features, advertising, and commentary by David Limbaugh, John Maxwell, and Dave Ramsey.
Growth story
About 100 newspapers in North America belong to the Christian Newspaper Association (CNA). Most of them are small in circulation, budget, and staff. Christian Times Today is not a CNA member. CNA reports its members have a monthly total circulation of 2.7 million, up about 50 percent from 1994. By comparison, total daily newspaper circulation has declined about 7 percent since 1994. Most Christian newspapers are distributed free through churches locally, but they collaborate for nationwide ad campaigns.
The promise of an American newspaper that advocates Christian values dates to the 18th century. But journalism historian Michael Smith, chair of the Department of Mass Communication at Campbell University, told Christianity Today, "The history of Christian newspaper publishing is fraught with peril." Many Christian newspaper owners come from a ministry background, Smith says, suggesting they have less experience in running a business.
Christian newspapers that have survived maintain a local focus. Doug Trouten, executive director of the Evangelical Press Association, understands the contemporary appeal of community-based Christian journalism. "Christian newspapering is one of the fastest growing segments of the Christian publishing industry," he told ct. "A local Christian newspaper serves a unique role. It covers local news in a way that national Christian magazines can't and covers religious news in a way that local secular newspapers won't. It can be very close to its readers."
But Kingdom Ventures hopes to do more than newspapering to support its bottom line. Jackson says Christian consumers are the "largest untapped affinity group" in America. Kingdom Ventures targets Christians with specific products and services.
In 2003, Kingdom Ventures reached two milestones: First, by going public in January, the firm sold stock to investors at 30 cents each. (There are 20 million shares outstanding.) Second, due to higher trading, the stock price shot up to $1 per share, nearly tripling the firm's value in a period of weeks and giving the firm significant market visibility.
But in July, troubling developments emerged. The federal Securities and Exchange Commission (SEC) subpoenaed documents related to Kingdom's public offering. Later, Gene Jackson told CT he suspected the firm that helped Kingdom go public had pumped up the stock price to its own benefit. (Stock-price manipulation is a federal offense.) Jackson declined to provide evidence of stock-price pumping to CT. Also, he said neither he nor Kingdom profited from it. By August, the firm's stock price had plunged back to around 30 cents. According to recent investment analysis from Reuters-owned Multex Fundamentals, Kingdom had net losses of $3.1 million over the nine months ending October 31, 2003, despite reporting significant revenue growth.
Soured business relationships
Throughout 2003, Kingdom Ventures experienced problems executing its business plan of both running a newspaper and tapping the Christian market with specialized products and services.
For example:
• Kingdom Ventures and Keener Communications, publisher of Christian Times before it sold that name to Kingdom, had a complex contract allowing both parties to publish newspapers. But that agreement fell apart within months. After the deal was signed in June, owner Lamar Keener said Kingdom misrepresented their arrangement. "They made it look a lot more significant; that they bought more than they really did." Keener, whose newspaper has been renamed Christian Examiner, said Kingdom's actions have confused Keener's readers and clients.
• Last year, shortly after going public, Kingdom bought XtremeNotebooks, which manufactures notebook computers. But Kingdom sold the company back to its former owners less than a year later.
• Last August, Kingdom agreed to buy a company that mails advertising card decks to churches and ministries. By the beginning of December, Kingdom returned Ministry Values for Growing Churches to its previous owner.
• Last September, Kingdom announced plans to buy the American Association of Christian Counselors, the largest Christian counseling organization in the country. The AACC hosts conferences and provides training and literature. Kingdom claimed the alliance would add $10 million in revenues. But by December 15, the deal was dead.
• In January 2004, Kingdom's Nevada landlord sued the company in a tenancy dispute, according to court officials. The case is still unresolved.
On behalf of Kingdom Ventures, Gene Jackson denies any wrongdoing in connection with these soured business deals.
Volatile business-ministry mix
The relationship between Christian Times Today and its publisher, Kingdom Ventures, Inc., reveals the potential hazards of mixing business and ministry.
To investors, Kingdom sells itself as a fast-growing company with high profit potential. But to Christian readers, Christian Times Today sells itself as a vehicle for church unity and a tool for potent outreach to "our world culture." Previous attempts by a national newspaper to balance business with evangelical ministry have not fared well. Campbell University's Smith says, "I can't think of anything more difficult than starting a Christian newspaper." In 2000, Smith and two other scholars published their research on the failed national Christian newspaper, the National Courier (1975-77), in the book Media and Religion in American History.
That biweekly, owned by book publisher Logos International, labeled itself "America's Christian Newspaper," and Bob Slosser, a veteran journalist from The New York Times, was editor. "Many of the National Courier's complications can be traced to its failure to discover a balance between being a business and a ministry," the scholars observed.
Niles Logue, an economics professor at Gordon College, looked at the quarterly financial statement Kingdom filed last May with the SEC, the only statement independently audited. The statement reported that Kingdom had a net income of $688,000. However, the same statement showed a negative cash flow from operations of $2.8 million. "It doesn't appear that they've generated any positive cash flow from their operation," Logue says. But media startups often lose money for years. For example, Gannett's USA Today was unprofitable for 15 years or more after its 1982 launch.
Jackson admits the company has made missteps in the process of going public and dealing with other Christian companies, and has had difficulty sticking to its business plan. "We got ourselves into several quagmires," Jackson said. "We've got to hone the strategy in '04."
Perhaps Jackson will find the words of his own newspaper's Perspectives columnist prophetic. John Maxwell wrote in the February issue, "No matter what kind of adversity you experience there is always a potential jewel of success contained in it."
Rob Moll is online assistant editor for Christianity Today.
Related Elsewhere:
Also posted today is an article about how Lamar Keener and his selling of the Christian Times name.
More information about Kingdom Ventures is available on the company web site.
SEC filings, press release, and stock information on Kingdom Ventures are available from Yahoo finance.
Smartmoney magazine has an article about some of Kingdom Venture's sour business deals.
An Internet Wall Street group has released a report on Kingdom.
Kingdom's SEC filings are also available from the SEC web site.
The Christian Examiner has a FAQ, a statement, and more information about its dealing with Kingdom Ventures.
Bill Mann, from the financial web site The Motley Fool, comments "Given that Kingdom Ventures has been the vehicle for past promotional activity that has run afoul of regulators, one would think that anyone who wishes to keep his reputation intact would stay far away."
The Evangelical Press Association has released a statement saying that Christian Times Today is not an EPA member.
Christian Times Today is available online.
Have something to add about this? See something we missed? Share your feedback here.
Our digital archives are a work in progress. Let us know if corrections need to be made.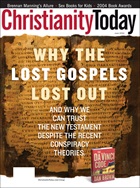 This article is from the June 2004 issue.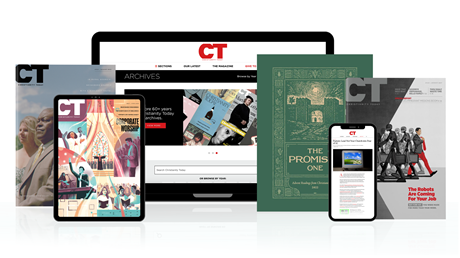 Subscribe to Christianity Today and get access to this article plus 65+ years of archives.
Home delivery of CT magazine
Complete access to articles on ChristianityToday.com
Over 120 years of magazine archives plus full access to all of CT's online archives
Subscribe Now
USA Today for Christians
USA Today for Christians