Jim and Susanne are facing a modern moral dilemma. Desperate for a baby after struggling with infertility for eight years, they agreed to try in vitro fertilization with embryo transfer (IVF-ET). Multiple eggs were surgically harvested from Susanne's ovaries and then fertilized with Jim's sperm in the lab.
Three of the resulting embryos were implanted in Susanne's uterus in the hope that at least one would grow into a baby. The seven remaining embryos were frozen (cryopreserved) for later implantation attempts, if needed.
Surprise—Jim and Susanne are the proud parents of triplets, two girls and a boy. According to the Center for Applied Reproductive Science, triplets are unusual but not unheard of. Typically when three embryos are implanted, would-be parents can expect at best one baby. There is about a 20 percent chance of twins and a 5 percent chance of triplets, depending on the age of the couple.
Jim and Susanne are ecstatic with their triple blessing—and a bit frantic. Believing they have a full quiver, they desire no more children. They wonder, What do we do with the human life we have left on ice?
Options
Jim and Susanne are not alone. More than 400,000 frozen embryos are stored in clinics across the United States. No one knows how long frozen embryos retain their viability, but children have been born from embryos stored five to ten years.
A significant number of these embryos belong to believers. Many couples like Jim and Susanne have considered donating the embryos to the clinic storing them. But there is a hitch. The clinic offers no guarantee that recipients of their embryos will share Jim and Susanne's Christian faith.
"As Christians," Jim says, "it would grieve us to think that children we helped bring into this world would be raised in a non-Christian home and perhaps be lost for eternity."
Jim and Susanne and countless others who have created frozen embryos sitting in high-tech storage have three options:
Allow the clinic to destroy the embryos. In our culture, where embryos are not viewed as human life, such destruction is perfectly acceptable. For believers like Jim and Susanne, however, such a solution is abhorrent. Susanne says, "We agree with the philosophy of [Dr. Seuss's] Horton the Elephant, 'A person's a person no matter how small.'"
Allow the embryos to remain in storage indefinitely. This is not a life-honoring approach either. Unfortunately, according to Ron Stoddart, founder of the Snowflakes embryo adoption program in California, this is the approach that most Christian couples seem to be taking.
"Most couples want to avoid making a decision about their embryos," Stoddart says, "so they just keep paying their clinic a yearly fee to keep them in frozen storage."
Donate the embryos to another infertile couple so their embryos have a chance at life. Without doubt, this option is the most attractive for many Christians. Christians like Jim and Susanne, however, will want to make sure that their embryos are donated to couples who will raise their offspring to know the Lord.
Thankfully, there are Christian physicians and at least two national organizations that gladly honor the requests of donors to find believing couples for their embryos. One of these organizations is Nightlight Christian Adoptions in Southern California. Nightlight began the Snowflakes embryo adoption program. Why Snowflakes? As their brochure puts it, "Each frozen embryo is a beautiful, unique, fragile creation of God."
Stoddart adds, "An embryo is not a potential human life—it is human life with potential." Through the Snowflakes program, genetic parents can choose adopting parents who will meet their religious standards and values. Couples can expect to pay $6,000-$9,000 for an embryo adoption through Snowflakes.
Another organization, the National Embryo Donation Center (NEDC) is located at the Baptist Hospital for Women in Knoxville, Tennessee. Last spring NEDC began an embryo donation and adoption program. Endorsed by the Christian Medical Society, NEDC seeks to match unused embryos from in vitro fertilization with infertile couples across the country.
The center's goal is "to give life to these tiny embryos and to give an infertile couple a new name: parents."
Complications
Embryo donation and "adoption" is not without implications and complications.
In legal terms, there is no such thing as embryo adoption. Since our society does not grant embryos the status of personhood, the transfer of embryos from one couple to another is governed by contract law rather than by adoption law. Hence there is no legal requirement for "adopting" parents to undergo a suitability assessment, though it often takes place anyway.
Because legalities concerning the procedure remain unsettled, couples who donate and receive embryos should have a carefully written contract drawn up by a qualified attorney. Relinquishment of rights should be thoroughly addressed.
Those who donate embryos must also reckon with the emotions resulting from giving their genetic children to others. And those who give birth to embryo-adopted children must decide when and how to disclose to these children the nature of their birth.
It is not surprising, then, that couples with unneeded embryos feel conflicted. According to a 2003 national survey commissioned by RESOLVE, the national infertility association, only 18 percent of the association's members who had embryos in storage were likely to consider donating their embryos to another infertile couple.
Nevertheless, embryo adoption can be the answer to prayer—both for those burdened with unneeded embryos and also for those struggling with unresolved infertility. As one recipient of such a gift says, "To have someone say, 'They are from us, but they are for you,' is the most awesome thing."
After discovering the Snowflakes program on the Internet, Jim and Susanne are prayerfully considering donating their embryos to another Christian couple. "We really want to do the right thing," Jim says, "but it will take courage and wisdom."
Before You Begin
If a couple opts for an IVF procedure, how should they go about it? Is it necessary to produce and freeze more embryos than are needed for implantation into the womb? Why couldn't a couple decide to have only two or three eggs fertilized, and then have all the embryos transferred to the womb?
This approach would eliminate frozen embryos and seems logical and wise. Unfortunately, it is not very practical. At the best infertility clinics, the success rate for each IVF attempt is 25-50 percent. This means that many couples undergo two, three, or more IVF attempts before a successful pregnancy. Sadly, some couples who make repeated attempts never succeed.
What is more, the process of harvesting multiple eggs from a woman's ovaries is unpleasant, painful, and expensive—the average cost is $12,400. Faced with such facts, most couples who undergo IVF are willing to produce more embryos than they can use for what is known as an initial embryo transfer attempt.
Nevertheless, a number of Christian physicians, counselors, and church bodies offer the following rule of thumb: Do not allow more embryos to be formed than the number of children you are willing to parent. That is, if an infertile couple feels that they can honestly parent up to six children, then they can reasonably allow up to six embryos to be formed.
Perhaps two of the embryos will be implanted in an initial attempt, and the remainder will be frozen for later use. It is extremely unlikely that all six embryos would become viable pregnancies. If such a "miracle" should happen, the couple has predetermined that they will give all six embryos a chance at life. None of their embryos will remain in limbo on a shelf.
This life-affirming approach contrasts with creating 15, 20, or more embryos—far more children than any single couple can realistically parent.
John Van Regenmorter is co-author of When the Cradle is Empty: Answering Tough Questions About Infertility (Focus on the Family and Tyndale Publishing House, 2004). He also directs Stepping Stones, a ministry of Bethany Christian Services for infertile couples.
Related Elsewhere:
Other articles related to Christianity Today's cover story on personhood includes:
When Does Personhood Begin? | And what difference does it make?
Unwanted Interruptions | Why is our culture so hostile to children—inside and outside the womb?
Snowflakes Embryo Adoption program and the National Embryo Donation Center have more information about their work on their web sites.
More Christianity Today articles on cloning from our Life Ethics page includes:
When Does Personhood Begin? | And what difference does it make? (June 18, 2004)
Cloning Report Breeds Confusion | Does it open the door to 'therapeutic cloning'? (May 13, 2004)
A Law That Shouldn't Be Cloned | New Jersey legalizes human cloning for research (Feb. 10, 2004)
Limited Cloning Ban Disappoints Prolife Groups | President's Council on Bioethics recommends a four-year moratorium on research cloning. (Aug. 19, 2002)
Defender of Dignity | Leon Kass, head of the President's Council on Bioethics, hopes to thwart the business-biomedical agenda. (June 07, 2002)
Goodbye, Dolly | We need nothing less than a total ban on human cloning. (May 15, 2002)
New Coalition Rallies Against Human Cloning | After Advanced Cell Technology announcement, sharp criticism comes from all sides. (Dec. 20, 2001)
Opinion Roundup: 'Only Cellular Life'? | Christians, leaders, and bioethics watchdogs react to the announcement that human embryos have been cloned. (Nov. 29, 2001)
Times Fifty | Can a clone be an individual? A short story. (Oct. 02, 2001)
Britain Debates Cloning of Human Embryos | Scientists want steady stream of stem cells for "therapeutic" purposes. (Nov. 22, 2000)
Have something to add about this? See something we missed? Share your feedback here.
Our digital archives are a work in progress. Let us know if corrections need to be made.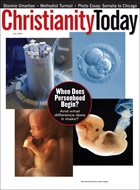 This article is from the July 2004 issue.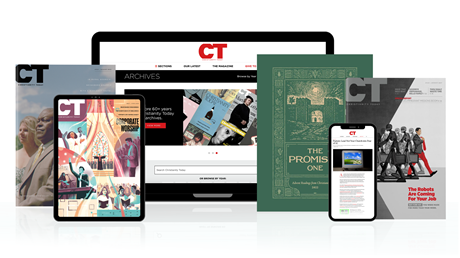 Annual & Monthly subscriptions available.
Print & Digital Issues of CT magazine
Complete access to every article on ChristianityToday.com
Unlimited access to 65+ years of CT's online archives
Member-only special issues
Subscribe
Read These Next
Trending

American Christians Should Stand with Israel under Attack

While we pray for peace, we need moral clarity about this war.

From the Magazine

Frozen Embryos Are the New Orphan Crisis

More than a million unused IVF embryos are in cryostorage. Are they the next pro-life frontier?

Português

Editor's Pick

Don't Miss These African Christmas Hits

Jam out this season to highlife, Afrobeats, jazz, a cappella, R & B, rap, dance, and hip-hop artists from Nigeria, South Africa, and more.
Frozen Out
Frozen Out