The Massachusetts Supreme Court gave new meaning to the phrase "raw judicial power" when it ruled last November that the commonwealth must begin accommodating same-sex couples who apply for marriage licenses.
This court's ruling is the latest volley in a relentless, multifaceted campaign for what activists invariably call "gay, lesbian, bisexual, and transgender" liberation. These activists have sought from sympathetic judges what they've been unable to win in most legislatures or Christian denominations. Because of the aggressive efforts by political action committees and courts, it now appears necessary to codify in the U.S. Constitution what has been obvious to most people for centuries: that marriage refers exclusively to the union of one man and one woman.
Of course there have been also counterfeits of marriage for centuries, chiefly cohabitation and polygamy. But no successful political movement has ever proposed elevating heterosexual cohabitation to marriage (Why bother, really?) and Americans rejected polygamy, firmly and even violently, in the late 19th century.
Friends of traditional marriage had hoped the Defense of Marriage Act (DOMA), passed by Congress and signed into law by President Bill Clinton in 1996, would provide sufficient protection for traditional marriage. It has not. Courts still hammer at the boundaries of DOMA, and some apparently won't stop short of a demolition.
Will Americans turn to the Constitution to protect marriage from judges' grandiloquent efforts at social engineering? The earliest signs after the Massachusetts court's ruling are less than encouraging. Already the movement to protect marriage is divided on whether legislation should prohibit states from extending any recognition to civil unions.
We favor the constitutional amendment already proposed in Congress: "Marriage in the United States shall consist only of the union of a man and a woman. Neither this constitution or the constitution of any state, nor state or federal law, shall be construed to require that marital status or the legal incidents thereof be conferred upon unmarried couples or groups."
That language protects the institution of marriage, at both the national and state levels. Any additional language—whether to close or open the door for nonmarital civil unions—would imperil the chances of a proposed amendment passing by a two-thirds majority in Congress and then winning approval by three-fourths of state legislatures.
Time For Wisdom and Gentleness
Winning a constitutional amendment to protect marriage will require a process of several years, as it should. Advocates of the amendment speak of passing it in Congress by 2006, and obtaining approval by 38 legislatures would take still more time. As this deliberate process unfolds, we hope Christians will show the wisdom of serpents and gentleness of doves that our Lord urges for his followers. It is too easy to lapse into panic when we see a culture lurching toward self-destruction. This much should be clear: for believing Christians, the meaning of marriage comes not from the state but from Scripture and church history with backing from millennia of human life.
While the interaction of church and state has shifted throughout history, the orthodox Christian definition of marriage could not be clearer: one man unites with one woman for one lifetime. Even in the worst-case scenario, then—such as a constitutional amendment guaranteeing gay marriage—Christians need not fear the disappearance of godly marriage.
Despite the hysterical rhetoric of the sexual Left, Christian involvement in this debate is not based on fear or hatred or lust for power. Instead, we engage in this debate because, with love and honor toward God, we love our neighbors and want the best for them.
We are witnessing a concerted effort to turn words on their heads. We've already seen the vast cultural harm of serial monogamy, no-fault divorce, deadbeat dads, and trophy wives. (Tellingly, the Massachusetts court counts no-fault divorce as a "transformation," even a milestone of progress. "Alarms about the imminent erosion of the 'natural' order of marriage were sounded over the demise of antimiscegenation laws, the expansion of the rights of married women, and the introduction of 'no-fault' divorce," the court's majority opinion says. "Marriage has survived all of these transformations.")
Truth be told, heterosexuals have been poor stewards of marriage in recent decades. But the answer to heterosexual abuses does not rest in diluting the definition of marriage still further and hoping that Marriage Lite somehow improves on the real thing.
It's a matter of faithful citizenship for Christians to be involved in this historic debate. Marriage is a common-grace gift of God, and the church offers the fullest realization of that gift. Christians must contend for truth and justice, protecting children and other innocent parties from further assaults.
Let us keep in sight, in the years ahead, that at its most faithful, the church does not take its orders from the surrounding culture. We will rejoice if this nation chooses to protect the historic definition of marriage through a constitutional amendment. Otherwise, we will look to the church to embrace, with humility and joy, a new opportunity for countercultural witness. If American culture takes yet one more step into moral confusion, may subsequent generations record that the church refused to join this narcissistic parade.
Related Elsewhere:
Other CT articles on the marriage amendment include:
Weblog: Marriage Amendment Introduced in Senate (Nov. 26, 2003)
'A Man and a Woman' | Activists say the Federal Marriage Amendment will be the defining issue in the next election. (Nov. 24, 2003)
Christian Conservatives Split on Federal Marriage Amendment | Law would protect marriage from courts, but legislatures could still extend marital benefits to same-sex unions. (June 20, 2002)
Defining Marriage | Conservatives advocate amendment to preserve traditional matrimony. (Oct. 1, 2001)
Marriage in the Dock | Massachusetts case on gay marriage could set off chain reaction. (April 25, 2003)
The Next Sexual Revolution | By practicing what it preaches on marriage, the church could transform society. (Aug. 27, 2003)
The Marriage Battle Begins | Profamily and gay activists agree: Texas decision sets significant precedent. (Aug. 11, 2003)
Does Lawrence v. Texas Signal the End of the American Family? | Evangelicals may not agree on antisodomy laws, but they're all concerned about what the Supreme Court's decision of them means. (June 30, 2003)
Past Christianity Today coverage of same-sex marriage includes:
Church Federation in the Netherlands Closes in on Blessing Same-Sex Unions | Three months after country recognized gay matrimony, proposal suggests distinguishing between "life unions" and marriage. (July 19, 2001)
No Balm in Denver | Episcopalians defer debate over same-sex blessings for another three years. (July 17, 2001)
Marriage Laws Embroil Legislatures | New Englanders push for domestic-partner benefits. (April 26, 2001)
Australia's Church Leader's Views on Sexuality Ignite Controversy | Head of country's Anglicans calls for blessing of same-sex "friendships." (April 26, 2001)
Churches Divided Over Amsterdam's Same-Sex Weddings | April 1 midnight ceremony said to be world's first official gay wedding.(April 10, 2001)
Presbyterians Propose Ban on Same-Sex Ceremonies | Change to church constitution, which passes by only 17 votes, now goes to presbyteries. (July 5, 2001)
Sticking With the Status Quo | United Methodists reject gay marriage, ordination. (May 15, 2000)
Presbyterians Vote Down Ban on Same-Sex Unions | Opponents say vague wording led to defeat. (March 29, 2001)
Vermont House Approves Civil Unions (April 24, 2000)
Vermont House Approves Civil Unions for Homosexual Couples | Amended bill defines 'marriage' as heterosexual (March 27, 2000)
States Discuss Marriage Laws (February 7, 2000)
Have something to add about this? See something we missed? Share your feedback here.
Our digital archives are a work in progress. Let us know if corrections need to be made.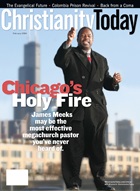 This article is from the February 2004 issue.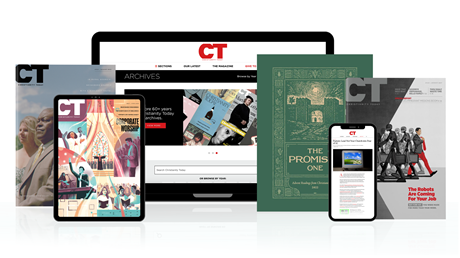 Annual & Monthly subscriptions available.
Print & Digital Issues of CT magazine
Complete access to every article on ChristianityToday.com
Unlimited access to 65+ years of CT's online archives
Member-only special issues
Subscribe
Let No Law Put Asunder
Let No Law Put Asunder