Right after George W. Bush was elected President, David Harris asked members of the American Jewish Committee (AJC), "How many of you voted for Bush?" After an uncomfortable silence, a smattering of hands went up among several hundred people.
Such results do not surprise Harris, who is executive director of the AJC. He regularly asks fellow Jewish leaders, "How can we expect evangelical Christians to support our concerns if we support none of theirs?"
That mindset is changing. In May 2001 AJC leaders invited Bush to their annual meeting. The President told an attentive audience about his faith in Christ, his intolerance of religious bigotry, and his faith-based foreign policy. One AJC leader observed, "The wellspring of Bush's decency is his faith."
In June the AJC board informed staff members that relations with evangelicals were to be freer and more open—not cautious and defensive. "These people [evangelicals] are my neighbors and friends," one board member said. "I won't insult them by treating them with reserve and caution."
This developing realignment of the AJC provides strong evidence that the outspoken coalition of pro-Israel American Jews and evangelicals reflects a deeper and longer-lasting change in relations between largely conservative evangelicals and their mostly liberal Jewish counterparts.
"I sense a new appreciation on the part of AJC and other Jewish groups for evangelicals," said the Southern Baptist Convention's Richard Land, who serves on the U.S. Commission on International Religious Freedom with the AJC's Felice Gair. "There is a difference in attitude. They have gotten to know evangelicals better. They are less threatened by evangelicals."
Uneasy history
The American Jewish Committee, with 120,000 members and associates, is one of the preeminent nonreligious Jewish organizations in the world. Billing itself as "the oldest and most influential national Jewish organization," the AJC publishes the respected magazine Commentary. But the organization also has a track record as one of the strongest opponents of politicians or judges who are conservative evangelicals.
Orthodox Jews were, perhaps, the first to warm up to evangelicals, a reflection of their common conservative theological and political views. Liberal Jews, however, were at odds with evangelicals and opposed most conservative evangelical initiatives, including prayer in public schools, abortion restrictions, and faith-based legislation.
The AJC's first rapprochement with evangelicals came in the 1970s, when its interreligious director Marc Tannenbaum started meeting with evangelist Billy Graham. "It turned into a friendship," Harris said.
Those early conversations between Graham and Tannenbaum planted a seed for a new way of thinking. "We are proud of those first steps," Harris said.
In a series of theological discussions that followed, from 1975 to 1984, evangelicals and AJC leaders became better acquainted, but the dialogues collapsed.
Jewish leaders routinely would snub messianic Jewish believers at other interreligious meetings. Paige Patterson, former head of the Southern Baptist Convention, wrote a series of letters in 1999 to Gedale B. Horowitz, president of the Jewish Community Relations Council. Patterson insisted that a messianic Jew be part of any Jewish-Christian dialogue. The dialogues stopped.
"There was only so much theological agreement possible," Jewish evangelist Mitch Glaser said. "One of the ground rules for the dialogues was that Jewish believers in Jesus were not to be invited as participants."
AJC's Interreligious Affairs Department lists no evangelicals with whom it is now in dialogue. AJC members so severely criticized one leader of AJC's interreligious affairs, who was friendly toward evangelicals, that the leader quit.
Support for Israel
Jewish attitudes started to change when Jews realized that evangelicals also cared about religious freedom in Russia. Younger Jewish activists such as Harris were helping hundreds of persecuted Jews emigrate from the Soviet Union during the 1970s. They came across evangelicals who were similarly troubled about Christians trapped behind the Iron Curtain. In one year alone, evangelicals provided $20 million to resettle Russian Jews in Israel, according to Yechiel Eckstein of the Center for Jewish and Christian Values in Washington.
When the "Evil Empire" fell in 1989, however, Jews and evangelicals drifted apart. On domestic issues, most Jews were miles apart from politically conservative evangelicals. "We came in the gate together but then we went out apart," Harris said.
Orthodox Jews are the exception. Most Jewish leaders consider Eckstein, an Orthodox rabbi, a maverick figure who left the Anti-Defamation League because of his pro-evangelical stance. But "evangelicals have always given their support to Israel," Harris said, which has mitigated Jewish distrust.
Michael Horowitz, a former Reagan administration official, had earlier convinced some liberal Jewish groups often associated with the AJC to unite with evangelicals on religious freedom. David Saperstein, a Reform Judaism lobbyist in Washington, joined evangelicals in promoting the International Religious Freedom Act of 1998. AJC also asked Richard Cizik of the National Association of Evangelicals (NAE) to address its board that year.
Starting in 1995, Jewish and evangelical organizations jointly attacked a host of evils, such as slavery in Sudan, sex trafficking, prison rape, and religious persecution around the globe. And AJC sponsored and published studies showing that the Christian Right is not anti-Semitic.
Evangelical leaders won respect by publicly denouncing anti-Semitism. In March 2002 seven prominent evangelicals, including leaders from the Southern Baptist Convention, the NAE, and the National Religious Broadcasters, implored President Bush to vigorously condemn anti-Semitism in "keeping faith with our own virtues."
When the AJC joined with Vanderbilt University's First Amendment Center in 1999 to draft guidelines on expressing religious faith in public schools, the NAE hailed the effort as "a step toward protecting religious freedom in the classroom." An evangelical also quietly gave money to the center, which subsequently published a pamphlet on what forms of religious expression are constitutionally permissible in public schools.
Common causes
Observers say the AJC shows a new willingness to work with evangelicals. For example, when other major Jewish groups pilloried conservative William Pryor, a federal district court nominee, for saying that American law has its roots in Christian values, the AJC declined to join the critics.
Three years ago, after a government-sponsored study found that the strongest and most consistent non-Jewish supporters of Israel are evangelicals, Israel began to woo evangelical opinion leaders who could present its case to the American people.
In building common cause around Israel and some social issues, many Jews have finally recognized evangelicals' passionate humanitarianism. Now even messianic Jews are welcome at the table when the discussion is on pragmatic issues.
"Earlier there was more of an edge in the relationship," Harris said. "Now there is less edge. Theology and polemical differences are de-emphasized."
Michael Horowitz said the relationship is growing from pure pragmatism to a deeper sense of mutuality. "The Jewish community has pragmatists who say, 'Hold our noses and work with the evangelicals.'
"The shift among Jews is to see evangelical faith in a richer way. There is an enormous movement in that direction," he said. "When they see [evangelicals as] decent and caring human beings, it undermines their stereotypes."
Harris calls it a pragmatism based on mutual respect. He counts himself among those "who want to emphasize the convergence and commonality."
Certain hot-button theological issues remain, of course, including evangelism of Jews. Another is a growing rift over the alleged anti-Semitic nature of Mel Gibson's film, The Passion. Yet both sides seek to keep lines of communication open.
The connections have been personalized and deepened. Jewish and evangelical Christian leaders are picking up the phone to talk about issues of common concern. "We will probably weave in and out together," Harris said. "We won't agree on many things. But I am looking for friends and allies."
Related Elsewhere
Christianity Today sister publication Books & Culture ran a five-part series on Jewish-Christian relations in 2000-2001. It also ran companion articles and a series on evangelical attitudes toward Israel and Palestine.
Other Christianity Today articles on Jews and Christians include:
Editor's Bookshelf: The Church's Hidden Jewishness | In the Shadow of the Temple illumines Hebrew thinking in a Greek world (Sept. 15, 2003)
Editor's Bookshelf: 'Normalizing' Jewish Believers | How should Christianity's Jewish heritage change how Gentiles relate to their faith? An interview with Oskar Skarsaune (Sept. 15, 2003)
Christ via Judaism | Lauren Winner's spiritual journey is an invaluable—and, to some, unsettling—reminder of where we came from (July 7, 2003)
Weblog: Messianic Jews in Canada Lose Appeal to Use Menorah Logo (June 26, 2003)
A Christian Studies Torah | Athol Dickson's The Gospel According to Moses encourages exploration of Jewish roots (May 14, 2003)
Weblog: Christian Seders Accused of Being Anti-Jewish | We're waiting for Elijah, not Jesus, say Jews (Apr. 28, 2003)
Do Jews Really Need Jesus? | What evangelicals believe about evangelization of the Jews—and whether the Holocaust makes a difference in that task (Oct. 8, 1990, reposted Aug. 16, 2002)
The Chosen People Puzzle | When it comes to relating to the Jewish people, should we dialogue, cooperate, or evangelize? (Mar 9, 2001)
Is Evangelism Possible Without Targeting? | The founder of Jews for Jesus responds to Rabbi Yechiel Eckstein (Jan. 14, 2000)
Can I Get a Witness? | Southern Baptists rebuff critics of Chicago evangelism plan. (Jan. 14, 2000)
Article continues below
Witnessing vs. Proselytizing | A rabbi's perspective on evangelism targeting Jews, and his alternative (Dec. 3, 1999)
To the Jew First? | Southern Baptists defend new outreach effort (Nov. 15, 1999)
How Evangelicals Became Israel's Best Friend | The amazing story of Christian efforts to create and sustain the modern nation of Israel. (Oct. 5, 1998)
The Return of the Jewish Church | In 1967, there were no Messianic Jewish congregations in the world. Today there are 350. Who are these believers? (Sept. 7, 1998)
Mapping the Messianic Jewish World (Sept. 7, 1998)
Did Christianity Cause the Holocaust? | No, despite what a biased film at the tax-supported Holocaust Museum implies (Apr. 27, 1998)
Is Jewish-Christian a Contradiction in Terms? (April 7, 1997)
Jews Oppose Baptist Outreach (Nov. 11, 1996)
Christmas and the Modern Jew | Christians often seem to lack both good missionary strategies toward Jews and sensitivity to their situation in life (Dec. 8, 1958)
Graham Feted By American Jewish Committee | In 1977, Graham walked a fine line between in his work 'to proclaim the Gospel to Jew and Gentile.' (Nov. 18, 1977)
To the Jew First | Witnessing to the Jews is nonnegotiable. (Aug. 11, 1997)
Billy Graham: 'I have never felt called to single out the Jews' | The evangelist discusses targeted evangelism in one of his most quoted statements (March 16, 1973)
Other Christianity Today articles have more specifically examined the Israeli-Palestinian conflict.
Have something to add about this? See something we missed? Share your feedback here.
Our digital archives are a work in progress. Let us know if corrections need to be made.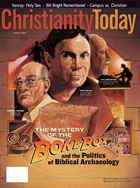 This article is from the October 2003 issue.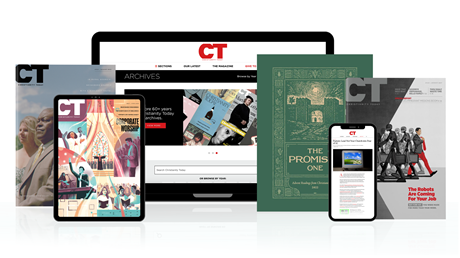 Annual & Monthly subscriptions available.
Print & Digital Issues of CT magazine
Complete access to every article on ChristianityToday.com
Unlimited access to 65+ years of CT's online archives
Member-only special issues
Subscribe
Kosher Cooperation
Kosher Cooperation