Heaven Below:
Early Pentecostalism and
American Culture
Grant Wacker
Harvard, 364 pages, $35
Pentecostalism could use a PR makeover. Its image has improved, but many people still think Pentecostals are peculiar, if not somehow suspect. Let us forgo the tally of offenses, offenders, and epithets—we know them well enough. Besides, the most egregious offenders may not care what others think.
One person, however, does care about perceptions: Duke University religious studies scholar Grant Wacker. Raised in a Pentecostal home, this Methodist now has only one foot in the tent. This is as much his story as it is theirs.
On American soil, the movement was born at Charles Parham's makeshift holiness Bible college in 1901. Only after the Azusa Street revival's eruption in 1906, however, did Parham's theological innovation reach a much wider audience. That innovation was the belief that speaking in tongues (glossolalia) is the biblical evidence of Spirit baptism.
Theologically, early Pentecostals looked a lot like other mainstream evangelicals. As a whole, they believed in most orthodox tenets of the faith, from the Virgin Birth to the inspiration of Scripture. Like more radical evangelicals, however, they did go further. For instance, they tended to treat God's promise to heal like an ironclad contract. An especially popular pastime was the detailed ordering of very specific end-times events. Radical or not, orthodox beliefs did not necessarily lead to orthodox practices. The two words that most appropriately described Pentecostal meetings, says Wacker, are chaotic and deafening. It is hard to believe anyone would want to revisit a Pentecostal meeting, much less enlist. But that is exactly what they did, from a diverse array of social, ethnic, cultural, and economic backgrounds.
To get at the heart of Pentecostalism, Wacker avoids theology proper and instead listens to conversations that took place around kitchen tables (a popular metaphor among scholars to explain "lived religion"). No early leader, it seems, was excluded from those tables. And herein lies the more interesting story. When listening closely, Wacker uncovers what he believes to be the kernel, the genius, of the movement: Pentecostalism survived and flourished because it was able to hold conflicting impulses—primitivism and pragmatism, idealism and realism—in creative tension.
Few surpassed Pentecostals as primitivists. They believed they had uncovered the earliest and therefore purest (or "primitive") form of Christianity, as if 2,000 years of historical blunders and compromises had been swept aside. Where others had failed, they would succeed. They now had direct access to God through the Spirit and drank from the pure, unadulterated Word of God. This self-assurance led in many directions, including rigorous asceticism. But above all it led to an uncompromising idealism. For some devotees, "time itself seemed calibrated by divine rather than human standards." This was heaven below.
When it came to getting business done, however, Wacker assures us, these were no "bumpkins fumbling around in the modern world." No, these were "strong, determined, clear-eyed leaders." Indeed, these were revolutionaries with a message for the world and no time to spare. A hero to many was Aimee Semple McPherson, who mastered the emerging world of Hollywood-infused pop culture. In one year alone, on a barnstorming tour she spoke to over 2 million people; that translates into 2 percent of the country's population. A local pastor, denominational head, divine healer, itinerant evangelist, and radio celebrity, Sister Aimee was the first woman to own a radio operator's license. (Pentecostals embraced technology without batting an eye.) God did not care about the good old boys network, tradition, and convention. God said, "Go!"
Debunking 'Disinherited' Myths
Heaven Below, which covers the first 25 years of the movement's growth, is a cultural history. Wacker divides the book into conceptual categories, analyzing, among other things, rhetoric, boundaries, authority, and cosmos. He serves them up in 15 lucid, meticulously researched chapters, all illustrated with lively anecdotes. He answers such questions as these: What did Pentecostals think and say about war and society, kin and foe? What were their customs? Their politics? What did they think of women in ministry? How did preachers preach, and leaders lead?
Tucked into this cultural history is social history. Who exactly were the early Pentecostals? Were they poor or rich, educated or illiterate? Where did they fit into early 20th-century society, and what did they think about that status? Here Wacker takes to task a common characterization of early Pentecostals, one perpetuated not only in popular myth but also by some scholars. Robert Mapes Anderson famously tagged Pentecostals America's "disinherited." The indictment could not have been more damning, but it was difficult to gainsay Anderson's assessment. No one had so thoroughly researched the available record—until now.
Rather than being dispossessed, Pentecostals were about as average as people come, which in this case is a compliment. For instance, though they may not have been the most educated, by all accounts they were as educated as the average citizen. Pentecostal churches were not, as is sometimes suggested, disproportionately populated by women and youth when compared to other evangelical churches. They worked as skilled and unskilled laborers, artisans, clerks, and, occasionally, professionals. As Americans go, they were "remarkably unremarkable."
With one foot still in the tent, Wacker chooses to accentuate the positive. He readily agrees that Pentecostals said and did some outlandish things. The list of activities and possessions forbidden or discouraged is remarkable: from bowling to crossword puzzles to Christmas trees. But rather than treating these as naïve byproducts of biblical literalism, Wacker invokes a kinder, gentler pragmatism. In the modern world, discipline requires prudence and efficiency, and at this Pentecostals were experts.
Glossolalia to the early Pentecostal was no mumbo-jumbo gibberish. It added to the faith a sense of authenticity; it was real and tangible, like the miraculous healings. Any account of Pentecostalism's genius that does not fully account for the implications of charismatic phenomena will fail. What is lacking in Wacker's beautifully constructed masterpiece is not only theology, but also much of the explicitly religious experiences and ideas animating Pentecostal "culture." Particularly in this case that omission makes this movement all the more enigmatic.
None of this should detract from the considerable feat Wacker has indeed accomplished. He has written the cultural history of a movement that shunned much of what was and is American culture. To their dying day they claimed heaven above, not America below, as their homeland. Heaven Below is a valiant—and successful—attempt to rescue early Pentecostalism from what E. P. Thompson called "the enormous condescension of posterity." No historian has done this more gracefully than Wacker, whose heart has "never left home."
Edward J. Gitre is campus minister at the University of Chicago for the Assemblies of God's Chi Alpha ministry.
Related Elsewhere
Christianity Today sister publication Christian HistoryreviewedHeaven Below in August.
An excerpt from the book is available on our site.
Christian History's issue 58 tells the story of Pentecostalism's beginnings and early years, and includes an article by Grant Wacker on the reception pentecostalism received from evangelicals. The issue can be ordered here.
Peter Steinfels wrote about Wacker's book in The New York Times. Other review excerpts can be found at Harvard University Press's Web page for Heaven Below:Early Pentacostals and American Culture.
Heaven Below can be ordered from Amazon.com and other book retailers.
Last July, Edward J. Gitre wrote a Christianity Today Speaking Out column that asked, "Who is writing the church's story?"
Have something to add about this? See something we missed? Share your feedback here.
Our digital archives are a work in progress. Let us know if corrections need to be made.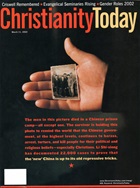 This article is from the March 11 2002 issue.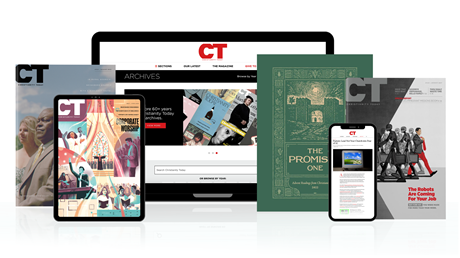 Annual & Monthly subscriptions available.
Print & Digital Issues of CT magazine
Complete access to every article on ChristianityToday.com
Unlimited access to 65+ years of CT's online archives
Member-only special issues
Subscribe
Read These Next
Trending

American Christians Should Stand with Israel under Attack

While we pray for peace, we need moral clarity about this war.

From the Magazine

The Unusual Epistle that Helps Me Counsel on Sexuality

Jude has strong words for immorality in the church. Yet he advocates for mercy for those who doubt.

Editor's Pick

Don't Miss These African Christmas Hits

Jam out this season to highlife, Afrobeats, jazz, a cappella, R & B, rap, dance, and hip-hop artists from Nigeria, South Africa, and more.
God's Peculiar People
God's Peculiar People