In sorting out an old toy box at my father's house, I found two coloring-activity books left behind from childhood. One is titled With Jesus by the Sea; the other, Captain Kangaroo Trace and Color, the 1960 "authorized edition based on the popular TV program." Jesus and "the Captain": the two kindly but otherworldly men who sustained me as a child. They were both real, just out of reach and untouchable.
The ghost of holy Jesus lived inside me. This meant he knew everything I said and did. But that was only half the story. He had also lived fleshly, long ago and far away, not in a house but by the Galilee, before he died forsaken for me. Jesus talked a lot to an invisible but always present and never sleeping God the Father, who lived in the sky but also in God's house, the church. I was supposed to love him if not like him, but actually I was afraid of his smoting and smiting. On Sundays at the stroke of noon, my pastor-father would close a church service with a biblical benediction. "The Lord bless you and keep you. The Lord make his face shine upon you and be gracious unto you." Knowing this was from the Old Testament, I figured this smiling face referred to God the Father, but it was hard for me to connect the dots.
The Captain lived here and now in a one-room house with dumb puppets. He welcomed visitors and read picture books from behind the TV screen, any TV in any house, but only early in the morning. I could see and hear him in his house or linoleum yard; he just couldn't see and hear me. Every few days he talked to the always present but usually sleeping Grandfather Clock. This involved calling Grandfather's name and jarring him awake, to ask him a puzzling question. "Let's ask Grandfather Clock." I liked the wise and knowing Grandfather Clock and wished for him in the corner of my house.
In the authorized Captain coloring book, Grandfather Clock is outlined repeatedly. Inside the ring of 12 traditional numbers, he has the old eyes, nose, and mouth of a friendly face, like you would see drawn on a sun or moon hanging in the heavenlies. Yes, he's usually sleeping and always smiling.
I watched Captain Kangaroo until I was past puberty. I remember my great sadness when I was forced from his little house the fall I entered junior high. We had moved to a new school district that summer; I had to make new friends. But my real-life loss was no greater than the loss of Captain and his crew. The new school schedule meant the bus would pick me up very early, before Captain came on. I knew I was too old for Captain's jingles, but I desperately wanted to hold on to the set.
So in seventh grade, I lost Captain and smiling Grandfather Clock, which left me with Jesus and God the Father, whose face I still couldn't color bright, knowing his reputation. He expected so much of his beloved. There was the Crucifixion and the descent into hell, which I knew from the Apostles' Creed I had memorized for my dad.
When I was 23, I rented my first apartment, two landlord-furnished rooms on Green Acres Drive in White Plains, New York, two hundred miles from "home." That year my father made the first piece of furniture I could call my own: a grandfather clock. I now call it a grandmother clock, since it is only five and a half feet high. But Dad always used the masculine form when referring to the clocks he fashioned from raw boards: eventually 12 clocks, one for each of his children and siblings, presented with warm wishes for a long life and an ordered home.
I valued that clock for more than its walnut wood, and proudly set it ticking in the corner of my living room-bedroom. I quickly learned to sleep through its quarter-hour chimes, even when it struck in the dead of night. Like Jesus' God the Father, it neither slept nor slumbered. Like Captain's Grandfather Clock, its golden face smiled on me, though it never spoke. I moved my clock with me to a series of apartments, soon having a living room I didn't sleep in and owning all the furnishings downstairs and upstairs too.
Once a week I carefully wind my clock, which stands constant guard in the dining room that arches wide into a living room that visitors say suits me. I've added a floral but not flashy couch and stuffed chair, a rocker, a front-window section of house plants, like a green acre on a white plain (but this is sunny Virginia, not snowy New York) and a few original paintings and some cheap but masterful reproductions.
Captain and his odd house are only memories. I search for him but cannot call him up on the glass screen. Holy Jesus' ghost still lives within my heart. The pendulum of my father's gift clock, now 25 years old, swings side to side, tick, tock, all night and day. And God the Father—I now recognize a different face, revealed just last year, the afternoon of Father's Day.
I was in distress about my time-ravaged 84-year-old father. Five of my siblings had dramatically intervened, and the next Thursday, Dad would be leaving his home and moving to my oldest sister's. This timing was not according to his plan, but in the last month his ability to plan had dived below all reasonable expectations.
Neither he nor I was ready for this. Dad responded by blocking all memory of the confrontational meeting. Reality struck the morning of Father's Day. I hear he sat and sobbed. As for me in my house, I cried for three days, personalizing his loss of home as if it were mine.
In search of Sabbath solace, I drove to the Washington National Cathedral to spend the afternoon in the bishop's rose garden. Three hours among the blossoms calmed my spirit. I sat and wrote in my journal alongside a bank of fragrant boxwood. But the memorable grace was not in the garden.
I sat within sight of a stone statue of the Prodigal Son enveloped in the arms and bosom of a man who, from my perspective, represented an empathic Jesus more than his heavenly Father. But the grace was not in the carved statue.
I sat near an unshaded sundial, which kept the heavens' right time, off by an hour if you believed the tourists. But the grace was not in the metallic clock face circled with 12 numerals.
Late in that afternoon I went inside the cathedral, to find water. Heading back to the garden just at 4 o'clock, I let the Evensong processional hymn draw me into the nave, to a seat in the back of God's grand house. Still self-absorbed, I had no intention of minding the service. But then someone on the other side of a lectern and microphone started reading the Old Testament lesson—old and familiar words from Numbers 6: "The Lord bless you and keep you: The Lord make his face to shine upon you, and be gracious to you: The Lord lift up his countenance upon you, and give you peace" (RSV).
My father's familiar benediction prompted a mighty gust of emotion: the Holy Ghost coming with grace so I could finally connect the dots and trace the outline of the face of God eternal, smiling.
Trying to beat the weepy echo, I made for the main doors. Outside on the sidewalk, a Filipino woman walked toward the cathedral and me. She had not heard the blessing and did not know my story, yet she spoke to my distress: "Talk to God. Take it to God. Talk to God. Take it to God." Her phrasing surprised me. From someone in my circle, I would have expected "Talk to Jesus. Take it to Jesus," but no. This stranger was asking me—telling me—to entrust my fleshly father and myself to God the Father, whose mercy outruns time.
Evelyn Bence is author of Spiritual Moments with the Great Hymns (Zondervan).
Related Elsewhere
A ready-to-download Bible Study on this article is available at ChristianBibleStudies.com. These unique Bible studies use articles from current issues of Christianity Today to prompt thought-provoking discussions in adult Sunday school classes or small groups.
Spiritual Moments with the Great Hymns by Evelyn Bence is available at Christianbook.com.
Yesterdayland.com has more information on the 30-year run of Captain Kangaroo. A fan site of the show includes a photo gallery with pictures of Grandfather Clock.
Good Morning Captain by Bob Keeshan is a photo history of fifty years of the show and personal production anecdotes. It is available at Amazon.com.
Have something to add about this? See something we missed? Share your feedback here.
Our digital archives are a work in progress. Let us know if corrections need to be made.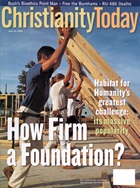 This article is from the June 10 2002 issue.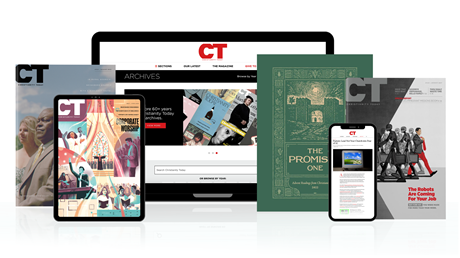 Annual & Monthly subscriptions available.
Print & Digital Issues of CT magazine
Complete access to every article on ChristianityToday.com
Unlimited access to 65+ years of CT's online archives
Member-only special issues
Subscribe
The Smiling Grandfather Clock
The Smiling Grandfather Clock