If you ever go to the Vine, bring your Bible, some business cards, and a good pair of walking shoes. But, most importantly, bring your voice, because those who attend this conference—mostly Gen-Xers—like to talk. They talk in the hallways, they talk over lunch, and they talk in panel discussions that cover topics from "Glorifying God in the Arts" to "The Soul of the Internet." Everyone serves as panelist, commentator, or moderator for at least one panel discussion. At last year's event, one especially lively panel explored "The Silent Priests: Media and Culture." A Princeton seminarian held forth about popular Christian icons, and a doctoral candidate at the University of Chicago explained why evangelicals make such lousy movies. Carlos Aguilar, a performance artist-cum-Talbot School of Theology student, explained "What Aristotle and Snoop Doggy Dogg Can Teach Our Youth."
Visitors to Lake Geneva, Wisconsin, a rustic resort community about 40 miles north of Chicago, usually come to enjoy a variety of leisure activities, horseback and carriage rides, boat cruises, and hot-air ballooning. But over Labor Day in the past two years, a group of about 150 men and women have gathered at Lake Geneva for the Vine. With a name inspired by John 15, this unique conference brings together an assortment of Christians, including clergy, scientists, students, and stay-at-home parents, for a three-day weekend of prayer, fellowship, and lots of conversation.
The conference's panel presentations are kept to five minutes per person, leaving plenty of time for debate and discussion, which inevitably spill into corridors and continue over dinner. Listen carefully to what the participants are saying and you may arrive at a surprising conclusion: Among the generation of twenty- and thirtysomethings, often written off as cynical slackers suspicious of the church, are thoughtful Christians who vigorously care about the soul, the mind, and the future of the church.
Seeds of a regeneration
The Vine conference was the brainchild of 28-year-old Jennifer Jukanovich, executive assistant to the president of the Council of Christian Colleges and Universities (CCCU).
The seeds of the Vine were planted when, as a junior at Gordon College, Jukanovich participated in the American Studies Program (ASP), a Washington-based CCCU program of internship and coursework designed to help Christian college students connect biblical faith with public life and vocation. At asp, Jukanovich began to imagine "what it would look like if the church operated in a less fragmented way."
Those seeds were watered when, in 1994, Jukanovich took a job with Linda and Phil Lader, the founders of Renaissance Weekend, an annual gathering of leaders where, for instance, Bill and Hillary Clinton mingle with Ivy League intellectuals and media gurus, and where business magnates break bread with urban ministry leaders. As she helped the Laders coordinate the event for leaders, Jukanovich learned a few lessons about leadership.
"I became persuaded of the Laders' strategy of having leaders learn from leaders," she says. What would happen, she wondered, if young believers met one another "in a way that would allow us the opportunity to hear one another's stories, to grapple with issues together, to take the time to worship with one another as we cannot do on Sundays, and to dream together about what we could do together now in this moment as well as 20 years from now?"
Meanwhile, Andy Crouch, Bill Haley, and Joe Maxwell—three leaders of the Regeneration Forum—were having similar musings in Cambridge, Massachusetts. Founded in 1994, the Regeneration Forum is made up of 20 regional discussion groups that grew out of the ministry of re:generation quarterly magazine, which Crouch and Maxwell serve as editors. The forums seek to bring together a cross-section of Christians from evangelical, Catholic, and Orthodox persuasions into a Christ-centered conversation across traditions.
When the Regeneration leaders and Jukanovich met, they saw immediately how similar their visions were. Crouch and his colleagues invited Jukanovich onto the Regeneration board and made the Vine the national-conference portion of The Regeneration Forum.
"Meeting the guys from rq was a confirmation for all of us that the vision we had was worth pursuing and that God was giving us the chance to start something new," Jukanovich says. "It has been a great partnership."
A new brand of unity
In her opening plenary address at last year's Vine conference, Kelly Monroe, executive director of the Veritas Forum and editor of the acclaimed book Finding God at Harvard, set the weekend's tone with a symphonic metaphor:
"We would never go hear St. Matthew's Passion," she said, "if it were the woodwinds one night, then the strings the next night, and then the next night the choir." So why, Monroe asked, do we experience the church in discrete sections: the Baptists over here, the Anglicans over there, some Orthodox in the corner, and a few Presbyterians down the hall?
Grassroots unity in the church is a central goal of the Vine. The conference is "the incarnation of an intangible vision," says Bill Haley, who in addition to his role as president of the Regeneration Forum is director of outreach at The Falls Church (Episcopal) in Virginia. "To foster a greater sense of unity in the church is a very abstract goal. The Vine is a way of seeing that vision lived into reality."
Haley was encouraged by the surge in Catholic participation last year. "There were more Catholics this year, though we still want to have more. And the Catholics were encouraged by what they saw."
The Orthodox front is a bit bleaker. While several Orthodox Christians attended the first Vine in 1999, Haley notes, none returned to Lake Geneva in 2000.
Brother Jonathan Kalisch, a Dominican studying for the priesthood, says efforts such as the Vine are "mandatory … Christians should get involved in crossing boundaries in a real way whenever we can." As a theology student in a Washington-area ecumenical consortium of schools, Kalisch is used to interacting with Christians from other traditions. "But the Vine was an incredible experience," he says, because of "the faith-sharing and the genuine fraternity and fellowship in Christ."
The apostle Paul wrote that the eye cannot say it has no need of the foot, yet "I have no need for you is written all over the way we do Christianity in America," Crouch says. "The Vine has made us realize that we do have need of these other brothers and sisters in Christ."
Vine participants talk unashamedly about ecumenism—and make no mistake, they don't mean the anemic, wishy-washy brand that grows out of a knee-jerk need for liberalism and tolerance. The Vine's vision for ecumenism is different from the old-school version that, in the pursuit of harmony, simply ignored the importance of the doctrines and traditions that distinguished them from other Christians. At the Vine, you'll meet people who are committed to their distinctive traditions and who are enlivened by sharing with folks from other corners of God's kingdom.
The prayer services at the Vine make the point. Worship varies from low-church praise choruses (all 150 participants gathered in a large conference room singing "Lord I Lift Your Name on High") to a meditative chanting service reminiscent of TaizÉ prayer. At last year's conference, more than 50 people showed up at the Episcopal Eucharist—and Episcopalians were in the minority.
Not every Gen-Xer is liturgical. Indeed, some Vine participants wonder if the conferences aren't a little overly enamored of liturgy. "The thing that bugged me about the first Vine was that there weren't a lot of Pentecostal, less-liturgical worship styles represented," says Russell Sharman, a Catholic-turned-low-church-Protestant-turned-Episcopalian who has attended both Vine conferences. Still, all things considered, the conferences are more intentional than most Christian gatherings in striving for a worship environment representative of the church's many traditions.
The Vine's ecumenism also grows out of the larger culture's hostility to Christianity of any stripe. Participants come to the Vine to talk with others about how to best live and witness in our culture—as the titles of the seminars suggest. Yet there is an in creasing awareness among younger Christians that what we share with Christians from different traditions—being under the authority of Christ—gives us something to learn from each other, even though we may disagree about some fundamental things. Crouch recalls that when he became a Christian at 13, he embraced any believer—Catholic, Protestant, or Orthodox—who also attended his high school in the Boston suburbs; there weren't enough Christians to be choosy. "I'll welcome all comers," he says.
Lauren F. Winner is a contributing writer for CT. For more information about the Vine and its upcoming conferences, go to www.the-vine.org or send e-mail to vine@regenerator.com.
Related Elsewhere
The Vine has its own Web page offering information about upcoming conferences, as well as some transcripts from earlier conference panels and message boards.
Regenerator, re:generation quarterly's Web site, offers articles from the magazine and more message boards.
More on church unity is available from Christianity Today's ecumenism area.
Learn more about the Council for Christian Colleges and Universities, and its programs (like ASP), at CCCU's Web site.
Andy Crouch's columns for CT are available at our site, as is "The Antimoderns | Six postmodern Christians discuss the possibilities and limits of postmodernism", an article featuring Crouch and some of his colleagues.
The Veritas Forum site offers links that explain the forum's history and links to purchase Finding God at Harvard from a variety of online bookstores.
Have something to add about this? See something we missed? Share your feedback here.
Our digital archives are a work in progress. Let us know if corrections need to be made.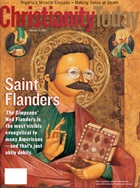 This article is from the February 5 2001 issue.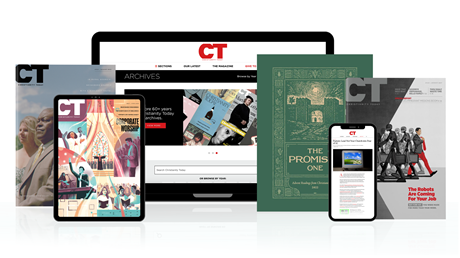 Annual & Monthly subscriptions available.
Print & Digital Issues of CT magazine
Complete access to every article on ChristianityToday.com
Unlimited access to 65+ years of CT's online archives
Member-only special issues
Subscribe
The New Ecumenists
The New Ecumenists