In any aggravated debate, "what is truth—indeed 'gospel' truth—for one party is more often than not viewed as blatant falsehood by the other." So writes Daniel Rossing, an orthodox Jewish educator and interfaith activist in Jerusalem who served for 14 years as the director of the Department for Christian Communities in the Israel Ministry for Religious Affairs. His insight certainly applies to tensions in the land that is holy to three faiths.
In order for Jews, Christians, and Muslims to reconcile, they would do well to listen to one another's stories. In the January issue of Christianity Today, a Palestinian Christian lawyer explained what he thought were the reasons for the breakdown of the peace process. In this issue, we hear from Clarence H. Wagner Jr., who heads Bridges for Peace, an evangelical Christian ministry that aims to build support for the people and land of Israel. The peace process as such is not his subject. Instead, he describes what he sees from his apartment window near Jerusalem, especially regarding recent Muslim encroachments on Jewish and Christian holy sites.
For the first time in 24 years of living in Jerusalem, I am worried. I can see clearly that the current conflict between Israel and the Palestinian National Authority (PNA) is threatening all the good work that has been accomplished over the past decades to bring faith communities together.
There are many reasons why this current conflict has erupted, from political to economic. Nevertheless, Muslims are using this conflict to make strategic moves to put Israel on the public-relations defensive and to prevent free and full access to Jewish and Christian holy sites.
Bullets from Beit Jallah
One such move affects my neighborhood of Gilo, situated on the southern edge of Jerusalem and adjacent to the predominantly Christian, PNA-governed town of Beit Jallah. Since 1967, these two communities have lived side by side in harmony. These days, machine-gun fire from Beit Jallah sprays Gilo almost daily. This is the work of the Tanzim militia, whose tactic is to take over a home or factory and to fire into the residences of Gilo, trying to get Israel to fire back. Palestinians use large-caliber machine guns with armor-piercing bullets that can penetrate the walls of the apartments in Gilo and thus provoke the Israelis to return fire. Israel is forced to defend her citizens.
Additionally, the Tanzim have chosen positions near churches in Beit Jallah (most notably the Church of St. Nicholas), hoping that Israel's return fire will hit a church. Then the Christian West would read in newspapers that Israel is targeting churches. As it is, even without the Israeli bullets hitting a church, the news cameras almost always show St. Nicholas, delivering a subliminal message that Jews are firing at Christians.
We saw the Palestinian Liberation Organization (PLO) use this tactic in Lebanon in 1982. The PLO would place an anti-aircraft gun on the roof of a hospital or position a tank next to a residential block. Then, when Israel struck the gun or tank with return fire, it would damage the hospital or apartment building, and the PLO would claim that Israel was attacking hospitals and defenseless civilians. For this reason, the Israel Defense Force picks its targets in Beit Jallah very carefully.
Meanwhile, residents of Beit Jallah and Gilo are subjected to almost daily violence because of some outsiders who are victimizing both communities and driving a wedge of resentment between Christians and Jews—not only locally, but also internationally. My Jewish neighbors and I often compare verbal notes about the situation in Gilo and ask about mutual friends who live in Beit Jallah, checking to see if they are all right. In our opinion, no one wants this conflict except Arafat and the Tanzim fighters.
Capture of biblical sites
In a disturbing new trend, Muslims have stepped up their efforts to take over biblical sites sacred to Jews and Christians. In Jericho somebody set the ancient Jewish synagogue on fire, and crowds prevented fire trucks from putting out the blaze. In the heart of Nablus, the biblical Shechem located about 40 miles north of Jerusalem, Palestinians took control of Joseph's Tomb after days of fierce fighting. Under the Oslo Accords, the tomb was considered a holy site where Jewish young men were to be allowed to pray and study the Torah. After the takeover last October, Muslims immediately converted Joseph's Tomb into a mosque, complete with a freshly painted green dome.
This takeover was quickly followed by calls among the Palestinians to take over Rachel's Tomb in Bethlehem (not far from my house) and the Cave of Machpelah in Hebron, the burial place of the partriarchs. The Palestinian forces launched a three-pronged attack on Rachel's Tomb on December 5 and came within 30 feet of taking the site.
All of these are holy sites to those of us who honor the Bible. But since Islam considers itself superior to both Judaism and Christianity, its adherents have no theological problem usurping Jewish and Christian sites and changing them into Muslim sites.
Islam teaches that Jews and Christians perverted the faith given them by God and that Allah gave the final revelation to Muhammad. Furthermore, it considers all Jewish and Christian heroes—such as Moses, David, and Jesus—good Muslims whose teachings have paved the way for Islam, a religion that did not even exist before the seventh century.
A Muslim mosque in Bethlehem's Manger Square, with a minaret towering above the Church of the Nativity's bell tower, is a case in point. It especially pains the Israelis that the PNA has taken over Bethlehem, Hebron, Nablus (Shechem), and Jericho, which were Jewish towns in biblical times, trying to extinguish the last vestiges of Jewish life and presence in these cities.
Muslims will say that they were just retaliating for Israel's actions, but my Christian friends and I, as well as many Jews, see the severe desecration of biblical sites as an unprovoked attack.
The Palestinian usurpation of the Temple Mount concerns my friends and me the most. The Temple Mount, with remains of Solomon's and Herod's temples, is the central holy site for both Jews and Christians.
There are now three mosques on this site, and a fourth one is being constructed at the Golden Gate. As of late December, Muslim workers have dug out and disposed of 13,400 tons of artifact-rich rubble from the site, according to Eilat Mazar, professor at the Institute of Archaeology at the Hebrew University in Jerusalem.
The construction process is destroying not only the Temple Mount artifacts, but also layers of biblical history, and Israel is unable to stop it. Even though Israel left control of the Temple Mount in the hands of Muslim authorities in 1967 and has respected the Islamic recharacterization of the site, the Muslim leadership refuses to acknowledge the importance of the site to Jews. Here is what the official PNA Web site says about the Western Wall, the surviving remnant of Herod's Temple complex:
Al-Boraq Wall: It is part of the exterior facade of the western wall of Al-Aqsa Mosque. Al-Boraq, a creature which carried Mohammad during his ascension to heaven, was tied to this wall. Some Orthodox religious Jews consider it as a holy place for them, and claim that the wall is part of their temple, [but] all historic studies and archeological excavations have failed to find any proof for such a claim. In order to undermine the foundations of Al-Aqsa Mosque, the Israeli government has converted it into a religious shrine for Jews, prohibiting non-Jews to enter it, except for a limited number of tourists.
This revisionist description not only flies in the face of history and archaeology, but also has the more sinister motive of eradicating the biblical history of the area, which undermines the validity of Judaism and Christianity.
The PNA has dubbed the current disturbances the "Intifada of Al-Aqsa." Intifada is the Arabic word for "uprising," and Al-Aqsa is the mosque in Jerusalem that observant Muslims regard as their third-holiest site, after Mecca and Medina.
The current intifada should be distinguished from the one that began in December 1987 and ended by the time the Oslo peace process commenced in mid-1993. The PNA's sentiments in regard to Al-Aqsa are so strong that it has appealed to the Muslim world to declare a jihad (holy war) against Israel and to help defend the mosque, which, to my knowledge, has never been threatened.
It seems obvious to my Jewish friends and me that the PNA cannot protect the sites sacred to Jews and Christians, or guarantee safe and free access to the sites. These most recent incidents require us as Christians and Jews to call on international authorities to protect our biblical sites and places of worship before they are lost forever.
Related Elsewhere
Last month, Christianity Today described "The Peace Regress | What's behind the current outbreak of hostilities in the Holy Land?" and provided a timeline of "Conflict in the Holy Land."
Bridges for Peace's homepage offers news from Jerusalem and a description of the ministry from director Clarence J. Wagner.
Visit the official homepage of the Palestinian National Authority.
Read more about Ariel Sharon and his role in the current conflict at CNN.com. You can also learn more about Yassar Arafat and Yitzhak Rabin.
Previous Christianity Today stories about conflict in Israel and Palestine include:
Christmas in Palestine: Hunger and War | Starvation threatens Palestinian villages if U.N. aid continues to be delayed, Vatican official warns. (Dec. 13, 2000)

Between the Temple Mount and a Hard Place | Palestinian Christians want both peace in their villages and justice for their Muslim brothers. (Dec. 5, 2000)

Lutheran Bishop's Appeal from Jerusalem | Religious leader's letter requests prayer for Christians, Jews, and Palestinians in troubled region. (Nov. 10, 2000)

Latin Patriarch tells Israel to Surrender Lands to Palestinians | Catholic leader says Israel will never have peace unless it "converts all of its neighbors to friends." (Nov. 1, 2000)

Fighting Engulfs a Christian Hospital in Jerusalem | Lutherans call conflict on their hospital grounds "an affront" to humanitarian purposes. (Oct. 16, 2000)

Preparing for Pilgrims | Religious rivalry complicates millennial planning. (June 14, 1999)

How Evangelicals Became Israel's Best Friend | (October 5, 1998)
Have something to add about this? See something we missed? Share your feedback here.
Our digital archives are a work in progress. Let us know if corrections need to be made.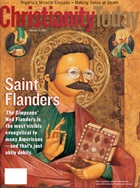 This article is from the February 5 2001 issue.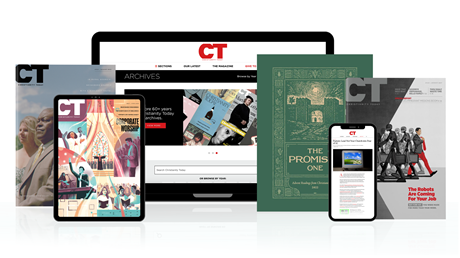 Annual & Monthly subscriptions available.
Print & Digital Issues of CT magazine
Complete access to every article on ChristianityToday.com
Unlimited access to 65+ years of CT's online archives
Member-only special issues
Subscribe
Read These Next
Trending

American Christians Should Stand with Israel under Attack

While we pray for peace, we need moral clarity about this war.

From the Magazine

I Studied Christianity with the Hope of Debunking It

A decade later, I became a Christian.

Editor's Pick

Don't Miss These African Christmas Hits

Jam out this season to highlife, Afrobeats, jazz, a cappella, R & B, rap, dance, and hip-hop artists from Nigeria, South Africa, and more.
Between a Rock and a Holy Site
Between a Rock and a Holy Site