We miss the old days. Whether one calls it "normality" or "normalcy," there is a life-before-September 11 status to which millions of Americans understandably long to return. Perhaps the 1990s will become for the current generation what the 1950s were for their parents and grandparents: a time when life was simpler, the choices easier, and day-to-day existence more salutary and fulfilling.
Of course, people who want to emulate the 1950s have not looked at the decade seriously. Otherwise, they would recall that unemployment was relatively high, jobs often precarious, and legalized segregation rampant. Similarly, if the recent attacks cause us to pine for the good old days of the 1990s, we will, in our effort to find emotional respite from a scary world, ignore many of the salient features of the decade.
What was normal life before the attacks on the World Trade Center and the Pentagon? My wife, who directs a family advocacy group, says that before 9/11, "normal" meant life in a country that had progressively drifted from community and obligation. Instead, it pressed toward the fulfillment of individual desire and the reckless celebration of the self. The phrase I want had become a sufficient ground for action, rather than an opportunity for moral debate. The Word of God was being shoved to the sidelines of our public life. Our political contests had been largely reduced to competitions between interest groups seeking to feed at the public trough. The "greater good" was defined no more broadly than was necessary for short-term political gain.
What has happened since September 11?
We all know that charitable donations to New York City relief efforts have skyrocketed. Public schools have held prayer services without a murmur of complaint from civil libertarians. Church attendance is, according to some reports, on the rise. Perhaps most amazing, American flags now wave everywhere in what had been our increasingly dis-united States.
The Christian observer can be critical. For example, I might wish that a few more of those who lead prayer services would mention the One to whom they are praying. The patriot, too, might demand that the people who fly the flag from automobile antennae and front porches show true respect for it by learning, and following, the rules governing its display. And what about all the other charitable organizations—both Christian and otherwise—that are being neglected as a result of the nation's redirected compassion?
But such carping would miss the larger point: In the wake of this horrific tragedy, we, the people of the United States, are trying to pull ourselves out of the mire of what previously passed for normal. This does not mean that the attack on America was somehow to our benefit, or that, as some misguided souls suggest, we did something to deserve it. It means, rather, that out of the evil that men do, the Lord often will find a way to bring good.
C.S. Lewis's fictitious senior devil, Screwtape, explains to his nephew why war is not necessarily helpful to Satan's cause: "One of our best weapons, contented worldliness, is rendered useless. … In wartime not even a human can believe that he is going to live forever."
Americans are no longer contented, and we cannot afford to be worldly. Unable to escape the plain fact of our mortality, we are thinking more and more about the next world. This means that we as a nation are thinking about God, and what he requires of us, much more than we have in a long time. What is important now, no matter how events turn out, is that we do not lose our renewed focus.
Charles Colson is surely correct that this period of national pain and anger is not a propitious time for Christians (or anyone else) to press causes that call America to self-criticism. Those who have ignored his warning have been justifiably hounded. But Christians, buoyed by the optimism inherent in our faith, can look ahead to better days without acting on the impulse to condemn the nation as it has been.
The horrific attacks of September 11, and the anguish of the war that has followed, present America with a magnificent opportunity: never to allow life to revert to normal.
Related Elsewhere
In the November issue of Christianity Today, Charles Colson argued that "this is not a time for angry finger-pointing; our job is to bring Americans together so we can teach them. Besides, when it comes to judgment, we need to look a little closer to home."
For more perspective on the aftermath of the September 11 terrorist attacks, see Christianity Today's previous essays and editorials:
Blame Game | Seeking mercy is a better response to 9/11 than seeking meaning. (Nov. 8, 2001)
Blood, Sweat, and Prayers | One man's journal of ministry among New York City's firefighters and police officers at Ground Zero. (Nov. 8, 2001)
Rally Round the Flag | America may not be God's chosen nation, but it does have a mission that churches can support. (Nov. 7, 2001)
Article continues below
Wake-up Call | If September 11 was a divine warning, it's God's people who are being warned. (Nov. 5, 2001)
Where Was God on 9/11? | Reflections from Ground Zero and beyond. (Oct. 23, 2001)
Prayer After 9.11.01 | The author of The Prayer of Jabez says now, more than ever, we need to seek God's power. (Sept. 28, 2001)
Judgment Day | God promised that calamity would follow disobedience. So why are we quick to dismiss it as a reason for the September 11 attacks? (Sept. 25, 2001)
Now What? | A Christian response to religious terrorism. (Sept. 21, 2001)
To Embrace the Enemy | Is reconciliation possible in the wake of such evil? (Sept. 21, 2001)
After the Grave in the Air | True reconciliation comes not by ignoring justice nor by putting justice first, but by unconditional embrace. (Sept. 21, 2001)
Taking It Personally | What do we do with all this anger? (Sept. 14, 2001)
A Wake-Up Call to Become Global Christians | The deadly attacks on America will provoke many responses, but Christians are commanded to love our neighbors. (Sept. 12, 2001)
God's Message in the Language of Events | In the face of evil, we must focus on keeping our hearts right. (Sept. 11, 2001)above all else.
When Sin Reigns | An event like this shows us what humans are capable of becoming—both as children of darkness and of light. (Sept. 13, 2001)
Recent Christianity Today columns by Stephen L. Carter include:
Rudeness Has a First Name | Instant informality actually sabotages true friendship. (Nov. 2, 2001)
Why Rules Rule | Debates on the Ten Commandments expose our culture's ultimate rift. (Sept. 6, 2001)
We Interrupt This Childhood | Parents who raise their children to do right face a barrage of resistance. (July 11, 2001)
And the Word Turned Secular | Christians should count the cost of the state's affirmation. (May 29, 2001)
Vouching for Parents | Vouchers are not an attack on public schools but a vote of trust in families. (Apr. 2, 2001)
The Courage to Lose | In elections, and in life, there is something more important than winning. (Feb. 6, 2001)
Have something to add about this? See something we missed? Share your feedback here.
Our digital archives are a work in progress. Let us know if corrections need to be made.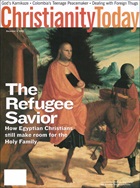 This article is from the December 3 2001 issue.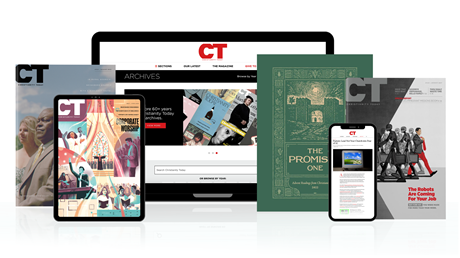 Subscribe to Christianity Today and get access to this article plus 65+ years of archives.
Home delivery of CT magazine
Complete access to articles on ChristianityToday.com
Over 120 years of magazine archives plus full access to all of CT's online archives
Subscribe Now
Leaving 'Normal' Behind
Leaving 'Normal' Behind