Waitress Susie Stevens was hoping work would wind down quickly so she could get to her yoga class in Charlotte, North Carolina. Then, at table three, a conversation about prayer caught her attention."We get a lot of business luncheons," Stevens says, "so when my customers are talking about something more interesting than turning a profit, I notice."Especially when the customer is 6'4" and speaks with clipped Ontario vowels, quite distinct from the local drawl. He was telling a younger fellow about prayer, Bible-reading, and how talking regularly with a spiritual director could lead to inner depth and fulfillment.That older customer was revival evangelist-turned-spiritual director Leighton Ford, and his spiritually seasoned conversation inadvertently set Stevens onto a new path. Growing restless with burning sage and sitting Zen, and intrigued by Ford's conversation, Stevens began a search that led to a spiritual director, Bible study, and drawing close to Jesus."I'm just an anonymous waitress Leighton Ford doesn't even remember, but he helped get me into a Christian relationship that was concerned with being close to God," Stevens says. "He totally changed the life of a stranger."Better known for his revival evangelism, sweaty preaching, and making thousands of new converts in a single night, Ford has traded in the pulpit for a quieter one-on-one ministry. After a globetrotting lifetime of service wherever God—and brother-in-law Billy Graham—called him, the 70-year-old Ford now spends most of his time listening to God's still, small voice. He prays for hours. He cultivates intimate relationships. Mostly, he says, he is learning to be a spiritual friend.
Moving on from BGEA
In 1955, Ford had finished seminary, married Graham's sister Jeanie, and was not sure what to do next: graduate study? Accept a pastorate in Missouri? Graham was finishing a series of crusades in London and Scotland, and Ford went to help him. Graham headed to Toronto, and Ford followed him. Then he pitched in at crusades in Richmond and Oklahoma City. Ford decided to work with the Billy Graham Evangelistic Association (BGEA) for one year; he stayed for 30. Ford and BGEA were a good fit. He was a powerful preacher, a skilled administrator, and one of the few BGEA staffers who could hold his own with Graham in sheer good looks (a friend in Charlotte refers to Ford as a "latter-day Jimmy Stewart").Ford was too close in age to Graham to succeed him, and by 1980 he was thinking of leaving BGEA. New opportunities presented themselves: Ford had been proposed as president of Gordon–Conwell Theological Seminary, and the Lausanne Committee, with which he had already worked extensively, asked him about coming on full time. Then, in 1981, Ford's son died. Sandy Ford had been diagnosed earlier with Wolfe-Parkinson-White syndrome, which causes extra pathways in the heart that carry electrical impulses. The extra pathways can cause arrhythmia, or rapid heartbeat, at any time. After an operation by Duke University hospital's John Gallagher, Sandy seemed to be fine.For a few years, he was. He ran track, matriculated at the University of North Carolina at Chapel Hill (UNC), fell in love, spent a summer on mission work in France, and was elected president of InterVarsity's Granville off-campus chapter at UNC. Shortly after his 21st birthday, Sandy went running with his roommate and arrhythmia struck. He died on an operating table a few days later.Sandy's death, says Ford, "was a deep personal loss that God used to inspire me to focus on younger leaders."By the 1980s, a major leadership transition was taking place in the evangelical world. Christian leaders from the post–World War II era were heading into their twilight years, and Ford saw a need to identify and develop younger generations. He founded Leighton Ford Ministries in 1986 with the aim of sharing his knowledge and contacts with emerging leaders.His work with younger leaders first took the form of the Arrow Leadership Program, an 18-month, nonresidential graduate-level program in leadership, evangelism, and character. The program's goal, in Ford's phrase, was to help participants lead more like Jesus and lead more to Jesus.During those 18 months, a class of a few dozen young leaders met four times for week-long instruction on mission, leadership, and evangelism. The faculty included Lon Allison, now director of the Billy Graham Center in Wheaton, Illinois, the University of Virginia's James Davison Hunter, and social activist John Perkins."The most important part has been the peer relationships and the availability of senior leaders who were willing to be open and share," Ford says of the program. It was during the Arrow years that Ford realized "the great importance of being willing to tell our own stories and be vulnerable."
Soul hunt
Ford needed a sabbatical by 1992. He headed to Vancouver, British Columbia, where he read Annie Dillard's Pilgrim at Tinker Creek."Dillard wrote about looking at one of the ponds near where she was in Virginia and searching for her soul," he says. "I read that and knew I wanted to look for my soul that summer."Ford also stumbled upon a book about drawing, and he found he was a natural. Today Ford's drawings and paintings—a charcoal sketch of granddaughter Christine, a painting of cows and a mountain stream in Valley Crusis, North Carolina—crowd the walls of his Charlotte home.Painting and drawing were spiritual exercises for him. In learning to draw, he learned to see more keenly and attentively, he says, and that changed his prayer life. "Simone Weil put it well when she said that prayer is paying attention," he says.In 1993, Ford heard Princeton Theological Seminary's Diogenes Allen speak at a Charlotte church about the Benedictine discipline of lectio divina—repeatedly reading a passage of Scripture prayerfully in order to hear God—and Ford began teaching it in his leadership course. The practice was not entirely new to Ford. At 14 he had attended a Bible conference in which Oswald Smith gave a series of messages on "the morning watch.""He took Scripture and turned it into prayer," Ford says. "I did that type of prayer with the Psalms, and I felt the real beginning of a strengthening of my personal walk with the Lord. After hearing Diogenes Allen, that type of prayer had a name."Ford began to be less interested in the administrative nuts and bolts of running Arrow and more drawn to one-on-one mentoring."I began to realize that a lot of my best work in Arrow had been at the level of spiritual direction—long walks and talks with men and women, listening to their own stories, telling them mine," he says. "Increasingly, I found that many of them wanted guidance about evangelism and mission, but more than anything they wanted spiritual guidance."Arrow, Ford realized, could flourish without him. In 1998 he entrusted the program to a graduate, Carson Pue. He was free of administrative responsibilities and could devote himself fully to—what, exactly? What shape would his one-on-one mentoring take without the institutional framework that Arrow had provided for more than a decade?Ford is fond of paraphrasing a sentiment attributed to Wendell Berry: It may be, when we no longer know what it is we have to do, that our greatest and most important work has just begun.
The discipline of
lectio divina
For Ford, that work is spiritual direction. His library is now littered with dog-eared, marked-up copies of his favorite books on the subject—Keith R. Anderson and Randy D. Reese's Spiritual Mentoring, and William A. Barry and William J. Connolly's The Practice of Spiritual Direction. Ford provides focused spiritual direction to one person, and sees many other "spiritual friends" regularly. A note on a table in his study summarizes his purpose: "To deepen and energize emerging leaders on their journey with Christ, through significant interactions, strategic teaching, and spiritual friendships."Ford realized by 1999 that if he was going to be a mentor, he needed to be mentored too.He began to make a monthly trek to the Rock Hill Oratory, 30 miles south of Charlotte, to see his own spiritual director, Father David Valtiera. "We talk about one central issue: What our prayer lives are like, and what is God like in relation to every aspect of our lives," says Ford. "David's approach is that he is not there to direct in any authoritarian sense, but we can talk together about what is it like when we pray."The heart of spiritual direction is helping the other person listen and pay attention to what God is saying, Ford says. It is being a third person in the relationship between an individual and God. Without a lively prayer life, he adds, it is difficult to pay attention to the movements of God in the heart.Recently, during lectio, God spoke to him about forgiveness. "This last year, I felt unjustly attacked and betrayed by people I trusted," Ford says. "I was terribly hurt and angry, but there's been a journey of forgiveness, and lectio divina has been a part of that journey."Lectio may be threatening with its intervals of silence and empty spaces—Ford struggles with the impulse to fill them—but it is in those spaces that God can speak, he says. During Lent, Ford prayed the passage from 2 Kings about Naaman's anger at the suggestion that he would be healed by merely washing in the Jordan River (5:11–12). That prayer helped Ford to hear about his own pride."I wanted a big thing to happen," he says. "I wanted a big production, I wanted the people who wronged me to come bow down in front of me."As he prayed, Ford says, he sensed the Lord telling him to write a letter to the two people who had wronged him and tell them he forgave them."I knew I had to do that, and I did it," he says.
The hungry generation
Ford is not the first evangelical Protestant to rediscover ancient spiritual disciplines that, until recently, were considered the domain of Catholics. Keith Anderson, coauthor of Spiritual Mentoring: A Guide for Seeking and Giving Direction (InterVarsity, 1999), says many Protestants are spiritually famished."There is not just a hunger but a near starvation for a lot of people," Anderson says. "We're not getting enough feeding. People know that they need to go deeper, and spiritual mentoring is one of the really solid ways that we can go deeper." Christians need more focused, intentional conversation, he says, the kind of conversation one can have with a spiritual director who listens for the already active presence of God in someone's life.Christians' interest in going deeper parallels a societal explosion of interest in spirituality. Sociologists have characterized both baby boomers and Gen-Xers as folks on a spiritual quest, and Christians may not be doing as good a job at meeting seekers as Zen-sitting, sage-burning Buddhists or crystal-wearing, tree-hugging New Agers. Spiritual direction is one way Christians can meet seekers where they are.Growing interest in spirituality is an evangelistic opportunity. Ford, for one, says that being a spiritual director did not mean leaving evangelism; the evangelism now takes place through spiritual direction rather than revival meetings."People's quest for spirituality takes such diverse forms," he says. "There is a hunger for spiritual depth today, and spiritual direction can be a very powerful form of evangelism."Evangelism, says Ford, should help people pay attention to what God is already doing in their lives, help them make sense of that, and connect it to Scripture. "Spiritual direction, then, is a way of evangelism that can be very important."The experience of Susie Stevens demonstrates this point. "Spiritual direction has turned my life around," she says. "With my director's help I can now see not only where God is working in my life today, but lots of places Jesus was working before, only I was too busy trying to figure out the lotus position to notice."After overhearing Ford's restaurant conversation, Stevens went to Amazon.com and ordered Luci Shaw and Madeline L'Engle's A Prayerbook for Spiritual Friends. Then she called an Episcopal priest she knew from college and asked him to set her up with a spiritual director. Within months, she had exchanged her tapes of 13th-century Sufi poet Rumi, widely embraced by New Age adherents, for the music of Jars of Clay; started attending a Bible study; and attended an Ignatian retreat."The Christians at the church where I grew up sure weren't interested in intimacy or spiritual growth," Stevens says. "They were just interested in not drinking."Spiritual friendship, though, mainly benefits those already within the fellowship, like Sam Rima, senior pastor at Central Baptist Church in Sioux Falls, South Dakota. While Rima has enjoyed a professional relationship with Ford and participated in his advanced Arrow program, their most significant moments have come in quiet conversation.Last year Rima was in a vocational crisis: should he leave pastoral ministry and devote himself to full-time writing and speaking? In February, he headed to North Carolina for some one-on-one time with Ford."He has an uncanny ability to listen, and listen beyond your words to your heart," Rima says.Ford urged Rima to pray over Luke 12, in which Jesus, presaging his own death, tells his disciples that a grain of wheat must be allowed to fall to the ground and die in order for it to bear fruit. What is the seed that needs to die for you, Ford asked Rima, before you can bear the fruit God has for you? Rima, gratified at first, assumed his pastoral ministry was the seed that needed to die.After a few days of prayer and talking with Ford, Rima realized that "what really needed to die was my ego and my self-promotion, my pushing things ahead before waiting for God to open the door," he says."Leighton recognized that the timing wasn't right for me to make the change, that God was still at work doing some refining, and I needed to be willing to let some aspirations and dreams die momentarily so that I could be obedient to the long-term."But Ford, like all good teachers, did not foist this insight upon Rima; he waited for him to discover it himself. "Leighton wasn't directive but created the environment where I could listen to God," Rima says.
On God's great river
Ford's ministry may seem humbler and quieter than it did in his days with Graham. But Ford's ministry has expanded, not shrunk, says Randy Reese, coauthor of Spiritual Mentoring and vice president for advancement at North American Baptist Seminary. Reese believes Ford's vocation recalls that of Catholic writer and spiritual guide Henri Nouwen."Nouwen left the hallowed halls of the big-name schools to go to L'Arche [Daybreak community]," Reese says, "and it was only in that context that his ministries took on a truly supernatural force."Reese sees the same dynamic with Ford. Long an important voice in the evangelical orb, Ford is now "simply walking in people's souls" and finding out what God is doing there, Reese says."He may spend the rest of his life working primarily with 10 people," Reese says. "It might not be on a grand scale, but the impact could be exponential."Ford modestly deflects such praise."God really is God, and he's the spiritual director. This wonderful, imaginative, playful, strong God really has the purpose of making each of us part of his creation," Ford says."Whatever I have been and done as an evangelist, a leader, a spiritual friend, I've simply been on the river. It's God who is the river and has been making me, as much as anything of his, what I am now."
Related Elsewhere
Leighton Ford gave a charge to a new generation to guide the church into the next century in Christianity Today's 1996 " Up & Comers: A Letter to Future Leaders ."Visit the Arrow Leadership Ministries homepage.Access more information about Leighton Ford from the Billy Graham Archives at Wheaton.Read a profile of Ford's service and achievements .Ken Garfield, religion editor at The Charlotte Observer, wrote a story about Ford and his wife earlier this year. Syndicated columnist Terry Mattingly also wrote about Ford (in 1996), but focused on the "evangelism debates." Leighton Ford's books Transforming Leadership , Meeting Jesus , and The Power of Story , are available at the ChristianityToday.com bookstore and other book retailers.
Have something to add about this? See something we missed? Share your feedback here.
Our digital archives are a work in progress. Let us know if corrections need to be made.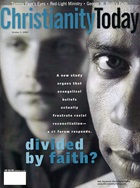 This article is from the October 2 2000 issue.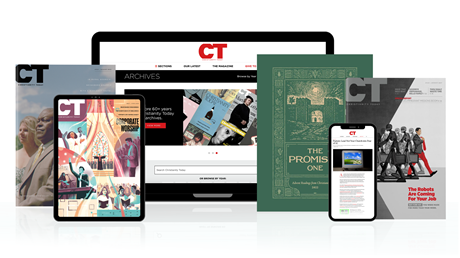 Annual & Monthly subscriptions available.
Print & Digital Issues of CT magazine
Complete access to every article on ChristianityToday.com
Unlimited access to 65+ years of CT's online archives
Member-only special issues
Subscribe
From Mass Evangelist to Soul Friend
From Mass Evangelist to Soul Friend