Bruce Hawthorn, a pastor from Barberton, Ohio, was involved in a tragic auto accident in 1982 that killed his wife and daughter and left him with $54,000 in unpaid medical bills. Financially weakened, Hawthorn turned to his church for help. The generous responses did more than meet his needs. They also gave him an idea: Why couldn't Christians share payments for each other's medical expenses on an ongoing, organized basis?From that question has grown the Christian Brotherhood, a ministry with an estimated 80,000 members nationwide that processes $4 million worth of member medical bills every month.Others aim to follow Christian Brotherhood's lead, including the Blessed Assurance Bulletin of Lubbock, Texas (currently serving 40 families), and the Medi-Share Program of the Christian Care Ministry, based in Melbourne, Florida (35,000 members).The programs generally have been a success. But one of the programs has experienced financial difficulty, and several declined to release financial reports or audits to Christianity Today. And one academic ethicist challenges the programs' single focus on serving fellow Christians, saying this sidesteps the New Testament charge to care for the needy, regardless of what caused their afflictions.
How share and care works
Christians are drawn to cost-sharing programs for two primary reasons: They are otherwise unable to get insurance or they join from a sense of Christian commitment.In most programs, members pay a fee to join, then contribute a specified monthly financial "share" or "gift" used to pay the medical bills of other members. Shares are generally lower than premiums for conventional health coverage.Many state insurance regulators have asked whether the sharing programs are illegally exploiting a loophole. But ministry leaders say they are not functioning as insurance companies; thus they claim exemption from the restrictions and costs of state and federal regulation."It's more properly called Christian direct-share healthcare," says J. Michael Sharman, an attorney in Culpeper, Virginia, who has worked extensively with some of the ministries.The sharing plans do not guarantee benefits because everything depends on free-will offerings. The ministries say they are for active Christians who follow "biblical lifestyles," meaning the plans exclude smokers, drinkers, the very obese, active homosexuals, or drug addicts, even if they are active churchgoers. They will not pay for abortions.State-regulated health-insurance plans follow a much different set of rules. Allaying the concerns of state regulators has been an arduous struggle for Hawthorn's Christian Brotherhood. Sharman's legal defense of the cost-sharing program was straightforward and faith-focused: "This is simply the body of Christ acting on [God's] commands."Sharman adds: "Many regulators would look at the Brotherhood's membership requirements and say, 'Why do you insist that your members attend church? That's not a valid insurance underwriting criterion.' And our answer was, 'You're absolutely right, but we're not insurance. We're Christians who are bearing one another's burdens.' "It took years, but in state after state, officials and legislators accepted the argument.One exception is Texas. In April 1995, the state insurance department issued an emergency cease-and-desist order against Beracah Ministries of Tyler, Texas, and its All Saints Program. The state ruled that Beracah was engaged in the "unauthorized business of insurance."L. Jack Prater and his wife, Patsy, started Beracah in 1991. By 1995 it had almost 2,000 members, including 800 Texas residents."They didn't actually find anything wrong, or we'd have been in the clink," says Patsy Prater, who has been Beracah's administrator since her husband died in 1997. "But they wouldn't let us contact any of our members in Texas. We had boxes of mail and medical bills that we couldn't even open."Beracah's business address was then just across the border in Texarkana, Arkansas. Insurance regulators in Arkansas soon issued their own cease-and-desist order, as did Alabama. Beracah survived, but today it operates from Shreveport, Louisiana, with only 400 members.Beracah's experience is unusual. Several other programs operate openly across the country, without state licenses or insurance regulation. This freedom from regulation leaves consumers with the responsibility to understand program rules and limitations.
Pure sharing
One key difference among cost-sharing plans is how, and to whom, they make payments. Samaritan Ministries of Washington, Illinois, uses one option.The 16,000-member group told CT it is a "pure sharing" operation: Members receive its Christian Healthcare Newsletter and agree to make a monthly payment. A member with a medical bill mails it to Samaritan's office, which publishes it in the newsletter and assigns that bill to several members who pay the monthly share check directly to the member in need.Members in Medi-Share send their monthly checks to the office in Florida. Medical bills go to its processing office in Sterling, Illinois. Before paying bills, specialists negotiate with doctors and hospitals to lower their fees.Christian Brotherhood uses a hybrid approach. It also publishes needs in a newsletter. But some members send their monthly shares to cooperating local churches. These churches then send the money on to other Brotherhood members whose bills have been assigned to them. The monthly payments otherwise go directly to Christian Brotherhood.Accountability seems to be a major focus in Medi-Share's program. It paid over $8 million in members' needs in 1998, while supporting a staff of 60. Medi-Share produces regular audits and financial reports for its board, and made them available at CT's request. Its board is also relatively large and includes a number of members identified as having insurance and financial backgrounds. Other sharing plans, in contrast, do not produce regular financial reports.
Some payments prorated
Some sharing plans have experienced difficult times—especially when incoming member bills exceed member gifts.The Brotherhood recently sent out a direct-mail appeal to "Christian people all over this nation," asking for a "sacrificial gift of love to help close the gap between" the $4.5 million in needs presented to the ministry every month and the $3 million in shares available to pay them.This financial gap "represents a serious amount of stress on dozens of hurting families," wrote Tom Hawthorn, the founder's son. (Brotherhood's offices did not return CT's calls seeking financial statements and audits.)Some plans, like Samaritan, meet such deficits head on by prorating their payments."People may not receive 100 percent of their needs, but why should they?" Sharman says. "This is not insurance, it's the body of Christ doing what we're told to do. Still, it is very workable."He adds that in Samaritan's six years of operation, there was only one three-month period when bills had to be prorated, at 90 percent. In several other months claims were lower than expected, and members were told to decrease their share payments accordingly.To limit shortfalls, Medi-Share and Beracah have contracted with an established insurance carrier for backup or "stop-loss" insurance to pay claims that cost more than a certain preset limit: from $25,000 to $1 million for Beracah, and from $50,000 to $5 million for Medi-Share.Medi-Share's stop-loss policy is owned by a trust established in the Bahamas. Executive Director E. John Reinhold told CT that the unusual offshore trust arrangement was set up to get around "laws in 11 to 14 states which prevent a major medical organization from discriminating against homosexuals. Some also prohibit the exclusion of certain pre-existing conditions, such as severe obesity." Medi-Share's literature says that nobody connected with the program earns any commissions or other payments from this stop-loss insurance.This offshore trust arrangement did not pass muster in Wisconsin, however. In 1999 the Wisconsin Department of Insurance forced Medi-Share to set up an alternative stop-loss plan, based in the United States, for its members in Wisconsin. Sharing plans that offer stop-loss insurance for members reveal just how closely these programs emulate traditional health insurance.For Sharman, the faith element in sharing plans puts the programs into a category of their own. "What we're attempting to show in the 21st century is that the body of Christ can work just as well as it did in the first century. It's a testimony to the world and to the church. Paying medical bills is just a means."Historians of the early Christian church say that Christian care for the sick and dying broadened the appeal of Christianity, perhaps becoming a factor in its rapid growth.
What about Christian values?
But what about the Christian values affirmed by these plans? Are Christians under a biblical obligation to pick up the medical tab for someone's self-destructive behavior?"The Christian concern must always be for all in need," Charles Curran, theological ethicist at Southern Methodist University, told CT. "Behind these programs, it seems to me, there's too narrow a focus. The question in the gospel is, Who is my neighbor? And the answer is, The person in need."Curran says that "underlying these plans, at least implicitly, there seems to be a theology that if you live according to the Bible you'll be healthy, wealthy, and wise in this world. But that is not the case."Curran cites the Book of Job as one example of how suffering may come to even the most right-living person. He said the Gospel texts make repeated references to Jesus' calls to self-sacrifice and suffering."From my Christian perspective, what we ought to try to work for is that there is decent medical care for all the citizens in this country," Curran says.In reality, 44 million Americans do not have the health insurance they need. Christians, whether they are in exclusive direct-share plans or in traditional health-insurance programs, face the hard realization that some medical needs will go unmet under the current market-driven insurance system.
Related Elsewhere
To learn more about the direct-share healthcare plans mentioned in this article, visit the following sites:Christian Brotherhood (Barberton, Ohio) Blessed Assurance Bulletin (Lubbock, Texas) Medi-Share Program of the Christian Care Ministry (Melbourne, Florida) Samaritan Ministries (Washington, Illinois) Beracah (Shreveport, Louisiana)Previous Christianity Today stories involving insurance and welfare include:Christians Oppose Threats to Welfare | (April 26, 1999) Affinity Fraud | Unsuspecting Christians Bilked of Millions (July 13, 1998) Call for Church Welfare Reform | The church needs welfare reform every bit as much as the government did. (Oct. 6, 1997) Welfare Round Table | Leaders Pursue Unity in Fighting Poverty (June 16, 1997)Other media coverage of insurance reform includes:Health inflation up, new survey says | Reuters (Sept. 7, 2000) A Decline in Health Insurance | The Washington Post (July 24, 2000) The Assault on Health Insurance | The Chicago Tribune (July 5, 2000) Where healthcare reform happens: the states | The Christian Science Monitor (June 20, 2000) Providing healthcare for all kids | The Christian Science Monitor (June 12, 2000) HMO debate: What's in it for you? | CNN
Have something to add about this? See something we missed? Share your feedback here.
Our digital archives are a work in progress. Let us know if corrections need to be made.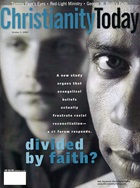 This article is from the October 2 2000 issue.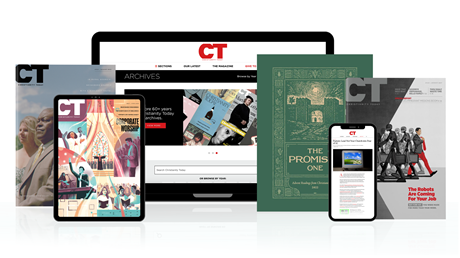 Annual & Monthly subscriptions available.
Print & Digital Issues of CT magazine
Complete access to every article on ChristianityToday.com
Unlimited access to 65+ years of CT's online archives
Member-only special issues
Subscribe
Read These Next
Trending

American Christians Should Stand with Israel under Attack

While we pray for peace, we need moral clarity about this war.

From the Magazine

The Unusual Epistle that Helps Me Counsel on Sexuality

Jude has strong words for immorality in the church. Yet he advocates for mercy for those who doubt.

Editor's Pick

Don't Miss These African Christmas Hits

Jam out this season to highlife, Afrobeats, jazz, a cappella, R & B, rap, dance, and hip-hop artists from Nigeria, South Africa, and more.
Healthcare: Bearing (some but not all) Burdens
Healthcare: Bearing (some but not all) Burdens