A New Song
Jan Karon
Viking
400 pp., $24.95
Readers either love or hate The Mitford Years, the series of novels that has catapulted former advertising executive Jan Karon to the New York Times bestseller list. My step-mother, my mechanic, and the members of my aunt's small group are lovers; my high school librarian, my college English prof, and a nail-biting, Gucci-toting, mochaccino-sipping woman who stood behind me in line at the bookstore last week are haters.
I fall in the love category. Ad mittedly, Karon's novels can be a tad saccharine, but they are comfort books par excellence (be sides being instrumental in my conversion).
Mitford, North Carolina—a thinly disguised Blowing Rock, Karon's adopted home—is a small mountain community that prides itself on being "the little town with the big heart" filled with an assortment of eccentric and lovable characters, who are looked after by Timothy Kavanagh, the 60-something Episcopal priest at the Lord's Chapel. Father Tim is a self-professed stick-in-the-mud, a long-time bachelor whose favorite activities include making meatloaf, reading Wordsworth, and gardening. He is also a man of deep faith, truly committed to the saving power of Christ. He does not wear religion on his sleeve nor force it upon anyone; he tends to the needs of both believers and nonbelievers. None the less, his fervent wish for his neighbors and parishoners is not that they will donate buckets of money to the church, or commit the Chicago-Lambeth Quadrilateral to memory, but that they will come to have a personal relationship with the Lord.
As he tells his congregants in the newest Mitford book, "More than anything as your priest, I pray for each and every one of you to sense and know God's presence … to have a personal, one-to-one, day-to-day relationship with Christ."
Father Tim shares his Christian journey with Cynthia, his neighbor-turned-wife. A well-known children's writer and the ex-wife of a prominent politician, Cynthia was looking for simple qualities in a companion: someone she could talk to—about her day, his day, and what God was doing in their lives. Cynthia is the more daring and adventurous of the pair, but even her wildest feats are fairly down-to-earth: painting the dining room pumpkin color, teaching her better half to tango, planning "domestic retreats," such as picnics and moonlit strolls. She occasionally gets up at 5 a.m. to join her husband in prayer, but more frequently we find her emphatically quoting the Kavanaghs' favorite Bible verses, such as Philippians 4:13.
A New Song, the fifth and most recent book in the series, finds Father Tim six months into retirement. He and Cynthia are headed to Whitecap Island, just off the North Carolina coast, where Father Tim will serve as interim priest of Saint John's in the Grove. Though White cap's accents and the local cuisine are different, small-town life and the struggles of ordinary people trying to know God are more or less the same in White cap as in Mitford.
In fact, Mitford and Whitecap may be a tad too similar. I have always found it irksome that although Mitford is home to Italians and Anglophiles, well-heeled physicians and short-order cooks, native Tar Heels and transplanted Yankees, several millionaires and one homeless man, the only black character is a former domestic servant. In A New Song we can add another: Mamie, who, although educated at a posh school in Virginia, returned to Whitecap Island to continue working for the employers who had paid for her schooling.
My ninth-grade English teacher al ways said you could pick out the main characters of a novel by determining who undergoes change in the course of the book. If that formula holds, the central Whitecappers are Jeffrey and Jannette Tolson and Morris Love. Jeffrey Tolson, a suave, handsome blond who directed the choir of Saint John's in the Grove for 14 years, left his wife, Jannette, and ran off with the married organist shortly before the Kavanaghs arrived on White cap Island. Morris Love is the town legend, a native Whitecapper born with a mysterious ailment; he never leaves his house (conveniently located next door to the Kavanaghs' new home), but remains holed up inside, playing gut-wrenching organ music, seeing no one but his long-time maid and his organ tuner.
When the Kavanaghs arrive on Whitecap Island, Jannette is near suicide, Jeffrey is self-righteous and unrepentant, and Morris is furious with God. Al though Father Tim comes to know and care about many other White cappers, his central work in this novel involves helping Jannette recover, goading Jeffrey to ac knowledge that he has sinned, and en couraging Morris to embrace the Lord.
The theme of A New Song is captured in a sign in Mona's Cafe: BLOOM WHERE YOU'RE PLANTED. As a tearful Cynthia puts it one night: "I'm homesick for Mitford. … I like it here, actually I love it here, but I miss Mitford, I miss our home." At one point, Father Tim even plans a weekend jaunt back home, until he realizes that such a trip would entail ignoring the needs of his current parishioners in order to look after his former congregation.
If the first four books saw Father Tim grappling with his fear of marriage and facing the pain inflicted by his long-dead father, A New Song focuses on Father Tim's learning about livin' where he's at, to borrow my mother's phrase. After all, Father Tim had long thought of his retirement as "going out to Canaan." He may have missed Mitford, but he was sure God had called him to Whitecap Island, and he did not waver in following that call.
Lauren F. Winner is a senior writer for Christianity Today.
Have something to add about this? See something we missed? Share your feedback here.
Our digital archives are a work in progress. Let us know if corrections need to be made.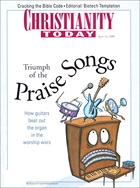 This article is from the July 12 1999 issue.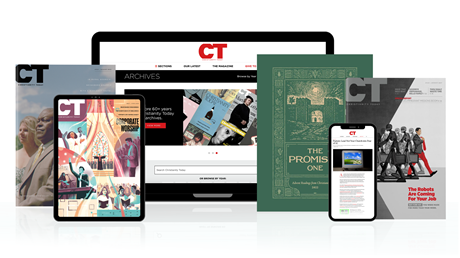 Annual & Monthly subscriptions available.
Print & Digital Issues of CT magazine
Complete access to every article on ChristianityToday.com
Unlimited access to 65+ years of CT's online archives
Member-only special issues
Subscribe
New Song, Familiar Tune
New Song, Familiar Tune