Praise and worship music, launched with guitar and tambourine some 25 years ago, has evolved into a multimillion dollar industry offering a wide array of recordings, videos, publications, and Internet Web services. The industry has transformed the way music is produced and disseminated, and in the process, it has changed the way the church sings.
Praise songs such as "Lord, I Lift Your Name on High," "He Has Made Me Glad," "As the Deer," "I Love You, Lord," "Majesty," and "Awesome God" represent a contemporary form of hymnody that may be more popular in American churches than traditional hymns.
Straightforward and instantly memorable, these songs are among the nation's most frequently sung praise and worship choruses, according to Christian Copyright Licensing International (CCLI), the Portland, Oregon–based clearing-house that sells song-use licenses to North American churches for as many as 200,000 songs. In worship, these song lyrics are often projected onto large screens, freeing worshipers from the burden of juggling Bibles and hymnals. A Christian music magazine recently described this development with the headline: "Mr. Hymnal Goes Bye-Bye."
Harvesting songs
In 1974, Calvary Chapel's Maranatha! Music label released its groundbreaking The Praise Album, which featured melodic, memorable songs such as Karen Lafferty's "Seek Ye First." According to CCLI, it remains one of America's 25 most popular praise songs. Maranatha! soon published a songbook containing music and lyrics for the choruses. Through skillful marketing programs, recordings of praise and worship music found a home not only within the church, but on car stereos as believers began to listen to praise music wherever and whenever they wanted.
The most successful praise and worship company is Integrity, a publicly traded corporation founded in 1987. Last year, Integrity had $35 million in sales, making it the nation's second most-successful Christian recording company (after Sparrow Records).
Integrity says its mission is "helping people worldwide experience the manifest presence of God," largely through its popular Hosanna! series. Now 90 albums strong, the Hosanna! titles create and market live recordings of churches at worship. "We don't sit around with 15 writers and think about cool songs we're going to feed to the church," says Danny McGuffey, Integrity's senior vice president and general manager. "We find songs that are being sung in churches all over the world and harvest those songs."
Integrity's direct-mail operations help it determine immediately whether a given recording resonates with listeners. "In the last 24 months we have sold directly to 2 million consumers," McGuffey says. "This is a testing mechanism nobody else in this industry has."
The Vineyard Music Group, which is affiliated with the Association of Vineyard Churches, also disseminates songs and choruses that are already being sung in congregations. "Our priority is songs that come out of the Vineyard movement—songs that we believe have been given to us by God—and taking them to the world at large," says the label's general manager, Alex MacDougall. In the 1970s, MacDougall played drums with the alternative Christian rock band Daniel Amos. He was a Maranatha! executive through much of the 1980s and took the helm of Vineyard's label in early 1998 after the deaths of movement founder John Wimber, who had formerly been a successful secular musician, and Wimber's oldest son, Chris.
MacDougall says Vineyard songs are "written to God, as opposed to about God," and are characterized by their I-and-thou orientation. "Good praise and worship music has been tremendously beneficial to the church," he says. "Folks who, for whatever reason, resisted singing the hymns have em braced these songs, which help them experience worship that is intimate and at a deeper level."
Music for everyone
John Styll, publisher of the 50,000-circulation Worship Leader magazine, thinks praise and worship music has been so successful because the songs are so adaptable: "You can have a pretty straight-laced but theologically liberal Presbyterian church using the same songs that are being sung at a wild and crazy charismatic church, but they use different arrangements and adapt the songs to their unique settings."
With the high volume of new music coming on the market each year, Worship Leader developed a new product for the church market, Song DISCovery, which is a bimonthly worship resource featuring a compact disc of recorded music and an accompanying songbook with a sampling of new praise and worship music.
Integrity reaches a broad market by focusing its efforts on producing a highly specialized product line, including releases from T. D. Jakes and the Potter's House Mass Choir, Australia's Hillsong label, a Messianic line, musicals, Spanish-language recordings, tie-ins with the nationwide Women of Faith conferences, and its newest label, Vertical music, which is targeted to Gen-Xers.
Mark Driscoll, pastor of the Mars Hill church in Seattle, says the best praise music comes from "organic, local missional churches writing prophetic songs birthed from their artists, mystics, and poets," not from the "chasing of poppy trends and shallow cliches sold by marketeers."
Yet some of the most popular worship music comes from bestselling recordings by well-known contemporary Christian artists like Amy Grant and Michael W. Smith. Bands such as Jars of Clay include praise-oriented songs like "Love Song for a Savior" on their albums. These then get picked up by worship leaders.
The Internet is also an increasingly popular source of new worship music. More than 12,000 worship leaders regularly download songs at www.worshiptogether.com, the Web site of Worship Together, a label that launched its first two albums last summer and is, like Sparrow, a division of the EMI Christian Music Group.
Searching for quality
The impressive volume and variety of praise music on the market invites the question: Does it draw churchgoers closer to God?
A recent survey by pollster George Barna suggests one answer to that question with its finding that fewer than one-third of adults who attend church services feel as if they have truly interacted with God.
John Witvliet, director of the recently formed Calvin Institute of Christian Worship, affirms the value of praise music, but warns, "One potential downside to all the music being distributed via high tech is that it may tend to be more performance-oriented rather than congregational. Most of it is recorded with soloists or a small band rather than with or for assemblies of people. Perfect high-tech recordings can be discouraging to faithful musicians in small churches without the means to produce such a perfect sound."
Have something to add about this? See something we missed? Share your feedback here.
Our digital archives are a work in progress. Let us know if corrections need to be made.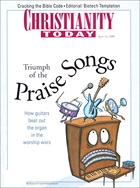 This article is from the July 12 1999 issue.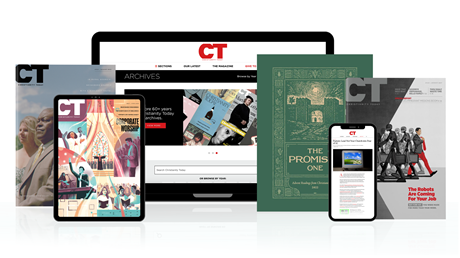 Annual & Monthly subscriptions available.
Print & Digital Issues of CT magazine
Complete access to every article on ChristianityToday.com
Unlimited access to 65+ years of CT's online archives
Member-only special issues
Subscribe
The Profits of Praise
The Profits of Praise