Why would the state-run Canadian Arts Council fund two missionaries in the arts? James and Cindi Croker relinquished work with Youth with a Mission (YWAM) in 1989 to start a contemporary dance troupe in Toronto, Motus O. The name refers to the Latin term for "a way of moving," and the troupe is one of the most active touring companies in Canada.
James Croker, who was born in Canberra, Australia, met his Minnesotan wife while touring with YWAM across four continents over 18 years. "Because our aesthetic development happened with YWAM," he ex plains, "we tend to tell stories in dance. But mainly, YWAM taught us how to fail. Most of what we do in the studio is failure; for every eight hours of choreography we end up with a minute or two on stage."
No easy pursuit
Dance has always been a hard mistress. Dancers typically live on subpoverty-level salaries, lack benefits, and usually toil in anonymity. The vocation's physical demands defeat most dancers by their early thirties. The Crokers, approaching their forties, continue a rigorous regimen that includes 15 to 20 hours a week of workouts and rehearsals. Well beyond the age of most contemporary dancers, and with three growing teenagers to raise, they do this for a salary that is far less than their YWAM missionary stipend in the 1980s.
In fact, inasmuch as Motus O is supported mainly by grants and audience ticket sales, the actual cost of a performance cancels out the possibility of anything resembling a salary—which is why the Crokers and their ensemble also have part-time jobs as custom framers, accountants, dance instructors, and cryogenic technicians. To keep their name in front of grant-providing agencies, they must also give at least 40 performances per year.
But despite the thin financial rewards, Motus O's reputation in Ontario glows more brightly with each new production, owing mainly to the acrobatic style of its choreography rather than pure dance—and to the innovative, improvisational content of its repertoire.
One would be hard-pressed to find any obvious statement of faith in Motus O's program notes or pieces. "We do not try to represent a particular theology or brand of Christianity," Croker states. "We represent our personal faith and our struggles in dance. God is an intrinsic part of that struggle; he is the question, he is the answer, and sometimes he is the struggle. We feel comfortable exploring struggles with no immediate answers, because God is there for us, individually. We don't consider ourselves a Christian dance company, although we are unanimously Christian in our beliefs. We never use the company as a pulpit to express political or religious ideas."
This motus operandi contrasts with the mission statements of dance companies such as Hosanna Sacred Dance of Nashville or Ballet Magnificat of Jackson, Mississippi, whose aim is to reveal the glory of God through artistic excellence and beauty. These groups appear at worship conferences, church-based conventions, or before audiences with a majority of Christian supporters; their grants are sometimes from Christian sources.
The Crokers began in the arts as a missionary couple and are now devoted to maintaining a professional standing in the secular arts world, while Ken Tolle of Hosanna Sacred Dance became a Christian dancing leading parts with the Boston and Indianapolis ballets and a professional contemporary troupe. He has applied professional standards to dance with the single-minded goal of revealing the essence of God and spurring a worshipful response from audiences. He often sets powerful, original choreography to excerpts from Scripture—an approach Motus O would avoid. Still, both groups share the same intense passion about the place of Christians in dance.
The beauty of physicality
Both the Crokers and the Tolles have expended energy attempting to unveil the body's starring role as a portal for the soul. But unless physical prowess occurs on the gridiron or the baseball diamond, Christian audiences are uncomfortable with body-centered arts. Even so, both Hosanna and Motus O often choose costuming approaches that emphasize muscularity and beauty, stressing the grace embodied by male and female bodies in motion from head to toe. Michael Cadle, Hosanna's executive director, explains, "When you work with beautiful dancers, you don't want to hide the full form of their bodies—that is part of the beauty of dance—but the church is not ready to see this with a renewed mind."
Croker wants audiences to see his ensemble as one organic unit—a community of diverse parts working together to create a unified expression of the human spirit. Because of his YWAM experience, Croker believes so passionately in community that he shares a house with Motus O's principal dancers and their families, enabling the company to arrange rehearsals and childcare around one anothers' part-time work schedules. "Community forces us down a road of dealing daily with compromise and love," he says. He believes this living arrangement immeasurably enhances the group's rapport while they are working.
Touching the human spirit
Although Motus O occasionally employs dancers who are not Christians, its four permanent members constitute a core of believers. To attract the best talent, Motus O's performance standards must compete with the finest that Toronto—"the Broadway of the north"—has to offer. This puts Motus O members in the same situation as many Christians in the professional arts who are continually confronted by AIDS, eating disorders, and homosexuality. As a result, Christians in dance must learn to love the sinner and hate the sin if they wish to survive professionally.
Ken Tolle's wife, Susan, who directs the School of the Nashville Ballet, admits, "God has really challenged me on it, forging in me an honesty and integrity. He really holds my toes to the line when I might prefer to hide behind Christian lingo; instead, I have to be accountable. For example, I had to walk with a friend with AIDS all the way through his darkest hour to witness the miracle of how God brought him into glory. Because God was always with these people—and I was one of these people—I know why I'm with them now: I have the capacity to love them no matter what."
Croker cautions: "We can't afford to act with arrogance. We make our lives as vulnerable as possible. Through our personal example on- and off-stage, we want to touch the human spirit. We are not proselytizing with a particular agenda. We're pursuing truth. That is the integrity we wish to put into our pieces, and it is sometimes painful. Then again, a lot of our stuff ends up being funny, too."
Cadle, who keeps a close watch on dance, notes that increasing numbers of Christians now train at summer workshops, receive scholarships at top-level ballet schools sponsored by the Joffrey or Juilliard in New York, or pursue degrees at Christian campuses from Azusa Pacific University in California to Belhaven College in Jack son, Missisippi, and Friends College in Wichita. One dance therapy program began 25 years ago at Hope College (Holland, Mich.) and now supports 99 majors in dance—which would have seemed astronomical only a few years ago.
Cadle observes, "We've begun to see a generation that is going to impact dance with the strong foundation of their Christian belief." That opinion anticipates a time when young Christians will choose the discipline of professional dance, approaching their calling with the training to back up their drive and the will to make a difference.
Asked why dance is needed, Susan Tolle answers for all her colleagues: "My first response is that heaven is constantly moving, from glory to glory, and that dance is movement, making it a reflection of eternal life. … If anything, I pray I am an illumination of that reflection, and an example of what it means to dance with my whole heart and my whole being." King David would approve.
Have something to add about this? See something we missed? Share your feedback here.
Our digital archives are a work in progress. Let us know if corrections need to be made.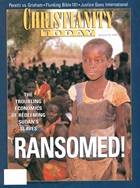 This article is from the August 9 1999 issue.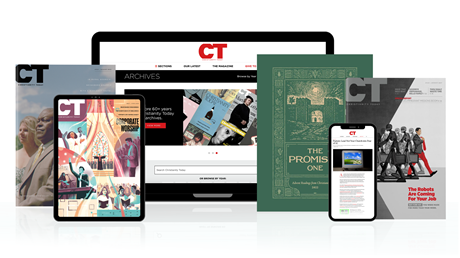 Annual & Monthly subscriptions available.
Print & Digital Issues of CT magazine
Complete access to every article on ChristianityToday.com
Unlimited access to 65+ years of CT's online archives
Member-only special issues
Subscribe
Let's Get Physical
Let's Get Physical