While it seems inconceivable that Olympian Jim Ryun, Chinese dictator Mao Zedong, baseball great Satchel Paige, and Carolyn Kennedy Schlossberg could have much in common, they share one thing: all have been shaped into likenesses by the hands of Chinese sculptor Wu Kwan.
During China's Cultural Revolution (1966-76), Mao considered artists the most dangerous intellectuals because art has the ability to mobilize people of all levels and education. China's artists, and most other intellectuals, were often incarcerated or sent to farms and put "out to pasture." Even after the revolution, libraries were considered centers of potentially dangerous capitalist ideas and remained padlocked mortuaries for the dust-covered books not destroyed. But in the 1970s, as a teen in Guangzhou, Wu showed such artistic promise that his headmaster slipped him a key to the library so he could thumb through Western art books at night.
Gradually, the government began to invite artists back into society. By 1981, Wu Kwan was teaching at the Art Institute of Guangzhou, and much of the cultural chaos caused by Maoist doctrines had faded into a bad dream. Wu gained recognition as a sculptor of monumental pieces—some as high as 45 feet—exhibiting the muscularity and heroic proportions of Russian social realist art. In 1988, Wu met a leading American bronze sculptor at a cultural exchange. Unexpectedly, he was invited to serve as visiting professor at the University of Kansas for one year.
Wu Kwan never expected to leave his native country—travel even between provinces prior to 1990 was heavily monitored by the government. His only exposure to English had been during casual evenings at the institute, where an American from Zhongshan University taught English by reading from the Old and New Testaments. "In my background, I had no religion," Wu explains, referring to Mao's complete repression of religion. "But this teacher spoke simply about Jesus taking care of all our sins in a way that moved many of us. I began to understand something of Christianity, even though my priority was to learn English."
Transplanted suddenly to Kansas, Wu's lack of English made life difficult, although it did not affect his ability to teach, because art is truly a universal language and he could let his hands talk for him. Socially, however, "not having language was like being no different from an animal," Wu remembers. Alone, because he could not afford to bring his wife and teenage son to America, he faced anonymity, financial stress, and the prospect of starting from scratch after unqualified artistic success in China.
A track coach's generosity
To his surprise, Wu was championed by Bob Timmons, Jim Ryun's track coach. Timmons—who knows no Chinese and knew even less about art—took Wu under his wing, relating Wu's story to anyone who would listen. This supportive experience gave the artist, for the first time, the sense that God had plucked him out of China for a reason and would provide for him. He felt convicted that he should recreate his career in the States, and Timmons's generous spirit prompted him to choose the Christian God as his Savior.
In 1989, Wu's legal status in America was vouchsafed by Sen. Bob Dole and a Washington, D.C.- based sculpture association. In 1990, he brought his family to Kansas, and his wife, also an artist, eventually converted to Christianity too, as amazed as Wu by the hospitality and concern of Christian friends. Last January, Wu proudly became an American citizen in a ceremony presided over by Federal Judge Scott Wright, who in 1991 had commissioned Wu to create a bronze commemorative for the bicentennial of the Constitution's Bill of Rights.
The riddle that links a patriotic American sculpture to a transplanted Chinese artist rests, apparently, with Wu's creative solution. Like his faith, the idea came out of adversity. Before he knew English, Wu observed people closely in an attempt to understand them. He noticed that Americans spoke with their hands much more than the Chinese, using a large repertoire of "OKs" and other signage. He also realized that, because Americans display such a wide variety of facial features, he could not use in an American sculpture the social realist portrait approach of one figure as representative of thousands. It seemed logical, then, to use hands to portray America, so he began "collecting" hands just as he "collects" faces, photographing hundreds of examples. Each pair of hands came to signify the individual strengths and successes that brought American democracy into action, forming the motif for Wu's Bill of Rights sculpture.
100 Hands is a bronze stack of minutely detailed hands, topped by those of runner Jim Ryun. One set of hands belongs to a deaf woman, who signed "love" in a way that moved Wu deeply; another is missing a finger. Asked by Judge Wright why that hand seemed "unfinished," Wu explained, "Even American history is not that smooth. You have not been without your wars or violence. I wanted that hand to symbolize the tragedies, as well as the hard work, that also built the country."
Among a "personal" repertoire, Wu's loosely titled works often depict a study of a deeply contained emotion hidden stoically within a muscular body. In Struggling, Wu sculpts the idealized portrait of an Asian, frowning with concentration as he struggles to burst the bindings cutting into his arms and torso. It is Wu's portrait of China and the Chinese, who are often stereotyped as "inscrutable": in fact, he says, they "look inward for strength, struggling inwardly all the time—not in the free, open poses of Western figures by Rodin and Henry Moore. Quiet on the outside, but inside, always trying to get emotions under control."
Wu's approach to his faith, much as his sculpture, is designed on the grand scale. "My attitude as a Christian is shaped by God bringing me to the States and getting me through all the hard times. So often people pray for small things but don't work hard themselves to get the answer. I think that if you don't work hard, God is not going to be as likely to help you. I was brought to a Promised Land, which is a big thing, and after facing the hard challenges God gave me, I feel stronger, and my heart is light. When I pray, I don't stay in the details of life—he gave me faith, and transferred his spirit to me, and brought me here," he says contentedly. "Isn't that enough?"
By Karen L. Mulder. For more information on Wu Kwan or his work, contact Ron Stowe at rstowe@gvi.net or 913-963-7953.
Have something to add about this? See something we missed? Share your feedback here.
Our digital archives are a work in progress. Let us know if corrections need to be made.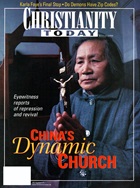 This article is from the July 13 1998 issue.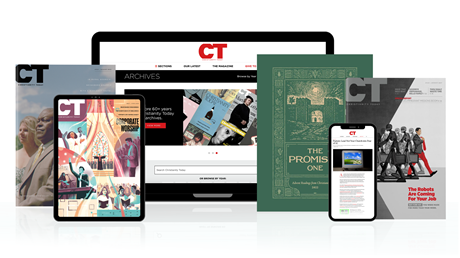 Annual & Monthly subscriptions available.
Print & Digital Issues of CT magazine
Complete access to every article on ChristianityToday.com
Unlimited access to 65+ years of CT's online archives
Member-only special issues
Subscribe
What the Hands Reveal
What the Hands Reveal