(Second of two parts. Click here to read part 1)
I looked up Titus 2: "Teach the older women to be reverent … not to be slanderers or addicted to much wine. … Then they can train the younger women to love their husbands and children, to be self-controlled and pure, to be busy at home, to be kind, and … subject to their husbands" (vv. 3-5, NIV). I couldn't decipher how working outside the home precluded these virtues. Pastors' wives feel plenty bad about the fact that, in many instances, the church doesn't pay them enough to live on. "Ambitious agenda" has nothing to do with the cost of tennis shoes and car insurance.
Sometimes the ministry wife simply feels incapable of leading other women in the art of godly womanhood. One wife responded in the jbu questionnaire that she needed someone to function as a WOTTS-mentor to her.
Syndicated columnist Terry Mattingly wrote recently that the divorce rate for U.S. pastors rose 65 percent in the past 25 years. Eighty percent said their ministry has "a negative impact" on their home life, while one-third said "the pastorate has been a 'hazard' to their families."
A radio host recently asked the guest for that day what she thought would be a wonderful way to minister to the pastor's wife: "Maybe offer to clean house for her, or something like that?" he said. The cows will come home before a pastor's wife wants a church member digging socks (and who knows what else) out from under her kids' beds. The radio guest, to her credit, made a better suggestion. "If that's something they want to do, it would be best to pay for a cleaning service to come in." (But then, of course, the wife is haunted by the thought that the people in the church must think she can't keep her house up.)
Upward trajectory
There is no sure formula to guarantee a healthy environment in which the ministry family can grow and thrive. But I have learned through personal experience, and through many friends and associates who are married to pastors, that there are some key factors that help set the preconditions for success in marriage and ministry. My friend Caroline's experience offers a model for a positive church environment in which the ministry wife can flourish.
During the candidating process at their second church, the elders and their wives invited her husband, James, and Caroline to a cookout, which would be followed with the intensive three-hour Q & A session. To Caroline's surprise, the elders invited her to participate in the interview. When the meal was over, the men shuffled papers and dug folders out of briefcases while the women carried dishes into the kitchen, inviting Caroline to join them. She excused herself from kitchen duty, deferring to the invitation of the men to join her husband for the interview.
She kept quiet except when James asked for her input. At one point, the elders turned the questioning to her. ("I don't play the piano," she wanted to say up-front.) They asked her what she perceived would be her role in the church. She answered, "I guess I'd like to grow into that role, without any preconceived expectations or ideas about what I should do," she said. She added that since her kids were getting older she thought it might be a good time for her to go back to work.
James chimed in. "The way we try to look at it is that the church is calling me. Anything that my wife adds to that is up to her."
The elders eventually accepted James's candidacy, and they likewise accepted Caroline on those terms—that is, no terms. And just as the bizarre episode in the funeral home entangled Miriam in a web of negative emotions, so this gesture had an exponential positive effect for Caroline. She felt free to take her time in deciding how and where she would function in the church without fear of subtle recriminations from the church leadership or membership. This—coupled with the fact that her children were in school all day—opened for Caroline the possibility that she might pursue her own vocation. (She got a job.) This (to her surprise) caused many of the members of the congregation—especially the women—to laud her example: She struck the right balance between maintaining a healthy home life and finding her place in her vocation. In fact, she was nominated for the board of elders (she declined), and one woman even asked her why she couldn't be the pastor with her husband.
This affirmation spurred her sense of purpose and calling with the women in the church. She started a 7:00 a.m. women's breakfast Bible study for those, like herself, who longed for spiritual food before the workday began. (On those mornings, James got the kids off to school.)
Three key factors
The action of the elders in this instance illustrates the first of three ingredients needed for the health and wholeness of the ministry wife. These include: clear and healthy attitudes within the congregation, trusted friendships, and a solid relationship with her husband.
The church. The elders gave Caroline a blank slate on which to write her job description, which, in turn, had the effect of winning her heartfelt involvement in the church and in the lives of the women there.
The leadership in James's church exercised other forms of active support for Caroline. When the time came for James's contract to be renewed, for example, the chairman of the elders invited him out to lunch to discuss pertinent matters. "Ask Caroline to come, too," he said.
At the table, he said up-front that he thought it was always a good idea to ask the pastor's wife whether or not the family was making it on the salary they were giving him, and if everything was all right with the parsonage. In that moment, whether or not they were "making it" on James's salary didn't matter so much to Caroline (though she didn't hesitate to interject her opinions). And, while there was plenty that needed fixing in the parsonage (which Caroline rattled off by memory, to even James's astonishment), she carried no resentment about it. What mattered to Caroline was that someone had asked, and that this dear elder had the wisdom to free James from the awkward position of having to lobby for more money from the church for his family. The elder made that Caroline's job! She gladly took it on.
Friendship. Other surprising events began to unfold for Caroline during this new season at their second church. It so happened that the church parsonage stood two houses down from the home where some former missionaries lived. Their first day there, the missionary wife welcomed Caroline to the neighborhood with a loaf of homemade bread.
Though the missionary did not attend their church, she continued to reach out to Caroline. The two began to walk together in the mornings. This evolved into a desire between them to pray together. Before the first year was over, Caroline had a friend—the second critical ingredient for nurturing a healthy ministry wife. And because her friend was not an integral part of the church family, Caroline felt much more freedom to share and confess her struggles, irrational or otherwise. Suddenly, she no longer felt trapped and isolated.
This trusted new friend freed Caroline to love her church family in a new way. Rather than recoil inside herself, emotionally bound and stewing about dysfunctions and hard moments, she and her friend prayed about them and then let them go. In this way, Caroline found release and genuine longing to participate and relate to others in a healthy way. And it freed her to serve with joy: She sang in the choir; she taught the teenagers' Sunday-school class; she wrote the church newsletter; she set up the Communion table—not because anybody expected these of her, but because she genuinely grew into the place where this was where she felt called to function. She was happy to do it.
Her husband. Even more critical than having clear and healthy expectations from the church and good friendships is the third factor in nurturing the healthy ministry wife: her relationship with her husband.
Shortly after we moved to our first church, my husband and I decided to visit some of the other pastors in town. The first home we went to seemed strangely deserted. The curtains were drawn, and nobody answered the door after several knocks. We turned to leave when the door slowly opened. A woman peered out at us with eyes bugged out. She didn't speak, but only stood there clutching the door. The house was dark inside.
We put on our best faces and introduced ourselves, suggesting that we should get together for dinner sometime.
"All right," she said. We mumbled one or two other awkward attempts at small talk, but soon she pushed the door shut until it latched.
There is something not right with this picture, my husband and I thought, as we stood dumbfounded on the stoop.
We came to learn, many years after that encounter, that this poor woman's pastor-husband divorced her and left the church in shame. He spent so much time with his counseling practice that he was never home, day or night, and had compromised himself more than once in inappropriate behavior toward some of his female counselees. The church ended up changing the locks on the building to force his departure.
That sad story made me wonder how many pastors' wives are crouched behind doors, waiting for their husbands to come home, and feeling swallowed up in everybody else's needs.
A manual for pastors' wives in the nineteenth century offered this nugget of wisdom: "The keystone in the fabric of the rectory system is … a happy and harmonious marriage." Forty years ago, the standard was the same: "One is impressed by an unruffled, spiritually sublime, and socially tranquil countenance [of the minister's family]" (from Clergy Families, by Paul Mickey and Ginny Ashmore). Beyond nineteenth-century rectory "keystones" and midtwentieth-century "unruffled countenance," David Goetz in "Why Pastor Steve Loves His Job" (see p. 12) still maintains that "satisfied pastors are married to a satisfied spouse."
But it can be a very fine line between the "satisfied" spouse and the lonely, troubled woman lurking behind closed doors.
My husband never forgot that image. When we stand together in the receiving line after the service, before the crowds descend, I'll brush back that twirl in his hair. He'll hand me his bulletin while he fixes his tie. As people come by, even as he chats, he will put his arm around my waist now and then. When someone comes through who might step past me, he interjects, "Have you met my wife?"
These are little things. But they add up to something much bigger. His hand on my waist tells me that I, no one else, belong with him. The passing introductions assure me that, even if some might pass me by, my husband knows I'm there; he knows my name.
When you are in it up to your neck, you don't always see how high and how good the call of the pastor's wife can be. There is a degree of suffering attached to this role, and no small measure of sacrifice. But there is also the privilege of sharing the trust of hurting people who depend upon you, whether you deserve it or not—like Ina's confidence that someone would pick up the phone at the pastor's house and take a minute to pray for her. There is also the privilege of participating in sacred moments when the human heart cries out for the face of God—like the time a friend in our church learned that her sister had been murdered and asked me to help break the news to her mother. The hard points and the sacred moments, in tandem, are the brick and mortar of kingdom-building. The pastor has been entrusted with the soul-nurture of the bride of Christ, and with or without her assent, his wife is part of that trust. With every phone message she takes or relationship she risks, God is finding a foothold in the heart of another person.
Not long after the call I received that interrupted my siesta, Ina called yet another time asking for prayer. This time, however, she wanted my husband and me to come and lay hands on her. She was happy to see us, though she looked altogether different in her bathrobe and slippers, minus the red lips, arched brows, cheap jewelry, and false teeth. She stroked her cat, asking if we minded, as we came close to lay our hands on her for prayer. We petitioned the heavens regarding whatever it was that afflicted her that day, and she felt pleased that we came. We chuckled as we drove home.
She died the very next day. I was glad I had been invited.
Have something to add about this? See something we missed? Share your feedback here.
Our digital archives are a work in progress. Let us know if corrections need to be made.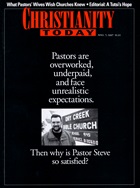 This article is from the April 7 1997 issue.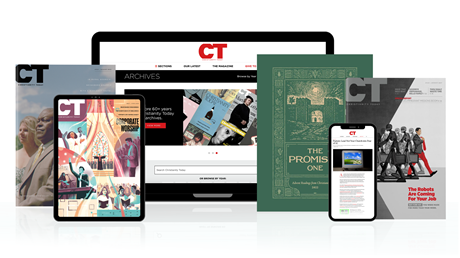 Annual & Monthly subscriptions available.
Print & Digital Issues of CT magazine
Complete access to every article on ChristianityToday.com
Unlimited access to 65+ years of CT's online archives
Member-only special issues
Subscribe
What Pastor's Wives Wish Their Churches Knew Part 2
What Pastor's Wives Wish Their Churches Knew Part 2