As the small evangelical church in Russia expands, so does the need for properly trained leaders who can take the church into the future.
In spite of attempts by nationalists and others to hinder the church, the number of evangelical Christians in Russia has doubled since the Soviet empire dissolved six years ago.
There are 300 registered evangelical churches in Moscow, compared to only three in 1991. Yet evangelicals still constitute only 1 percent of Russia's 147 million people.
The need for trained leaders is tremendous, according to Ron Brunson, area facilitator for the Alliance for Saturation Church Planting. Russia has more than 3,000 organized evangelical churches, three-fourths of them located west of the Ural Mountains. About half of those churches are Baptist Union, and one-third are Pentecostal Union.
Brunson points to the need for developing more teaching materials, textbooks, and theological institutions. "What is taught in the seminaries will shape the future of the church," he says.
ACUTE TRAINING NEEDS: Representatives from more than 100 Bible colleges, institutes, and seminaries gathered recently in Kiev to discuss the future of evangelical theological training, which began in a serious manner in Russia in 1990 with Saint Petersburg Christian College and the Odessa Theological Seminary.
An outgrowth of the conference in Kiev has been the appointment of a committee to form an accreditation association for Russian theological institutions.
The association will set standards by which all agencies will abide in areas such as teacher quality, curriculum, and student criteria. Currently no method exists to evaluate theological programs.
One problem that became clear during the conference is dependence of existing theological training programs on teachers brought in from the West and the practice of importing Western models of teaching and ministry. Because foreign teachers who staffed these programs stayed only for short periods and could not speak Russian, they were unable to develop close relationships that would have contributed to the students' character development.
MORE THAN KNOWLEDGE: "We may have to go back to square one to re-examine our concept of theological education," says George Law, vice president of Russia Ministries in Moscow. Law says that many values accepted by Russian Christians today are unbiblical, and Christian character traits, such as integrity, must be taught. Lying and cheating, for example, are common problems seen by teachers at many Russian institutions.
"This is a crisis in the church," Law says. "Those leading them have not been transformed spiritually. They have knowledge, but their characters haven't changed."
Law sees character development as a critical part of developing tomorrow's church leaders. There are good leaders in the Russian church, but also many who lack credibility and dependability, he says.
While learned Russian theological teachers who can relate closely to the students in their native tongue are needed, the Russian church is still not ready to train teachers fully without outside help. One proposal involves teams of teacher trainers in the West working closely with about 25 Russian men and women who have potential to teach. Then those trained nationals would work with another 25 potential Russian teachers, and the numbers would multiply. Training national teachers in this way would require up to three years of working with them full-time.
Theological training schools relying on foreign teachers and translated lessons would cease to exist in three to five years because the demand would decrease, Law believes. Russian students would move from expatriate schools to Russian schools.
Tomorrow's church leaders need to be flexible, especially in Russia's fast-changing urban centers. They need to be more highly educated because more educated people are coming to Christ.
RELATING TO CULTURE: As Russians become increasingly consumer-oriented, churches will need to learn how to serve different "communities," especially Russian youth.
"The Russian church doesn't know how to be relevant to today's youth," says Kaarina Ham, a missionary with Youth for Christ in Moscow. "Russian young people are facing greater social pressures and issues at younger ages, such as alcoholism, drug abuse, abortion, and premarital sex."
The church needs to learn how to address such problems, Ham says. The pressure remains on young people to change in order to come to church rather than the church to change to attract young people.
Most Christians in Russia agree that the day of the short-term missionary is over, except in some special instances. And the Westerner coming in now to do a blitz and then flying out may do more harm than good to the overall missions effort.
A rush by Western Christians to provide literature has produced a backlash, according to Anatoly Rudenko, president of the Russian Bible Society in Moscow. Rudenko says the translation done for many Christian books is shoddy, and the material itself often is flimsy, disintegrating in a few months. "It's time for quality, not quantity," Rudenko told CT.
The key for missionaries working in Russia is long-term commitment. "It is a long process of building trust and changing lives," says Jay Sunberg, who works with young Nazarene national leaders.
Some Westerners have expressed concern that growing nationalism will cause the government to stop missions work (CT, Aug. 12, 1996). But Law says that as long as Russia wants to be a world economic leader there will be freedom of religion.
"I don't think anything could stop the missions movement except the trumpet call," Law says. "If Russia closed to missionaries, [that] would only last five to ten years. It's a money issue."
Have something to add about this? See something we missed? Share your feedback here.
Our digital archives are a work in progress. Let us know if corrections need to be made.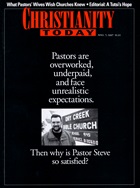 This article is from the April 7 1997 issue.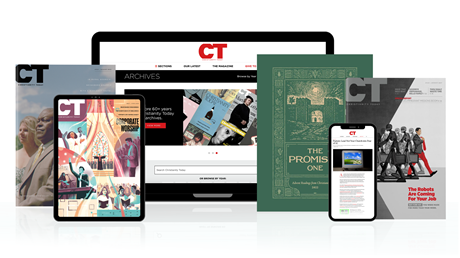 Annual & Monthly subscriptions available.
Print & Digital Issues of CT magazine
Complete access to every article on ChristianityToday.com
Unlimited access to 65+ years of CT's online archives
Member-only special issues
Subscribe
Training Shortfall May Imperil Growth
Training Shortfall May Imperil Growth