How splendid the cross
How splendid the cross of Christ!
It brings life, not death;
light, not darkness;
Paradise, not its loss.
It is the wood on which
the Lord, like a great warrior,
was wounded in hands and feet and side,
but healed thereby our wounds.
A tree had destroyed us;
a tree now brought us life.
-Saint Theodore of Studios in
Breakfast with the Saints

Happy New Year!
Easter is the New Year's Day of the soul.
-A. B. Simpson in
Inspiring Quotations

Unspectacular importance
The resurrection of Jesus is a hidden event. Jesus didn't rise from the dead to prove to those who had crucified him that they had made a mistake, or confound his opponents. Nor did he rise to impress the rulers of his time or to force anyone to believe. Jesus' resurrection was the full affirmation of his Father's love. Therefore, he only showed himself to those who knew about this love. He made himself known as the risen Lord, only to a handful of his close friends. There is probably no event in human history that has had such importance, while remaining, at the same time, so unspectacular. The world didn't notice it; only those few to whom Jesus had chosen to show himself, and whom he wanted to send out to announce God's love to the world just as he had done.
-Henri Nouwen in
Our Greatest Gift: A Meditation on Dying and Caring

Personally repugnant
The real essence of Christ's Passion consisted in the two things we least like to bear and suffer: fear and disgrace.
-Hans Urs von Balthasar in
The Grain of Wheat

Glorious paradox
We live and die. Christ died and lived!
-John Stott in
Authentic Christianity

Not a walkover, but victory
[The disciples] had seen the strong hands of God twist the crown of thorns into
a crown of glory, and in hands as strong as that they knew themselves safe. They had misunderstood practically everything Christ had ever said to them, but no matter: the thing made sense at last, and the meaning was far beyond anything they had dreamed. They had expected a walkover, and they beheld a victory; they had expected an earthly Messiah, and they beheld the Soul of Eternity.
-Dorothy L. Sayers,
"The Triumph of Easter," in
The Man Born to Be King

Waiting for resurrection
How strangely stupid is grief. It neither learns nor knows nor wishes to learn or know. When the sorrowing sisters sat over against the door of God's sepulchre, did they see the two thousand years that have passed triumphing away? Did they see anything but this: "Our Christ is gone!"
Your Christ and my Christ came from their loss; Myriad mourning hearts have had resurrection in the midst of their grief; and yet the sorrowing watchers looked at the seed-form of this result, and saw nothing. What they regarded as the end of life was the very preparation for coronation; for Christ was silent that He might live again in tenfold power.
They saw it not. … [I]t was a sepulchre, unprophetic, voiceless, lusterless.
So with us. Every man sits over against the sepulchre in his garden, in the first instance, and says, "This woe is irremediable. I see no benefit in it. I will take no comfort in it." And yet, right in our deepest and worst mishaps, often, our Christ is lying, waiting for resurrection.
-Mrs. Charles E. Cowman in
Streams in the Desert

More than alive
Something happened on Easter Day which made Christ more alive on the streets of Jerusalem forty days after his crucifixion than on the day of His Triumphal Entry. A false report might last forty days but the church which was founded on a Risen Christ has lasted for nineteen centuries, producing generations of the race's finest characters.
-Ralph W. Sockman in
Pulpit Preaching
Have something to add about this? See something we missed? Share your feedback here.
Our digital archives are a work in progress. Let us know if corrections need to be made.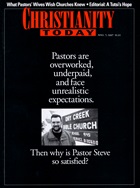 This article is from the April 7 1997 issue.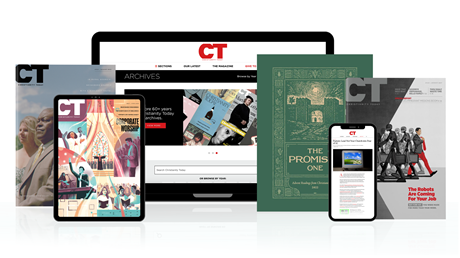 Annual & Monthly subscriptions available.
Print & Digital Issues of CT magazine
Complete access to every article on ChristianityToday.com
Unlimited access to 65+ years of CT's online archives
Member-only special issues
Subscribe
Classic & Contemporary Excerpts from April 07, 1997
Classic & Contemporary Excerpts from April 07, 1997