Among major conductors, no one is quite like John Nelson. At age 55, his career is still on the rise, and today he enjoys national and international acclaim. "But," says Nelson, "I don't believe anyone in my business has a background quite like mine."
Though it was clear he was talented, Nelson was never trundled off to expensive piano lessons. No wonder: he was an MK—missionary kid—in Costa Rica, a country with a national symphony orchestra but no standing army.
John was exposed early to classical music. His family purchased an upright Steinway piano for $50 when he was six, and he began lessons. By the time he was 12, John had played for radio broadcasts.
Nelson's first serious piano training was at Wheaton College's Conservatory of Music. It was too late for a concert career and, born with small hands, he couldn't reach an octave until fully grown. A boyhood accident cut off the end of his right little finger, making an octave even more of a stretch. So he exchanged the keyboard for a baton and pursued choral and orchestral conducting at the Juilliard School of Music. Among his classmates was Leonard Slatkin, recently appointed music director of the National Symphony Orchestra.
Nelson's first major conducting break came in 1972. While conductor of the Pro Arte Chorale in New Jersey, he convinced them to sponsor an uncut performance at Carnegie Hall of Les Troyens, Berlioz's lengthy opera. The performance caught the attention of the New York music scene and led to engagements at the Metropolitan Opera and New York City Opera. Becoming music director of the Indianapolis Symphony (and also of the Opera Theatre of Saint Louis), he built it into a reputable orchestra in 11 years, defying its relatively small market and budget.
But Nelson felt his career and musical development were stagnating, and he was increasingly frustrated with the administrative work. He also experienced personal crises: the death of his father, and then discovery of an enormous tumor on his kidney. Though the tumor was benign, he was for the first time really confronted with his own mortality. It was then that he began to take his faith seriously. Today, what matters more than anything else is his personal relationship with his Creator and making that central to all he does.
At age 45, with his two children in college, Nelson left Indianapolis and launched out as a guest conductor. His career really took off. Since 1987 he has conducted major orchestras and opera companies in Europe and the U.S. and enjoyed recording success. In 1994 he won the Grammy Award for Best Opera recording for Handel's Semele.
To God be the glory
Nelson has the best of all worlds today. As regular guest conductor with several orchestras and opera companies worldwide, he has relative freedom to pick his repertoire—no more of classical music's "top 40" or worries about the business. Still, after several years of this freedom, he felt more like a traveling evangelist than a pastor. Enter Wheaton ophthalmologist Dick Gieser, a childhood and college friend, who spends at least a month each year practicing ophthalmology in poor countries. "He's a marvelous example of a successful businessman who chooses to spend his time giving," says Nelson. "I was very moved by that and thought maybe I can, in my world, begin to tithe my time, too, and give something back to my profession."
Nelson was also interested in getting back to his first love, the great sacred choral tradition. But sacred music has fallen on hard times, he says. There is little new music being composed, and the great works—Bach's Passion According to Saint Matthew, Brahms's A German Requiem--aren't performed much today.
With encouragement from Gieser, Soli Deo Gloria ("to God alone be the glory"), Inc., was born, a nonprofit organization devoted to the preservation, performance, and promotion of classical sacred choral music. Its mission is to sponsor concerts, recordings, and video productions, and to commission new works. Gieser's son Stephen, also an ophthalmologist, became its voluntary director and president.
The first SDG project was an April 1994 Chicago performance of the works of Polish composer Henryk Gorecki, performed by the combined choruses of the Chicago Symphony and Lyric Opera in a large, Polish Catholic church (see CT, July 17, 1995, p. 66). Gorecki (goh-rets'-kee), a friend of compatriot Karol Wojtyla (Pope John Paul II), was in the audience. The concert was recorded on the Elektra Nonesuch label.
SDG envisions commissioning one new work each year. Three are in the works. The first, by Paul Schoenfield, an American Jewish composer living in Israel, is based on the prophetess Deborah (Judges 4-5). The premiere is planned in Haifa in 1998, followed by a National Symphony Orchestra performance in Washington, D.C.
The second work, to be performed in 1999 in anticipation of the new millennium, will draw upon "end times" Scriptures. James MacMillan, the composer, is a young Scottish Catholic. Says Nelson, "I wanted a believer to capture the hope and incredible joy at the end of time, rather than concentrate on all the horrific images."
The third commission has been offered to Gorecki for a mass as a prayer for the new millennium. Nelson's dream is to hold the premiere in the Vatican at Saint Peter's in the year 2000.
Across the cultural divide
"Project Uplift" is SDG's effort to advance sacred music in impoverished countries. Its first venture, in July 1996, was the first performance in China of Brahms's A German Requiem. The text was translated into Chinese—a move Nelson at first rejected. But when the Chinese insisted, Nelson sought counsel from U.S. Chinese friends. One told him that the word blessed, with which the Requiem begins ("Blessed are they who mourn … "), is an important word in Mandarin—like shalom in Hebrew. Nelson agreed that was the way to go. When he arrived to rehearse with two combined professional Chinese choirs and the Shanghai Symphony Orchestra, he discovered the singers were unaccustomed to Western music and didn't have an ear for it. He had just one week of daily practices before three public performances, so he prevailed upon them to rehearse twice a day.
All three performances were sold out. Though there were major problems with the first two, the third was a miracle. "The spirit was there, they sang all the notes and understood it, and they sang with exuberance. At the end, everybody on stage erupted in applause—not just the audience, the choir, too." That performance was also broadcast nationally on state television, with biblical texts, to the largest possible television audience in the world.
More remarkably, the young Chinese conductor who worked with the choirs before Nelson arrived asked Nelson if he was a Christian. When Nelson asked why he wondered, the conductor said: "You are so kind and generous." The young man then said he would like to become a Christian and be like Nelson. This precipitated ongoing communication, and Nelson has been sending him Christian literature in Chinese.
The Spirit in the details
If the Devil is in the details, he should take note: the Spirit works there, too. When asked what difference his renewed faith has meant for his career, Nelson says he has stopped using a baton—a small matter, perhaps, but symbolically huge. A baton "gives off the wrong vibes," he feels. It reinforces the tyrannical control conductors too readily exercise. Besides, "there's a warmth that comes with using my hands, and I find myself much freer and more expressive and caring" with gestures. He's correct. When you watch him conduct, Nelson is not just beating time or cuing entrances. It seems rather that he is sculpting the music, caressing it while coaxing the musicians to draw from themselves the best they have to offer.
John Nelson is a serious musician who takes his faith seriously. For him, the two go hand in hand.
Have something to add about this? See something we missed? Share your feedback here.
Our digital archives are a work in progress. Let us know if corrections need to be made.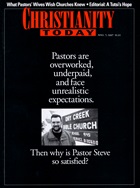 This article is from the April 7 1997 issue.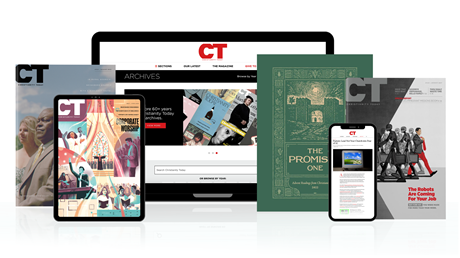 Annual & Monthly subscriptions available.
Print & Digital Issues of CT magazine
Complete access to every article on ChristianityToday.com
Unlimited access to 65+ years of CT's online archives
Member-only special issues
Subscribe
Why the Conductor Threw Away His Baton
Why the Conductor Threw Away His Baton