Each year, Christianity Today honors outstanding books of special interest to the Christian community. CT's 1995 Book Awards continue that tradition in a new format. Instead of being divided into categories according to subject or genre, all eligible titles competed for a single "Top 25" list. More than 200 books were nominated by publishers for the 1995 Book Awards; additional titles were nominated by CT editors. Ballots were sent to 250 evangelical scholars, pastors, writers, and other church leaders. The full list of winners appears on the following page. (Because of ties, the list includes a total of 26 titles.)
The diversity among the winning publishers—16 are represented—attests the vitality of religious publishing, the fastest-growing area in the industry. While Christian publishers dominate the list, roughly a third of the winning titles were published by university presses or general trade houses. InterVarsity led all publishers with eight titles; Eerdmans placed four titles, including three of the top six.
Any such list, of course, is merely a useful reference point. These titles are representative of a much larger, ongoing enterprise, and it would be easy to draw up alternative lists of noteworthy books. Still, it is interesting to see how many of these particular books from this particular year seem to be talking to one another, sometimes agreeing, sometimes not, but clearly taking part in the same conversation.
The Book of the Year, Mark Noll's The Scandal of the Evangelical Mind (Eerdmans), reminds us that "Modern evangelicals are the spiritual descendants of leaders and movements distinguished by probing, creative, fruitful attention to the mind" and challenges us to reclaim that heritage. Look in a forthcoming issue of Christianity Today for a symposium on the Christian mind, featuring Noll, Darrell Bock, Alister McGrath, and Richard Mouw.
If evangelicals have been guilty of anti-intellectualism, the secular establishment has been increasingly hostile to Christianity. In The Soul of the American University (Oxford), George Marsden asks America's leading universities to practice what they preach; genuine pluralism, Marsden observes, would entail the expression of religious viewpoints alongside the prevailing naturalistic dogmas.
The 11 thinkers who contributed autobiographical pieces to Philosophers Who Believe (InterVarsity) show how intellectual integrity and academic excellence are compatible with forthright Christian faith. At the same time, in Consulting the Faithful (Eerdmans), Richard Mouw offers a much-needed corrective to fashionable jeremiads by Christian intellectuals who fail to perceive anything of value in popular Christianity.
Thanks to the honored authors, editors, and publishers for their good work. We are already looking forward to the 1996 Book Awards.
By John Wilson.
1995 Book of the Year
The Scandal of the Evangelical Mind by Mark A. Noll
An excerpt: "The search for a Christian perspective on life—on our families, our economies, our leisure activities, our sports, our attitudes to the body and to health care, our reactions to novels and paintings, as well as our churches and our specifically Christian activities—is not just an academic exercise. The effort to think like a Christian is rather an effort to take seriously the sovereignty of God over the world he created, the lordship of Christ over the world he died to redeem, and the power of the Holy Spirit over the world he sustains each and every moment. From this perspective, the search for a mind that truly thinks like a Christian takes on ultimate significance, because the search for a Christian mind is not, in the end, a search for mind but a search for God."
Winners
1. THE SCANDAL OF THE EVANGELICAL MIND, by Mark A. Noll, Eerdmans
2. THE SOUL OF THE AMERICAN UNIVERSITY: FROM PROTESTANT ESTABLISHMENT TO ESTABLISHED NONBELIEF, by George M. Marsden, Oxford University Press
3. PHILOSOPHERS WHO BELIEVE: THE SPIRITUAL JOURNEYS OF 11 LEADING THINKERS, edited by Kelly James Clark, lnterVarsity
4. CONSULTING THE FAITHFUL: WHAT CHRISTIAN INTELLECTUALS CAN LEARN FROM POPULAR RELIGION, by Richard J. Mouw, Eerdmans
5. CROSSING THE THRESHOLD OF HOPE, by John Paul II, Knopf
5. GOD IN THE WASTELAND: THE REALITY OF TRUTH IN A WORLD OF FADING DREAMS, by David F. Wells, Eerdmans
7. THE IVP BIBLE BACKGROUND COMMENTARY: NEW TESTAMENT, by Craig S. Keener, InterVarsity
8. THE OPENNESS OF GOD: A BIBLICAL CHALLENGE TO THE TRADITIONAL UNDERSTANDING OF GOD, by Clark Pinnock, Richard Rice, John Sanders, William Hasker, and David Basinger, InterVarsity
9. BEFORE THE SHOOTING BEGINS: SEARCHING FOR DEMOCRACY IN AMERICA'S CULTURE WAR, by James Davison Hunter, Free Press
9. WHY SHOULD ANYONE BELIEVE ANYTHING AT ALL? by James W. Sire, lnterVarsity
11. GOD AND MAMMON IN AMERICA, by Robert Wuthnow, Free Press
12. ROMANS: GOD'S GOOD NEWS FOR THE WORLD, by John Stott, lnterVarsity
13. HANDBOOK OF CHRISTIAN APOLOGETICS, by Peter Kreeft and Ronald K. Tacelli, InterVarsity
14. FUNDAMENTALISM AND GENDER, 1875 TO THE PRESENT, by Margaret Lambert Bendroth, Yale University Press
14. POSTMODERN TIMES: A CHRISTIAN GUIDE TO CONTEMPORARY THOUGHT AND CULTURE, by Gene Edward Veith, Crossway
16. HOLY SCRIPTURE: REVELATION, INSPIRATION, AND INTERPRETATION, by Donald G. Bloesch, InterVarsity
17. ACCOUNTING FOR FUNDAMENTALISMS: THE DYNAMIC CHARACTER OF MOVEMENTS, edited by Martin E. Marty and R. Scott Appleby, University of Chicago Press
17. BEYOND CULTURE WARS, by Michael S. Horton, Moody
17. CUP OF WATER, BREAD OF LIFE: INSPIRING STORIES ABOUT OVERCOMING LOPSIDED CHRISTIANITY, by Ronald J. Sider, Zondervan
20. EXPERIENCING GOD, by Henry T. Blackaby and Claude V. King, Broadman & Holman
20. FIRE FROM HEAVEN: THE RISE OF PENTECOSTAL CHRISTIANITY AND THE RESHAPING OF RELIGION IN THE TWENTY-FIRST CENTURY, by Harvey Cox, Addison-Wesley
20. NEW BIBLE COMMENTARY, edited by G. J. Wenham, J. A. Motyer, D. A. Carson, and R. T. France, InterVarsity
20. THE SOUL OF POLITICS, Jim Wallis, Orbis/New Press
20. SYSTEMATIC THEOLOGY, VOL. II, Wolfhart Pannenberg, Eerdmans
20. WHEN GOD WHISPERS YOUR NAME, by Max Lucado, Word
20. WOMEN CAUGHT IN THE CONFLICT: THE CULTURE WAR BETWEEN TRADITIONALISM AND FEMINISM, by Rebecca Merrill Groothuis, Baker
Have something to add about this? See something we missed? Share your feedback here.
The Scandal of the Evangelical Mind
Eerdmans
1995-10-19
274 pp., 23.75
Our digital archives are a work in progress. Let us know if corrections need to be made.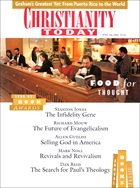 This article is from the April 24 1995 issue.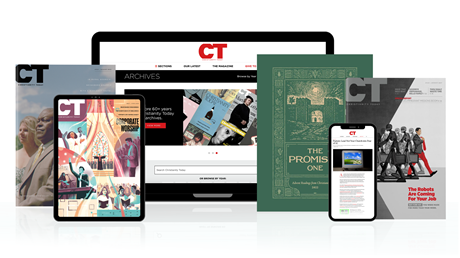 Annual & Monthly subscriptions available.
Print & Digital Issues of CT magazine
Complete access to every article on ChristianityToday.com
Unlimited access to 65+ years of CT's online archives
Member-only special issues
Subscribe
1995 Christianity Today Book Awards
1995 Christianity Today Book Awards