Denver drivers are accustomed to nasty traffic snarls at the spot where Interstate 25 exits into acres of parking lots servicing the enthusiastic fans of three pro sports teams—basketball's Nuggets, football's Broncos, and baseball's Rockies.
But not at 8 o'clock in the morning. The nearly 13,000 people who were slowing the interstate down to a crawl near McNichols Arena on a brisk September morning did not look like they were about to spend a day eating hot dogs and drinking beer. Some were driving shiny BMWs, or talking on their cellular phones, and were dressed for success in designer wool suits or similar professional attire.
Rather than dreaming about line drives and stolen bases, 13,000 of greater Denver's business leaders were driving toward the wealth and success that had been promised for weeks in full-page newspaper ads. A one-day business seminar was showcased in the ads, featuring such big-name speakers as military hero H. Norman Schwarzkopf, motivational speaker Zig Ziglar, former Secretary of Defense Dick Cheney, Olympic Gold Medalist Mary Lou Retton, and the Crystal Cathedral's Robert Schuller. Nearly 200,000 people attended the "Success 1993" seminars last year in 45 major cities across America.
THE HUNGER FOR SUCCESS
The thousands of people squeezing into the tight stadium seats were gearing themselves up for a day's worth of selling tips and high-powered motivation. Most of them did not have any idea they would also hear a straight-talking evangelical gospel presentation from seminar organizer Peter Lowe, president of the Tampa, Florida-based Peter Lowe International, and one of the most unusual itinerant evangelists around.
Just as Jesus grabbed the attention of first-century crowds with parables involving fishing, farming, and winemaking, Peter Lowe is perfectly happy using the business lexicon, the lure of celebrities, and the hunger for success as a vehicle to proclaim the good news.
"It would be really unprofessional and hypocritical of me to go out there and tell people that these sales techniques are the things that have been critical to my success. They're not," says Lowe during an interview held backstage as Zig Ziglar made the day's opening presentation.
Lowe, an engaging 35-year-old redhead, looked calm and at ease as he sat on a couch and explained his unique mission. In fact, one-on-one, his demeanor is so low-key and personal that he hardly seems able to withstand the critical gaze that derives from life in the spotlight. Yet, his no-nonsense expression and his compassionate eyes are motivated by a deep desire to serve Jesus. "For me, one of the fundamental aspects of success is eternal life," he said. "Ultimately, if you don't have Christ, you don't have anything."
TAKING THE STAGE
When Lowe takes the stage for his two-hour session on "How to Sell Far More Effectively," he is a study in high energy, drama, and motion. Pacing the broad stage set in the middle of the cavernous auditorium floor, he waves his arms like an impassioned diva. His voice is high-pitched and somewhat nasal, not suave and syrupy as one might expect from a marketing pitchman. His delivery to the thousands of listeners is personal, with a vulnerable quality that dissolves the barriers so easily erected among people in business. During the intermission, he stands by the stage, greeting individuals for a personable 15 minutes, after which he strides back to center stage, beginning part two of his talk.
Near the close of the session, he segues into his Christian message, which is billed in the newspaper ads as an "optional bonus session on the biblical secrets of success." About 95 percent of the crowd stays and listens. And what they hear is a winsome and compelling gospel presentation, peppered with Lowe's personal testimony, a dozen Bible verses, and a handful of spiritual principles illustrated by succinct stories from the worlds of business, sports, and science.
"We don't just need information for success, we also need transformation," he tells the crowd. He then invites them to pick up Bible materials at tables around the perimeter of the hall. More than 5,000 people surged to pick up free copies of a Billy Graham booklet and Zig Ziglar's testimony tape. Had a similar scene happened on Wall Street, it would have been called a feeding frenzy.
Lowe's unique presentation has gained widespread attention—"Time" magazine featured him in a May profile—and deep respect from people like Bill Bright, who serves on Lowe's advisory board.
"Peter Lowe's ministry is without a doubt being blessed by the Lord in an unprecedented way," says the founder and president of Campus Crusade for Christ. "His articulate and bold witness in presenting a brief gospel message during, but separate from, his motivational talks on business techniques is miraculously effective for the kingdom. Literally tens of thousands continue to receive Christ through his God-inspired ministry."
COMPUTING THE COST
Lowe was born in Canada, where his father was an Anglican priest and medical missionary. He grew up learning about the Christian faith, but he did not embrace it as his own until after a period of intellectual wrestling during his college years.
By age 25, Lowe was going great guns selling industrial calculators and microcomputers. Yet, happiness eluded him. He still had not thought about how his faith might apply to his career.
"I realized that if I became the number-one sales person in the world, it wouldn't really make me happy," he says during a backstage interview. "I began to think about what it would be like when I was 65. What would I like to say I had accomplished? Had I had a positive impact on people's lives? When people talked about what their purpose was in life, it occurred to me I didn't have a clue." Influenced by motivational books and seminars by people like Dale Carnegie and Zig Ziglar, Lowe began taking a long-term look at his life.
"Most of us spend more time planning a party than we do planning our lives," he says. "But Jesus tells us that everything is possible for those who believe. He didn't say everything was possible for those who believe and have 40 years' experience."
Lowe started putting together seminars in the early 1980s. And after a series of what he calls "spectacular failures," he found a winning combination. Last year, Peter Lowe International took in nearly $15 million in seminar fees and sales of books and tapes. Lowe told his 10,000 prayer partners in a 1994 letter that his company lost money in 1993—a sign of how difficult the seminar business is. But Lowe, who attends a charismatic church near his home in Clearwater, Florida, says he is motivated by more than money, and he is quick to distance himself from the health-and-wealth gospel preached by some prominent charismatic leaders. His salary last year was about $128,000, a level that he says allows him and his family to live comfortably but without ostentation. He drives a Lincoln Continental, but it is a 1989 model and worth only a fraction of what many of the seminar-goers paid for the cars filling the arena parking lot.
"I could be making millions of dollars a year, but there's a theological question of whether God would let me get away with it. Would he still bless me? My number-one customer is God, and I have to please him first."
For Lowe, turning people to Jesus clearly means more than money. "The gospel is good news, and I find that people really want to hear good news," he says. "What people really want is what Christ offers."
Lowe's 1994 schedule calls for 40 seminars. He isn't sure how long the crowds will continue to come, but he's going to keep telling them about his Lord. "Nobody ever told me a microcomputer changed their lives, but the seminar is a real turning point in many people's lives," he says. "This is really what drives what I do. I feel I am called to seek and save the lost. Think of it like this: If you had the cure to cancer, would you lock it up in a safe?"
Have something to add about this? See something we missed? Share your feedback here.
Our digital archives are a work in progress. Let us know if corrections need to be made.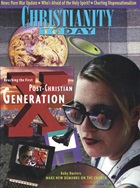 This article is from the September 12 1994 issue.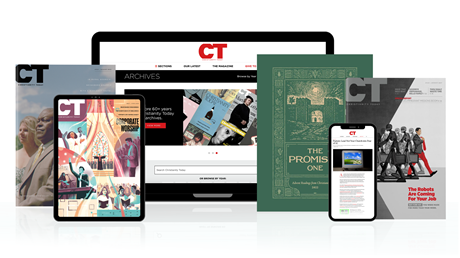 Annual & Monthly subscriptions available.
Print & Digital Issues of CT magazine
Complete access to every article on ChristianityToday.com
Unlimited access to 65+ years of CT's online archives
Member-only special issues
Subscribe
Closing the Ultimate Sale
Closing the Ultimate Sale