There is another way to investigate controversies over population: to go and see. In January, my mind full of academic disputes, I flew to Bombay, a city of 11 million squeezed onto a narrow peninsula jutting into the Arabian Sea. I assumed that in India, the nation best known for "overpopulation," theories come to ground.
I arrived at two o'clock in the morning. The fetid odor of waste was thick in the night air. From my taxi, I saw families sleeping on open ground by the road, still as corpses. This is the India that horrifies and fascinates Western visitors, an India where wealth hides behind walls and poverty hits you with a body blow.
Half of Bombay lives in slums; an estimated 200,000 sleep on the pavement. Water comes on only two to eight hours a day—sometimes not at all. Yet the city keeps gnawing, not so much pushed by a desperate rural population as pulled by the lure of city life. As Supriya S. Prasad, a program officer for the Christian Medical Association of India, later told me in Delhi, "Everybody says how happy they were in the village, but they don't want to go back."
I went to the Ministry of Health and Family Welfare, where state family-planning programs are administered. India's are the oldest in the world, dating from 1952, and so it felt inside the building. Long, dim, airless corridors had fluorescent lights strung like spiders' webs from impossibly high ceilings. "You felt that every day, in the name of cleaning, someone had rubbed the place down with a lightly grimed rag," V. S. Naipaul described a Bombay establishment, and he could have been picturing this one.
For several hours I wandered the building, bounced from one official to another. Through doorways I caught glimpses of clerks seated at tables before enormous piles of file folders. Occasionally I heard the listless clack of a manual typewriter. Finally, a barefoot messenger took me to an austere office where two men had only an overhead fan to stir the air. One of the officials, who asked not to be quoted by name, told me of their family-planning strategy, He said they use "coercive persuasion." He did not elaborate on what that meant, though I was sure he did not mean violent coercion.
I asked how people respond.
"They don't like it," he said. "They ask us, 'What is the guarantee that our children will live? What will provide my social security?'"
"What is your answer?" I asked.
"We have no answer. It may be reasonable for the individual farmer to have eight children."
I asked him why family planning is important to India, then.
"We are committed to stabilizing the population," he said. "There are not enough resources available."
I asked whether foreign agencies push their ideas on the Indian government. He shrugged. "Agreement is not difficult," he said.
Emergency birth control. India more than any other country came under the pressure of population control in the sixties, and as much as any country, accepted and adopted it as its own. According to Joseph Califano, Lyndon Johnson in 1966 "repeatedly rejected the unanimous pleas of his advisors . … to ship wheat to the starving Indians during their 1966 famine. He demanded that the Indian government first agree to mount a massive birth-control program." They did. In 1975, Indira Gandhi launched the Emergency, which rounded up thousands of men for involuntary sterilization, often under filthy and dangerous operating conditions. This brought an enormous counterreaction, driving Gandhi from office and giving family planning a bad name.
Since that time, the government has relied on financial incentives instead of force. Family-planning caseworkers have targets they are expected to reach each year, and the pressure on them may be such that they pay out of their own pockets to convince women to be sterilized. G. Narayana and John Kantner report, "Credit for 'motivating' an acceptor is frequently claimed by more than one worker and sometimes is resolved in the presence of the physician just as the operation is about to proceed."
"All the government programs are well intended, beautifully written, and planned in a very centralized way," a rural community development worker named K. Murugesan told me, "by people in Delhi who don't have any idea what is happening at the village level."
My first day in India could bolster the arguments of both sides of the population debate. On one side were the obvious, staring realities of crowding and poverty—human misery that demands a response. On the other side was the callous intrusion of an inhumane bureaucracy into very personal matters. There are real dangers in population alarmism if it hands power to such bureaucracies. In much of the Third World, they are the only kind of bureaucracy that exists.
Yet, as I continued my trip, I encountered another reality that fit neither side's argument. On a flight from Bombay to Pune, a city of several million I had never heard of, I met Vikram Pattarkine. Seeing the tags on my luggage, he asked for an update on Garrison Keillor and Lake Wobegon, and invited me to stay the night in his home. A Ph.D. from Virginia Tech, he had nostalgic memories of America. In a small, neat fourth floor apartment, he introduced me to his wife, Leena, and the pride of his life, dark-eyed, one-year-old Ume. The love—no, adoration—was palpable. Yet Vikram planned to have no more children. He felt it was his duty. Perhaps, he said, they might adopt.
Pattarkine is part of India's vast and growing middle class—250 million people, 40 million of whom make over $40,000 a year. In my travels, I met half a dozen people like the Pattarkines, who had one child and planned no more. It occurred to me that loving, highly educated people like Vikram and Leena (who also has a Ph.D.) would raise exactly the kind of children that India needs. To the Pattarkines, however, having no more was a moral duty. "The message [of a two-child family] has thoroughly gone to the middle class," an Indian physician told me. "They would feel embarrassed if they had three children."
You can cite India as a continuing example of abusive population control or as a place where government family-planning programs are the only hope. Neither description fits at all how Indians I met saw it. They viewed the government agencies as an irritating irrelevancy or as part of an incompetent but well-meaning giant. Meanwhile, they were working out their own life decisions —which usually involved fewer children. For throughout India, even in the most remote villages, ideas about family are changing.
On the road again. In Jamkhed, an insignificant town in the dry, dusty central plateau of India, I sat in a courtyard with a group of perhaps 20 village people, mostly sari-clad women trained to give basic health care and deliver babies, and a few men dressed in white Nehru suits who were leaders in their village Farmers' Clubs. We sat cross-legged on a mat, speaking through the translation of Raj Arole, a physician who came to Jamkhed in 1970.
They were poor and uneducated men and women, village people who get their water from a well, plow with oxen, and live in tiny homes unimproved by plumbing. They showed great energy and assertiveness in the way they spoke to me—not at all deferential to my white skin and superior wealth and education. One was an elderly woman who had delivered over 600 babies in village homes without a single death. Another was a man who had been cured from leprosy, had gained complete acceptance in his home village, and had gone on to speak about leprosy in other villages of the area.
I asked them why family planning had succeeded in Jamkhed.
"They belong to the village," someone said, referring to Raj Arole and his wife Mabelle.
"They only started talking about family planning after helping us for one or two years," another mentioned.
"There is no coercion, no targets." Most of the group had two children or fewer.
When I asked how many families in their villages had more than three, they could only think, after reflection, of a few. Their birth rate, Arole said, had dropped from 40 to 18 per thousand—compared to 15 per thousand for the United States. Infant mortality, once 180 per thousand, is now 20.
After I asked many questions, one woman asked if I would mind answering a question. "How many children do you have?"
"I have three children," I said.
There was an audible gasp all around the circle. Later, one of the men looked me in the eye. "So," he said with a smile, "we are doing better than you are."
I remembered that little gasp, because it indicated a mindset I had not expected to encounter. I had thought I would find Indian villagers being nagged by educated doctors about the need to have fewer children. The gasp showed instead that the small-family ideal had become a part of their own beliefs.
Raj Arole is the son of first-generation Christians, schoolteachers who worked in village schools. He went to the Christian Medical College at Vellore, where he met his wife, Mabelle. After graduation they worked in a rural hospital but became dissatisfied with hospital-centered care.
"We did 600 deliveries a year, but that meant 7,400 remained without maternal care. They were so poor they could not afford a bus to the hospital."
In 1970, Jamkhed invited them to come, promising land and a cowshed they could use for surgery. "From the beginning, we were looking at family planning from a health aspect first. Our emphasis is not just to reduce the number of people, but to help the health of the mother and child. The mother's health deteriorates with frequent births. After five or six children, her risk of death goes very high."
People in the villages around Jamkhed did not want to hear about family planning, however. So, the Aroles stopped talking about contraception and emphasized surgery. That helped build the people's confidence. Raj Arole would practice surgery from 5:00 to 8:00 every morning to avoid the blistering heat; then he would go to the villages. The two started Farmers' Clubs to improve farming methods, and Mothers' Clubs to improve nutrition and childcare. Wells were drilled to bring good water to the villages. "The one single greatest cause of poor health is malnutrition," Arole reminded me, and "60 percent of diseases can be eliminated by a good water supply."
Eventually, family planning became an acceptable subject. Local women were trained to teach about it in their villages.
I visited the village of Vavi, a small collection of low, brick houses with a stable population of 400. It remains, as it was before the Aroles came, a poor place with a communal well and no sewage system. Paradise it is not. Sorghum and wheat are grown among its dry, rolling hills, but water is scarce, and the temperature is blistering six months out of the year. I saw no vehicles — not even a bicycle—and few possessions. But the people looked well fed, they have a local school that nearly all the children attend, and the young people no longer migrate away from the village. Farmers have terraced their fields to increase their arable land, have dug wells and small dams, and have planted trees.
"Development is not having a lot of glittering things around," Arole told me. "Fundamentally, development is an attitude." I thought of the alert, confident faces I had seen on the men and women who answered my questions. I thought of the 50 villagers Jamkhed had sent into a nearby region after a devastating earthquake—having no goods or expertise to offer, but going from the conviction that their sympathy and understanding would be a contribution. I thought of the pleasure behind the words: "So! We are doing better than you!" If development is an attitude, I had seen it.
Is it an important economic or ecological benefit to the people of Jamkhed to have fewer children? I have read various experts on the subject, and they offer inconclusive or contradicting assessments. I do know, however, that I saw something positive among the people at Jamkhed, and that family planning was very naturally part of it.
Have something to add about this? See something we missed? Share your feedback here.
Our digital archives are a work in progress. Let us know if corrections need to be made.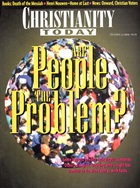 This article is from the October 3 1994 issue.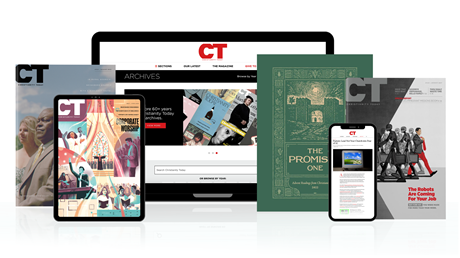 Annual & Monthly subscriptions available.
Print & Digital Issues of CT magazine
Complete access to every article on ChristianityToday.com
Unlimited access to 65+ years of CT's online archives
Member-only special issues
Subscribe
Read These Next
Trending

American Christians Should Stand with Israel under Attack

While we pray for peace, we need moral clarity about this war.

From the Magazine

God's Promises Are Clearest When We Turn Out the Lights

Christians have every reason to reduce light pollution.

Editor's Pick

Don't Miss These African Christmas Hits

Jam out this season to highlife, Afrobeats, jazz, a cappella, R & B, rap, dance, and hip-hop artists from Nigeria, South Africa, and more.
Are People The Problem?, Part 2—India, A Success Story
Are People The Problem?, Part 2—India, A Success Story