WHY ALL THE VIOLENCE
I read with interest "America the Brutal," by Caleb Rosado [Aug. 15]. Although he made many good points regarding our violent history, he missed the main point regarding why we are overrun with senseless killings in this country.
We put together a Christian parent support group over 11 years ago. We have had several thousand parents through the group. They all tell one story—out-of-control, rebellious, lawless kids defying their parents and, upon investigation, kids using alcohol, pot, hallucinogens, speed, coke, and in some cases, crack or heroin.
The "professionals" in our community and in our churches seem totally absorbed with trying to uncover what new psychological disorder these kids have. Our answer: very tough and very loving parents who see the problem for what it is and have the courage to do something about it
- Alice Benson
Tijeras, N. Mex.
WHY DOES CHRISTIAN RADIO EXITS?
After all the attention given to television's so-called televangelists, I'm glad to see CT giving some attention to the "original" medium of radio ["Making Radio Waves," News, Aug. 15]. While no one article can claim to be an exhaustive treatise on the subject, Kennedy's has raised some important questions that those of us in Christian broadcasting need to address. Basically, what is our reason for existence?
Is it to help fulfill the Great Commission by preaching and teaching the gospel of Jesus Christ, or is it to become a conservative, political action committee? I realize there is a gray area about having a prophetic ministry in an increasingly corrupt society, but I wonder if some are more concerned about profits rather than being prophetic?
I admit to being upset at the constant characterization of the audience of Christian radio as "55-until-you-die." While I am sure there are many stations that fit that category, there are just as many who have targeted a younger audience. At KGBI, 80 percent of our listeners are between 25 and 54. That has come about because of the music we play and the mix of talk programs.
- Tom Sommerville
KGBI Radio Omaha, Nebr.
*********************
Included in John Kennedy's August 15 cover story is a section titled, "When Leaders Stumble." There we read about a well-known radio broadcaster who confessed to marital infidelity, another who admitted to moral failure, and yet another who pleaded no contest to soliciting a prostitute. Incredibly, in the same context, Kennedy cites alleged improprieties within the Christian Research Institute (CRI).
First, there is a world of difference between alleged and actual improprieties. Unfortunately, CRI, like many other credible and respected ministries, is often the target of false accusations. Those who bring such accusations, however, should be considered in the broader context of the unwavering support of long-time staff members, Christian leaders and pastors, as well as the ministry's numerous and enthusiastic supporters worldwide.
Second, the allegations regarding ECFA are both false and far-fetched—sparked by one individual's groundless speculation as to motivations. They are false because our temporary withdrawal of ECFA membership was not a unilateral decision I made but an action taken by CRI's board of directors. The reasons are fully documented with ECFA and have nothing to do with what your article alleges. The allegations are far-fetched because, while the sum of money cited in the story may have accrued to CRI'S benefit, it certainly did not accrue to mine! It is equally far-fetched to suggest that in 1992 I could have known what the royalties would be on a book to be published the following year. In any case, the figure in your article is preposterous.
Third, you refer to the accusation that I "secretly borrowed" money from CRI for a down payment on a house. In truth, the loan in question was properly authorized by CRI's board of directors and publicly disclosed in our audited financial statements.
While the nature of CRI's ministry makes me a tempting target for criticism, controversy, and character assassination by the kingdom of the cults, I would hope that the Christian community would judge me on the basis of facts rather than fabrications.
- Hank Hanegraff, President
Christian Research Institute
San Juan Capistrano, Calif
GIVING BACK THE MONEY
Under a recent court order, whenever a church or charity receives a donation from an insolvent donor, it has received a "fraudulent conveyance" and must, on learning of the insolvency, give an equal sum of money to the donor's creditors. Every time a church or charity receives a donation, it is in jeopardy for ten years (statute of limitations) that the donor may be found insolvent.
The above facts should have been prominently reported in CT's account or the court order against Proclamation International and six other charities [North American Scene, Aug. 15]. The article did not include them but rather misled readers into believing that the court ruled against the charities because the donations were "tainted?"
The court ruled that charities do not give "consideration" (something of value) to donors and that gifts from insolvent donors are therefore "fraudulent transfers" (a technical term in bankruptcy law). They are fraudulent because the donor should have given the money to his creditors and not because the donor received the money fraudulently (as happened in this instance).
- Don Dunkerley, Executive Director
Proclamation International
Pensacola, Fla.
RELEVANCE AT WILLOW CREEK
During the Bolshevik Revolution, two meetings took place simultaneously on the same Moscow street. In one house met leaders of the Revolution. In another, leaders of the Orthodox Church. At the first meeting they were making plans that changed the course of modern history. At the second meeting they were discussing proposed changes in the colors of vestments.
As I read the interview with Bill Hybels ["Selling Out the House of God?" July 18], I wonder if we are not the same today. Here is a man who has the audacity to be original. Personally modest, yet passionate, Hybels is willing to acknowledge the unacknowledgeable: that many fine Christians/Christian institutions today have completely lost touch with the mindset (and heartbeat) of their secular neighbors. Willow Creek has hit on something many churches are missing today. In a word: relevance.
What a strange and critical time in history for such loud voices within the evangelical church to be so uncharitable toward and slow to grasp the significance of the seeker-sensitive movement.
- Daniel E. Johnson, Jr.
Tacoma, Wash.
********************
As one who has observed Bill Hybels from his beginning as youth minister at a former church of mine in Park Ridge, Illinois, I feel somewhat qualified to evaluate his ministry.
Bill began his ministry with a vision of the contemporary church, and, like Paul, he has not been disobedient to the heavenly vision. Like all of us in the ministry, including his critics, he has made mistakes, but he has been free to acknowledge his vulnerability and has matured as a result of it.
I have visited Bill's church, beginning with the congregation that met originally at the Willow Creek Theater, and on numerous occasions at the new facility. Each time I have been impressed by the obvious presence of the Holy Spirit.
Bill may be faulted by some for not conforming to the traditional pattern of ministry, but surely not for theological orthodoxy, nor for his sincere desire to follow the Spirit through uncharted paths.
-LeRoy "Pat" Patterson
Stroudsburg, Pa.
********************
Thank you for the excellent interview conducted with my friend Bill Hybels. I felt that the questions asked were marked by integrity, authenticity, and were certainly very incisive. And, in my judgment, Hybels answered them with sincerity, honesty, openness, and complete candor.
I have known and appreciated him for the last six or eight years—and have visited the Willow Creek Church on several occasions. In my judgment, God has signally raised up and blessed its unique and very special ministry. I thank God for it—and for its senior pastor.
- Ted W. Engstrom, President Emeritus
World Vision
Monrovia, Calif
********************
The cover of your July 18 issue, "Selling Out the House of God?" is probably the cheapest shot towards the work of Christ I have ever seen. Whatever one thinks of Bill Hybels and the Seeker Movement, you must at least admit that Hybels has recovered the biblical mandate of reaching lost people with the life-saving message of Jesus Christ.
- John Raymond
Bella Vista Church
Rockford, Mich.
********************
Several readers seem to have missed the double-entendre in our cover copy. When the phrasal verb sell out is joined to the noun house, it signals standing room only rather than betrayal. We rejoice that Willow Creek is crowded every Sunday.
- Eds.
********************
If ever there is needed an apologist for the priority of the Great Commission of our generation, Hybels is ably qualified. The criticisms of Willow Creek's ministry ring hollow for those of us who have been singularly challenged and immeasurably helped by Hybels to recover a passion for reaching the lost.
- Rob Peterson
Sanibel Community Church
Sanibel, Fla.
THE "LOVING" BODY OF CHRIST
Thank you, Philip Yancey, for your piece on "Christian McCarthyism" [July 18] and your timely reminder that we in the body of Christ, are supposed to be loving—not filleting—one another will tell whether the Christian Discernment Movement did more harm than good, but it seems to me it behooves us all to think long and hard on Christ's sobering words in John 13:35 which reminds us, "By this all men will know that you are my disciples, if you love one another" (NIV).
- Pastor Paul D. Led
Cornerstone Community
********************
In one broad-brush stroke, Yancey paints the Christian community as being outright mean. Is he doing across-the-board what he criticizes others for doing specifically?
- Jim Reid
Houston, Tex.
********************
Yancey made reference to Billy Graham's response to opposition [I remember] after a pastors' breakfast's the Biltmore Hotel in Los Angeles, Graham asked a few of us to meet with him. We did so in Temple Baptist Church across Pershing Square. He was on his way for a Crusade in the Cow Palace in San Francisco (1952?). He was being savagely attacked by some brothers in Christ in the Bay area. Graham was hurt and puzzled.
In the group was Harold Oekenga, acting president of Fuller Seminary and pastor of Park Street Church, Boston. He shared an old Spanish proverb: "The dogs do bark, but the caravan moves on." Maybe that helped Graham's lifelong policy of soft answers turning away wrath.
- J. Lester Harnish
Portland, Oreg.
OF FAITH AND WORKS
As one who has traveled the road fundamentalism to Roman Catholicism I was shocked and sadden by Kenneth S. Kantzer's editorial [July 18]. "Should Roman Catholics and Evangelicals Join Ranks?" suffers from presumption. It presumes the Catholic viewpoint of salvation is not based on sacred Scripture
Yes, Catholics believe in the benefit of good works in relation to faith. Why? "In the same way faith: if good deeds not go with it, it is quite dead … Was not Abraham our father justified by his deed, because he offered his son Isaac on the altar? So you can see that his faith was working together with his deeds; his faith became perfect by what he did" (James 1:17, 21-22).
Catholics celebrate their redemption and aim "for glory and honor and immortality by persevering in doing good, there will be eternal life" (Rom. 2:7). We do so because God's Holy Word is our rule and guide.
- Paula S. W. Laurita
Athens, Ala.
********************
Kantzer's editorial comments require some comment. He states that Catholic theology makes good works a "basis and condition"—"in addition to faith"—of God's forgiveness. The Council of Trent said that the final, efficient, and meritorious cause of our salvation is God's grace alone, based solely on the work of Christ on the Cross. A succinct restatement of this is found in the new The Catechism of the Catholic Church, paragraphs 1987-2016, especially 2006-11. Moreover, this teaching of the Council of Trent and the new Catechism in no way represents a change in Catholic teaching, a "correction" of medieval Catholic theology.
The real differences between Catholics and Protestants at the time of the Protestant Reformation and today lie in questions about Church, Scripture, and sacraments. Here is where continued discussion should be focused, even while we work together on cultural issues.
- Dennis D. Martin
Loyola University
Chicago, Ill.
FACUTAL PICTURE OF CANADA
I commend you for the truly excellent [CT Institute] in your issue of July 18 by John G. Stackhouse, Jr., "Confronting Canada's Secular Slide."
As one who has been in the Lord's work in Quebec for over 50 years, I have often been saddened by the scanty and inaccurate coverage of the Canadian scene by American Christian publications, with the consequent ignorance of our situation by many American Christians. In my opinion, Stackhouse has given a comprehensive and factual picture of conditions here.
I must, however, question the graph on page 39. It indicates that Quebec's population is 6.8 million, which is probably accurate, but that 11 percent of these are evangelicals. Most Quebec evangelicals, however, would say that only 0.6 percent of the population are evangelicals.
- Arnold J. M. Reynolds
Lennoxville, Que., Canada
Have something to add about this? See something we missed? Share your feedback here.
Our digital archives are a work in progress. Let us know if corrections need to be made.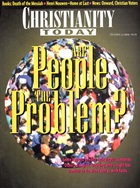 This article is from the October 3 1994 issue.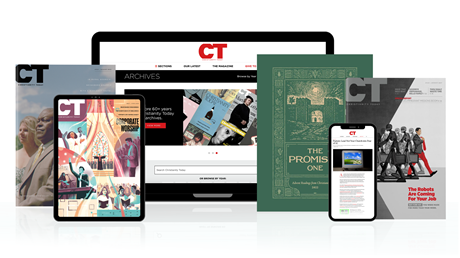 Annual & Monthly subscriptions available.
Print & Digital Issues of CT magazine
Complete access to every article on ChristianityToday.com
Unlimited access to 65+ years of CT's online archives
Member-only special issues
Subscribe
LETTERS TO THE EDITOR
LETTERS TO THE EDITOR