I admit it. I like television commercials—at least some of them. They fit my video attention span and are often better than the programs they interrupt.
My current favorite features veteran character actor John Houseman. "We make money the old-fashioned way," he growls. "We earn it." With these words, spoken with authority in stentorian tones, Houseman extols the virtues of a particular investment firm.
Market research has helped the sponsor effectively target its audience: a group of people, similar in age and economic status, found to respond positively to the traditional and conservative image Houseman projects. He looks and talks like someone who can be trusted to handle one's investments wisely.
But more than presence is involved in the success of these commercials. Houseman expresses deeply held beliefs that members of the target group share: What resources one has, one should have earned. Expecting to "get something for nothing" is wrong as well as risky. Gains that come too easily and too quickly, or as a result of taking advantage of the spoils system of a welfare state, are ill gotten.
With this in mind, I can only imagine what it must have been like in the synagogues and marketplaces where Christ, then Paul and the other apostles, preached the gospel to the Jewish establishment. I think John Houseman, gold watch chain encircling his vested girth, perfectly fits the image of God as the scribes, Pharisees, and Judaizers imagined—proper, solid, dependable, tolerating no nonsense, a comfort to do business with. What's more, Houseman—a.k.a. God—shared his own point of view. He expected them to keep their accounts in balance and to earn their way. He was scrupulously fair in rewarding faithful service and good conduct. And he could be counted on to keep his end of a bargain. They gained God's favor the old-fashioned way. They earned it.
Picture how this cozy arrangement must have been shattered by Christ and his apostles. God's grace, they said, is bestowed irrespective of merit or claim. In the only sermon he gave in his hometown synagogue in Nazareth, Jesus reminded his astounded listeners that God had chosen to bless a widow and a leper whom they considered to have no rightful claim on his favor.
Or imagine the apostle Paul, engaged in a heated exchange with Peter in Antioch or speaking from the stairs of the soldiers' barracks in Jerusalem. Justification, he said, is an outright gift of God's grace, unmerited and unearned. For the agitated Jews such words were not just foolishness—they were morally offensive and, when applied to God, virtually blasphemous.
The gospel Paul preached in essence stood the established view of God upside-down. And it could not have helped much that the "free gift of eternal life" which Paul promised was made dependent upon the crucifixion of Christ. Even the Romans and Greeks could appreciate how ludicrous that claim sounded. God could not have based redemption on a plan so inelegant and undignified as crucifixion, especially if the victim, as alleged, was the Messiah. There was a proper way to do things, and the scheme elaborated by Paul certainly was not that way. Houseman in heaven would conduct business dealings with his clients differently.
It is hard to overestimate how antithetical the gospel must have sounded to those who heard it, conditioned as they were by their view of the rules for dealing with God. How great a miracle it is, then, that God was able to call Saul and many like him to salvation in the Cross.
The triumph of his grace, his effectual calling, and the radical nature of the conversion the Holy Spirit worked—and still works—leaves me utterly amazed and profoundly grateful. I am not forced to earn God's favor. Nor could I.
Thanks, John Houseman, for helping me celebrate the grace of God in Christ Jesus, Savior and Lord.
Have something to add about this? See something we missed? Share your feedback here.
Our digital archives are a work in progress. Let us know if corrections need to be made.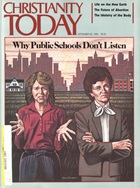 This article is from the September 20 1985 issue.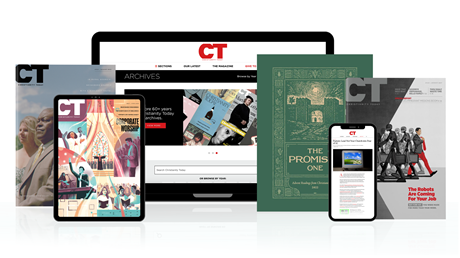 Annual & Monthly subscriptions available.
Print & Digital Issues of CT magazine
Complete access to every article on ChristianityToday.com
Unlimited access to 65+ years of CT's online archives
Member-only special issues
Subscribe
Thus Saith Houseman
Thus Saith Houseman