NOW wants sexual equality in seminaries, and wants churches to ordain women, or lose tax exemptions.
If three more states had ratified the Equal Rights Amendment in 1982, it would now be part of the U.S. Constitution. Instead, it is back at the starting gate, having been introduced anew in both houses of Congress. Passage in the House of Representatives is expected soon, but in the Senate it is up against some well-informed and creative resistance from conservatives.
At Senate hearings, ERA opponents are focusing on the unintended effects ERA may have on society if sex discrimination is prosecuted as vigorously as racial bias, which ERA proponents demand. In addition, a conservative alternative to the amendment may take shape if a broad consensus develops in favor of it. This idea first appeared publicly in a National Review article by Lincoln C. Oliphant, a staff lawyer with the Senate's Republican Policy Committee.
Oliphant criticizes the current amendment for leaving "gaping holes to be filled by the federal judiciary." Opponents fear that across the board, mandated equality of the sexes could have far-reaching consequences, ranging from the constitutionality of the Boy Scouts to government funding of abortions. There is no way to predict how courts will interpret the amendment, since it provides no constraints whatsoever on the concept of equality. In his article, Oliphant writes "the idea that men and women can be importantly different without being fundamentally unequal is the necessary starting point for all serious analysis of how to achieve equal rights."
Oliphant argues that the best solution is a more detailed amendment, because already the courts "make up sex-discrimination rules out of whole cloth." His version would permit laws to be passed that affirm heterosexuality and the primacy of the family. It would allow women to be exempt from the draft and would give Congress and states the right to regulate abortion and sexual offenses. "A new amendment may be far preferable to hoping that the Supreme Court will reject, year after year, the absolutist arguments thrust at it by radical feminists," he believes.
Strong support from all conservative quarters must be evident before any alternative amendment advances. Particularly crucial is the backing—or at least the tolerance—of Phyllis Schlafly, head of Eagle Forum and veteran ERA opponent. One observer said, "You won't find a politician who will touch it until Phyllis accepts it." Schlafly has not commented publicly on the idea yet, but she is skeptical of any constitutional tampering.
In Congress, politicians who are sympathetic to the conservative alternative are expected to test the political waters by offering amendments to the ERA when it reaches the floor for debate.
The effect of ERA on churches that do not ordain women, or differentiate in other ways between the sexes, has been illustrated by the recent Supreme Court decision to deny tax exemption to Bob Jones University. In that case, eliminating racial discrimination—even though it was based on religious convictions and manifested only in a school policy on dating and marriage—overrode the school's First Amendment protection of religious beliefs.
If sex discrimination is treated as a similar "suspect category," public policy experts believe there could be serious repercussions for churches. Even Sen. Paul Tsongas (D-Mass.), the leading Senate sponsor of ERA, acknowledged in a subcommittee hearing that conflicts between religious freedom and sexual equality would have to be settled in court. Robert P. Dugan, director of the National Association of Evangelicals' Washington office, believes the Bob Jones decision "may become the final death blow" for the ERA.
Supporters of ERA say this reasoning is fatuous because groups that are primarily religious would retain First Amendment protection. The Supreme Court included a footnote in its Bob Jones decision designed to assure this, but some lawyers doubt it would carry much weight against a concerted challenge. Supporters claim ERA is intended mainly to redress economic inequities, yet their hopes for pervasive societal change frequently surface. During committee hearings in the House of Representatives, at which overwhelming numbers of supporters were invited to testify, League of Women Voters' president Dorothy S. Ridings said ERA would "conclusively establish equality of the sexes as the fundamental law of the land."
Just how this might affect various segments of society was the subject of a series of Senate hearings chaired by Utah Senator Orrin Hatch, a Mormon who is wary of ERA's potential clash with church policies. Last month two witnesses vigorously disagreed over the potential impact of ERA on educational institutions, particularly single-sex schools such as Catholic seminaries, orthodox Jewish schools, and women's colleges.
Jeremy Rabkin, professor of government at Cornell University, said "People assume the effects would be limited to public schools, but that view is mistaken.… It is indisputable that ERA would prohibit federal or state grants to many single-sex institutions and prohibit tax exemptions," causing them to be "driven into oblivion."
In defense of the amendment, Hunter College president Donna Shalala concentrated on ways women suffer "foreshortened options" in academia. Women continue to be excluded from top career fields due to discriminatory counseling practices and recruitment, she said. Having ERA on the books would "require closer judicial scrutiny of these situations."
Hatch asked her if single-sex institutions would be effectively eliminated by ERA, and she said yes, except for women's colleges. "That would be the only exception," she said, as long as they were fulfilling their original affirmative action goals. This brought an incredulous response from pro-ERA Sen. Howard Metzenbaum (D-Ohio), who told Shalala, "I am not at all in agreement that it is justifiable for women's schools to discriminate. ERA would not allow that. I can't believe women would reserve the right to discriminate."
Other ERA proponents share Shalala's opinion. Judy Goldsmith, president of the National Organization for Women, said women's schools could continue to operate because they are "advantaging the disadvantaged." She denied that ERA would have any effect on religious institutions, but that is contradicted by NOW's stated opposition to the rights of churches to differentiate, NOW advocates sexual equality in seminaries, denial of tax exemption to churches that do not ordain women, and federal intervention to stop churches from discriminating.
Proponents of ERA who shrug off uncertainties by saying "the courts will decide," alarm conservatives. United Families of America, a Washington group that would support an amended or alternative ERA, noted that Tsongas appeared to be "perfectly content to turn the most sensitive of our social policies over to the least democratic institution of our republic." At Hatch's first hearing on the subject last May, Tsongas answered a barrage of questions with the repeated assertion that it would be up to the courts to determine exactly what the ERA really would mean.
In 1972, when the original ERA passed Congress, its backers persuaded the nation's lawmakers that it was needed to guarantee women their rights as citizens.
Today, there is another burden of proof. This time the burden is to convince skeptics that ERA is not loaded with unforeseen threats to institutions and ideas that are foundational to American society.
Evangelist Ruth Carter Stapleton Is Dead At 54
Ruth Carter Stapleton, evangelist, faith healer, and sister to former President Jimmy Carter, is dead at 54. She died September 26 at her home in Fayetteville, North Carolina, of pancreatic cancer. The same illness claimed her father's life nearly 30 years ago.
After Stapleton's condition was diagnosed in April, she decided to forgo medical treatment. But in the last months of her life she underwent blood serum treatment at a medical center on Grand Bahama Island. Throughout her ministry, she emphasized inner healing, which she once defined as "communicating love to the negative, repressed aspects in a human being." She authored two books on the subject.
Though she was generally theologically conservative, she was criticized for some of her beliefs, most notably her understanding of Satan. "I believe there is a force of evil. I would hate to call it a person," she said in an interview with CHRISTIANITY TODAY (Nov. 4, 1977).
Stapleton was influential in Jimmy Carter's conversion to Christ. In 1966, after he lost a major election, they had a long discussion. He later described it as a profound religious experience.
Have something to add about this? See something we missed? Share your feedback here.
Our digital archives are a work in progress. Let us know if corrections need to be made.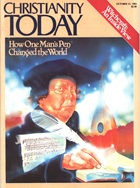 This article is from the October 21 1983 issue.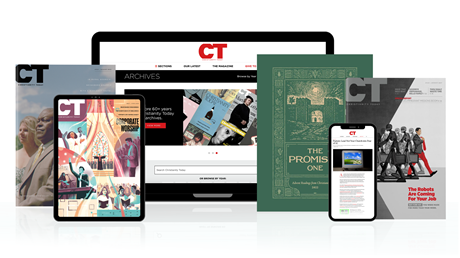 Annual & Monthly subscriptions available.
Print & Digital Issues of CT magazine
Complete access to every article on ChristianityToday.com
Unlimited access to 65+ years of CT's online archives
Member-only special issues
Subscribe
What Would the ERA Mean for the Nation's Churches and Seminaries?
What Would the ERA Mean for the Nation's Churches and Seminaries?