Mutual support also spurs evangelism of other artists.
Christians in the arts feel isolated. Their non-Christian peers and colleagues often have little sympathy or understanding for their Christian philosophy and convictions. At the same time, other Christians just as often tend to dismiss them as eccentric, and are unable to decipher what the artists are trying to communicate.
But there is a stirring within many artistic communities and disciplines. Christian artists are not only finding one another and exploring avenues for fellowship, they are also reaching out to other artists in evangelism.
A visit last June to the biennial CIVA conference (Christians in the Visual Arts) revealed just how much is happening.
CIVA itself is six years old. Eugene Johnson, a now-retired art professor at Bethel College (St. Paul, Minn.), simply wrote to 30 or 40 Christian artists whose names he had acquired, asking if they would be interested in getting together. The response was overwhelmingly positive. As a result, the first CIVA conference was held on the Bethel campus in 1977 and drew some 120 people who "found and nurtured friendship, strength, direction, and encouragement with other Christians who had a vital interest in the arts."
This year's conference, the fourth, was hosted by the art department at Calvin College in Grand Rapids, Michigan, with Calvin art professor Edgar Boevé serving as chairman. The three-day program included juried art exhibits and slide shows in addition to plenary sessions and discussions. There were also unscheduled, spontaneous prayer and brainstorming sessions. Among comments heard at one such unplanned meeting was one that suggested artists might turn criticism into creative prayer—not just "God bless you prayers."
Major addresses were given by Hilton Kraemer, former art editor of the New York Times and now editor of The New Criterion, and by Marcus Uzilevsky—better known to many as Rusty Evans, who formerly sang and recorded with the New Christy Minstrels. Following his conversion, Uzilevsky returned to his first love, art, and he has since become an eminently successful artist whose posters and paintings have had wide sales. Uzilevsky saw his drawings as an extension of his Christian life, and he wanted them to relate very strongly to his Christian experience. "All work, if you're doing it for the Lord," he says, "is an expression of praise."
The stirring in artistic communities became evident in presentations at CIVA by representatives of several organized arts groups. A major figure is Nigel Goodwin, who developed the Arts Centre Group in London, England, because, he said, he had always wanted a home where artists could come and be themselves—where they could "climb the wall and shout and unwind and be vulnerable and not be next Sunday's sermon illustration." The problem, Goodwin said, is that while most people go to work at 9 and finish at 5, those in the performing arts go to work at 5 or 6 in the evening and finish at 11 o'clock at night, "and the world's closed down."
"Where do you go?" he asked. "Do you wander the streets of New York? The church isn't open. Why is God only there at 11 in the morning and 6 in the evening?"
And so, said Goodwin, he and his wife opened their home to these people, praying a prayer they learned at Francis Schaeffer's L'Abri: "Lord, bring those of your choice and keep away those who are not." He added, "If the phone rings at 3 o'clock in the morning, you'd better believe it's his choice!" When there were 400 coming, the Goodwins had to move out. The dramatic growth continued, and the Art Centre today has about 800 members.
Goodwin is quick to point out that the British program will not necessarily be the American pattern. But he has strongly influenced the burgeoning arts groups in this country, as have the writings of Francis Schaeffer and Hans Rookmaaker. James Bergwall of the five-year-old New York Arts Group, or NYAG, credits Goodwin with initially leading that group to think about getting together, NYAG's goal, in a goal-oriented city, is simply yet profoundly "to glorify God."
New York, he says, is a "mass of skyscrapers of islands of people, all bent on building their own edifices." Christians, however, are called to do the opposite: get together. Of over 2,000 Christian artists in New York, NYAG has established contact with about 500,140 of whom are members, and "is itself becoming a symbol in New York City."
The Washington (D.C.) Arts Group, begun in 1977, was also influenced by Goodwin. Jerry Eisley had met Goodwin in 1971 and was challenged to think about Washington's community of artists. As a group began to pray, they decided they needed to reach out to performing artists who came to town. Often the only attention such people receive is on opening or closing nights. Since Washington is a "party" town, "we got called to give receptions." On one occasion, at Christmastime, when the American Ballet Theater was in town, invitations to a party were sent to the troupe in the name of Sen. Mark Hatfield, who also agreed to speak. The Washington group has since decided it should also bring stage productions to the city, and has done several one-man shows, including Tom Key's portrayal of C. S. Lewis.
Other arts groups were officially represented at CIVA last June, notably by Jan Van Loon of the Netherlands and David Nelson who is associated with the Grünewald Guild in Leavenworth, Washington.
Nelson, who is a Vancouver pastor, says, "Art can help make connections among people in the parish and among the concerns of all God's people in the whole wide Christian community. Art can help the church in its prophetic role.… But we are rarely confronted with the visual spectrum of El Salvador or South Africa, or political imprisonment or starvation or nuclear proliferation or poverty—within the context of liturgy in worship. Art can help us do that."
Karen Mulder, a NYAG member, has recently been attempting to learn how many arts groups or similar organizations now actually exist in the U.S. Last June she counted 23. By late August, she knew of 83. Something is indeed stirring. (For locations of these groups, or to add another name to the list, contact Karen Mulder at NYAG, P.O. BOX 489, Old Chelsea Station, New York, N.Y. 10011.)
In addition, Christian theater groups are also springing into being. While the Lamb's Players on the West Coast are probably the best known, there are others. Among them is Chicago's new Night Light Theater, which played to full houses every weekend last summer after Chicago Tribune theater critic Richard Christiansen favorably reviewed their production of Cotton Patch Gospel. In Detroit, Trinity House, begun by Trinity Baptist Church in suburban Livonia, does original plays in what was once a small rural church building that has been transformed into an intimate playhouse. And these are but a few examples.
Says Nigel Goodwin, "We need to redeem the arts for Christ—we need to reassert the fact that John Calvin loved the arts and wanted them to serve in the sphere in which they were meant to serve. He did not believe in the 'manipulation' of the arts."
Perhaps the time has finally come when we will restore the arts to the church. The artists themselves are leading the way.
Have something to add about this? See something we missed? Share your feedback here.
Our digital archives are a work in progress. Let us know if corrections need to be made.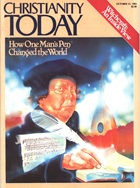 This article is from the October 21 1983 issue.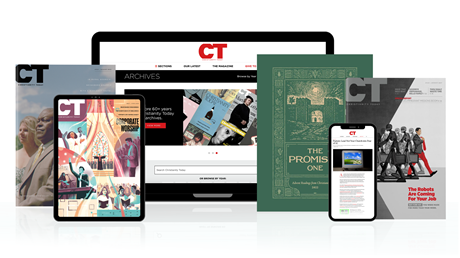 Annual & Monthly subscriptions available.
Print & Digital Issues of CT magazine
Complete access to every article on ChristianityToday.com
Unlimited access to 65+ years of CT's online archives
Member-only special issues
Subscribe
Refiner's Fire: Christian Artists on the Outs Form Their Own in Groups
Refiner's Fire: Christian Artists on the Outs Form ...