But often it is unmatched by deep commitment.
A Gallup poll commissioned by The Christian Broadcasting Network (CBN) indicates "a rising tide of religious involvement and interest," according to George Gallup, Jr. He cautions, however, that this trend will lead to deeper spiritual commitment among American Christians only "if the churches do their job."
The survey, titled The Spiritual Climate in America Today, is based on telephone interviews with 1,029 adults nationwide. They were selected to represent faith groups in numbers proportional to the population. Six in ten claim their interest in spiritual matters has increased over the past five years. A specific list of religious activities, excluding formal worship, indicates the form this spiritual awareness is taking.
Participation in Bible study (26 percent), prayer groups (17 percent), and religious education classes (20 percent) led the list, and these are also the activities in which the greatest number of respondents would like to become more involved. Between 8 and 13 percent of the respondents are engaged in evangelistic outreach, and the charismatic gifts of the spirit are used by between 3 and 5 percent.
But strong interest does not neatly translate into church attendance or strong commitment. Church-going percentages remain flat, and Gallup estimates "only 12 percent of the populace could be considered deeply and highly spiritually committed." This "commitment gap" suggests to Gallup the direction in which churches should be headed: "Churches have not helped people bring the Bible into their lives," he said.
He recommends that churches "help people structure their prayer life … understand the Bible … and [form] small fellowship groups because people desperately want a sense of community in this country."
Based on the data Gallup accumulated, churches that reach out into their communities should find a wealth of spiritual need and curiosity awaiting them. Compared with five years ago, participation in Bible study is up 16 percent, and nearly a quarter of the sample said they want to take part in Bible studies more extensively in the future. The trend crosses all segments of society, including the usually skeptical college population. Gallup noted, "The proportion of college students who say religion is important has grown over the last five years from 39 percent to 50 percent. That's a very dramatic trend."
Religious involvement continues to be higher among women, Protestants, and lower-income adults. By a two-to-one ratio, respondents said they are more reliant on G̣od today than five years ago. Their reasons range from a closer relationship with God to personal experience to simply growing older or confronting difficult problems. People who claimed to be less reliant on God had their reasons as well: they do not believe in God, have drifted away from the church, had a negative experience that disillusioned them, or believe they should deal with problems themselves rather than lean on God.
The survey shows 44 percent believe their "spiritual well-being" is better today than in 1978, and 54 percent are more likely to believe religion holds the answers to the world's problems than they were five years ago. Political opinions are being informed to a greater extent by religious belief among 35 percent of the sample.
"700 Club" host Pat Robertson interprets the survey results as "a sovereign move of God in the world," following a period of concerted prayer and evangelism. "This country has been saturated with prayer and evangelism during the last 30 to 35 years. In part it's a result of that kind of religious activity. But I think that revivals start with God. The impetus is with him and then people respond to that."
Gallup credited the electronic media with playing "an enormous role" in the increased interest and involvement he identified. Also, he said Bible study and renewed interest fuel one another. When asked what impact these findings could have on society, Gallup said, "if this interest and involvement can be turned into commitment, solid commitment, then you'll see enormous changes."
Meanwhile, Doctrine Takes A Dive In Minnesota
Minnesota Christians still profess strong belief in the Bible as the Word of God and in Christ as the only Savior. But they no longer accept traditional teachings of their churches on many issues.
Only slightly more than half of them consider themselves to be sinful or hold to the belief that all people are sinful. They have become more tolerant of practices once denounced as immoral. And they are more ecumenically minded, sometimes feeling closer to Christians in other denominations than in their own.
These are some of the findings of a monumental five-year inquiry reported in a new book, Faith and Ferment: An Inter-disciplinary Study of Christian Beliefs and Practices. The book was coauthored by Joan D. Chittister, a Benedictine prioress; and Martin E. Marty, a Lutheran clergyman and noted church historian.
Sister Chittister said that while the study involved only Minnesota churches she was sure it had national implications. Asked what surprised her most, she mentioned, among other things, the high-level acceptance Minnesota churchgoers now have of premarital sex and homosexuality. She was also surprised that only half of Minnesota's Roman Catholics surveyed found birth control immoral and that a third of them would support abortion in certain circumstances. Marty said that while Minnesotans have "more faith than ferment," there are signs that they are more and more taking their religion "á la carte. They pick and choose what they would believe and how they would act without too much concern for what 'the church' thinks about it," he explained.
RELIGIOUS NEWS SERVICE
North American Scene
Thomas Harris, author of the psychology book I'm OK—You're OK, is alive, well, and $150,000 richer. He was awarded that amount in a defamation judgment against Christian radio station KFIA and Maryland preacher Larry Tomczak. The station aired a tape in which Tomczak, while decrying Harris's philosophy, claimed that Harris had committed suicide. Tomczak got his information from Texas evangelist Jimmy Moore who heard it from charismatic preacher Robert Mumford who heard it from an unnamed industrial psychologist.
The nuclear freeze movement has suffered a setback. The Senate Foreign Relations Committee has sent a freeze resolution sponsored by Senators Mark Hatfield (R-Oreg.) and Edward Kennedy (D-Mass.) to the Senate floor without favorable recommendations. A similar measure was approved in the House of Representatives earlier this year.
For the First time in 15 years, the Episcopal church has experienced a year of growth in membership. The increase was meager, about 27,000, but a church spokesman said it represents the reversal of a trend. Like most mainline Protestant denominations, Episcopal membership began to decline in the 1960s. Total church membership is slightly less than 2,800,000.
United States senators are receiving Hustler magazine thanks to the generosity of the magazine's publisher, Larry Flynt. In a letter informing the senators of the complimentary subscription, Flynt told them their constituents would "be happy to know that you have a subscription to their favorite magazine." Sen. Charles Grassley of Iowa responded by sending Flynt a free subscription to CHRISTIANITY TODAY. "Peruse its pages," Grassley wrote, "and you'll give yourself sharper perceptions when dealing with my kind of Iowa mind."
By an 11-to-4 vote, the Senate Judiciary Committee has approved legislation permitting elementary and high school students to meet at school during noninstructional hours for prayer and Bible study. Sponsored by Sen. Jeremiah Denton (R-Ala.), the bill will go before the full Senate where it will compete with a similar bill sponsored by Sen. Mark Hatfield (R-Oreg.). Hatfield's proposal is limited to high school students.
Ptl Host Reportedly Spent $1,000 A Day For A Hotel Room
Television evangelist and talk show host Jim Bakker spent four days in a $1,000-a-day hotel suite in Buena Vista, Florida, according to an article in the Orlando Sentinel Star. The information appeared as an aside in a feature story on the Buena Vista Palace Hotel, in which the least expensive room is $120 a day.
According to the article, Bakker asked the hotel not to reveal the bill. The reporter said he learned of Bakker's stay in the process of gathering information for the article. The hotel has two $1,000-a-day suites, each of which has five bedrooms, a living room, dining room, and kitchen—all lavishly furnished—a sauna, and a whirlpool.
A hotel spokesman would neither confirm nor deny that Bakker stayed there. Bakker hosts the PTL Club television show. A spokesman for his organization, Brad Lacey, said he did not know if the story was accurate, and has not had time to speak to Bakker about it yet.
After publishing its report. The Sentinel Star received calls from Bakker supporters unhappy that the information was published. There were also other views expressed. A retired minister from the Orlando area was particularly irked at the news. "I visit people in rest homes who can barely afford to buy food, but who give to organizations like Bakker's," he said.
Thomas Nelson Blows Whistle On Two Books Published By Its Subsidiary
The world's largest Bible publisher, Thomas Nelson, Inc. of Nashville, Tennessee, has discovered the pitfalls of being unequally yoked.
Nelson purchased the secular book publishing firm Dodd, Mead & Co. in April, 1982. Recently two Dodd, Mead novels, both well along in the production process, were canceled because of offensive words in them. A third book, a book of poems, had already been published and widely reviewed. But Nelson had distribution halted upon finding that two verses contained the word "goddam." The compiler of the The Devil's Book of Verse, Richard Coniff, decrying Thomas Nelson for censorship, refused to have the verses "scissored out." Nelson eventually backed down.
Commenting in Publisher's Weekly, Coniff alleged that Nelson objected not on moral grounds, but because the offensive verses could damage Bible sales. The authors of the other books, Thomas Henege (Skim) and William Murray (Tip on a Dead Crab), also cried censorship. They said Nelson failed to communicate its editorial restrictions to its subsidiary.
Murray acknowledges that his controversial language, which includes many of the widely-known four-letter words, could have been eliminated, as Nelson suggested, without hurting the book. But he refused on principle.
Dodd, Mead's president, Lewis Gillenson, who is Jewish, called Skim and Tip on a Dead Crab "borderline cases," noting that the language is "a bit excessive," Gillenson said his company agreed on its own with Nelson's request. However BP Report, a publishing industry newsletter, reported that the "request" was more like an order. This raised questions in the minds of the authors about the propriety of publishing houses being controlled by conglomerates.
Gillenson admitted he was sorry and embarrassed that the authors had not been notified of language restrictions. (The restrictions had only recently been established.)
However Gillenson maintains the authors were not censored, pointing out that they can have their books published elsewhere and that they were allowed to keep their advance fees.
Personalia
John Perkins, founder of Voice of Calvary ministries, has been appointed by President Reagan to a 12-member Task Force on Hunger in America.
G. Aiken Taylor has been named president of Biblical Theological Seminary, a nondenominational institution in Hatfield, Pennsylvania. For the past 24 years Taylor has been editor of Presbyterian Journal. He succeeds Allan A. MacRae, who spent 34 years at Faith Seminary before coming to Biblical.
Have something to add about this? See something we missed? Share your feedback here.
Our digital archives are a work in progress. Let us know if corrections need to be made.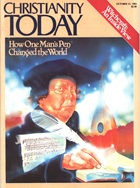 This article is from the October 21 1983 issue.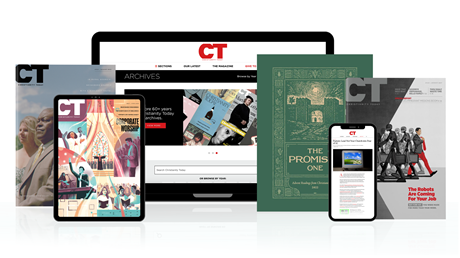 Annual & Monthly subscriptions available.
Print & Digital Issues of CT magazine
Complete access to every article on ChristianityToday.com
Unlimited access to 65+ years of CT's online archives
Member-only special issues
Subscribe
A Gallup Poll Finds a Rising Tide of Interest in Religion
A Gallup Poll Finds a Rising Tide of Interest in Religion