They try to counter liberal churches that finance socialism overseas.
People in Washington are sitting up and taking note of a new organization, the Institute for Religion and Democracy (IRD), founded just last spring, but already making waves in church and government circles. Recently it was the object of a secret controversial investigation paid for jointly by agencies of the United Methodist Church and the United Church of Christ.
Scores of luminaries representing church, government, and private agencies, along with dozens of reporters, gathered at a luncheon in Washington last month to meet and listen to the recipient of the institute's first "Freedom and Democracy" award: Nicaragua's embattled Catholic primate, Archbishop Obando y Bravo of Managua.
The prelate was chosen, say IRD officials, because he has courageously resisted totalitarianism on both the Right and the Left, striving to achieve democratic ideals in his country.
The institute is basically the brainchild of itinerant evangelist Edmund W. Robb, 55, of Marshall, Texas, a leader of evangelical causes in the 9.7-million-member United Methodist Church (UMC). Yet its executive committee includes such heavyweights as Lutheran theologian Richard John Neuhaus, not usually associated with evangelicals, and Catholic scholar Michael Novak. Other top IRD backers range from Lutheran sociologist Peter Berger of Boston College and Jesuit James V. Schall of Georgetown University to evangelical theologian Carl F. H. Henry and historian Richard Lovelace of Gordon-Conwell Theological Seminary. Some are Democrats, others are Republicans. Political neo-conservatives and liberals alike belong.
"Religious allegiance is critical," says Novak. "The IRD is a religious organization of Christian clergy and laity concerned about the extension of democracy everywhere in the world—and about efforts by some church bureaucracies to funnel church funds and ideological support to nondemocratic movements."
It is this latter aspect of accountability that apparently led some alarmed United Methodist and United Church of Christ officials to commission a $6,000 investigation of the IRD by Eric Hochstein and Ronald O'Rourke, two independent Washington researchers with congressional staff experience.
Curiously, the pair produced a 50-page report on the IRD'S history, membership, and aims without interviewing any of the principals. Their paper, circulated at the National Council of Churches' general board meeting in Cleveland last fall, and now known in IRD circles as "the Snoop Report," focuses on past political activities of a few of the IRD'S leaders. It erroneously describes the institute as a "special project" of the Coalition for a Democratic Majority," founded in 1973 by moderate Democrats following the landslide defeat of George McGovern. (Novak and others on the IRD'S board in fact campaigned for McGovern. The pair's error is apparently linked in part to the institute's temporary shelter under the tax-exempt umbrella of the Washington-based Foundation for Democratic Education, whose president, lobbyist Penn Kemble, serves on the IRD'S executive committee.)
The institute's roots go back to the so-called Jessup Report, a "preliminary inquiry" of United Methodist financing of controversial organizations and projects. It was drawn up in April 1980 by United Methodist layman, David Jessup, a Washington researcher with the AFL-CIO Committee on Political Education (COPE) and a socialist activist during his student days in Berkeley. His 26-page report gives details of United Methodist funding tilted in favor of alleged nondemocratic totalitarian-inclined groups.
Jessup issued the paper to buttress two reform petitions he wanted to see enacted by the 1980 UMC General Conference. At that conference, he met Robb and other members of Good News (an evangelical movement in the UMC), who helped obtain passage of parts of the two petitions. For months afterward, UMC officials and editors heaped criticism on Jessup, charging that he failed to take into account political realities with which the church must work, and insisting that church-agency spending is done according to open democratic procedures.
Robb kept in touch with Jessup, and last April called a meeting in Washington of leading religious figures who shared his and Jessup's basic concern about church financing of groups opposed to democratic ideals. Out of this meeting came the IRD. Its funds initially came mostly from two grants: $65,000 from the Smith Richardson Foundation, and $50,000 from the Scaife Foundation, a source of much New Right financing.
The IRD has a Washington office and staff, and has produced booklets on the church in Nicaragua and El Salvador. It has also published a landmark statement on "Christianity and Democracy," drafted by Neuhaus.
Robb, the IRD'S acting executive director, is active on other fronts. In 1976, following a Good News conference on "The Crisis in Theological Education" in the UMC, he founded the Foundation for Theological Education. His aim is to finance (up to $8,000 or so per year per student) the doctoral studies of promising evangelical scholars in the UMC who might help bring about theological renewal along evangelical lines in the UMC. So far, 19 scholars have taken part, including Chip Hayes, who earned a Ph.D. at Emory University and now teaches New Testament at Yale.
At first, the UMC theological establishment, led by the widely respected Albert Outler, opposed Robb, who ironically does not possess a seminary degree himself. But Robb persuaded Outler of the validity of his cause, and the eminent theologian now serves on Robb's board of directors (as do UMC bishops Earl Hunt of Lakeland, Florida, and Finis Crutchfield of Houston).
Robb's foundation also sponsors a triennial colloquy at Notre Dame designed to "expose liberals to first-rate evangelical scholarship."
If liberals in the UMC are nervously looking over their shoulders these days, people like Robb and his colleagues may be to blame.
Denied U.S. Visa, Paisley Storms Into Canada
Ian Paisley, Northern Ireland's colorful minister-politician, brought his volatile mix of Orange Lodge politics and fundamentalism to North America last month. Denied entrance to the United States, the irrepressible preacher simply came to Toronto—80 miles north of the American border—where he was besieged by American television networks clamoring for interviews.
Ostensibly in Canada to preach at his Toronto Free Presbyterian Church, he did speak there twice on Sunday and once at a midweek meeting. The presence of many eager news media people and anti-Paisley demonstrators, however, made even those church meetings into "media events," which gave him a wider public platform from which to blast the Irish Republican Army (IRA), the Pope, British prime minister Margaret Thatcher, and those who urge moderation (compromise, according to Paisley).
"We have seen souls saved and been informed on the situation in Northern Ireland," the congregation's spokesman told the closing meeting on Wednesday night. According to reports, 10 or 12 people responded on Sunday evening to Paisley's evangelistic invitation at the close of the service.
Much of the five-day period in Toronto, however, was devoted to a press conference, newspaper interviews, and Canadian and American national television interviews.
The major purpose of the visit, Paisley told the press and his church audiences, was to counter "IRA propaganda and lies" and to alert North Americans to the danger of bankrolling violence and death through financial support of IRA terrorists. He promoted and distributed a book, Ulster: The Facts, originally printed expressly for his American visit that was vetoed by the State Department.
Meetings at the church and at the Tuesday night rally in the Orange hall featured gospel songs, militant hymns, Scripture reading, and a revivalist atmosphere.
"Protestants we started, Protestants we continue, and Protestants we are going to stay," Paisley told his Orange audience. "There will be no change." His address was frequently interrupted by enthusiastic applause. As he spoke, about 200 demonstrators paraded outside with placards denouncing Paisley and the Fascists. A Canadian Broadcasting Corporation cameraman was stabbed in the hand with a flagpole during a scuffle.
In press interviews, the outspoken preacher condemned the appointment of a British ambassador to the Vatican as unconstitutional and "a black day for England." He also lambasted the Pope's planned visit to England.
He criticized the North American news media for preoccupation with concern over armed Protestant groups (which he defended) and a glossing over of IRA atrocities, which, he said, made defensive measures necessary.
Paisley told his Wednesday night church audience that a conspiracy had been under way for years to eliminate Protestants and Protestantism from Ireland. The papacy, ecumenists ("deluded Protestants and IRA apologists"), and ecumenical evangelism were witting or unwitting participants in the plot, he told the 350 who packed into the suburban church.
Two IRA supporters, Danny Morrison (the group's director of public relations) and Owen Carron (elected to succeed IRA guerrilla Bobby Sands as a member of the British Parliament), followed Paisley to Toronto to counter his arguments. The protagonists never met, and a proposed debate never materialized. The two IRA spokesmen were arrested at the U.S. border, where they attempted to enter the country illegally and under false pretenses.
The Toronto news media, Paisley told his church audience, had been "by and large, a fair and reasonable press." On his departure, however, the influential Globe and Mail editorialized concerning the recent visitor: "It might fairly be noted that the violent men of the Irish Republican Army have helped make him what he is today, just as his intractably partisan posture immeasurably aids their cause. Reprisal matches reprisal and malediction echoes malediction in awful symmetry. In any serious discussion of the troubles of Northern Ireland, Mr. Paisley's name is sure to come up. He is one of them."
LESLIE K. TARR
Wildmon'S Tv Boycott Is On Again
Last spring the Coalition for Better Television, headed by Donald Wildmon, a Methodist minister from Tupelo, Mississippi, threatened to organize a nationwide boycott of advertisers whose products were advertised on television programs deemed morally unfit by the coalition.
Wildmon was noticed, and network executives grew concerned—especially when television's largest buyer of commercial advertising time, Procter and Gamble, announced that it would no longer advertise on more than 50 objectionable shows. Satisfied that progress was being made, Wildmon's organization canceled the boycott.
Now, however, concerned that the events of last spring did not result in appreciably better programs during the autumn viewing season, Wildmon's organization voted last month to proceed with the boycott this year. He plans to make the announcement at a full-dress press conference in Washington, D.C., on March 2, when he will also announce which advertisers are to be targets.
Although network executives publicly disdained Wildmon and his group (which claims to speak for 1,200 individual organizations—even Jerry Falwell's Moral Majority belongs to it), they were privately worried the last time around simply because advertisers tend to worry about any sort of "hit list."
In an interview last winter, a spokesman for one of the country's largest advertising agencies said, "It only takes a percentage point or two of shift in the retail sales of washing machines or K-cars to make a tremendous difference in profits."
Have something to add about this? See something we missed? Share your feedback here.
Our digital archives are a work in progress. Let us know if corrections need to be made.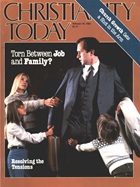 This article is from the February 19 1982 issue.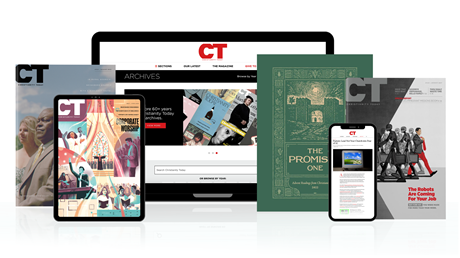 Annual & Monthly subscriptions available.
Print & Digital Issues of CT magazine
Complete access to every article on ChristianityToday.com
Unlimited access to 65+ years of CT's online archives
Member-only special issues
Subscribe
Theologians Stand for Democracy
Theologians Stand for Democracy