From the inner recesses of the White House to the board rooms of Japanese electronics manufacturers, officials are eyeing evangelical broadcasters with more than passing interest.
The ogling was evident on all sides at last month's thirty-seventh annual meeting of the National Religious Broadcasters at the Washington Hilton in the nation's capital. President Jimmy Carter was there (after pleading unavailability two years in a row). So was the Republican National Committee, the American Conservative Union, and Liberty Lobby—though confined to the exhibit hall. Also in the exhibit hall were companies like Sony, Panasonic, and RCA, competitively showcasing the latest cameras, coaxial connectors, and other technological wares of the industry, side by side with mission broadcasters, book publishers offering suggestions for giveaway offers on the air, and fund raisers.
Discerning observers noticed the relative absence of big-name singers and music companies, whose splashiness in past years created a show biz aura at NRB conventions. Their absence may be linked to the fact that some leading evangelical music companies and artists—mainly Bill Gaither—have been hauling Christian broadcasters into court for neglecting to pay music license fees to the secular organizations that represent the music industry. The litigation battles were a topic of intense concern in several workshops and in corridor talk.
But despite the political maneuvering in the foreground and the troubling court cases in the background, this year's NRB convention was the best one ever in programming for professionals, said a number of long-time members in interviews.
Many of the nearly 2,000 convention participants gathered in seminars to discuss improvements of broadcasts beamed at overseas audiences, to consider new program strategies in reaching contemporary Americans—including those in the inner city—and to glean pointers from market specialists. Members of the Federal Communications Commission updated broadcasters on communication law. (FCC chairman Charles D. Ferris disclosed that his agency was receiving 300,000 letters a month at the beginning of 1979 about a nonexistent threat to religious broadcasting—a threat falsely attributed to atheist Madalyn Murray O'Hair. A public relations firm was finally hired to answer the mail and try to stop the unfounded rumor; mail now is down to 9,000 letters a month, said Ferris.)
Pollster George Gallup, Jr., was on hand to announce his latest survey—a privately commissioned "Profile of the Christian Marketplace." The aim: to determine the attitudes, interests, opinions, use of time, spending habits, lifestyles, and giving, listening, and viewing patterns of evangelicals. The results will be published in April, and will have far-reaching implications for broadcasters, said a spokesman for the Estey-Hoover firm, sponsor of the survey. "No such research has been undertaken until now, and broadcasters therefore have not known very much about their audience," he said.
President Carter, during his talk on the second night of the convention, candidly acknowledged that 1980 is an election year. "This time, I'm going to let you explain full-time what it means to be born again," he quipped. He said that during his travels he had witnessed to the leaders of South Korea and Poland. Religious faith, he emphasized, was a central element in the Sadat-Begin talks. He said that he talked with Chinese vice-premier Teng Hsiao-ping about the Bible distribution program of the Gideons and told him China should reopen its doors to Christian missionaries. He called for prayer on his behalf, then plunged into the audience for a handshaking session.
Carter, who knows he is in deep trouble among many evangelical voters, invited 12 NRB representatives to discuss issues with him over grits and scrambled eggs at the White House the next morning. The 12 asked for his views on national defense, the family, abortion, government regulation of religion, prayer in the schools, and the lack of evangelical appointments to the White House staff. "Many in the delegation were disappointed by his answers," commented Robert Dugan of the National Association of Evangelicals afterward (the NAE is the parent body of the NRB).
In response to the question, Carter said he would support a prolife amendment to the Constitution if one were passed. Television minister Jerry Falwell said he would announce the President's position to tens of thousands at an antiabortion rally later in the day. A White House press officer, however, pointed out that the President is bound by law to uphold the Constitution, and that his answer should be taken in that light.
Sources said that Carter seemed perplexed by the question on evangelical appointments, finally commenting simply that religion cannot be a test of employment. He said he will not promote gay rights, and he rejected the notion that the Equal Rights Amendment might harm the family. As for classroom prayers, the President said he wanted the government completely out of "the prayer business," hence he opposed school prayers. According to the sources, he voiced concern for Jewish children who might find themselves having to leave the classroom each day when it was time to pray.
Those present included Jim Bakker of the PTL network, D. James Kennedy of Evangelism Explosion, television preachers Oral Roberts and Rex Humbard. Howard Jones of the "Hour of Freedom" broadcast, Jimmy Allen of the Southern Baptist Convention, NRB vice-president E. Brandt Gustavson, San Diego author-pastor Tim LaHaye, Southern Baptist pastor Charles Stanley of Atlanta, and California Baptist pastor Morris Sheats.
(LaHaye's wife, Beverly, who heads Concerned Women for America, and other women visited with Mrs. Carter; they said they were praying she would "listen to our side" and reverse her pro-ERA position. "I have heard and considered both sides;" the First Lady was quoted as replying.)
Dugan, Bakker, and Falwell joined with Bill Bright of Campus Crusade for Christ, Pat Robertson of the 700 Club, evangelist James Robison, Southern Baptist president Adrian Rogers, and others in forming a new group, the Coalition for the First Amendment, to lobby for the right to have classroom prayers. The U.S. Senate last year approved an amendment by Republican Jesse Helms of North Carolina that would remove the school prayer issue from the jurisdiction of federal courts. The amendment was removed from an important education bill and tacked on to one dealing with federal court reforms. That bill, however, has lain dormant in the House Judiciary Committee, whose chairman, Democrat Peter Rodino of New Jersey, opposes the prayer measure.
At an NRB breakfast sponsored by the NAE, Helms called on the broadcasters to generate a flood of mail urging members of Congress to sign a discharge petition that would bring the bill to the floor.
Republican Philip Crane of Illinois, House leader of the battle favoring prayer, said at an NRB press conference that he has 50 of 218 needed signatures.
NRB members passed a resolution asking Congress to adopt the Helms amendment. In other action, the members reelected California broadcaster David Hofer as president and approved a record $500,000 budget for 1980. Earlier, the NRB board adopted a resolution endorsing the deregulation of the broadcasting industry. The Roman Catholic bishops and some mainstream Protestant groups opposed deregulation; they say it will result in fewer religious programs that are aired free as a community service.
The electronic church is a reality. Of some 8,000 radio stations in the United States, 1,400 are religious, as are 30 of the nation's 800 or so television stations and 66 of the 800 cable systems. Revenues are estimated by broadcast media sources to exceed $500 million a year, NRB officials estimate that their 900 members account for 70 percent of all religious radio and TV programming in the U.S., reaching an estimated audience of 129 million.
Says NRB executive secretary Ben Armstrong: "Broadcast religion touches more people than all the churches combined."
United Methodists
Looking Out for Illegals Is a Borderline Affair
Some cross the Rio Grande River by night; others hide in car trunks. By various means, an estimated two million Hispanics illegally enter the United States every year. Because many undocumented immigrants are members of U.S. churches, and because the so-called wetback churches are called the fastest growing in the Southwest, U.S. churches are faced with deciding how to deal with the situation. When do acts of Christian compassion toward illegals violate federal immigration law?
Participants last month at the first Southwestern Border Consultation in Juarez, Mexico, had some suggestions for the United Methodist Church. They adopted a 15-page position paper, to be presented to the United Methodist General Conference, calling for immediate amnesty for undocumented immigrants.
The 250 participants, about half of them of Hispanic origin and representing both United Methodists and the 45,000-member Methodist Church of Mexico, also called for greater sensitivity in church and secular news media coverage of border problems, and for wide-ranging reforms of present federal immigration law.
Delegates to the UMC general conference will request $100,000 annually for a border program. The "border office" would supply chaplains to work with the Border Patrol, legal aid for immigrants who feel their rights have been violated, and publicity to non-Hispanics about the needs of the illegals.
Two Mexican bishops attended the three-day conference, as did three UMC bishops from the United States, including Jesse R. DeWitt, vice-president of the sponsoring UMC Board of Global Ministries. Some Mexican delegates complained that they were blocked from full participation because much of the study material was not translated into Spanish; they proposed a similar conference exclusively for Mexican Methodists and asked that future border conferences be run jointly by the U.S. and Mexican churches.
However, the participants pulled together to pass their position paper easily. They agreed that public agencies are inadequately caring for illegal aliens, and that church-supported agencies "have been challenged to respond to this unmet need …" Conference participants openly discussed the use of church facilities by illegal aliens. They wondered if, and how, those actions could be interpreted as violations of "overbroad" federal immigration law regulations governing such things as aiding and abetting, inducing, and transporting illegal aliens. But a discreet ambiguity was evident in the phrasing of resolutions, no doubt to be scrutinized closely at the April general conference.
"It is incumbent on us to decide what law ought to be and to take steps toward its realization.… We are called anew to stand in the tradition of Moses, the prophets, and the gospel of Jesus Christ to seek justice and equity.…" resolved conference members.
Pastor Conredo Soltero, who "for conversation's sake," hangs facing portraits of John Wesley and Mao Tse Tung in his Metropolitan Board of Missions office in El Paso, Texas, said benevolent activism toward illegals could lead to serious church-state consequences.
"If a local church wants to get deeply involved, then it's going to have to make some hard decisions."
PETER BROCK
North American Scene
Antiabortion groups lost a major battle last month. U.S. federal district court Judge John F. Dooling, Jr., ruled that federal Medicaid funds must be allowed for all abortions of "medical necessity"—defining that to include psychological, emotional, familial, and age risks, not just physical ones. His decision, which has been appealed by the U.S. Justice Department to the Supreme Court, made unconstitutional the so-called Hyde Amendment that since 1976 has banned federally-funded abortions except to save the mother's life or in certain cases, such as rape or incest. Dooling partly based his decision on the argument (espoused by some Baptist and United Methodist spokesmen) that denial of an abortion to a woman who cannot afford to pay violates her freedom of conscience and religion.
Carrying banners such as "Missionaries are spiritual Nazis" and "Leave Jews to Judaism," an activist Jewish group in Toronto, Bnei Akiba, last month picketed the home of Hans Vanderwerff, a Jew and spiritual leader of a charismatic group that is affiliated with the U.S.-based Union of Messianic Jewish Congregations. The activists complained that Vanderwerff tells Jews they can accept Christ as Messiah and Savior without renouncing their Judaism. Vanderwerff's congregation is about 60 percent Jewish; he says it cherishes and retains the Jewish heritage.
Author Madeleine L'Engle's A Wrinkle in Time is becoming a major Hollywood movie. L'Engle sold the film rights for an undisclosed amount to television and movie producer Norman Lear ("All in the Family," "The Jeffersons"). An active Episcopalian, L'Engle negotiated the contract terms herself—stipulating that character and theme not be changed and that she be consulted during the production, which is to be completed in about two years. Wrinkle in 1963 won the prestigious Newbery Award for "the most distinguished contribution to American literature for children." Like other books by L'Engle (also popular among adults), it is a fantasy with underlying religious themes.
Television preacher Jerry Falwell's Liberty Baptist Seminary lost its dean in a doctrinal dispute over Calvinism. In his 19-page resignation letter to school chancellor Falwell, former dean Robert Hughes protested that against his objections faculty were hired who teach Calvinism (predestination for salvation or damnation). Falwell responded in a letter to Hughes that "fatalism" is not taught at either Liberty Baptist College or its seminary, according to the local Lynchburg, Virginia, Daily Advance. Well-known Baptist educator and writer Elmer Towns was appointed dean.
Have something to add about this? See something we missed? Share your feedback here.
Our digital archives are a work in progress. Let us know if corrections need to be made.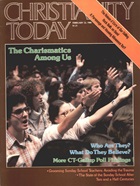 This article is from the February 22 1980 issue.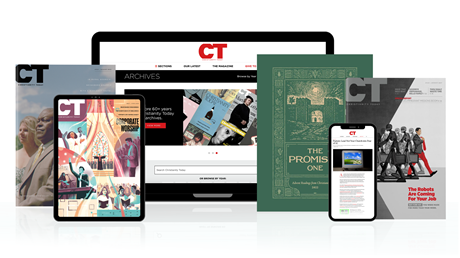 Annual & Monthly subscriptions available.
Print & Digital Issues of CT magazine
Complete access to every article on ChristianityToday.com
Unlimited access to 65+ years of CT's online archives
Member-only special issues
Subscribe
Carter's Presence Confirms Clout of Evangelical Broadcasters
Carter's Presence Confirms Clout of Evangelical Broadcasters