Each time I enter my local library, I'm struck by the multitude of avid students of all ages poring over bulky reference works and stacks of magazines in their research for essays, theses, dissertations, articles. The age at which the young tackle world problems such as ecology, abortion, women's lib, pornography, and evolution seems to becomz steadily lower.
My fervent wish-one could even call it a prayer-is that these young innocents especially may find study sources that "tell it like it is," the way you and I know that it is.… This, of course, leads to my question: Is Christianity Today in your library?
We're already in several thousand libraries-but we should be in thousands more: high school, junior and senior college, university, city, town, country libraries. C.T. has long been indexed in the Readers' Guide to Periodical Literature, the standard researcher's guide. "Guide" users find C.T.'s writings on the issues of the day cited along with secular ones. But are they then able to find our magazine in the same library where they've found the reference?
Librarians recognize the need to provide a balanced fare, but may be unaware of the subtle shadings among journals officially called "Protestant," "Catholic," or "Jewish." You and I know the poles of opinion represented in these broad categories! We know that if C.T. hasn't made your library's periodical shelf, impressionable young minds are being deprived of
"… a trans-denominational Protestant magazine which is for conservatives and evangelicals what The Christian Century is for liberals.… Generally considered the most articulate, significant, and intellectual magazine of its type.… Affirms Biblical authority but not in a hyperliteral way. To offer readers a balanced fare, should be in any library which receives the Century."
To this quote from our editor-in Bill Katz's Magazines for Libraries, on which most librarians rely in ordering magazine subscriptions-Mr. Katz adds his own affirmation: "Agreed!"
Do you agree, too? In our effort to introduce the faith we represent into the nation's libraries, you could be our most valuable asset! Librarians respond to patrons' suggestions, and the personal approach tends to be more successful than, for instance, the donation of a subscription. Gift periodicals are often filed away among all sorts of eccentric and irregular giveaways.
If you care enough to approach your librarian on behalf of CHRISTIANI~TODAY well mail you as many copies as you can use of our new LibraryFolder. It's an attractive brochure that incorporates C.T.'s rather impressivestatistics, an excellent testimonial letter, and a letter to the librarian himself.
Who speaks for Christianity in your library? C.T. will-if you will!
Johanna Patterson
Assistant Circulation Manager
1014 Washington Building
Washington, D.C. 20005
Ellul considers our age to be a peculiarly deprived, constrained, sad, and joyless one: his first two chapters deal with the closed world, irrationality, a sad youth, perverted values, loss of meaningful speech, intellectual sterility, scorn, suspicion, and derision (among other things) as characteristics of our age. In Part II he explores the modish diagnosis, "God is dead." The diagnosis, he tells us, is false: God is not dead. But the situation is real—he has turned his back on us because of our faithlessness, and it does not seem possible to get him to turn to us again.
Humanistic hopes are illusory, Ellul tells us again in Part III; the only really powerful hope is that which looks for a real, eschatological intervention by God. And yet it is precisely this hope that is so difficult to uphold, because God has apparently turned away from us. We must not, Ellul feels, take refuge in cheap spiritual tricks. He is critical of facile testimonies to God's intervention, and of too much objectifying and concretizing of biblical promises, which he feels is a phony way out of what must be recognized as a real and durable spiritual dilemma.
In the last analysis, then, hope rests on three things: one psychic, waiting; one spiritual, prayer; and one intellectual, realism. We must be willing to wait, i.e., not demand instant answers; we must pray, i.e., ask for and expect God's sweeping intervention; and we must be rigorously realistic, i.e., not bask in the illusion that life gets "sweeter every day, sweeter all the way" while we are waiting for God's final answer. On the way, there may be "signs" of God's interest. Because Ellul is so much in reaction against secular theologians such as Harvey Cox, who see so-called signs of God's kingdom in ambivalent socio-economic developments, he downgrades the idea that God gives us any tokens of his coming final victory before the consummation.
Read as an argument against "immanentizing the eschaton," namely the Utopian fallacy of thinking that we are on the point of achieving perfection here and now, Hope in Time of Abandonment is valuable. Unfortunately—perhaps because Ellul is so preoccupied with unmasking vain hopes—he is rather weak about the practical aspects of the true hope that he promotes. In his spiritual development he seems to have moved away from the sharply Barthian dialectical distinction of his earlier works ("God is in heaven, and you are on earth!"), with its implication that we must expect nothing tangible from God in the here and now, but only wait; this book, however, does not show the change. In his effort to show how many hopes are illusory and unfounded, he effectually if unintentionally shortchanges Christian hope, too, and seems to give the impression that of all the people in the world, only he is realistic and strong enough to see things as they really are. The diagnosis is good, but the cure looks a little too protracted.
Answering Questions On Qumran
The Dead Sea Scrolls and the New Testament, by William S. LaSor (Eerdmans, 1972, 281 pp., $3.95 pb), is reviewed by Edwin M. Yamauchi, associate professor of history, Miami University, Oxford, Ohio.
In the flood of some 6,000 articles, reviews, and books published on the Dead Sea Scrolls, William S. LaSor, professor of Old Testament at Fuller Seminary, has produced one of the best books on the subject. He lucidly relates the story of the discovery of the Scrolls, sets forth their contents, and distinguishes between the evidence and hypotheses.
Inasmuch as he was the first to publish a bibliography of works on the Scrolls (in 1958) and served as the bibliographer for the Revue de Qurnran for five years, LaSor is by far the most qualified among evangelical scholars to write a definitive work on the Scrolls. And his wide experience in lecturing on Qurnran to lay audiences enables him to communicate his subject with commendable clarity. This end is achieved in part by helpful summaries at the end of each of nineteen chapters, and by a final chapter listing in tabular form the similarities and contrasts between the Scrolls and the New Testament and between the Teacher of Righteousness and Jesus. An annotated bibliography will aid the beginning student, and footnoted documentation will be of interest to the scholar.
There are but a few points that call for comment other than commendation. In limiting his book to a study of the Scrolls and the New Testament, LaSor has omitted any serious discussion of the implications of the Qurnran manuscripts for the text of the Old Testament, certainly one of the most valuable contributions of the Scrolls.
In carefully assessing the evidence, LaSor differs from many scholars in refusing to accept an Essene identification of the Qumran sect and in denying that there were two Messiahs expected. The reference in 1 QS 9:11 to "the Messiahs of Aaron and Israel" he explains as a textual problem, i.e., a possible error for "the Messiah of Aaron and Israel."
In discussing the alleged contacts between Qumran and Zoroastrianism, LaSor fails to make clear that what is contemplated is not the classical dualistic form of Zoroastrianism but the monistic form known as Zurvanism.
Although the text of the Temple Scroll has not yet been published, readers will want to know more about the longest Qumran Scroll yet acquired than LaSor has given in a paragraph and a footnote, inasmuch as this document is certainly one of the most important and may prove to be one of the most controversial of the Qumran Scrolls. Yigael Yadin provided some tantalizing information in a preliminary article in The Biblical Archaeologist (December, 1967).
Just as LaSor's book was being prepared for the printers, the sensational claim of the identification of New Testament fragments from Qumran cave VII was made by Jose O'Callaghan. This development could only be noted in a footnote.
In The Journals
A warm welcome to Missiology. Its first number includes several outstanding articles of interest to those concerned with cross-cultural evangelism and disciplining. All theological and Bible-school libraries should subscribe, as well as many individuals. Donated subscriptions to missionary friends should be considered. The quarterly journal replaces Practical Anthropology and is sponsored by the New American Society of Missiology. The editor is Alan Tippett of Fuller School of World Mission (Box 1041, New Canaan, Conn. 06840; $8/year).
The Rosemead Graduate School of Psychology has launched a quarterly Journal of Psychology and Theology. Fuller, Dallas, and Trinity seminaries are among the many institutions represented among the contributing editors. The first number (January, 1973) includes articles on self-esteem and "worm" theology, and contract therapy for marital conflicts. All theological libraries and persons with a counseling ministry should receive this journal. (1409 N. Walnut Grove Ave., Rosemead, Cal. 91770; $8/year.)
One of the leading authorities in the field, Michael Bourdeaux, began editing a new journal this year, Religion in Communist Lands. It is intended at first to be bi-monthly. Each issue includes articles, reviews, documents, and a thorough bibliography of recent items. Major theological and university libraries, as well as specially interested individuals, need to subscribe (Centre for the Study of Religion and Communism, 34 Lubbock Rd., Chislehurst, Kent BR7 5JJ, England; $7/year). The first two issues include, for example, an article on "The Council of Baptist Prisoners' Relatives," a ten-page list of Baptists imprisoned in the Soviet Union during 1972, and major reviews of books on religions in China and on Judaism in the U. S. S. R.
Have something to add about this? See something we missed? Share your feedback here.
Our digital archives are a work in progress. Let us know if corrections need to be made.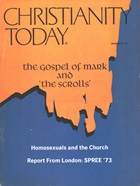 This article is from the September 28 1973 issue.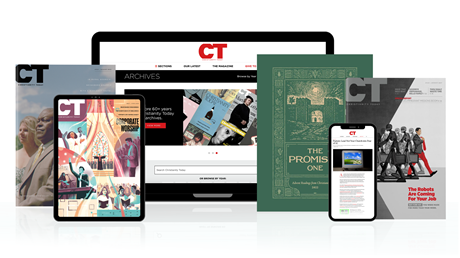 Annual & Monthly subscriptions available.
Print & Digital Issues of CT magazine
Complete access to every article on ChristianityToday.com
Unlimited access to 65+ years of CT's online archives
Member-only special issues
Subscribe
Who Speaks for Christianity in Your Library?
Who Speaks for Christianity in Your Library?