Here Come De Judge
The subpoena had my surname spelled wrong, but I really didn't think that would be justification for not appearing in court at the appointed time.
I guess there was a certain dread and excitement in my anticipation of the event. Even though I've never been a witness in court I know the subtle maneuverings and the pyrotechnics that can go on in a courtroom. After all, I've been watching Perry Mason reruns for twenty years.
Because of a conflict in schedules my wife dropped me early at the courthouse so that I had about an hour of observing those whom fortune or misfortune had brought there. One fact became obvious as I waited: the only people at ease in a courthouse are the lawyers. I saw nervous and edgy defendants, nervous and edgy plaintiffs, but only calm lawyers.
When the time came for the case to be called, I took my seat in the courtroom and prepared to watch the strategy of the opposing lawyers. After about thirty minutes the judge arrived and the proceedings began with a flurry of paper-trading between the lawyers.
To the puzzlement of the Perry Mason fans among us, the witnesses were asked to stand as a group. The clerk administered the oath to us en masse.
Then, to our shock, the judge informed us that we would be escorted by a bailiff to an anteroom. We would be called when our testimony was needed.
We weren't even going to get a chance to see the blasted proceedings! The judge further instructed that after we testified we were not to discuss our testimony in any way with other witnesses.
We took our seats in the anteroom and began conjecturing to one another about the time we might be called and the ultimate outcome of the case. The lawyer had told us that the opening presentation of the case could not take more than fifteen minutes and that then we would be called to testify.
An hour and five minutes later the lawyers were still arguing over what precedents were relevant and the judge was trying to decide whether he would even hear our testimony. In the anteroom we were still talking, but the substance of the trial had been left far behind.
Soon, however, the first witness was called, and we were all disposed of rather quickly.
None of us had very much to testify to. Only one or two narrow facts was needed from each of us. We knew what the lawyer who had called us was trying to establish, but we didn't know fully how he was going to go about it or just how all the testimony would fit together.
We were asked to tell the truth about one or two matters and then dismissed. We had to trust our advocate.
Sometimes it's that way with a Christian's witness. He doesn't know all that came before him or all that's going to happen after him. He's only responsible to bear witness to the truth as he knows it and to trust the Advocate.
EUTYCHUS V
MARRIAGE MEANS
I must take exception to one aspect of Dr. James Daane's report (News, "Christian Reformed Church," Aug. 10). In relating that the Synod rejected a report on marriage the information given is grossly misleading and erroneous. The report of Marriage Guidelines was the proposal of a study committee appointed by the Christian Reformed Church and is the sole responsibility of that committee. The Association for the Advancement of Christian Scholarship had nothing to do with it. Only one of the six members of the committee, namely myself, is a member of the AACS and I was on the committee as an individual member of the Christian Reformed Church.
More serious is the fact that Dr. Daane completely misrepresents the thrust of the report. No where does the report say that "marriage is constituted solely by a couple's mutual pledge to fidelity." "Marriage," the report begins, "is a mutual, permanent, exclusive, one flesh union between husband and wife characterized by fidelity." Or again, "husband and wife together live under the Word of God for marriage." This means not only that marriage is not a human invention or convention, but also that marital fidelity is not subject to the arbitrary whims of the partners. Nowhere does the report maintain that divorce is warranted by any form of infidelity whether physical or spiritual. In fact a unique aspect of the report was its contention that "there are no grounds or justification for such breakdown as if infidelity can sometimes be right" and that therefore there are "no biblical grounds for divorce."
Interested readers should study the report and judge for themselves. It is available in the 1973 Agenda of the Christian Reformed Church or copies are available from 54 Tidworth Square, Agincourt, Ontario, Canada.
Toronto, Ontario
JAMES H. OLTHUIS
FROM THE BRITISH
First of all, a word of thanks for the excellent article by W. Ward Gasque, "Evangelical Theology: The British Example" (Current Religious Thought, Aug. 10). He makes a needed point: The evangelical church has hurt its own cause where it has been divisive, sectarian, or isolationist. The Gospel of Jesus Christ must be carried into every area fearlessly. We could learn much from the example of our British brethren.
Your editorial article, "Ends and Means in West Germany," astounded me. Surely you have more reliable research possibilities than exposed here: the parliamentarian investigation of the Steiner affair is by no means concluded, but in summer recess; the SPD party whip Wienand has not resigned in disgrace; no one has been found guilty of bribery yet; and the evidence presented by Steiner has been so self-contradictory that the whole affair is becoming increasingly murky. Certainly the German government has its problems, but we certainly will want to wait until the evidence is in and not make up our minds without any firm information about what really happened last year during the vote of confidence.
DARRELL L. GUDER
Ludwigsburg, Germany
Many thanks for W. Ward Gasque's "Evangelical Theology: The British Example." It's rather unfortunate that the editorials of CHRISTIANITY TODAY are increasingly perpetuating the type of negative evangelicalism from which North America needs to be delivered.
ARTHUR G. PATZIA
Sioux Falls, S. D.
MOVING FROM MYOPIA
Ah, youth! As I read William F. Luck's review of Bruce Larson's Ask Me to Dance (Books in Review, Aug. 10), I couldn't help feeling that the tone of same was quite sophomoric. I believe the reviewer twisted several of the author's thoughts to fit his "wart" theme. My only hope is that Mr. Luck's severe case of spiritual myopia will clear up as he moves into a ministry in the real world.
NEIL ATKINSON
Associate Pastor
Evangelical Free Church
Orange, Calif.
INFORM AND DOCUMENT
Your issue of August 31 (News, "Prologue and Protest"), while referring to faculty members of Concordia Seminary, St. Louis, makes the statement that the Council of Presidents of the Lutheran Church-Missouri Synod is "doctrinally divided." As a member of the Council of Presidents I insist that this is patently not true. It would be interesting to know who your informer is and what documentation CHRISTIANITY TODAY has for making such a statement. It is apparent in all of the good work that you do that you attempt to be eminently fair. I am certain, therefore, that you will appreciate this response.
AUGUST BERNTHAL
President
The Florida-Georgia District
The Lutheran Church-Missouri Synod
Winter Haven, Fla.
EDITORIAL TRANSPARENCIES?
In your August 10 issue ("Missouri Lutheran Showdown: The Battle of New Orleans"), your reporter, Edward E. Plowman, wrote the following concerning the press conference held recently by the president of the Lutheran Church-Missouri Synod: "Preus, who feels he has not gotten a fair shake from the press in general, nearly walked out after being badgered by columnist Lester Kinsolving, who coined the uncomplimentary 'Chairman JAO' in earlier columns critical of Preus."
If reporter Plowman had cared enough to inquire, I would have been glad to tell him that "Freedom now—with Chairman JAO" was coined by students at Concordia Seminary, not by me. I simply reported that the students had coined this undeniably colorful terminology.
As to the Plowman report that President Preus was "badgered" by me, I am wondering if this was reporting—or was it transparent editorializing, as is appropriate to your editorial or feature pages.
I also wonder just why Plowman couldn't have reported precisely what questions I asked, so that your readers might have had the privilege of drawing their own conclusions. (On second thought, I don't really wonder about this, not after reading Plowman's report of "The Battle of New Orleans"—in which he seriously compares Jake Preus to Andrew Jackson!)
It is very possible that a number of your readers will agree with his editorial position—and also conclude that any questioning of President Preus about details of the Eden nudity or the digestion of Jonah is "badgering." On the other hand, I would imagine that there may be a number of your readers who would not agree with Plowman.
But your news report, which he wrote, provides not a single specific example upon which any of your readers can make a judgment—save for Ed Plowman's one-word editorial opinion.
(THE REV.) LESTER KINSOLVING
National Newspaper Syndicate
Vienna, Va.
I enjoy your magazine and look forward to getting it, because, for the most part, it is what it claims to be—a magazine of evangelical Christian conviction. Most of your material is good, even if I don't always agree completely with you. Because it is such an evangelical publication, I have been disappointed all along at the biased, one-sided coverage you have given to the battle raging in the Lutheran Church-Missouri Synod. The several articles about this in your August 10 issue were real corkers.
Despite all the coverage that has been given to this controversy, and despite the fact that I know your writers have informed themselves very well on the subject—your position shows a dismal lack of awareness of what all is really at stake in the LCMS. In most of your articles you show a really keen insight into the problems of the Christian Church today; it amazes me that you have missed the mark so far on this issue. I can see that on the surface it may well seem that "the battle of New Orleans" was a good victory for conservative "evangelical" Christianity. In reality, what happened at New Orleans can come under only one heading: disaster.
JAMES ELMSHAUSER
Saint John's Evangelical Lutheran Church
Fort Collins, Colo.
CROWDING DENIAL
Re your statement in the excellent editorial concerning the Missouri Synod controversy ("The Conservative Victory," Aug. 10), in which you make reference to the "crowding out" of conservative professors in Southern Baptist seminaries, I would just add that conservatives have been and are being crowded out of places of leadership on the Boards and Agencies of the SBC, out of many pulpits and even out of certain mission fields as well! As deplorable as the doctrinal deviation of the SBC is, the constant denial that it exists at all is much more deplorable.
Southern Baptist conservatives are now coming to life and expressing their concerns in groups such as the recently formed Southern Baptist Faith and Message Fellowship and the newly organized Mid-America Baptist Theological Seminary. The question is whether this effort is too little and too late to counteract the denominationally blessed liberalism of the Broadman Commentary and the seminary professors who authored it.
WORTH C. GRANT
Washington, D. C.
Have something to add about this? See something we missed? Share your feedback here.
Our digital archives are a work in progress. Let us know if corrections need to be made.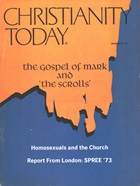 This article is from the September 28 1973 issue.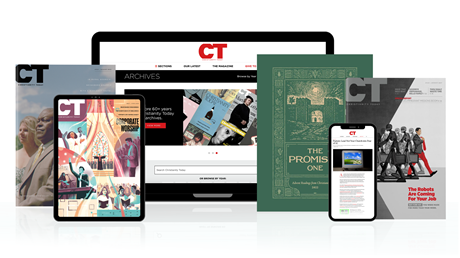 Annual & Monthly subscriptions available.
Print & Digital Issues of CT magazine
Complete access to every article on ChristianityToday.com
Unlimited access to 65+ years of CT's online archives
Member-only special issues
Subscribe
Eutychus and His Kin: September 28, 1973
Eutychus and His Kin: September 28, 1973