Unfreedom Of Speech In The U. S. S. R.
Alexander Solzhenitsyn could teach us a thing or two about responsible dissent. In a recent interview with Associated Press and Le Monde of Paris, the celebrated author said he feels the cause of individual freedom in the Soviet Union is at a low ebb. He told of threats on his life and continued harassment. He denounced the tactics used by the government to silence criticism. Yet he has continued to persevere within the system. He has been prophetic in the best contemporary sense of that term without returning evil for evil.
Solzhenitsyn also helped Americans put their current domestic problems into better perspective: "It is strange to hear that in some places arguments take place about whether the President has a right to order electronic bugging equipment installed for the defense of military secrets of his country. And a man who has leaked such secrets even gets vindication in court. But in our country, any person who once loudly voices an opinion contrary to the official one is considered guilty even without trial."
Anxiety Among The Lascivious?
In a recent issue, Der Spiegel, the most influential publication in West Germany, devoted several columns to what it calls a worldwide "Revolt of the Prudes." Of course the landmark decision of the United States Supreme Court permitting the restriction of pornographic publications and films was cited, but Der Spiegel's ferret-like researchers did not overlook even the fulminations of the sheriff of rural Albermarle County, Virginia, against Playboy magazine in chronicling what they consider a mass movement of "prudes" the world over to suppress certain of the grosser forms of pornography. Against these "prudes," Spiegel "reports" in favor of pornography, that it "macht Spass" (provides fun) and, even more significantly, brings in money by the barrel.
We are not entirely surprised that Der Spiegel, like many other profit-hungry mass-communications enterprises, vehemently opposes this particular example of "legislating morality" (although it endorses many others). After all, pornography and its trappings make not only Spass but a great deal of money for the media. But it is a bit surprising that Der Spiegel can see nothing but prudishness behind what it admits is a growing, worldwide feeling of disgust. Can religion, ethics, psychology, and criminal law provide no arguments worth mentioning in a news magazine? It is certainly not absurd to suggest that pornography may have contributed to the recently discovered homosexual torture murders in Texas, as it evidently did to the celebrated Moor murders in Britain a few years ago.
It might be thought less than fair if we characterized the near-hysteria of communications czars and certain intellectuals over the Supreme Court decision as "anxiety among the lascivious." We are willing to recognize that opposition to censorship of pornography is not necessarily motivated by lasciviousness or greed. And we would like to see the pro-pornographers admit that some people may in fact support restrictions for reasons more substantial than mere "prudery."
Give Us This Day Our Daily Bread
Grain shortages, high prices, prolonged famine in West Africa—Christians are vividly reminded of one of the principal petitions in the Lord's Prayer. All men are dependent upon God for their daily bread. Many do not acknowledge it. Many do so only perfunctorily. But we dare not take it lightly. At any time the planet is only a season away from famine. Up to now blights and pestilence, flooding and drought have never been simultaneously universal. But the number of food-exporting countries, never large, is shrinking. Countries that were formerly self-sufficient are now heavy importers. Government policies, meant to help, seem to end up harming more often than not. We cannot take for granted that we will always have an adequate supply of food. Like the rain that falls beneficially on both the just and unjust, so when famine strikes, the just as well as the unjust suffer.
An Experience To Pass Up
Pan American World Airways, which likes to bill itself as "the world's most experienced airline," has begun giving evidence that not all its "experience" is pertinent to its business of transporting people safely and comfortably. According to an Associated Press report, the airline now offers "a new service for passengers—printed cards telling how and where to meet prostitutes in New York, London, Paris, Rome and Amsterdam." If PanAm ever goes bankrupt, we imagine that the epitaph John wrote for whorish Babylon might aptly be uttered for the great corporation: "The merchants of the earth weep and mourn for her, since no one buys their cargo any more, cargo of gold, silver, jewels and pearls … horses and chariots, and slaves, that is, human souls" (Rev. 18:11–13). That kind of "experience" we don't consider a recommendation.
Lord, When Did We See Thee Hungry?
Addressing a luncheon group in Washington, ex-Communist author Nathaniel Weyl (Red Star Over Cuba, The Jew in American Politics) predicted that the United States would continue its present policy of supplying foodstuffs to the Soviet Union, because the U. S. S. R. is an immensely powerful nation and we have some interest in keeping it tranquil. But Africa, he lamented, has little to offer us and will probably be allowed to starve.
At the present time, millions of Africans are starving, and—with a few laudable exceptions—very little is being done about it by affluent Americans. The Africans, unlike West Europeans and Japanese, have no hard money with which to pay for our food; unlike the Russians, they do not have the power that makes us deem it prudent to supply them with government subsidized grain. And—also unlike the Europeans, Japanese, and Russians—without generous help they will not merely go a bit hungry. They will starve to death by hundreds of thousands, perhaps millions.
Most Christians in America today—like most other Americans—are concerned about the rapidly rising cost of quality, convenience, and gourmet foods, as well as of staples. But very few of us are in serious danger of having to do without the basics. There is a lot of fat in most Americans' food budget, which could be trimmed and the savings spent for food for Africans on the brink of starvation. Christians will do well to remember the wrath of the Lord against those who see people hungering and do not feed them.
Agencies that will rapidly channel contributions to famine relief in Africa include the following:
Sudan Interior Mission
Cedar Grove, New Jersey 07009
Billy Graham Evangelistic Association
1300 Harmon Place
Minneapolis, Minnesota 55400
World Relief Commission
National Association of Evangelicals
P.O. Box 28
Wheaton, Illinois 60187
C. A. R. E.
660 First Avenue
New York, New York 10016
Church World Service
475 Riverside Drive
New York, New York 10027
Designate contributions for famine relief in Africa.
If Only Stalin Could See Them Now!
The outspokenly Hindu monthly Mother India (Bombay), in its August issue, attacks the arming of Middle East nations by both the United States and the U.S.S.R. That the policy is questionable, we may well agree. The motivation that Mother India sees behind the Middle East arms race, however, comes as a surprise to us, and would certainly cause the late Joseph Stalin to turn over in his grave: "The Muslims of this area will first unite to finish Israel and India—the Kaffir countries—and then start killing each other.…" By these tactics, according to Mother India, Soviet and American Christians will destroy the Islamic Arabs and obtain all the oil in the world for themselves.
We have often been embarrassed when Christians and non-Christians overseas have blamed actions by the United States government on Christianity, because "America is a Christian nation." But if Christianity has to take the blame for Soviet actions as well, that's a bit too much.
Christian Drunks
When Paul arrived in Ephesus, he challenged the disciples of John there with this question: "Did you receive the Holy Spirit when you believed?" They obviously had not, for Paul had to tell them about Jesus Christ, after which they were baptized in water and, after the laying on of hands, received the Holy Spirit.
Later, in a letter to the believers in Ephesus, Paul gives a theological interpretation of those events (Eph. 1:13, 14): "In him [Christ the condition] you also, who have heard the word of truth, the gospel of your salvation [=the message], and have believed in him [=faith], were sealed with the promised Holy Spirit [=indwelling of the Holy Spirit], which is the down payment [=evidence] of our inheritance until we acquire possession of it, to the praise of his glory [=end]." These Christians have received the Holy Spirit promised in the Old Testament, and experienced since Pentecost. The Spirit's agency affords a foretaste of bliss, for his presence in the believer partakes of the quality of that in heaven.
Paul as usual is not content for his hearers to live in clouds of doctrine, and in Ephesians 5:18 he drives his message home. "Do not get drunk, for that is debauchery; but be filled with the Spirit." This text addressed to Christians does not contemplate the once-and-for-all reception of the Spirit but Christians' continuing responsibility and privilege of being (passive) filled with the Spirit. They are to be like the disciples at Pentecost, so filled with the Spirit that people thought them drunk.
The hot climate of Asiatic Greece, prolific in the fruit of the vine, fostered the mercurial temper of its inhabitants. Excessive indulgence in wine had hastened the death of Alexander the Great. As the Corinthian believers so recently won from paganism needed to separate the food offered to an idol from its pagan connotation, so the Ephesians must not confuse being under the influence of drink with life in the Spirit. The pagan tended to see his drunkenness as the state of being under the influence of the god Bacchus.
The contrast is not directly between wine and Spirit, as the order of the words shows, but between the two states. Paul is not here attacking the use of alcohol but describing two life styles, one Christian, one pagan (4:17–24). The life style the Spirit manifests in us will lead away from drunken singsongs; instead, we will want to praise God with all our hearts in spiritual songs (vs. 19). Furthermore, it will foster an attitude of thankfulness (vs. 20). It will express itself in humility as we subject ourselves to one another in the Church, family, and society (4:21–5:9).
Finally, followers of this style of life will not be wholly absorbed in the material world but will be able to recognize the demonic influence behind the actions of men. In response Christian "drunks" will not grab for the nearest weapon like a drunk in a bar but will put on the whole armor of God and stand up and fight (6:10 ff.).
Have something to add about this? See something we missed? Share your feedback here.
Our digital archives are a work in progress. Let us know if corrections need to be made.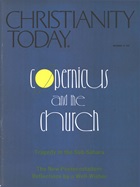 This article is from the September 14 1973 issue.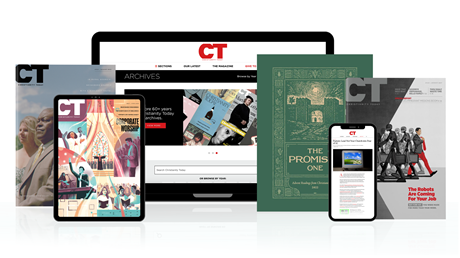 Annual & Monthly subscriptions available.
Print & Digital Issues of CT magazine
Complete access to every article on ChristianityToday.com
Unlimited access to 65+ years of CT's online archives
Member-only special issues
Subscribe
Unfreedom of Speech in the U. S. S. R.
Unfreedom of Speech in the U. S. S. R.