Call it spiritual renewal, revival, or whatever, something big and evangelically beautiful is happening in the Roman Catholic Church. Tens of thousands of Catholics around the world are saying they now have a personal relationship with Christ they never had before, and they are studying Scripture on a scope unprecedented in Catholic history. They are the Catholic Pentecostals, in any informed analysis the fastest growing and most important movement in Catholicism today. If the movement continues to grow at the same rate it has shown in its first six years, within a decade the majority of America's Catholics will be part of it. It is mushrooming even faster in some places abroad.
On the first weekend this month, more than 20,000—twice as many as last year—gathered for the movement's seventh annual charismatic renewal conference at Notre Dame University. There were three general sessions in the stadium (photo next page), scores of workshops and seminars, and even experiments in community living (except for attendance at the general sessions, groups in certain residence halls remained there the entire weekend to study, worship, and eat together as a colony of believers).
A bombshell of sorts was dropped in a keynote speech by Jesuit priest Harold Cohen of New Orleans, and the stadium crowd concurred with a standing ovation. Addressing the hierarchy, Cohen called on the church's bishops to find out what's happening in the movement, to encourage their priests to minister to it, and to get involved themselves. "I have the feeling that many of you are standing aloof, just watching," he said. "Yet where in the church today do you have such growing numbers of people crying out for your support and your guidance?" (The point was well made; the charismatics are one of the few new groups in the church not attacking the hierarchy's authority and decisions.)
Cohen, quoting Scripture and Vatican II, also implored Pope Paul VI to offer his discernment to the movement and to "make a judgment about the true nature and proper use of (charismatic) gifts." On behalf of the charismatics he pledged obedience, loyalty, and prayers that the year commencing on Pentecost Sunday—by papal decree a year of emphasis on the Holy Spirit—might be "a day of salvation."
The weekend closed with a Sunday afternoon mass concelebrated by about 500 priests (three years ago only a handful of priests attended the conference, some incognito), six bishops (Auxiliary Bishop Joseph McKinney of Grand Rapids, Michigan, two years ago became the first bishop to identify himself as a charismatic), and Cardinal Leo Joseph Suenens, head of the Catholic Church in Belgium.
Suenens, 67, an architect of Vatican II who has been interested in the person and work of the Holy Spirit most of his life and has written much on the topic, has shown intense interest in the charismatic movement in the last year. In March he visited several Catholic Pentecostal centers in the United States and a conference of several hundred charismatic Presbyterians in Detroit. Seemingly pleased by what he found, he told CHRISTIANITY TODAY at the time that he not only endorses the charismatic renewal as an authentic move of the Spirit but also hopes it will become the mainstream of the Catholic Church. He said he too had received "the baptism of the Spirit" but declined to state whether he had ever spoken in tongues. He again refused to say so at Notre Dame, but during several "praying and singing in the Spirit" segments in the stadium he was observed with hands uplifted and audibly praying along with everybody else.
The movement, says the prelate, "has led to an awakening of interest in Scripture and in a deeper spirituality." Suenens is correct. Remarkably, all those interviewed in random selections at Notre Dame said they were reading or studying the Bible daily (favorite versions: The Living Bible, The Jerusalem Bible, and Good News for Modern Man). Said Andrew Kabarinski, 16, an ex-doper whose life "got straightened out" when he met Christ in a Catholic charismatic prayer group last year: "The depth of this movement is in Scripture—you see Jesus and hear him through Scripture." (A year ago the Hicksville, Long Island, group he attends numbered a dozen; now there are more than 300.)
Lifelong Catholics Pat and John Harapko of Erie, Pennsylvania, parents of two tots, said their marriage was shaky, but because of a neighborhood Bible study group they found Christ. "If you don't have Jesus, you don't have anything," they commented, adding that their marriage "is beautiful now" and that the marriages of several friends have been saved likewise because of the implanted love of God.
The Harapkos say they did not have a personal relationship with Christ until they received the charismatic experience, a testimony heard many times from others. Their prayer community has 300 regulars, with attendance at some meetings as high as 1,500. Meanwhile, their entire neighborhood has become charismatic, they assert, and in the fall the group will open an elementary school "with Jesus as the core curriculum." (Catholic Pentecostal schools are scheduled to open in several other cities this fall; one in Providence completed an apparently successful first year with more than 200 pupils.)
As many Catholic charismatics, the Harapkos belong to a "household" (eleven adults, twenty-nine children). Participants live in their own residences but get together weekly for several meals and worship sessions. The Harapkos do not pray to Mary or use the rosary. When quizzed on this point, Mrs. Harapko gets a bit defensive and blames it on a lack of discipline, not a change in doctrine. But one gets the impression it's really because Jesus has become so dominant in their lives.
Doctrine is something of a problem for the Catholic Pentecostals. What is the value of infant baptism, for example, in light of the discovery that personal, volitional faith in Christ is what really counts? And where does the baptism of the Spirit fit in the scheme of dogma? The key word at this point for theologians in the movement is "actualize": one must actualize what was already given him in baptism. As last year, the theologians redefined and reinterpreted in attempts to mesh the new Pentecostalism with traditional Catholic teaching (see June 23, 1972, issue, page 34). But the grass roots seem intent on enjoying the experience and not worrying about the explanation.
Moreover, Catholic Pentecostal doctrine distresses the classical Pentecostalists who spawned the movement. The latter believe that glossolalia is the necessary, universal sign of Spirit baptism. The Catholic charismatics reject this position, believing instead that tongues is only one of many spiritual gifts. What then is the evidence of Spirit baptism? "A transformed life—the fruit of the Spirit," replied leader Stephen Clark in a press conference.
The classical Pentecostalists need not worry. A survey by a Jesuit sociologist shows that 86 per cent of the Catholic charismatics say they've received the gift of tongues. Then there's the somewhat controversial new book by a charismatic priest in which youths preparing for confirmation are advised to "make sounds like baby talk, gibberish" or to copy someone who speaks in tongues "until your gift flows."
On the surface, the big story is still the movement's phenomenal growth. From its beginnings among a handful of mostly young persons at a retreat in 1967 on the Duquesne University campus in Pittsburgh (see July 16, 1971, issue, page 31), it now encircles the earth. Hundreds of internationals gathered at Notre Dame this year, including an entire planeload of joyous turned-on-to-Jesus Puerto Ricans who day and night sang their way back and forth across campus (there are about fifty Catholîc charismatic prayer groups with nearly 20,000 members in Puerto Rico, said a spokesman). Representatives of various lands gave astounding accounts. A year ago there was but one known Catholic Pentecostal in South Africa; now there is a group of 250 in Durban alone. The movement is mushrooming in France, with groups in almost every major city. Ireland, Australia, Bolivia, Brazil, Colombia, Chile, and Mexico are other hot spots.
The movement publishes a directory (Box 12, Notre Dame, Indiana 46556); this year's edition offers a partial list of nearly 1,300 prayer groups, more than twice that of last year's. There is also a newsy magazine, The New Covenant (Box 102, Ann Arbor, Michigan 48107), with a circulation of 22,000.
The charismatic movement is turning the Catholic Church into a singing church. One of the songs the crowd at Notre Dame loved to sing has as its first line: "The Spirit is moving all over the land." Beneath the surface, that is the really big story of what is happening to the Catholic Church.
Have something to add about this? See something we missed? Share your feedback here.
Our digital archives are a work in progress. Let us know if corrections need to be made.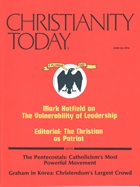 This article is from the June 22 1973 issue.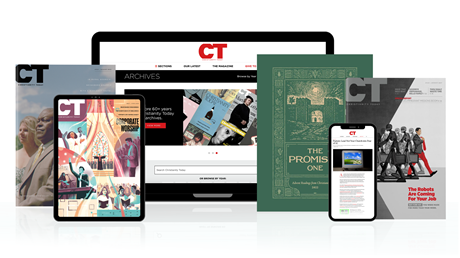 Annual & Monthly subscriptions available.
Print & Digital Issues of CT magazine
Complete access to every article on ChristianityToday.com
Unlimited access to 65+ years of CT's online archives
Member-only special issues
Subscribe
Memo from Notre Dame: The Spirit Is Moving
Memo from Notre Dame: The Spirit Is Moving