There Ain'T No Good In Men
Q. Wherein consists the sinfulness of that estate whereinto man fell?
A. The sinfulness of that estate whereinto man fell, consisteth in the guilt of Adam's first sin, the want of that righteousness wherein he was created, and the corruption of his nature, whereby he is utterly indisposed, disabled, and made opposite unto all that is spiritually good, and wholly inclined to all evil, and that continually; which is commonly called original sin, and from which do proceed all actual transgressions.
—Westminster Larger Catechism
Recently after I had berated my children about their assorted misdeeds my eldest son said, "Dad, you don't have to answer this question if you don't want to, but: Why are you so grouchy lately?"
The ultimate answer to that is simple and obvious. I'm sometimes grouchy and ill-tempered because I live in the estate of sin and misery, wholly inclined to do evil.
When my sinful desire to be God at home clashes with my children's sinful rebelliousness, that spells trouble. It spells even more trouble when neither side realizes the truth of original sin.
So I'm here, lyre in hand, to sing the praises of original sin—not the fact of it but the doctrine.
A stream of pernicious nonsense flows from the prevalent but erroneous idea of human perfectability. These bitter waters have been the cause of deep grief in religion, politics, and family and personal life.
Most of us are concerned about the increase in child abuse in our nation. Every parent knows how absolutely maddening even small children can be. They are stubborn, rebellious, willful, and sometimes malicious. Anyone who is sentimental about the innocence of childhood has been smoking something strange. I suspect that a part of the child-abuse problem lies in the erroneous belief that children are capable of perfect obedience if they just try. They're not, because they suffer the want of that righteousness wherein Adam was created.
The newspapers report that in one of the notes left by Maryland congressman William Mills before his apparent suicide, Mills apologized for not serving his constituents better. Actually most suicides are apologies. It's a way of saying, "I'm sorry I didn't do better." But the Apostle Paul teaches us that because of the corruption of our natures there's always a "better" we cannot attain, however we may try. To think that we might attain an acceptable moral record if we just try harder is to invite personal disaster.
Someone has commented that some of the folks most upset about Watergate are those who looked to Nixon and the Republican party with a sort of messianic hope.
Political messianism and utopian politics wither under the blazing truth of original sin. Men cannot build the kingdom of God on earth because by the fall they have been made opposite unto all that is spiritually good.
As voters, consumers, lovers, wives, husbands, and parents we had better expect to meet original sin whenever we come into contact with others—even when we look into the mirror.
As the old song has it:
This story has no end,
It just goes to show you
That there ain't no good in men.
But, thank God, by the obedience of one shall many be made righteous.
EUTYCHUS V
PLUGGING THE COMPETITION
I appreciated greatly the article by Barrie Doyle on "God and the POWs" (News, April 13). It had fairly good balance, but I would like to have seen more depth.
I'm reluctant to plug the competition, but your readers might be interested in seeing my own article to be published in the summer issue of N. A. E.'s Action. Its title: "Trial By Fire." Scott is one of six Air Force bases that received POWs. Some of them have thrilling stories of the Lord's sufficiency.
BERGE A. HOOGASIAN
Chaplain, Lt. Colonel, USAF
Scott Air Force Base, Ill.
CAFETERIA FEAST
Your wonderful Christ-magnifying publication is analogous to a cafeteria.… There is sufficient variety to satisfy every discriminating taste.… What a feast you provided for me in the April 27 issue. How I thrilled over Carl Henry's "Christ's Resurrection and Human Destiny," as an entré, with the ever dependable salad of L. Nelson Bell's "A Layman and His Faith," topped with the delicious dessert of "The Care and Feeding of Shepherds."
Metaire, La. WALTER GROTEFEND
ADDING DIMENSIONS
I giggled and laughed (audibly, even!) as I read Charles M. Nielsen's "A Modest Proposal For Theological Education" (May 25). But as I finished it, I realized with solemnity that the possibility of his suggestion being taken seriously by those responsible may be as remote as it was for Jonathan Swift's original! How sad we can only satirize about such a potentially world-changing possibility!
I equally enjoyed Terri Williams' article on celibacy. Your entire magazine has added dimension to my Christian life. Thank you for such consistent quality and interest.
(MRS.) EDRA J. WEYANT
Raleigh, N. C.
Since it can hardly be possible that Charles M. Nielsen was trying to be so tasteless, one can only fault the editor who permitted "A Modest Proposal For Theological Education" to be published. We shall hold Nielsen faultless on the grounds of ingenuousness: having given an amusing talk, he makes the error of writing down his sly comments.
There are actually those of us who came to an understanding of the Christian faith in the quarters here condemned. No doubt some of my professors were "relevant, issue oriented, and fully ecumenical" in the mistaken fashion which Nielsen identifies. They were, however, serious men who helped their students to achieve their own confession. Nielsen might reflect that we are admonished to speak the truth in love, not to exaggerate with glee.
ERIC DEAN
Chairman, Humanities Division
Wabash College
Crawfordsville, Ind.
IN THE SECULAR FIELD
In response to your lead editorial "Christian Colleges Today and Tomorrow" (May 25) on Christian colleges, I would like to call attention to the needs of Christian students on secular campuses. Christians must begin to consider their responsibility to these students just as seriously as their responsibility to students on Christian campuses.
You are correct in pointing out the difficulty on the secular campus of obtaining "a real integration of faith and learning on the basis of a purely secular intellectual diet supplemented by occasional Christian correctives and additions." The present programs of churches and Christian organizations working on campus are not providing students with continuous, in-depth teaching. There is need for more than scattered teaching on the Bible and Christian doctrine. There is need for integrative teaching to build a full Christian world view, rather than occasional talks on popular issues.
The evangelical community must be creative in solving these difficulties and needs. The Christian college is not the complete answer to the current needs in the area of Christian higher education. There will always be some Christian students who will choose to attend secular universities. Whether they die on the vine or bear fruit will depend on how much support they receive. In addition God will continue to call Christian students to attend secular colleges in order to be witnesses in a very strategic sphere of influence. Because Christian students live and study with non-Christians, they are potentially the most effective missionaries to this important field. Their effectiveness depends in part on the Christian community taking seriously the preparation and support of these ambassadors.
RUDY MITCHELL
Deerfield, Ill.
THE PRICE OF ELITISM
While one can only concur with most of your Watergate editorial of May 25 ("Political Espionage"), I must differ with your equating of the Watergate and Ellsberg cases. Watergate has involved concealment, with a President who appears to be guilty at best of atrocious judgment in the selection of subordinates and an administration which possesses a positive genius for straining the credulity of even the most patriotic citizen. Ellsberg, instead of aiding in a "cover-up," has "un-covered" many of the secret decisions which have led this nation into disaster.
Once we Americans can learn the full extent of Roosevelt's commitments to Churchill in 1941, and can see the diplomatic dispatches sent just before the outbreak of the Korean War, we can see just how much elitist rule has cost us. Unfortunately, for the past thirty years, our leaders have practically taken the attitude that the only thing wrong with democracy is the people! The nation's outstanding evangelical journal cannot afford to endorse a "papa knows best" attitude.
JUSTUS D. DOENECKE
Associate Professor of History
New College
Sarasota, Fla.
CONFLICT WITH 'CONFLICTS'
This letter is in response to your news article, "Bill Gothard's Institute" (May 25). I would like to compliment you on a good, objective article. It has presented the situation of the lack of knowledge concerning the "Institute in Basic Youth Conflicts" very well. However, I wish to raise some objections:
1. The "Institute" is not a "sacrosanct evangelical institution," such as the Wittenburg Door makes it its policy to investigate, and I would like to say that the Door is misled and inappropriate in its attention to the "Institute." The "Institute" is a marvelous work of God that, certainly for the good effects it has had on the lives of people I know, does not merit the attention of a paper of the nature of the Door.
2. I wish to object to your cartoon depicting Mr. Gothard as being under pressure from God due to a "right to know." Mr. Gothard is absolutely right in his stand on the potential damage that can be done by the news media to the seminar's potential effectiveness by causing people to prejudge it. There is no conflict of interest here concerning the people's right to know. This "Institute" is a private organization, advertised by word of mouth. They have a perfect right to require people to meet their requirements concerning dissemination of information concerning the seminar contents.
3. I object to your title for this article. It gives Mr. Gothard the type of publicity which he doesn't want. He emphasizes that alumni should refer to the seminar as "The Institute in Basic Youth Conflicts," not "The Bill Gothard Institute." In this you have done him an injustice.
4. Just as Christ was misunderstood and our way of life twisted into various heresies that have continued unto this day, so can you expect the same to happen with any good work of God; among such I would include the "Institute." People will misunderstand it (many times due to a misconception that it is a final word on how to live the Christian life). The "Institute" makes no claims to be compatible to every doctrine of every denomination. It is my impression that the seminar is presented in as neutral a light as possible regarding doctrinal terminology to help prevent misunderstandings. Therefore, if you don't think, to make an example, enough room is given to the Holy Spirit, you can give him all the room you want in your own life as you apply what you've learned from the seminar. To sum up: criticisms can be understood in many lights which do not reduce the truth and power of the seminar.
I have been to the seminar three times, and I want to affirm that it has revolutionized my life through its exaltation of Jesus Christ and the Word of God. The Bible has become a powerful tool in my life, which it previously wasn't. I can see clearly how it relates to reality, and from it I can draw power for my life. This meaning the Bible has taken on for me I realize is not unique to me, but the seminar unleashed its effectiveness in my life where the Church failed. I have come closer to God and experienced a personal revival and healing in my life that continues, and with God's blessing I hope will never cease. God has been glorified in my life through this seminar, and I pray that he will protect it from any damage from the mass media or any other source.
THOMAS K. REYNOLDS
Granger, Ind.
Have something to add about this? See something we missed? Share your feedback here.
Our digital archives are a work in progress. Let us know if corrections need to be made.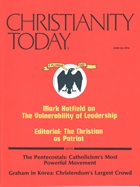 This article is from the June 22 1973 issue.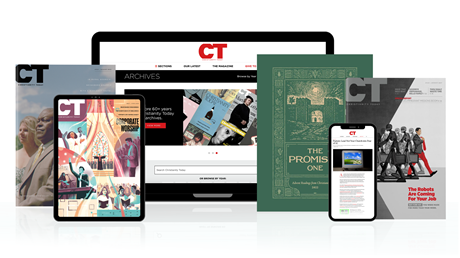 Annual & Monthly subscriptions available.
Print & Digital Issues of CT magazine
Complete access to every article on ChristianityToday.com
Unlimited access to 65+ years of CT's online archives
Member-only special issues
Subscribe
Eutychus and His Kin: June 22, 1973
Eutychus and His Kin: June 22, 1973