The Touch of the Spirit, by Ralph W. Neighbour, Jr. (Broadman, 1972, 160 pp., $4.95), Salesmanship For Christ, by Ernie "Tex" Prichard (Broadman, 1972, 155 pp., $4.50), Say It With Love, by Howard G. Hendricks (Victor [Wheaton, Ill. 60187], 1972, 143 pp., $1.45 pb), A Coward's Guide to Witnessing, by Ken Anderson (Creation House, 1972, 157 pp., $3.95), God's Moment, by Joe Hale (Tidings [1908 Grand Ave., Nashville, Tenn. 37203], 1972, 84 pp., $1.25 pb), Evangelism Now, edited by Ralph G. Turnbull (Baker, 1972, 112 pp., $1.95 pb), Explosive Evangelism, by George R. Jaffray, Jr. (Tyndale Bible Society [Box 6006, MacDill AFB, Fla. 33608], 1972, 106 pp., $1.75 pb), and Communicating Good News, by David W. Augsburger (Faith and Life [Box 347, Newton, Kan. 67114], 1972, 112 pp., $1.75 pb), are reviewed by Peter C. Moore, executive director, Fellowship of Christians in Universities and Schools, Wallingford, Conn.
These eight books on evangelism break into three categories: (1) the "How to" manuals (Neighbour, Prichard, Hendricks, Anderson), (2) the "briefs" for evangelism (Hale, Turnbull), (3) the "content" books concerned with the integration of theology and method (Augsburger, Jaffray). I asked six basic questions as I read these books: How full is the Gospel the author feels we are called to present? Is the approach centered on the person or the method? What is the relation between evangelism and the believing community? What equipment, spiritual and otherwise, do evangelists need? How does the author suggest Scripture should be used in the evangelizing process? What is the place of the Holy Spirit in evangelism?
As a case study in polar opposites I found the two Broadman books illuminating. While I can recommend neither, it is interesting to see how Ralph Neighbour, director of the Evangelism Research Foundation and pastor of the "experimental" West Memorial Baptist (Southern) Church in Houston, and Ernie "Tex" Prichard, Southern Baptist layman and personnel trainer in sales for General Motors in Dallas, describe the evangelistic enterprise.
Prichard's Salesmanship For Christ embodies everything a modern, sensitive evangelical would eschew. The book makes a one-to-one correlation between modern sales techniques and personal witnessing. It offers "tips" on how to sell your product (Christ). The non-believer is a "potential customer." The witness qualifies his prospect, sells him the product, delivers it, and follows up. The book seems to endorse a manipulative ("we controlled the prospect to decision"), emotional ("we must move the emotions"), man-centered ("I have to motivate myself") program for winning souls.
Neighbour's The Touch of the Spirit is as strong a reaction to this sort of evangelism as you will find. But it falls off the horse on the other side. Born out of frustration with the programmed evangelism he once promoted, Neighbour's thesis is that evangelism is not something we do—it is something the Holy Spirit does through us ("Evangelism is all of Him and none of self"). Billed as a "Spirit-filled" (though not Pentecostal) guide to witnessing, the book stresses the belief that "we cannot win people to Christ until we are fully yielded to Him."
While Neighbour's book contains an excellent bibliography of evangelistic resources, and is the only book in this group that seeks to deal with the biblical issues of baptism and fullness of the Spirit in connection with evangelism, it suffers from a dehumanization of man (man's purpose is to be "a container for God," "a witness is one who can no longer be himself," "learn to love the outsider for what he will become") and a creeping self-righteousness that makes an absolute distinction between the carnal and the Spirit-filled Christian, and sees the Spirit's fullness as the reward for heroic self-denial rather than a grace-gift of God in response to repentance and faith. Neither Prichard's nor Neighbour's book shows much understanding of twentieth-century man, the content of the evangel, or ways of translating the latter into terms that the former can understand.
A similar, though not as pronounced, dichotomy can be detected in the other "How to" manuals: Howard G. Hendricks's Say It With Love and Ken Anderson's A Coward's Guide to Witnessing. Both authors write interesting, intimate, untheological accounts of successful experiences in personal witness. The books are full of helpful hints and useful illustrations on how to gain a hearing for the Gospel in one-to-one relations. While both aim for biblical accuracy, their emphasis is on helping others discover the key to happy, exciting, transformed lives. Neither wrestles thoughtfully with the content of the evangelist's message. One reads little about the cost of discipleship, repentance, or the hard work of translating the Gospel into fresh and relevant terms. Anderson almost apologizes for giving someone Francis Schaeffer's Escape From Reason instead of a barrage of Bible verses!
Here, however, is where similarities cease. Hendricks is at home with the "salesmanship" model of evangelism, though he stresses two vital points Prichard glosses over: the essential ingredients of love in the communication process, and wholesome human relations in every area of the communicator's life. The Holy Spirit is seen primarily as the inspirer of confidence and power in witnessing, and the Christian community (family, church) crucial as a "launching pad" for witness in the community. The book is light, optimistic, success-oriented. Witness is a movement from the believer's strength, rather than his weakness.
Ken Anderson, producer of Christian films, strikes a pietistic note in his Coward's Guide, though he clearly avoids the anti-human self-effacement of Neighbour. In fact, he has some fine things to say on the need for self-acceptance. Nevertheless, like Neighbour he has a clearly spelled out "two-step" view of regeneration and the work of the Holy Spirit ("I am now convinced the work of the Holy Spirit in a believer's heart is a decisive experience"), recognized by an inner calm and outer fruits. This leads him to a strong reliance on the Spirit's guidance in witnessing ("as you rely upon the Holy Spirit for wisdom, you will be able to fulfill your responsibility").
Like so many who write on personal evangelism, Anderson is strongly individualistic. There is little emphasis on the corporate witness of the body of believers, though he sees a place for sequential evangelism ("I planted, Apollos watered …"). In contrast to Hendricks, Anderson sees witness as the display of God's power through human weakness. His book will have a special appeal to the shy, introverted person who wants to be available to God when and how He chooses.
Of the two books written in part to interpret evangelism to newcomers, outsiders, and critical sympathizers, the volume of essays edited by Ralph G. Turnbull entitled Evangelism Now is far superior. Joe Hale's God's Moment simply misses. A leading voice in Key 73, Hale attempts a wide-angle view of the Christian mission in relation to the Church and the world. Full of illustrations and personal anecdotes, the book aims at demonstrating why we are at the point where a new era of gospel proclamation is opportune. Hale restates the Gospel for today in terms of "wholeness," "fulfillment," "meaning." But I found his emphasis singularly lacking in depth. The whole Gospel is summed up in the word "give" (God gave himself, we give ourselves). There is no mention of repentance, nor even the gift of the Spirit as a present experience for the believer. "Commitment" seems an adequate substitute for conversion. Christian obedience and the walk of faith are summarized by six steps in becoming more involved with people.
The book also suffers from a naïve optimism and wishful thinking ("our participation in the church visibly links us with the whole company that burns with this [transforming] passion"). Godspell and Jesus Christ, Superstar are a witness through the performing arts and are "offerings of a new laity who would not place themselves directly in the church fold"; changing the Pledge of Allegiance from "One nation, under God" to "We dedicate ourselves to making this one nation under God" would call us to commitment and faithfulness. Quoting Dr. Samuel Kamaleson of India, Hale suggests that the day may be past "when people really listen to the message of an individual alone. He needs a community base from which to learn, live and speak."
Perhaps this is why Turnbull's book, something of a team effort, will do a better job than Hale's of communicating the evangelism concept to the curious, the uninformed, and the critical. Evangelism Now incorporates ten essays by leaders in the evangelical community. The first four essays are concerned with theology, then the next five with different means of evangelism (preaching, congregational outreach, radio, mass evangelism, literature); the final one is Turnbull's own "The Spirit of Evangelism." I found the book uneven, but Samuel Moffett's chapter on "The Biblical Foundation of Evangelism" is worth the price of the whole book. I couldn't wait to read it out loud to a good friend.
In many ways it was the final couplet of books that I found most engaging. Perhaps this was because they had about them what J. B. Phillips refers to in connection with the New Testament documents as "the ring of truth." Often in reading them I wanted to say no but found myself saying yes. Outwardly they were unimpressive. I had never heard of either publishing house, and one of the books (Jaffray's) has small print and quarter-inch margins—like a reprint of some eighteenth-century collection of sermons.
But these books stimulated my thinking about evangelism because they were the only two in this group that seriously wrestled with the meaning and methods of evangelism in the light of Scripture. Both sought to integrate what the Good News is with how to communicate it.
Here, however, similarities stop. Jaffray's Explosive Evangelism is a tract for the times—written more as a reaction to what he sees as inadequate and truncated evangelistic theories than as a complete statement in itself. The specter of D. James Kennedy's popular manual Evangelism Explosion lurks in the background, though there are few references to it. While admitting the necessity of parish-based visitation-evangelism programs, and acquiescing in the need for giving the "visitors" specific words to say and leading questions to ask, Jaffray wants to take sharp exception to what he views as superficial and unbiblical evangelizing.
The book takes the reader through an evaluation of different types of evangelism (high marks for evangelistic Bible studies, low marks for entertainment evangelism), then concentrates on the need for, principles, methods, and problems of personal evangelism in the local church. His plea is that "we need to stop following tradition and follow Scripture" when it comes to presenting the message of salvation. This radical theme runs throughout the book. Some of his bugbears are:
—presentations of the Gospel that begin with an emphasis on the gift of eternal life rather than on the character of God, with whom we need to be reconciled. "The Good News is that God accepts men by grace."
—presentations of Christ that urge acceptance of him as friend, helper, meeter of personal needs, but neglect the whole Christ: Prophet (whose word must be accepted), Priest (whose sacrifice must be trusted), King (whose commands must be obeyed).
—hasty assurances of salvation given to inquirers who mouth the correct formulas in "accepting Christ." Jaffray believes they should be told to read the whole of the First Epistle of John, and receive from the Holy Spirit his assurance that their conversion is real.
—faith as "believing that" certain things are true, versus faith as a "turning to, resting in, yielding to, trusting fully in … etc."
—the assumption that because all Christians are witnesses, all are qualified in personal evangelism. The Christian goes through a much too simple course of instruction, is supposedly "trained," and is then tortured by sermons from his pastor on personal evangelism, and chided for not doing what he desperately wants to do.
Jaffray replaces what he considers inadequate training with an extensive program of his own. Everything from the opening words of greeting to the prayer of commitment to Christ is spelled out with the accompanying biblical rationale. One cannot help wondering if he has not fallen into the trap Samuel Moffett identified as the equating of evangelism with "the cold, clear transmission of orthodoxy to the unbeliever." Somehow Jaffray manages to avoid this, but just barely.
Not everyone will like this book. At times it is crude (i.e., where a church evangelism program begins to work, new Christians are drawn in, and the church can no longer "cater to the fleshly hangers-on who call themselves 'Christians' "). At times it is pretentious ("what is given here is a manifesto"). But for those who already have a deep commitment to evangelism, this book will raise some uncomfortable questions that will force them to be like those Berean disciples who examined the Scriptures to see if these things were so.
At a different point on the theological spectrum, yet authentically biblical, is David Augsburger's Communicating Good News. I found this an exciting book. Its six chapters alternate between defining the message and describing the method. The chapters on the message resolutely avoid all over-simplifications that reduce the Good News to a series of "ABC's," "Spiritual Laws," or compendia of suitable verses. Augsburger, who has been speaker on the "The Mennonite Hour" since 1966 and is the author of five other books and numerous booklets, takes pains to translate the Gospel into a modern idiom ("If my words become walls, instead of windows, He cannot shine through"). I felt the Gospel lost little and gained much by his translation. Two parts of the gospel message included by Augsburger but not often included in contemporary evangelism are: (1) In addition to forgiveness and new life, the Gospel is power ("not the power of personal experience, but the personal experience of power"); and (2) the Spirit-indwelt, servant-community is part of the Gospel.
Alternating with the message chapters, chapters two, four, and six expound what it means "to give the Jesus word in the Jesus way." Here the book stands in a class by itself among the others in this review. Insights from psychology brightly illuminated by striking biblical exposition show the reader what it means to be real, vulnerable, open, reconciled to his fellows, anti-authoritarian, and a coworker with the Holy Spirit.
But questions remain. Where is there room in the "relational" witness for the evangelical notes of judgment, repentance, and costly discipleship? Paul, it is true, was open, vulnerable, and honest. But he commended his message to every man's conscience. How does the ordinary layman speak to the conscience of the one to whom he seeks to communicate the Good News? Is our witness always to come "out of weakness," never "out of strength"? Is it adequate to say that our authority for affirming that "Jesus is the only way to God" is something the hearer recognizes when the witness "simply affirms the truth as he knows it"?
Newly Published
A Matter of Eternity: Selections From the Writings of Dorothy L. Sayers, compiled by Rosamond Kent Sprague (Eerdmans, 139 pp., $4.50). A thematic anthology of the theological and imaginative writings of a versatile and vigorous Christian thinker. No slipshod arguments here. The stimulating combination of wit and learning makes for delightful and challenging reading.
History of the Old Testament, by Claus Schedl (five volumes, Alba House [2187 Victory Blvd., Staten Island, N. Y. 10314], 495, 294, 451, 453, and 378 pp., $45 the set). An Austrian Catholic scholar offers a monumental history of God's ancient people from the beginnings through the Maccabean era. This will be an important addition to theological reference collections.
The Human Face of God, by John Robinson (Westminster, 269 pp., $7.95). The author of Honest to God comes up with about what you would expect when he directs his attention to Jesus Christ. For a review see "Current Religious Thought" in our May 25 issue, page 61.
Person and God in a Spanish Valley, by William A. Christian, Jr. (Seminar, 215 pp., $8.95). A picture of several Spanish villages—their life, structure, religion. Most interesting are the changing attitudes to nature, God, and relationships with people. An insightful, almost warm book; excellent writing. Valuable to all interested in religion's impact on society.
Puritans and Calvinism, by Peter Toon (Reiner Publications [Swengel, Penn.], 110 pp., $3.25). An excellent basic introduction to Puritanism. Includes early historical background. Outlines differing Calvinist viewpoints and related disputes.
The American Revolution and Religion, by Thomas O'Brien Hanley (Catholic University, 260 pp., n.p.). Part of a growing body of literature outlining opposition to an established state church as a cause for the American Revolution, by both laymen and historians.
The Tenth Generation: The Origins of the Biblical Tradition, by George Mendenhall (Johns Hopkins, 248 pp., $12.50). A major, bound to be controversial study of earliest Israel by a professor of Near Eastern studies at Michigan.
Aucas Downriver: Dayuma's Story Today, by Ethel Emily Wallis (Harper & Row, 126 pp., $4.95). Summary and updating of the gospel penetration to the Auca Indians in South America. Despite the interest in the subject matter, not really a very good book.
A Basic Bibliographic Guide For New Testament Exegesis, by David M. Scholer (Eerdmans, 94 pp., $2.25 pb). By far the best thing available to guide the serious student through the maze of books available to help him study the New Testament. Highly recommended to all theological and Bible college students and also to pastors.
The Gospel According to Luke, by Anthony Lee Ash (two volumes, Sweet Publishing Co. [Box 4055, Austin, Tex. 78751], 167 and 156 pp., $3.50 each), and Commentary on Luke, by Ray Summers (Word, 338 pp., $8.95). Helpful verse-by-verse expositions by, respectively, a Churches of Christ (non-instrumental) and a Southern Baptist scholar.
The Art of Dying, by Robert E. Neale (Harper & Row, 155 pp., $5.95). The author's purpose is "to increase our wonder about death and life" or to make living more real and full by reintroducing dying as a part of life. The development includes insights that could enrich a Christian framework, but the book is tragically flawed by the sense that the "wonder about death and life" is an end in itself. Included are some interesting devices for "death consciousness-raising."
Wittgenstein's Vienna, by Allan Janik and Stephen Toulmin (Simon and Schuster, 314 pp., $8.95). Highly speculative account of the setting in which the twentieth century's most influential linguistic philosopher developed his thought—thought that is having a continuing impact upon modern theologians. Ambitious attempt at interdisciplinary study.
Mayhem and Mercy, by C. Brandon Rimmer (Creation House, 135 pp., $3.95). Autobiography by the son of a noted evangelist. Interesting but lacks substance.
From Politics to Piety: The Emergence of Pharisaic Judaism, by Jacob Neusner (Prentice-Hall, 168 pp., $3.95 pb). The "quest for the historical Pharisee," investigating Talmudic, gospel, and non-religious historical sources. The portion dealing with Talmudic thought forms is confusing for those with no knowledge in this area; this limits the usefulness of the book.
Evidence That Demands a Verdict: Historical Evidences for the Christian Faith, by Josh McDowell (Campus Crusade, 392 pp., n.p., pb). An excellent and extensive collection of the most effective defenses of the Christian message. Major sections dealing with trusting the Bible, knowing Christ as God, and God at work in history and men's lives. Should strengthen the witness of all who study it.
The Billy Graham Religion, by Joe E. Barnhart (Pilgrim Press, 255 pp., $6.95). This inchoate indictment of Graham finds him guilty of being both a "hillbilly evangelist" and a sharp operator. The author's footnotes indicate enough research that he could have produced a valuable critique of the Graham message and mystique. He didn't. Barnhart is hampered by his insistence on dragging in irrelevant material and his hostility to Christianity. Pass it up.
History of the Middle East and the Aegean Region, c. 1800–1380 B.C., edited by I. E. S. Edwards et al. (Cambridge, 868 pp., $27.50). The third edition of "The Cambridge Ancient History" continues with part I of Volume II. This volume is an essential tool for advanced students of the early history of the people of Israel.
God's Way of Reconciliation, by D. Martin Lloyd-Jones (Baker, 380 pp., $7.95). One of the leading preachers of the present generation offers a theological and homiletical exposition of Ephesians 2. Highly recommended.
The First and Second Epistles to the Thessalonians, by Ernest Best (Harper & Row, 376 pp., $10). Fifth volume to appear in a distinguished series, "Harper's New Testament Commentaries." The author teaches at St. Andrews University, Scotland.
Catechetics and Prejudice: How Catholic Teaching Materials View Jews, Protestants and Racial Minorities, by John T. Pawlikowski (Paulist, 154 pp., $4.50 pb). While past decades have brought real improvement in eliminating prejudicial attitudes, the task is far from complete. Considerable breadth of study.
The False Teaching of R. B. Thieme, Jr., by Robert Walter (Bible for Today [900 Park Ave., Collingswood, N. J. 08108], 103 pp., $4 pb). Thieme is pastor of Berachah Church, Houston, and his many weekly sermons are widely circulated on tape and in print. Walter is a Baptist pastor in Pennsylvania who has a radio program from which these "exposés" were adapted. Undoubtedly many of Thieme's followers grant him excessive authority as a biblical expositor. On the other hand, one need not agree with all of Thieme's distinctives to think that the particular ones Walter focuses upon (such as those on the physical blood and physical death of Christ or on confession) are not really horrendous. There is doubtless some value in Walter's refutations. Yet Thieme does accept the authority of Scripture, and critics should be more careful than Walter is to distinguish differences of interpretation from heretical disregard of God's Word.
I found myself asking these questions continually as I read the book. But like Jaffray, Augsburger offers a much needed corrective to inadequate views of evangelism—views that lose the person in the presentation, that lose the contemporaneity in the clichés, that lose the authentic in the authoritarian, that in short, do not give the Jesus Word in the Jesus Way.
Perhaps there is an important reminder for us in each of these four couplets of books. Truth often lies not in the middle between two extremes but, as with God's sovereignty and man's responsibility, at both extremes.
Have something to add about this? See something we missed? Share your feedback here.
Our digital archives are a work in progress. Let us know if corrections need to be made.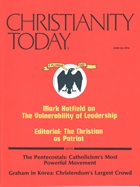 This article is from the June 22 1973 issue.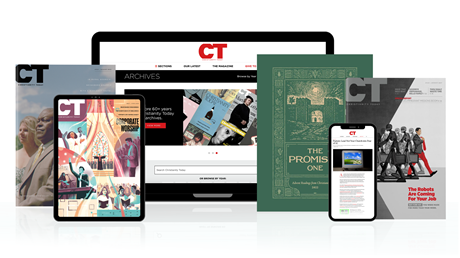 Annual & Monthly subscriptions available.
Print & Digital Issues of CT magazine
Complete access to every article on ChristianityToday.com
Unlimited access to 65+ years of CT's online archives
Member-only special issues
Subscribe
Book Briefs: June 22, 1973
Book Briefs: June 22, 1973