Rare indeed is the Christian who does not consciously or unconsciously harbor the feeling that in some measure he is earning his own salvation and therefore deserves to be saved. Innate human pride is such that we love to think of ourselves as good. Our every act of worship, kindness, or favor to others is apt to give us an inner satisfaction and a sense of self-righteousness that, we should know, God detests.
One of the signs of spiritual maturity is a growing realization of the grace of God. More than four centuries ago, on seeing criminals being led out to execution, John Bradford exclaimed: "But for the grace of God there goes John Bradford." Today, when we see the wages of sin on every hand we should remember that but for God's grace we too would face death and judgment.
Salvation through grace is the very heart of the gospel message. The fact that eternal life cannot be merited should cause us to ponder the mystery of our own redemption—an act of God's sovereign mercy whereby the redemptive act of his Son becomes operative in our lives through faith, and faith alone.
The Apostle Paul, speaking of the sovereignty of God's acts of mercy and election, exclaims: "O the depth of the riches and wisdom and knowledge of God! How unsearchable are his judgments and how inscrutable his ways!" (Rom. 11:33).
Nothing is more capable of bringing us to our knees in worship and thanksgiving than a realization that all we have is undeserved. Speaking of Abraham's faith, Paul also says: "That is why it depends on faith, in order that the promise may rest on grace and be guaranteed to all his descendants—not only to the adherents of the law but also to those who share the faith of Abraham, for he is the father of us all" (Rom. 4:16).
But grace is not to be trifled with. To presume on the love and grace of God is to trifle with that which may turn and rend us. The Apostle Paul poses this question, and Phillips in his translation of Paul's words says: "Now what is our response to be? Shall we sin to our heart's content and see how far we can exploit the grace of God? What a ghastly thought!" (Rom. 6:1, 2). And yet we have known people who, taking the premise that we are "not under the law but under grace," have seemed to feel they were therefore free to sin. "Ghastly"? Yes, and utterly perverse.
Grace has been spoken of as the free and eternal love and favor of God, which is the spring and source of all the benefits we receive from him. I recall as a young man hearing an old minister praying, "All that we have except sin comes as a blessing from thee." How well this fits in with the gracious affirmation of Romans 8:28, "And we know that all things work together for good to them that love God, to them who are the called according to his purpose."
Accustomed as we are to the idea of merit and payments, it comes as an overwhelming shock when we first realize that forgiveness of sin and eternal life are gifts of God's grace and never earned or merited. Those who have tasted deeply of this truth can never be the same. "Just as I am, without one plea, but that thy blood was shed for me" takes on an eternal significance, and pride is humbled in the face of God's redeeming love. Nowhere more than here do we see the sovereignty of God. Why has he been so kind to me? Why has he made it possible for me to stand in his holy presence without a sense of guilt? The answer is, of course, in the atoning work of his Son, through whom his grace becomes operative and magnified.
This combination of love—the gift of his Son—and grace, which is that love in action, reflects for all to see that the divine calling demands humble acceptance on our part. That pride so often suggests another way shows the blindness and perverseness of the unregenerate heart.
But grace is more than saving in its nature; it is also sustaining. All of us live confronted with a multiplicity of problems and difficulties, physical, material, and emotional. Often we experience, or see others experiencing, trying vicissitudes in life. The Apostle Paul plumbed the depths of such experiences only to have God tell him, "My grace is sufficient for you, for my power is made perfect in weakness" (2 Cor. 12:9). Here we have demonstrated once for all that God's grace not only saves us but continues as the controlling and sustaining force in our lives as Christians.
Grace also has its fruits. From it proceed those evidences of the indwelling Christ that commend to others the faith we profess. People irritate us—God's grace in our hearts will enable us to react in love and not in anger. Problems arise for which we have no immediate solution—the grace of God enables us to look beyond to the One who has the solution. Sorrows come—the grace of God enables us to look through our tears to the One who will some day wipe away every tear. The daily routine gets us down and we groan under its monotony and its burden—but God's grace enables us to rise above this and to sense his presence and love.
Grace is spoken of as a fair ornament in Proverbs 4:9—"She [wisdom] shall give to thine head an ornament of grace: a crown of glory shall she deliver to thee." How often we have seen this demonstrated in the lives of others, and how pleasant it is to see! "Graciousness" is one of the loveliest words in the English language, and one of the nicest attributes by which one may be described. Where affected it is hypocrisy, but where genuine it is a reflection of God's glory in a work of his new creation.
The grace of God is shown in the perfection of his creation, marred only by the sinfulness of man. "Where every prospect pleases, and only man is vile" is far more than the poetic expression of a hymn. All around us we see evidences of the loving provision of God's grace. Little wonder that the Bible concludes its revelation to man with the crowning act of all the ages: "The grace of our Lord Jesus Christ be with you all. Amen" (Rev. 22:21).
Living in the dispensation of grace, surrounded by its evidence on every hand, offered its perfection in the person and work of the Son of God, we, individual Christians and the Church in its corporate witness, should at all times proclaim that the grace of God is God's offer of forgiveness and freedom from the penalty of sin to all who will accept it. The Gospel is as complicated and as simple as Paul's words to Titus: "For the grace of God that bringeth salvation hath appeared to all men" (2:11).
Have something to add about this? See something we missed? Share your feedback here.
Our digital archives are a work in progress. Let us know if corrections need to be made.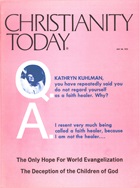 This article is from the July 20 1973 issue.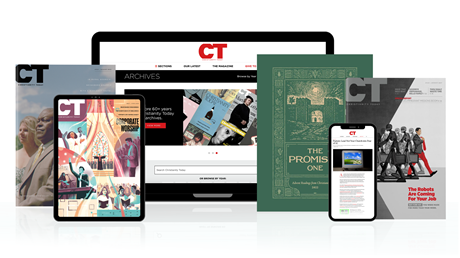 Annual & Monthly subscriptions available.
Print & Digital Issues of CT magazine
Complete access to every article on ChristianityToday.com
Unlimited access to 65+ years of CT's online archives
Member-only special issues
Subscribe
The Grace of God
The Grace of God