The Graham Tax Audits
Billy Graham says he has no knowledge of any attempts by the White House to influence audits of his income-tax returns. Among a sheaf of memos turned over to the Senate Watergate committee by former presidential counsel John W. Dean III is one that reportedly alluded to audits on Graham and actor John Wayne. An accompanying routing slip was said to have asked if any "help" was needed. "No, it's covered," was the reply.
"I'm completely mystified," Graham said. "I have never asked for any intervention and I have not been aware of any intervention." He added that as far as he knows audits on his returns have been settled at the local level, in the Asheville, North Carolina, office of the Internal Revenue Service. IRS officials say the audit was routine. Most Americans in higher-than-average income brackets have their returns audited, some every year.
Graham stated that all his and Mrs. Graham's assets are in a "trust" handled by a bank that also prepares his income-tax returns. He says he is requesting the IRS to audit his account every year.
Stamp For An Artist
One of America's most noted religious painters, Henry O. Tanner, will be honored on an eight-cent commemorative stamp to be issued September 10. The black artist (1859–1937)—his most famous work is "The Raising of Lazarus"—graduated from Pennsylvania Academy of Fine Arts in the mid 1880s under painter Thomas Eakins. Prejudice hindered Tanner, with his conservative, traditional style, from being accepted by American art-lovers, but with the help of a white Methodist bishop he traveled to France where his talent was acclaimed. The painter made Paris his home, though he remained a life-long member of the National Association for Advancement of Colored People in the United States. New interest in Tanner's art has recently sparked the Smithsonian Institution to sponsor touring exhibits of his paintings.
GLENN D. EVERETT
Burundi: Another Bloodbath
Once again the horror of mass murder sweeps across Burundi. A little more than a year ago, in retaliation for the killing of several thousand of the ruling Tutsi by bands of Hutu rebels, somewhere between 100,000 and 300,000 Hutu were ruthlessly slain. The rest of Africa and the world hardly noticed (see CHRISTIANITY TODAY, August 11, 1972, page 39). At that time the principal targets were the educated Hutu and their families, and the consequence was the extermination of many Protestant (and some Catholic) leaders.
In May of this year, some Hutu exiles again made a futile move to overthrow the ruling Tutsi (who make up about 15 per cent of the 3.5 million or so population). This time the Tutsi reprisals seem to be aimed at killing or driving out as many Hutu as possible. Missionaries, especially in neighboring Tanzania, have been the main source of what little information is reaching the outside world of the current horrors, which are causing thousands of additional Hutu to flee for their lives.
Debunking The Divine
With lighted cigarette in one hand and microphone in the other, a twenty-four-year-old youth in Colombo, Sri Lanka (formerly Ceylon), recently spoke to crowds in the street as his assistants from the "Rationalistic Convention" inserted five hooks into his back and thigh and hung him horizontally seven feet above the ground. As the man swung, without evidence of pain, he proclaimed to the crowd: "I am doing this because I have confidence in myself. I do not believe in gods or spirits."
It is common in Sri Lanka, 95 per cent of whose population is either Buddhist or Hindu, for devotees to subject themselves to fire-walking and other bodily tortures at various shrines. Traditionally, these practices are meant to appease the gods for sin committed, to pay vows, and to thwart malefic influence. The devotee who chooses the hook-hanging way is believed to be able to endure the pain and have little or no bleeding because of his intense devotion and dependence on divine aid.
But more and more young people are forsaking the gods, and the hook-hanging demonstrator in Colombo is an example of the younger generation's turn to outspoken rationalism. After he was released from his position, the audience gathered around to inspect the places where the hooks had penetrated. Only one of the wounds bled at all, reported correspondent Dudley Weeraratna, who also commented: "This experiment proved beyond any reasonable doubt that the so called 'divine aid' of the gods was not necessary to perform this fanatical sacrifice. As they debunk mythical beliefs and appeasement acts, the Ceylon rationalists have created a spiritual vacuum and thus paved the way, rather indirectly, to belief in the one true Creator God, who does not demand such tortures."
Christian Untouchables
According to a report in the Hindu (Madras), Government of India grants and privileges intended to raise the social conditions and status of the Harijans (untouchables: the practice of treating a certain class as untouchable has been outlawed, but the former untouchables still suffer tremendous social disadvantages) are withheld on a discriminatory basis from Harijans who have become Christians. Members of "Scheduled Castes" (previously oppressed groups entitled by law to favorable treatment) who convert to Christianity, or in some cases to Islam, are no longer regarded as "backward," and they lose their claim on special grants and privileges. The report states that 700,000 Harijan Christians are being deprived of state aid to which they ought to be entitled. The Catholic Union of India has resolved to seek the aid of all political parties for the restoration of grants to converted Harijans.
Pow Retreat
While much of the shouting about the returned prisoners of war has died down, the spiritual side of the years in Hanoi prisons continues to be told.
A new film, In the Presence of Mine Enemies, based on a soon-to-be published book by Navy captain Howard Rutledge, details Rutledge's prison life and his turn to God. The film was produced by Gospel Films of Grand Rapids, Michigan. It premiered on television late last month and is now being distributed.
At the same time, more than 500 POW-MIA families have accepted an invitation by former astronaut turned evangelist James Irwin to attend a series of "spiritual renewal" retreats in the Rockies. Costs of the program are being underwritten by Irwin's High Flight evangelistic association.
Melodyland School: The Spirit'S Tune
Six years ago, when the charismatic movement was starting to "come out" in the mainline denominations and the Roman Catholic Church, renowned Presbyterian John A. Mackay (former president of Princeton Seminary) predicted the future of the Church "could be with a reformed Catholicism and a matured Pentecostalism."
Today there are signs his prophecy is being fulfilled. The Holy Spirit movement is sweeping the Catholic Church (see June 22 issue, page 36). And a new school of theology, tuning up for a full program this fall, represents an effort to upgrade academic training for seminarians who want to attend a charismatic school.
Melodyland School of Theology is headed by J. Rodman Williams, former professor of systematic theology and philosophy of religion at Austin Seminary, Texas. It will be the first charismatic institution to offer a master's degree in theology. The school, related to Melodyland Christian Center opposite Disneyland in Anaheim, California, is based on spiritual dynamics (openness to gifts of the Spirit), academic excellence (a full curriculum at graduate level), and practical application (field work stressing charismata), says Williams, president of the Charismatic Communion of Presbyterian Ministers.
Melodyland's ecumenical school, with a part-time faculty of fourteen (most hold master's degrees), opened in January with 150 students and expects 200 by September. Classes are held at night and on Saturdays so students can pursue other schooling or jobs. One faculty member, Daniel Tappeiner (Th.D., Fuller Seminary), teaches at both Fuller and Melodyland with no apparent tension at either place.
Williams, leading Protestant theologian of the neo-Pentecostal movement, speaks of the school's function: "Making connections with traditional theology and denominations … to provide balance so that the dynamic [of the charismatic movement] won't be thwarted or subdued by the formal. But we need formal instruction lest the dynamic leads into destructive, chaotic manifestations."
Melodyland thus will attempt to bridge the gap between typical Bible-college training offered by oldline Pentecostal bodies, and studies at non-charismatic denominational and interdenominational evangelical seminaries. Pending approval by the California Board of Education, Melodyland plans three sets of diplomas and/or degrees ranging from a diploma after sixty units for persons with no prior college education to a master of theology degree requiring a thesis and comprehensive exams for students who enter with a college degree.
Williams, who remains in good standing with the Presbyterian Church, U. S., says tongues is not required evidence for having received Spirit baptism but "the normal accompaniment and peculiar sign of being penetrated."
RUSSELL CHANDLER
Have something to add about this? See something we missed? Share your feedback here.
Our digital archives are a work in progress. Let us know if corrections need to be made.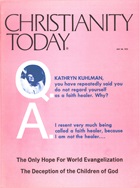 This article is from the July 20 1973 issue.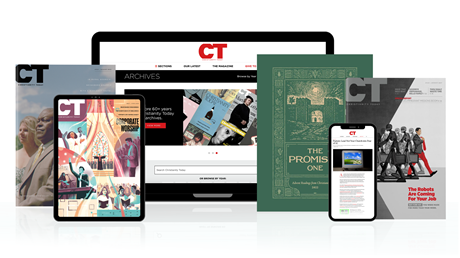 Annual & Monthly subscriptions available.
Print & Digital Issues of CT magazine
Complete access to every article on ChristianityToday.com
Unlimited access to 65+ years of CT's online archives
Member-only special issues
Subscribe
The Graham Tax Audits
The Graham Tax Audits